Are you ready for a gourmet pizza night? Well this Garlic Shrimp Alfredo Pizza is SO GOOD! Plus, Fleischmann's Yeast is sponsoring a giveaway for you to help your family get started on a fabulous pizza night!


I love pizza night at home! You can really get very creative and make a great supper for your family. Did I mention it's a whole lot cheaper too? I made this whole gourmet Garlic Shrimp Alfredo Pizza for a whole lot cheaper than getting pizza delivered. I love coming up with new ones like this one and this one. Here are some fun facts about homemade pizza vs. takeout: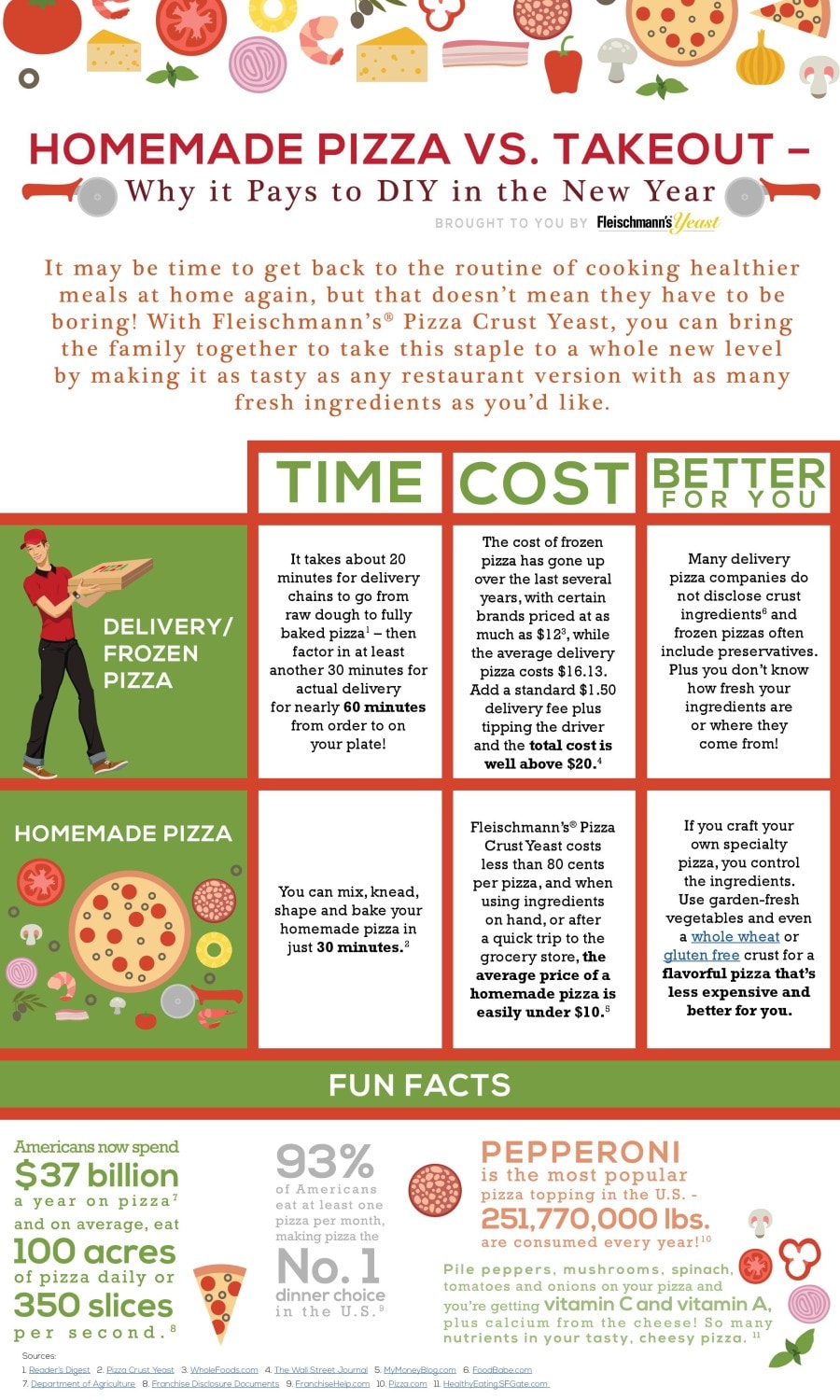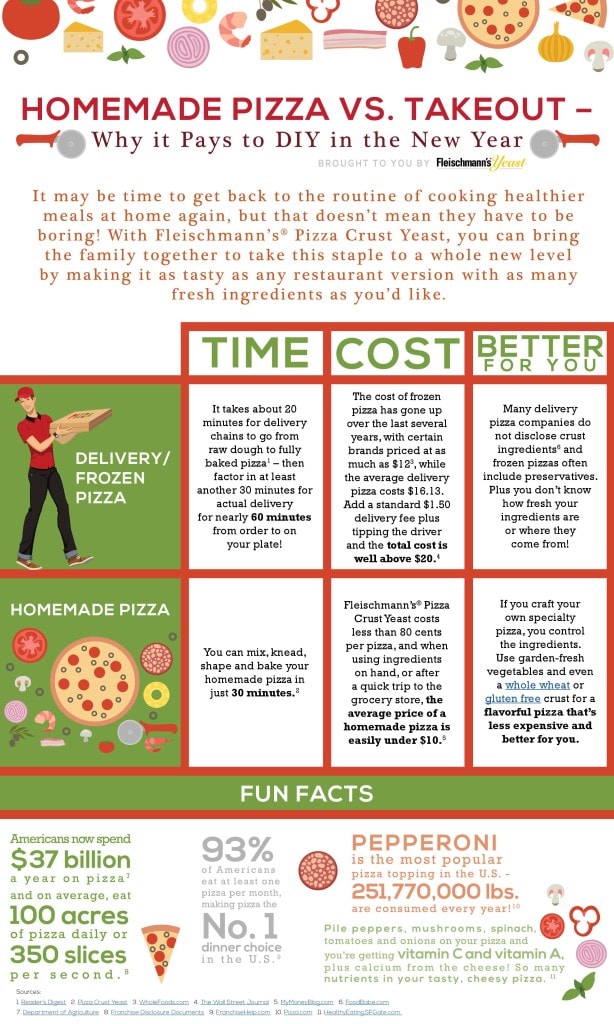 Now to help make your at home pizza night a success, Fleischmann's Yeast is helping me to give away this awesome pizza kit to one of my readers!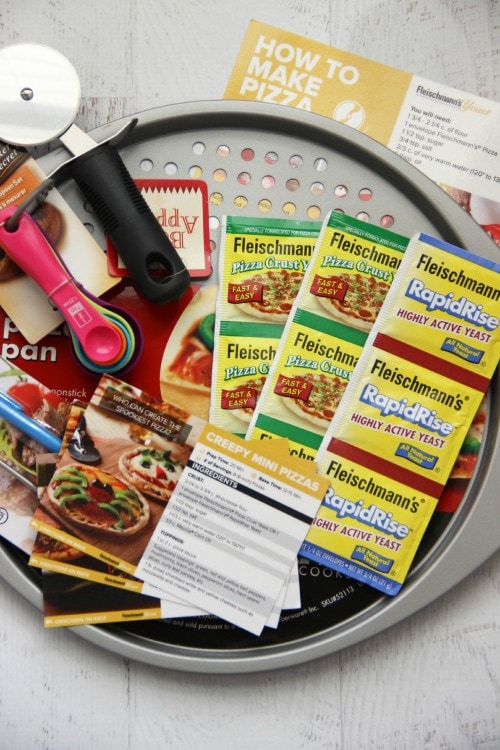 So what will you get if you win?
Fleischmann's Pizza Crust Yeast (The only one I use)
Step-by-step pizza success tips
Recipe cards
Thermometer
Pizza cutter
Measuring spoons
Perforated pizza tray (YOU WILL LOVE THIS!!!)
Enter below to win!!!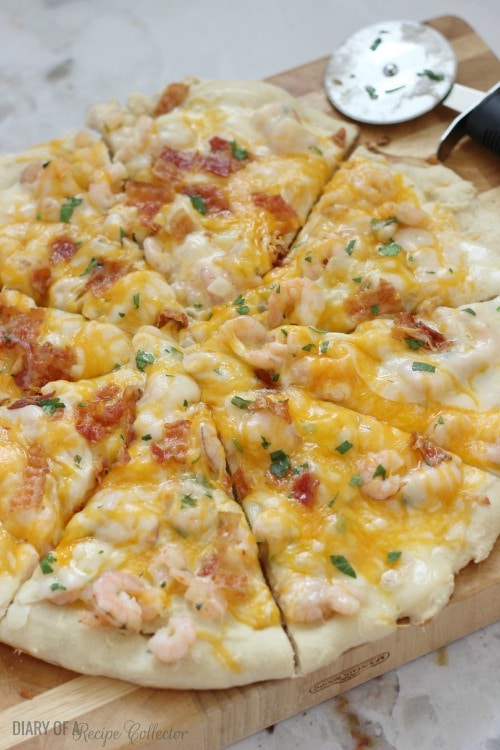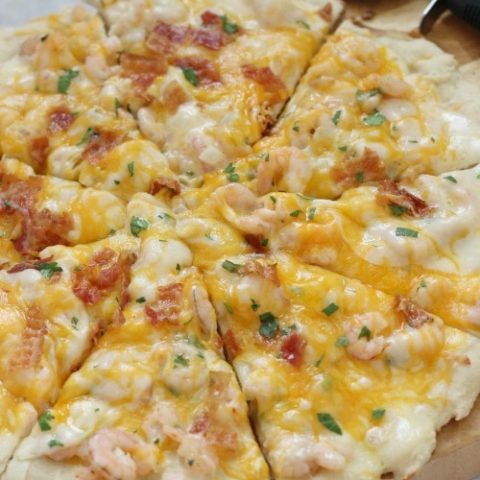 Garlic Shrimp Alfredo Pizza
Ingredients
For Pizza Crust:
3 3/4 cups of flour, plus more for dusting
1 1/2 tbsp sugar
1 1/2 tsp salt
1 packet Fleischmann's Pizza Crust Yeast
1 1/3 really warm water (120 to 125 degrees)
1/3 cup olive oil
For Pizza Topping:
2 tbsp. butter
1 tbsp olive oil
4 cloves garlic, finely chopped
1/4 onion, finely chopped
1 lb. small shrimp, seasoned with 1 tsp creole seasoning
1 tbsp fresh parsley
juice of 1/2 lemon
6 tbsp jar alfredo sauce
1 cup shredded Colby Jack cheese
5-6 provolone slices
3 slices bacon, cooked and chopped
Instructions
Pizza Dough:
In the bowl of a mixer, combine 2 cups of flour, sugar, salt, and yeast on low speed for about 15 seconds with paddle attachment.
Add oil and warm water.
Mix for 1 minute.
Change to dough hook and add the next 1 cup of flour and mix again. Add the remaining 3/4 cup of flour and mix until mixture begins to form a ball and pull from sides of bowl.
Sprinkle with a little more flour and dust hands with flour as well. Remove dough, pat and flatten. If it is too sticky, add more flour. *If using later, place dough in a bowl and brush it with olive oil to coat it. Cover until ready to use. *Note: This makes enough for 2 pizzas. Refrigerate or freeze half of the dough for later use.
Preheat oven to 450 degrees.
Spread dough onto pizza pan flattening and stretching it out to edges. Partially bake crust for 7 minutes before adding topping.
Pizza Topping:
Melt butter and 1 tbsp. olive oil in a skillet over medium heat. Add garlic and onion and saute for about 5 minutes.
Stir in shrimp and cook for about 3-4 more minutes.
Turn off heat and stir in lemon juice and parsley.
Spread alfredo sauce onto partially baked crust. Top with shrimp mixture. Top with provolone slices, shredded cheese, and bacon.
Bake for 7-10 more minutes. Let cool slightly before cutting.
Notes
*If you do not have a stand mixer, you just need to mix ingredients with spoon until well blended. Spoon mixture out onto floured surface and knead for about 4 minutes. Dough should be smooth and elastic.
*Recipe adapted from Fleischmann's Yeast.
Recommended Products
As an Amazon Associate and member of other affiliate programs, I earn from qualifying purchases. This helps us keep our blog running efficiently and allows us to create more recipes for you.
Other recipes you might enjoy:
Grilled Chicken & Bacon Pizza with a Garlic Cream Sauce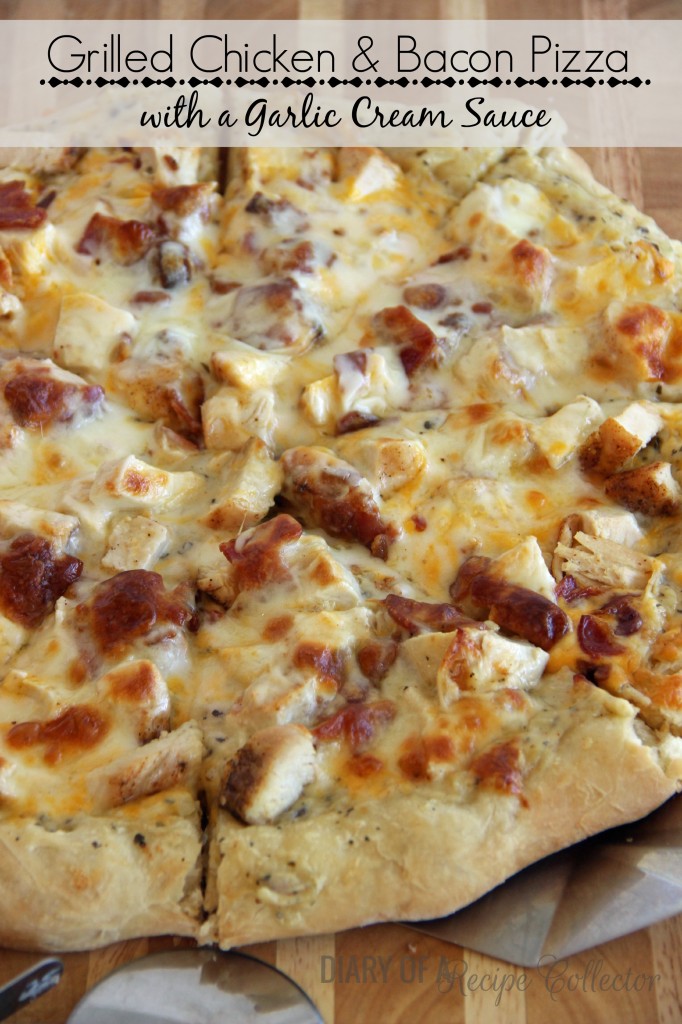 Connect with me: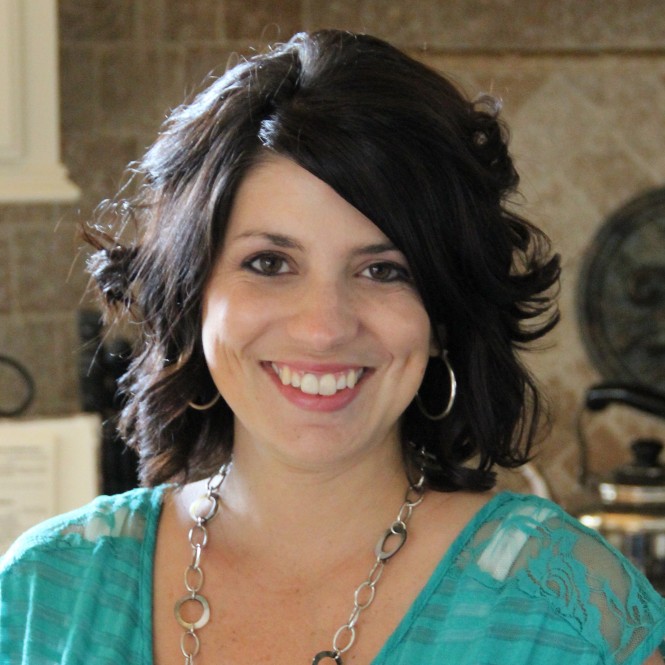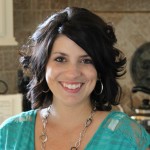 Blog | Facebook | Pinterest | Instagram | Bloglovin | Twitter