Shrimp Etoufee – A classic Cajun dish perfect for a family dinner.
When I was younger, my mom was always the cook in the house. Slowly that started to change around the time I moved out ( I was the baby). I guess maybe she was tired?? My dad then became the Sunday cook at home. I think it was a very welcome change for my mom. I know I sure love it when my husband cooks on Sundays.
So my dad has definitely come up with his own versions of different Cajun dishes. This etoufee (pronounced eh-too-fay) is one of those dishes. I really loved his version when I first tried it, and I wrote down everything he did several years ago. It is now one of my most favorite dishes to make.
Now much like other cultures, Cajun cooks all have their own versions of dishes. You can go down the street and my neighbors etoufee may taste nothing like mine. Don't get me started on restaurants. I'm often really leery of ordering etoufee or gumbo anywhere. I'm often disappointed because its not like what we have at home.
Another interesting point too is that New Orleans dishes are not always similar to our dishes here in Southwest Louisiana. Some New Orleans gumbos have tomatoes in them, which is not how we do it over here. But they all do start out the same way….with onions, celery, and bell pepper…the Cajun Trinity.
That's exactly how this one starts, and then a little secret ingredient is added. My dad always adds a little beer to his, and I really love the flavor it creates. You can get a similar flavor from white wine. If you don't like to use alcohol, just double the amount of chicken broth in the recipe.
Basically, there is no wrong way to do this. Everyone loves their own family recipes not just for the taste, but for the memories they bring to your mind as well! I hope that you give this version a try and love it too!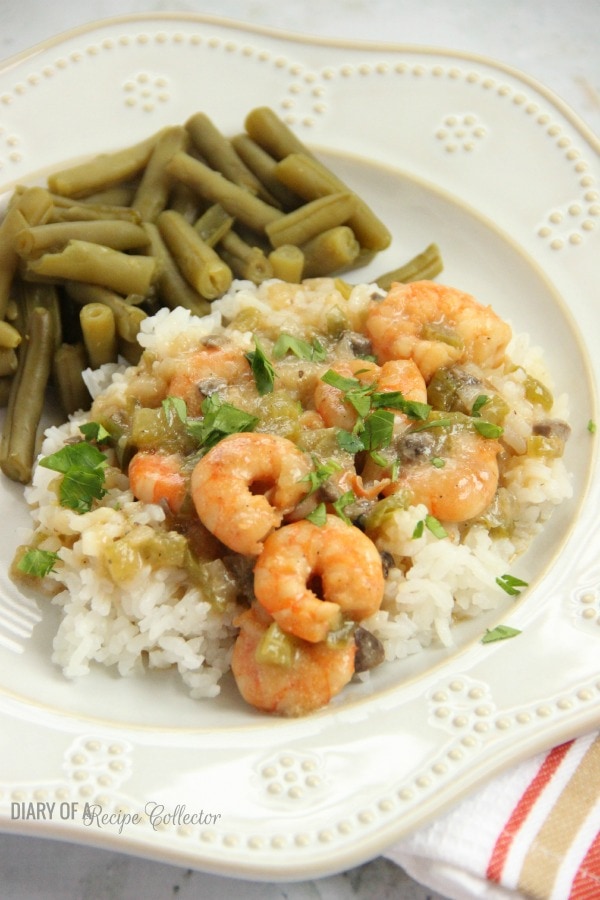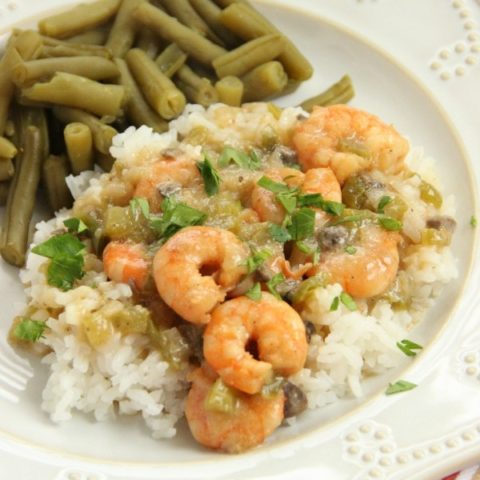 Shrimp Etoufee
Ingredients
1/2 stick butter
1 tbsp olive oil
1 medium onion, chopped
2-3 stalks celery, finely chopped
1/2 green bell pepper, chopped
1 tsp creole seasoning
1 lb shrimp, seasoned with 1 tsp creole seasoning (small shrimp work best)
1 cup chicken broth
1/2 can beer or 1 cup of white wine
1 can cream of mushroom
Optional Toppings: chopped green onions and chopped fresh parsley
Cooked rice
Instructions
Heat butter and oil over medium high heat.
Add onions, celery,and bell pepper. Season with 1 tsp creole seasoning. Saute for about 10 minutes.
Add shrimp and saute for about 5 minutes.
Add chicken broth and beer or wine. Bring to a boil.
Add cream of mushroom soup. Stir well. Reduce heat to medium low and simmer covered for about 30 minutes.
Meanwhile prepare rice.
Serve over cooked rice and top with parsley or green onions if desired. *We prefer medium grain rice in my family.
Notes
If you don't like to use alcohol in cooking, you can just double the amount of chicken broth.
Recommended Products
As an Amazon Associate and member of other affiliate programs, I earn from qualifying purchases. This helps us keep our blog running efficiently and allows us to create more recipes for you.
To see my other Cajun Cookin' posts, click here.
Need a good Sunday dessert idea, try these:
Not Yo' Momma's Banana Pudding