Decadent chocolate mousse layered with chocolate cake and chocolate icing…a chocolate lover's dream!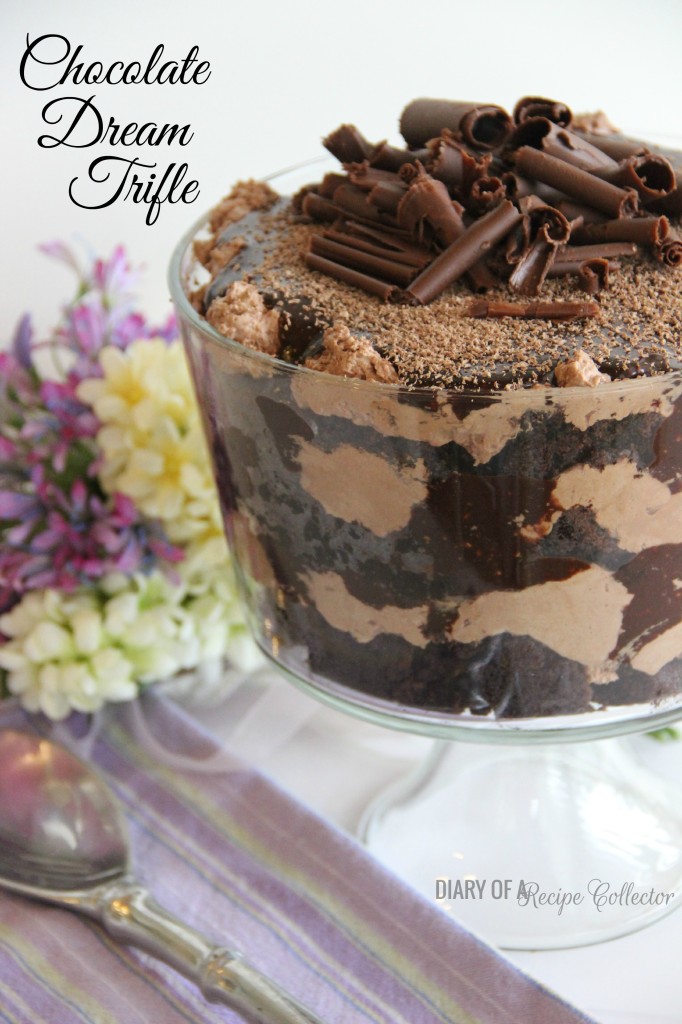 This dessert has to be one of my favorite desserts ever!  I would pick chocolate over any other dessert any day.  And this one right here is at the very top of my list.  The original recipe came from a Paula Deen  Magazine Chocolate Lovers issue.  It makes a very good and beautiful layered cake.  However, each time I've made it, I've told myself I should make a trifle with it.
And that was a wonderful decision…but first, let me tell you about a little mishap.
I tell you this not to discourage you in any way from making this dessert.  It is your classic triple step layered cake recipe:  homemade chocolate cake (easy recipe) with a filling (chocolate mousse), and an easy homemade chocolate icing.
So I made this last Sunday.  I thought I'd get a head start on it and make the cake and the mousse before we left for church.  This WAS a good idea.  However, my brain isn't exactly what it should be, and I blame it on this 4th pregnancy.
I started mixing my dry ingredients for the cake.  Before I added the wet ingredients, I realized I was out of vegetable oil.  No big deal, I thought.  I could just go get some after church and finish the cake later.  So I set this bowl aside…and this is where my good morning intentions of getting ahead went astray.
I started making the chocolate mousse, so I could get it in the fridge to chill.  This, again, is a super easy step if your head is on right.  On the very last step, you need to add cocoa powder/sugar mixture to your mousse filling.  So I grab my dry mixture and start adding it.  I realize that this mixture sure seems like a lot, and I think, "Oh no, I must have added too much sugar to this because I sure have a lot of this."  So I start to make a few adjustments and add some more cocoa powder (Mistake #2).
When I get finished making the mousse, I put it up in the fridge and thought that I had at least accomplished making that.  When I go to start cleaning up, I notice the bowl of cocoa/sugar mixture that I SHOULD have used, but I didn't!  Do you know what I used??  I accidentally used my dry cake mixture (you know the one I stopped making all because I didn't have vegetable oil).  My heart sank.  I was so upset that I just managed to not only ruin my chocolate mousse by adding cake mix to it, but I also used a lot of my cake mix.  Basically the morning of trying to get ahead was an EPIC fail!
And no, it wasn't because anyone was talking to me or getting me to fix them something to eat or drink while I was trying to make this cake.  It was all because my brain is simply not all there here lately.  I'm ready for it to come back soon please!
Anyway…. this cake really is easy, and I managed to really goof up.  Lesson learned…finish one step before moving on to the other.
So later that day I made this cake, with no other issues… and I'm happy to say, it came out so beautiful.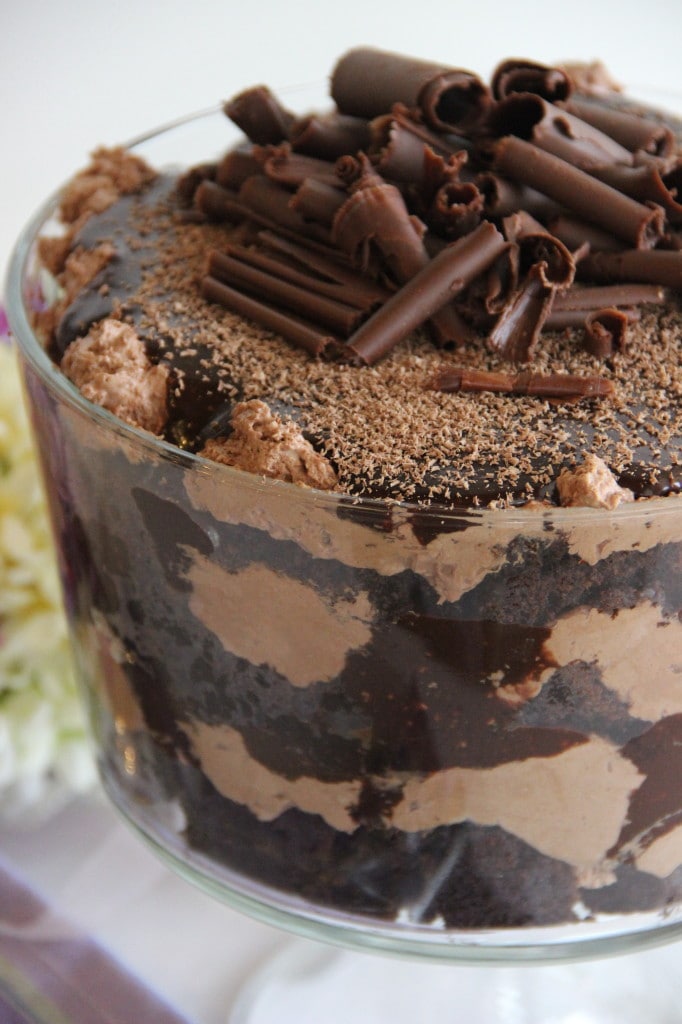 Chocolate Cake:
2 cups all-purpose flour
2 cups of sugar
3/4 cup unsweetened cocoa powder
1 1/2 tsp baking powder
1 1/2 tsp baking soda
3/4 tsp salt
1 cup milk
1 cup brewed coffee
3/4 cup vegetable oil
2 large eggs
Chocolate Mousse:
1 envelope unflavored gelatin
3 tbsp cold water
1/4 cup boiling water
1 cup sugar
1/2 cup cocoa powder
3 cups heavy whipping cream
Chocolate Fudge Frosting:
1 cup sugar
1 cup heavy whipping cream
5- 1 oz. squares unsweetened chocolate, chopped
10 tbsp butter
1 cup powdered sugar
For the cake:  Preheat oven to 350 degrees.  Grease and flour a 13 x 9 pan.  ( I use baking spray and line the bottom with a piece of parchment and spray that as well).  Mix all the dry ingredients.  Add oil, milk, coffee, and eggs.  Beat with electric mixture until smooth.  Bake 25-30 minutes or until a toothpick inserted in center comes out clean.    Let cool for 20-30 minutes and remove from pan to finish cooling.
For the mousse:  In a small bowl, mix gelatin and cold water.  Let it stand for 2 minutes.  Add boiling water and stir.  In another small bowl, combine cocoa powder and sugar.  In a large bowl or using a stand mixer bowl, beat whipping cream at medium speed until foamy.  Gradually add cocoa/sugar mixture.  Beat until stiff peaks form.  Stir in gelatin mixture.  Cover and chill in fridge for 4 hours.
For the icing:  In a medium saucepan, bring sugar and cream to a boil over medium-high heat.  Reduce heat and simmer for 6 minutes while stirring often.  Remove from heat, add butter and chocolate.  Stir until smooth.  Let cool for 10 minutes.  Whisk in powdered sugar.  Let it continue to cool.
Assemble the trifle:  Cut cake into large cubes.  Layer the bottom of the trifle with cake.  Layer chocolate mousse followed by chocolate icing.  Repeat layers two more times.  Top with grated chocolate and chocolate curls.
Chocolate Curls:  Pioneer Woman had an episode where she showed how to make chocolate curls.  For me, this was amazing.  I had always wondered how to get those big beautiful curls.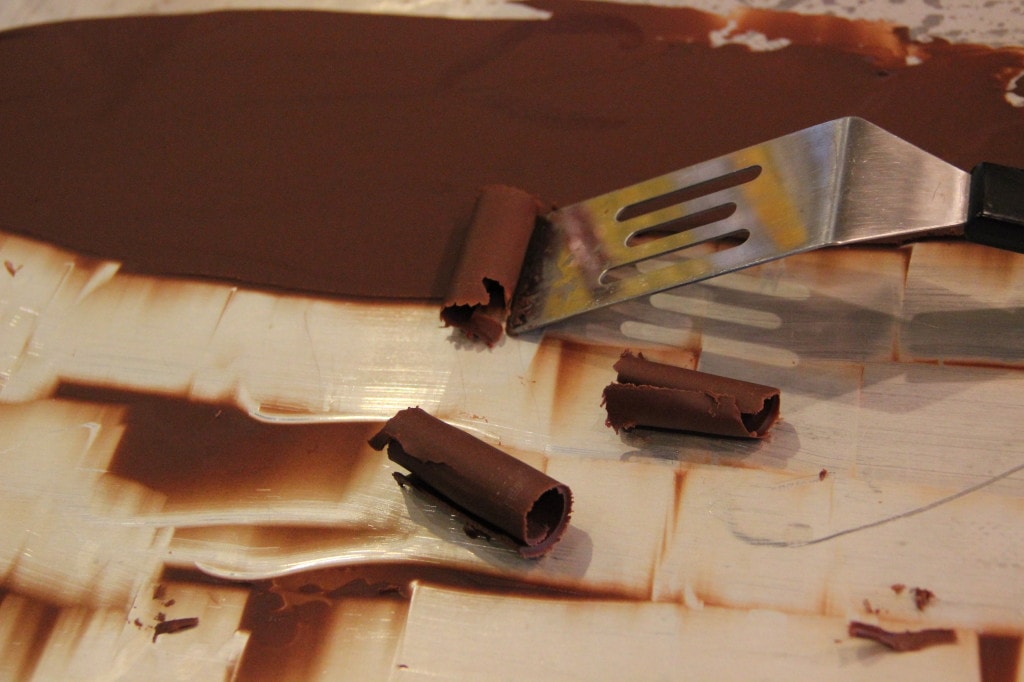 Melt 3 squares of semi-sweet chocolate or 3 heaping tablespoons of chocolate chips with 1 tbsp shortening.  Melt in microwave safe bowl stirring every 20-30 seconds until melted.  Spread with off-set spatula onto the bottom(underside) of a sheet pan.  Spread out until it is thin.  Place in the freezer for about 5 minutes.  Working quickly, use a spatula to scrap and curl up the chocolate in sections.  If chocolate quits curling, it is too warm.  Stick it back in the freezer a few more minutes.
I'm linking up with:
Time to Sparkle 56
In and Out of the Kitchen 63
Best of the Weekend 49
Saturday Night Fever #30