Chocolate Dream Trifle – Decadent chocolate mousse layered with chocolate cake and chocolate icing…a chocolate lover's dream!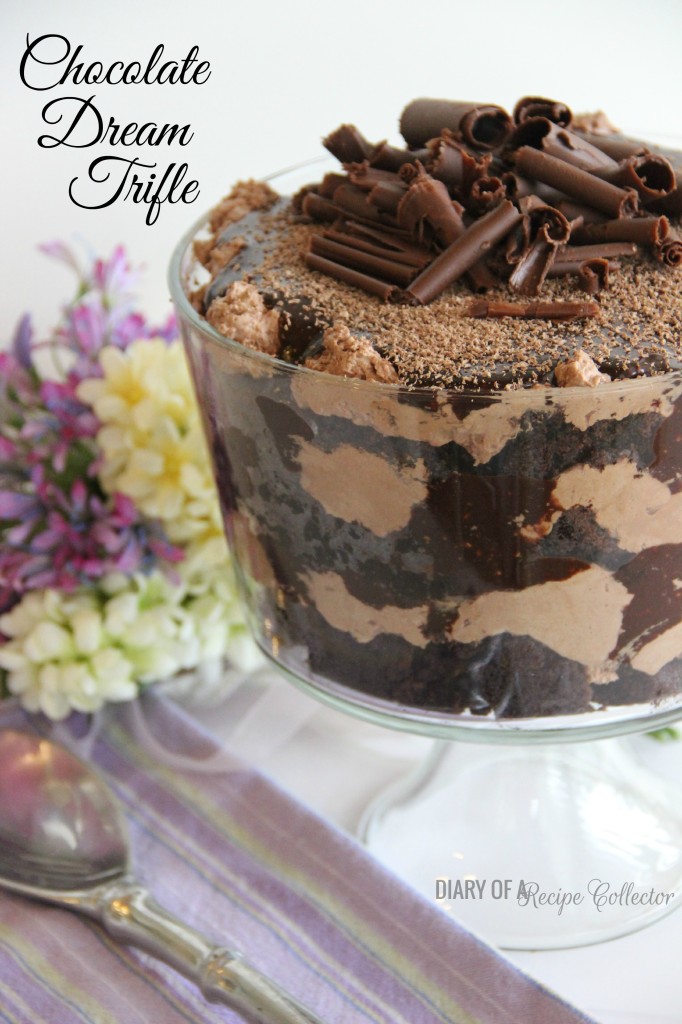 This Chocolate Dream Trifle has to be one of my favorite desserts ever! I would pick chocolate over any other dessert any day. And this one right here is at the very top of my list. The original recipe came from a Paula Deen Magazine Chocolate Lovers issue. It makes a very good and beautiful layered cake. However, each time I've made it, I've told myself I should make a trifle with it. This was a great decision indeed.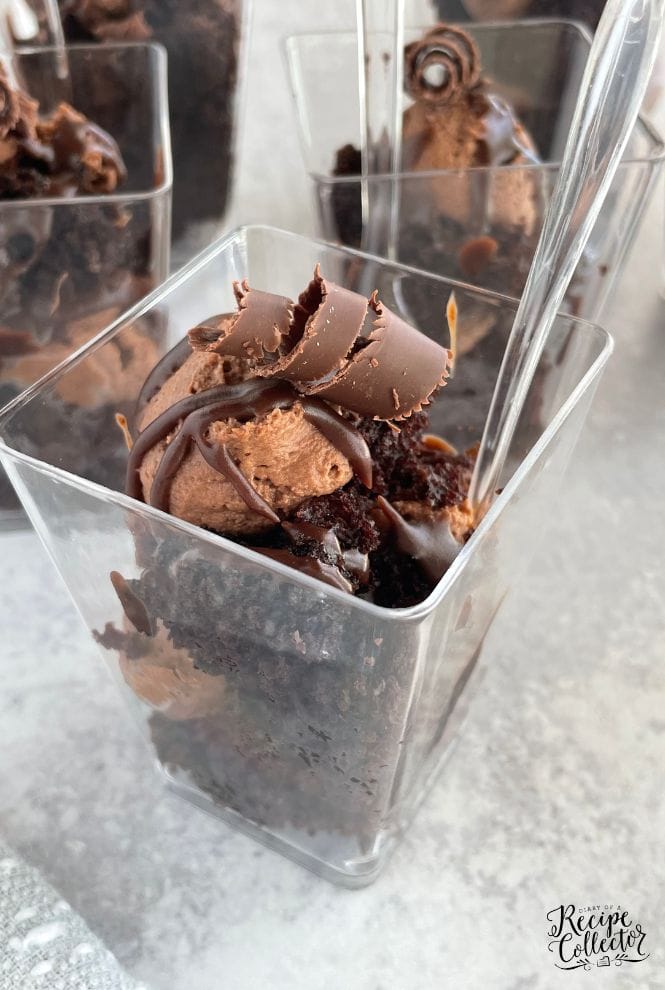 All three delicious chocolate steps are super easy. You just want to allow time for these steps, and I often begin by making the cake and the mousse the day before I need it. The next day, I make the icing, let it cool, and then begin to assemble the trifle.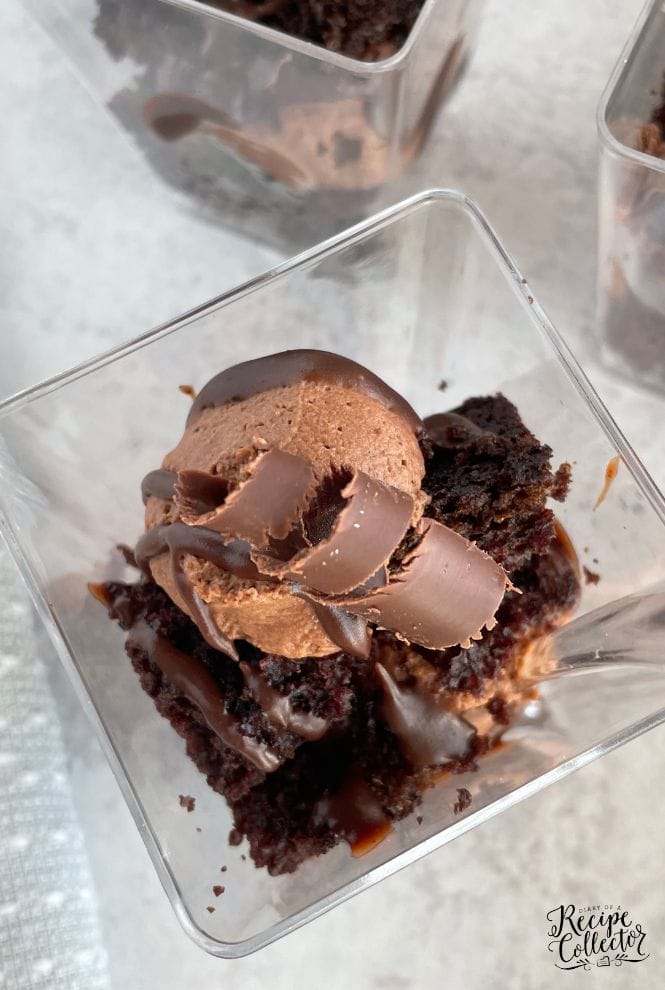 Not only is this cake gorgeous as a large trifle, but it is perfect in these individual dessert cups! I made these for my daughter's prom dinner, and they were a hit! It's definitely a little more time consuming making individual cups, but it is perfect for a party. This recipe makes about 30 individual treat cups.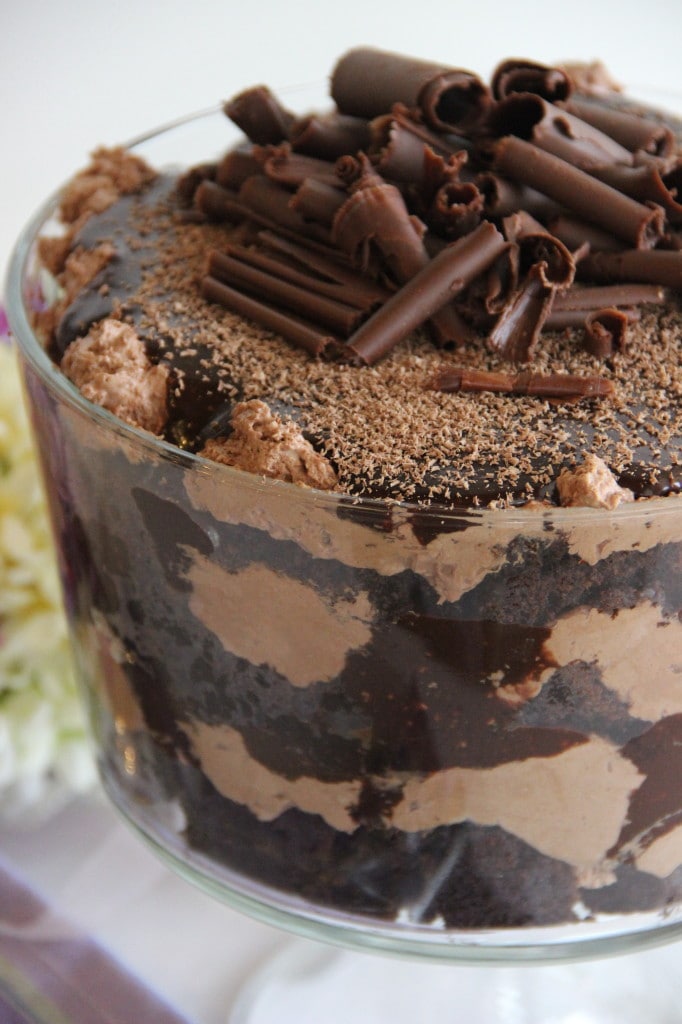 What do you need to make this Chocolate Dream Trifle?
For the cake:
all purpose flour
granulated sugar
unsweetened cocoa powder
baking powder
baking soda
salt
milk
brewed coffee
vegetable oil
2 large eggs
For the chocolate mousse:
1 envelope unflavored gelatin
cold water
boiling water
sugar
cocoa powder
heavy whipping cream
For the Chocolate Fudge Frosting:
sugar
heavy whipping cream
unsweetened chocolate squares
butter
powdered sugar
Chocolate Curls:
semisweet chocolate chips
shortening
Connect with Diary of a Recipe Collector! Follow us on social media, so you never miss a recipe!
Email Subscription | Facebook | Instagram | Pinterest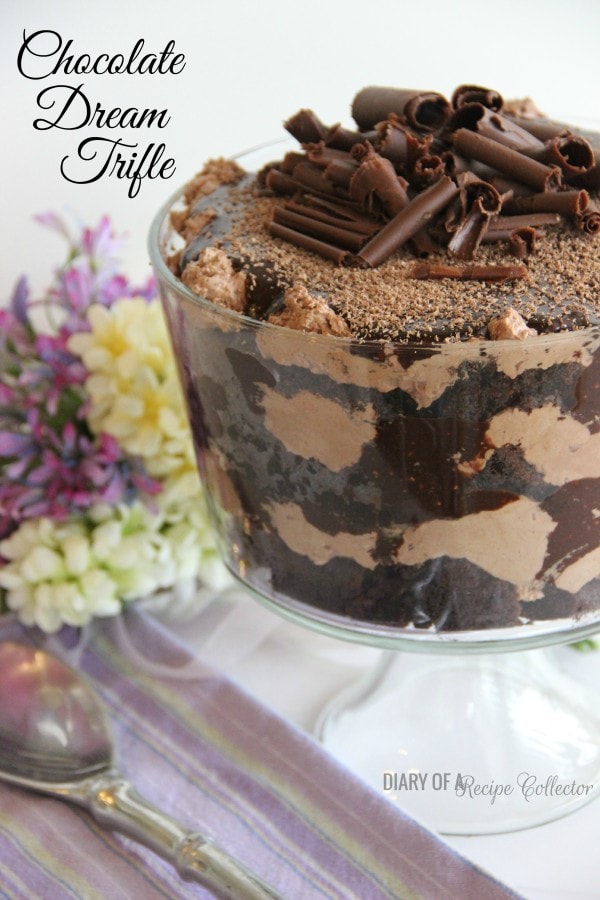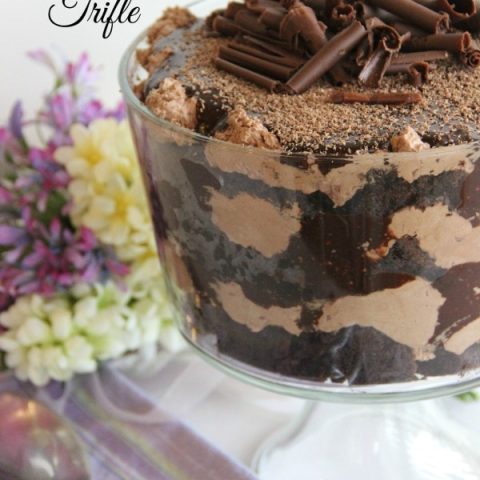 Chocolate Dream Trifle
Ingredients
Chocolate Cake:
2 cups all-purpose flour
2 cups of sugar
3/4 cup unsweetened cocoa powder
1 1/2 tsp baking powder
1 1/2 tsp baking soda
3/4 tsp salt
1 cup milk
1 cup brewed coffee
3/4 cup vegetable oil
2 large eggs
Chocolate Mousse:
1 envelope unflavored gelatin
3 tbsp cold water
1/4 cup boiling water
1 cup sugar
1/2 cup cocoa powder
3 cups heavy whipping cream
Chocolate Fudge Frosting:
1 cup sugar
1 cup heavy whipping cream
5- 1 oz. squares unsweetened chocolate, chopped
10 tbsp butter
1 cup powdered sugar
Chocolate Curls:
3 tbsp semisweet chocolate chips
1 tbsp shortening
Instructions
1. For the cake: Preheat oven to 350 degrees. Spray a 13 x 9 pan with cooking oil spray. Mix all the dry ingredients. Add oil, milk, coffee, and eggs. Beat with electric mixture until smooth. Bake 25-30 minutes or until a toothpick inserted in center comes out clean. Let cool completely.

2. For the mousse: In a small bowl, mix gelatin and cold water. Let it stand for 2 minutes. Add boiling water and stir. In another small bowl, combine cocoa powder and sugar. In a large bowl or using a stand mixer bowl, beat whipping cream at medium speed until foamy. Gradually add cocoa/sugar mixture. Beat until stiff peaks form. Stir in gelatin mixture. Cover and chill in fridge for 4 hours.

3. For the icing: In a medium saucepan, bring sugar and cream to a boil over medium-high heat. Reduce heat and simmer for 5 minutes while stirring often. Remove from heat, add butter and chocolate. Stir until smooth. Let cool for 10 minutes. Whisk in powdered sugar. Let it continue to cool.

4. Chocolate Curls: Melt semisweet chocolate chips with 1 tbsp shortening in microwave stirring ever 20 seconds until melted. Pour this mixure into the bottom of a large sheet pan. Spread it out into a thin layer. Place pan in freezer for 5 minutes. Remove from freezer and use a spatula to slowly lift up and curl chocolate. Work quickly. If curls stop forming, stick it back in the freezer for a few minutes. Keep curls in freezer until ready to use.

5. Assemble the trifle: Cut cake into large cubes. Layer the bottom of the trifle with cake. Layer chocolate mousse followed by chocolate icing. Repeat layers two more times. Top with grated chocolate and chocolate curls.

* For small trifle cups, place a small amount of cake in the bottom. Use a piping bag to pipe in a little chocolate mousse. Drizzle with chocolate icing. I also put a little of the icing at a time in a piping bag to make drizzling easier. Repeat layers one more time. Top with small chocolate curls.
Recommended Products
As an Amazon Associate and member of other affiliate programs, I earn from qualifying purchases. This helps us keep our blog running efficiently and allows us to create more recipes for you.
Other recipes you might like:
Chocolate Praline Trifle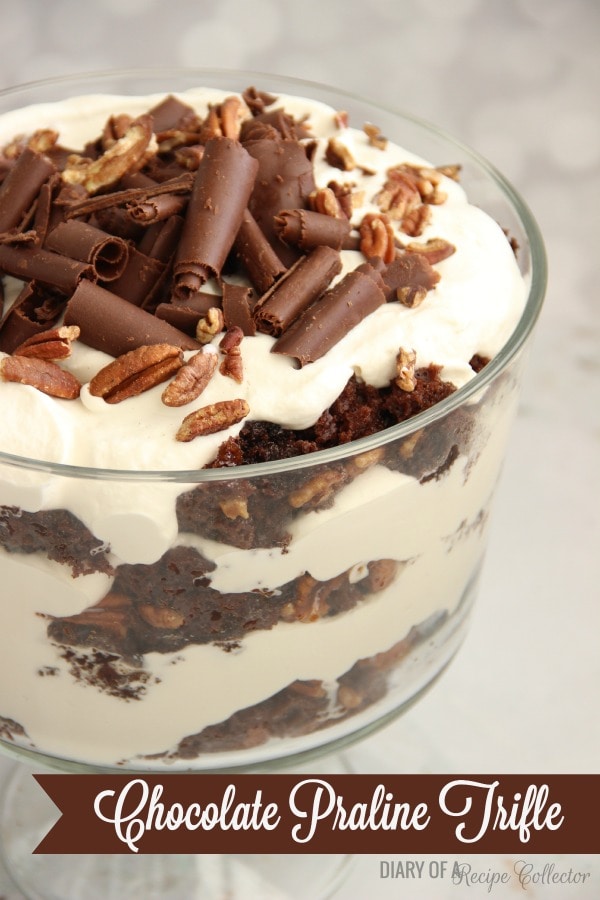 Best Chocolate Sheet Cake Recipe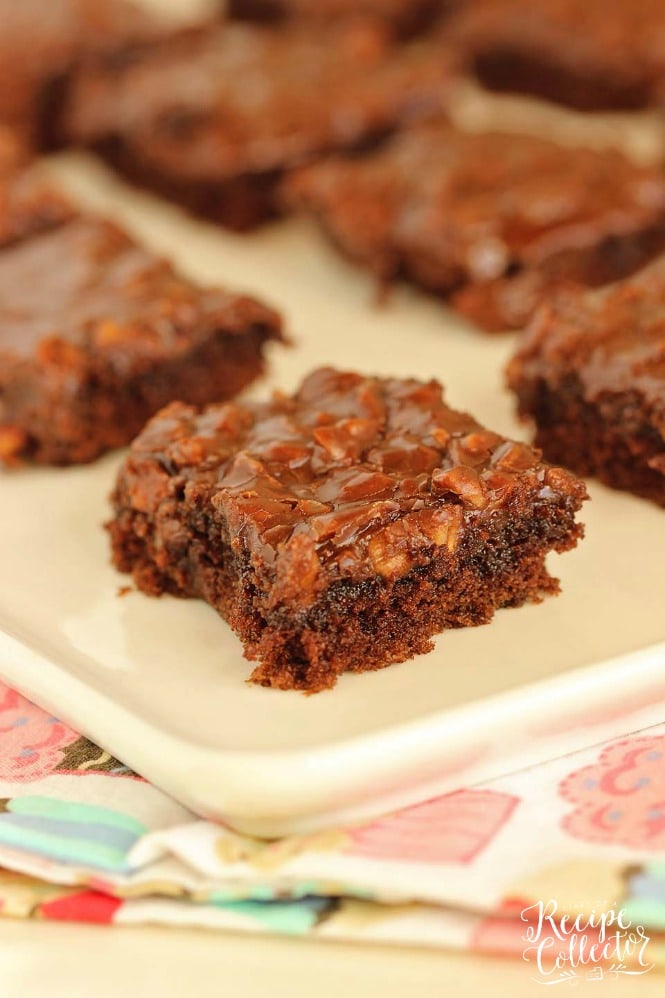 You can find more MAIN DISH RECIPES HERE.
You can find ALL RECIPES HERE.
For more ideas, follow me on FACEBOOK, PINTEREST, INSTAGRAM, AND TWITTER.
Get FREE recipes delivered to you by email: SIGN UP HERE!