Praline Brownies – Decadent fudge brownies topped with a perfect praline icing!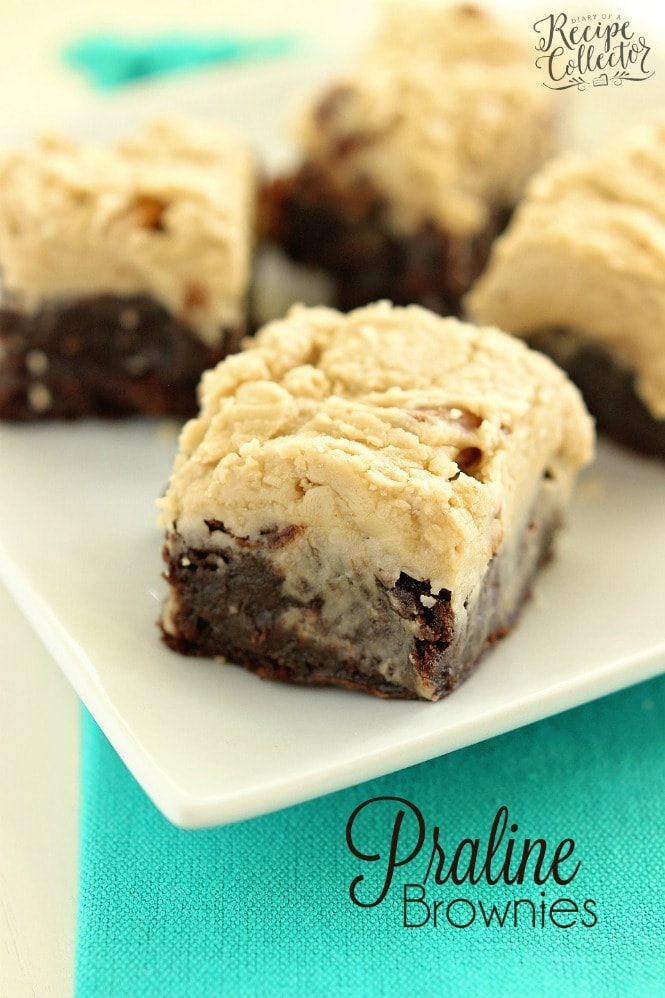 One of the advantages to going back to work is that I now have a whole new group of taste-testers for my recipes.  This is really a big deal considering before I would either send some to work with my husband or give some away to my family.  It's quite nice to treat some more people now 🙂  My only problem recently is just not having enough time to cook now that I'm back to work.  I am adjusting…some weeks are better than others…depending on how busy we are with weekend activities.  If I don't get prepared for the week over the weekend by heading to the grocery store, you can pretty much bet I will not have any food for supper that week.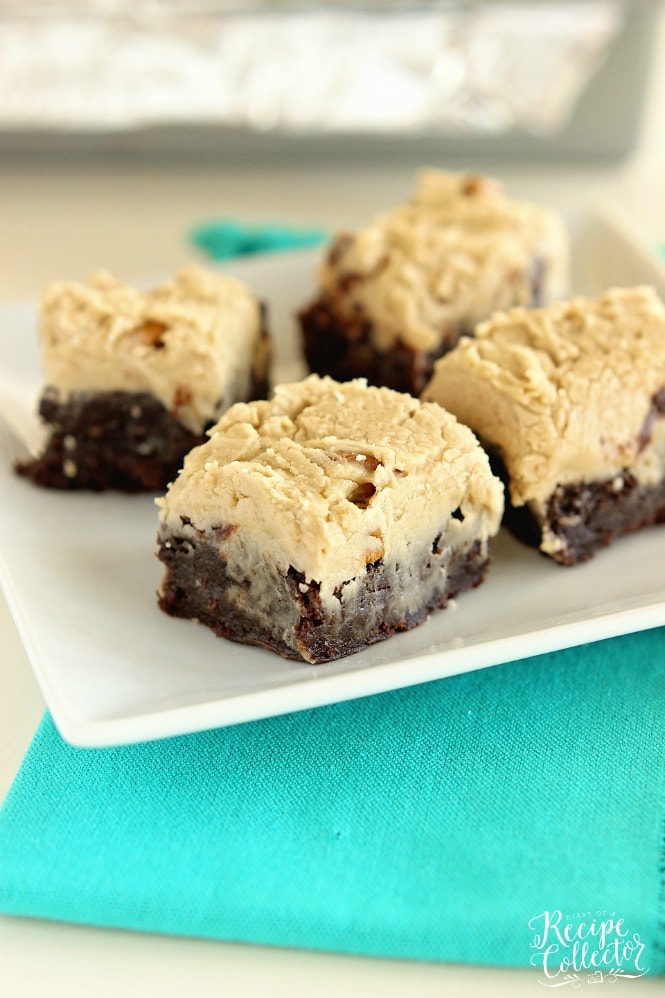 I know this will get better.  I simply just got spoiled to going to the grocery store during the weekdays while half the kiddos were at school.  I do have to admit it.  I miss that!  I don't like using my weekend to go to the grocery store.
I know!  I sound totally pathetic complaining about something like that.  But I'd be willing to bet many of you feel the same way.
Unless you are my dad….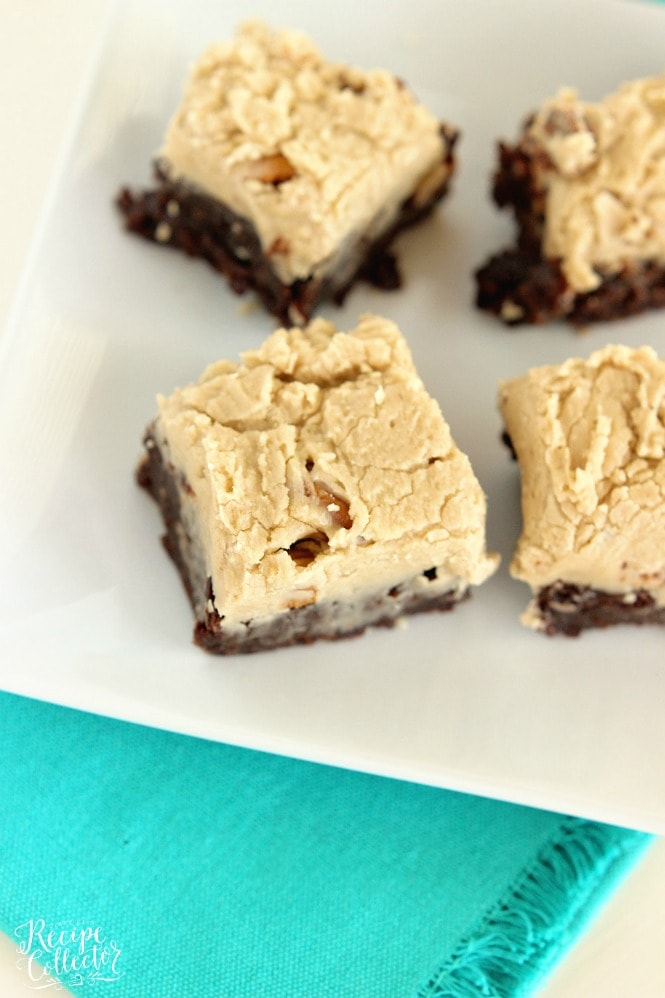 He loves the grocery store.  We pick on him about it all the time.  I even tell my mom how spoiled she is because my dad happily goes to get anything they need and she only has to worry about one big trip a month.  They never run out of things like eggs or milk or ketchup.  My dad is on top of all that.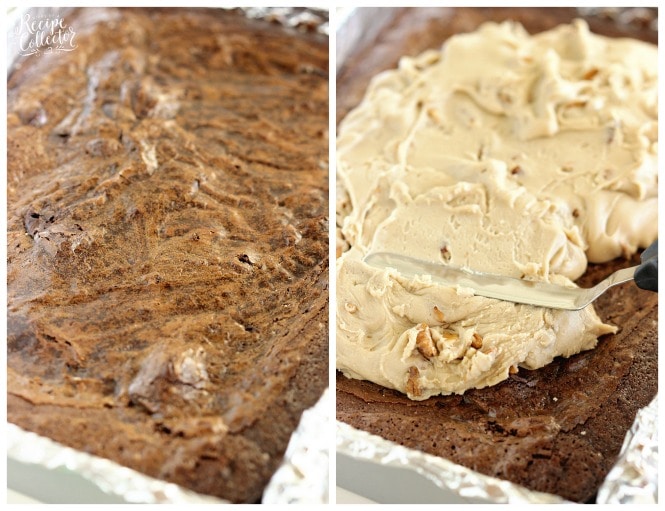 So as soon as our weekends settle down, my main goal is to make sure I'm better prepared for the week AND send my husband to the grocery store 🙂  And I especially want to make sure I have everything to make these decadent Praline Brownies.   They were fabulous and a guaranteed way to fix that sweet tooth because a little goes a long way on these babies!  The fudgy brownie truly deserves its own post very soon, and the praline layer is delicious!  It's like two desserts in one, so you get a lot more bang for your buck in one little bite with these.  Trust me.  I originally sliced them in larger squares and quickly realized that they pack a sweet punch.  So smaller slices was the way to go on these.  And that works out great because they serve more people!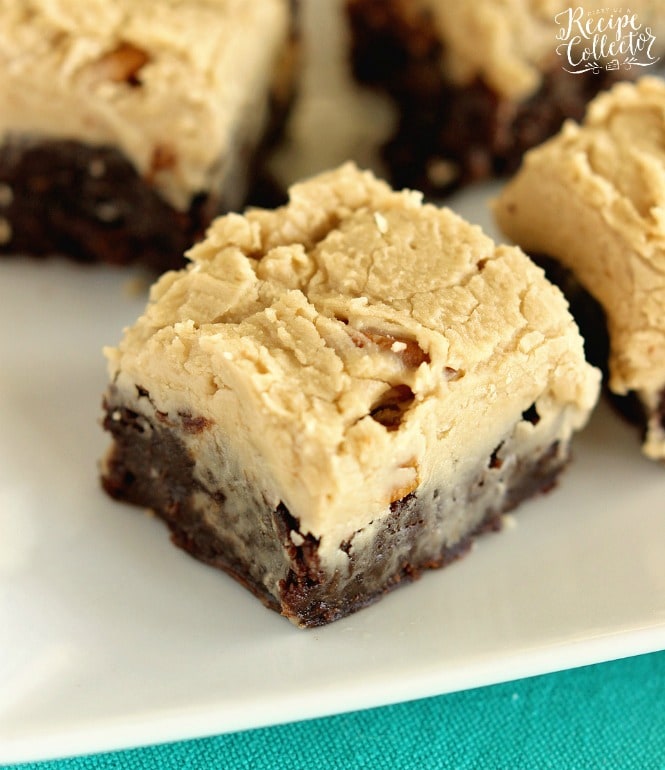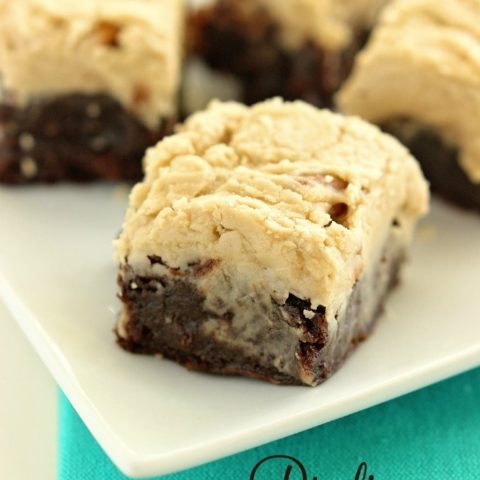 Praline Brownies
Ingredients
Fudge Brownie:
1/3 cup cocoa powder
1 tbsp espresso powder
2 1/2 oz unsweetened chocolate, finely chopped
1/2 cup boiling water
6 tbsp unsalted butter, melted
1/2 cup vegetable oil
4 eggs
2 tsp vanilla
2 1/2 cups sugar
1 1/2 cups flour
3/4 tsp salt
12 oz semi sweet chocolate chips
Praline Icing
1/2 cup butter
1 cup packed dark brown sugar
1/3 cup heavy cream (plus a little extra may be needed)
1 16 oz. box powdered sugar
1 tsp vanilla extract
1 cup pecans, chopped
Instructions
Preheat oven to 350.
In a large bowl, add cocoa espresso powder, and chocolate. Pour in boiling water and whisk until chocolate is melted and smooth.
Add melted butter, oil, eggs, and vanilla. Whisk until combined.
Add sugar, flour, and salt. Whisk well until combined. Stir in chocolate chips.
Pour into a 13 x 9 pan sprayed with cooking oil spray.
Bake for 38 to 43 minutes. Remove from oven and allow to cool for about 30 minutes before spreading icing.
Make icing by heating butter, brown sugar, and heavy cream in a small sauce pan. Bring it to a boil and then remove from heat.
Carefully pour into mixing bowl. Add powdered sugar and vanilla. Beat with a hand mixer until smooth. If it is too thick to spread, add a little more cream. (about 1 tbsp)
Stir in pecans and spread onto brownies. Allow them to set up about 30 minutes before slicing.
Recommended Products
As an Amazon Associate and member of other affiliate programs, I earn from qualifying purchases. This helps us keep our blog running efficiently and allows us to create more recipes for you.
 Other recipes you might like:
Mississippi Mud Brownies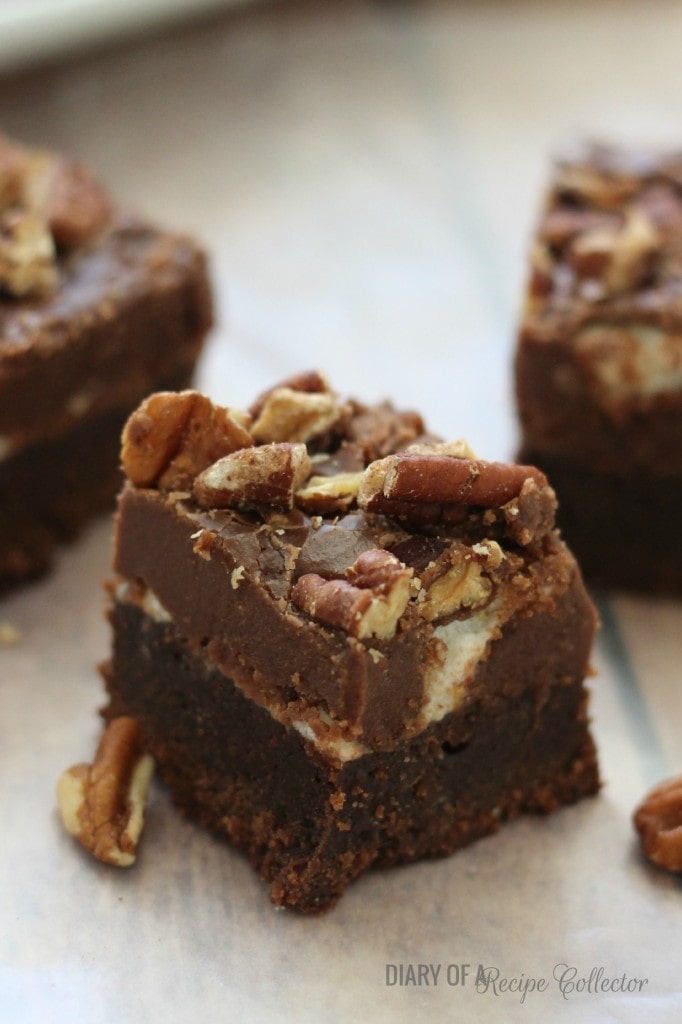 Five Layer Brownies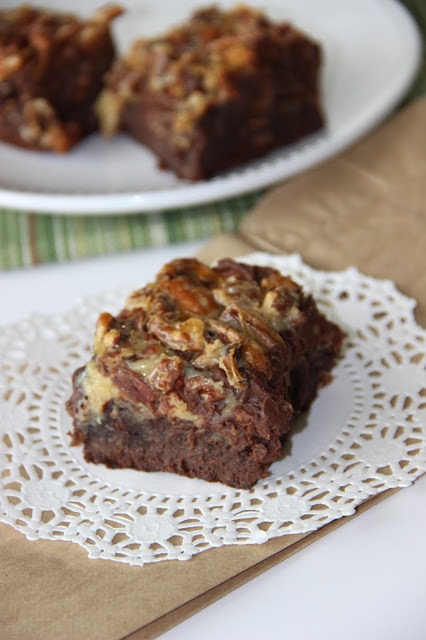 You can find more DESSERTS RECIPES HERE.
You can find ALL RECIPES HERE.
For more ideas, follow me on:
FACEBOOK, PINTEREST, INSTAGRAM, TWITTER, AND PERISCOPE.
Get FREE recipes delivered to you by email: SIGN UP HERE!