Monster Cake Balls – Funny little monster cake balls make a perfect Halloween craft and treat for your little monsters!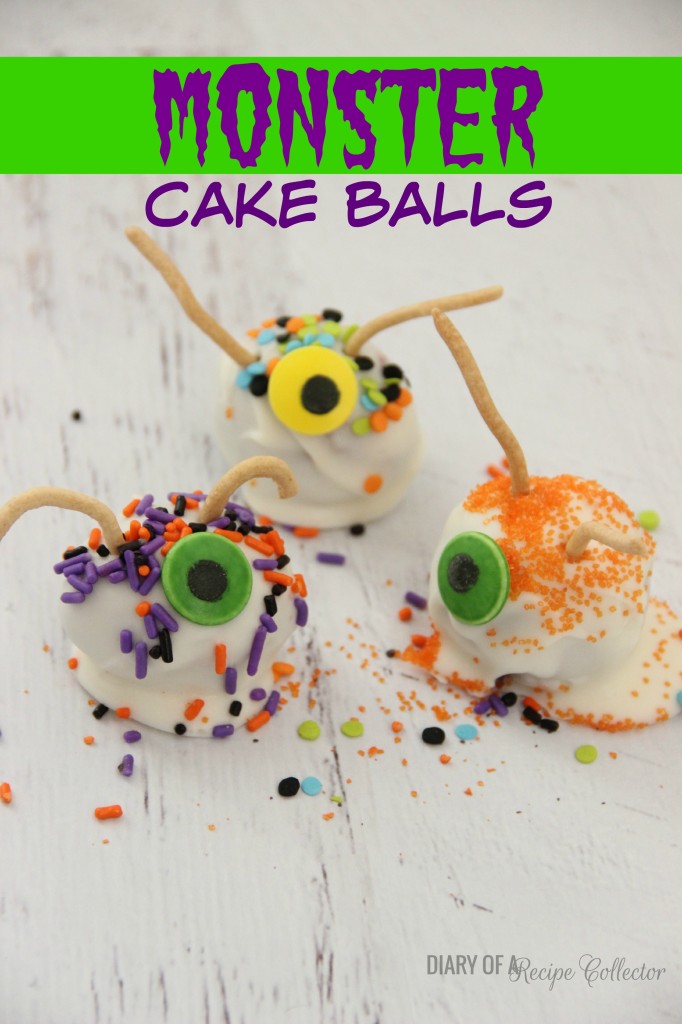 I have a confession to make.  I really dislike making cake balls or cake pops.  Now don't get me wrong.  They are one of the best little desserts ever!  However, I just don't enjoy working with temperamental chocolate and struggling to make a perfectly smooth cake ball.  So why would I choose this little activity to do with my kids?
Well, I knew the more imperfect these little monsters were, the better they would turn out.  It was a win-win.  The kids would have fun, and I would get to make cake balls and not stress about how ugly they turned out.  Plus I got to eat my fill!
Now I did employ a few cake ball tricks that I've read up on in order to not have a globby chocolate mess.  I also pre-made and froze my cake balls, so that I had them ready to go when the kids and I had an afternoon to make these.
Plus, my mom had my 2 year old, which allowed my older kids and I to create in a pretty peaceful environment.  I miss getting to do stuff with them.  Life is a little chaotic these days with a 2 year old and a 3 month old.  I am having to really make an extra effort to do stuff with my two "big" kids.  Playing a board game or a card game usually turns into a nightmare lately.  So I really loved that we had this time to make these little monsters while our other little monster was away.
They really got into making one-eyed, two-eyed, and three-eyed crazy ones.  I dunked them in the almond bark, while they got ready to create.  They had to work quickly to get those sprinkles on before it started to harden.   You can use any  cake mix, but we used red-velvet because they are a favorite at our house.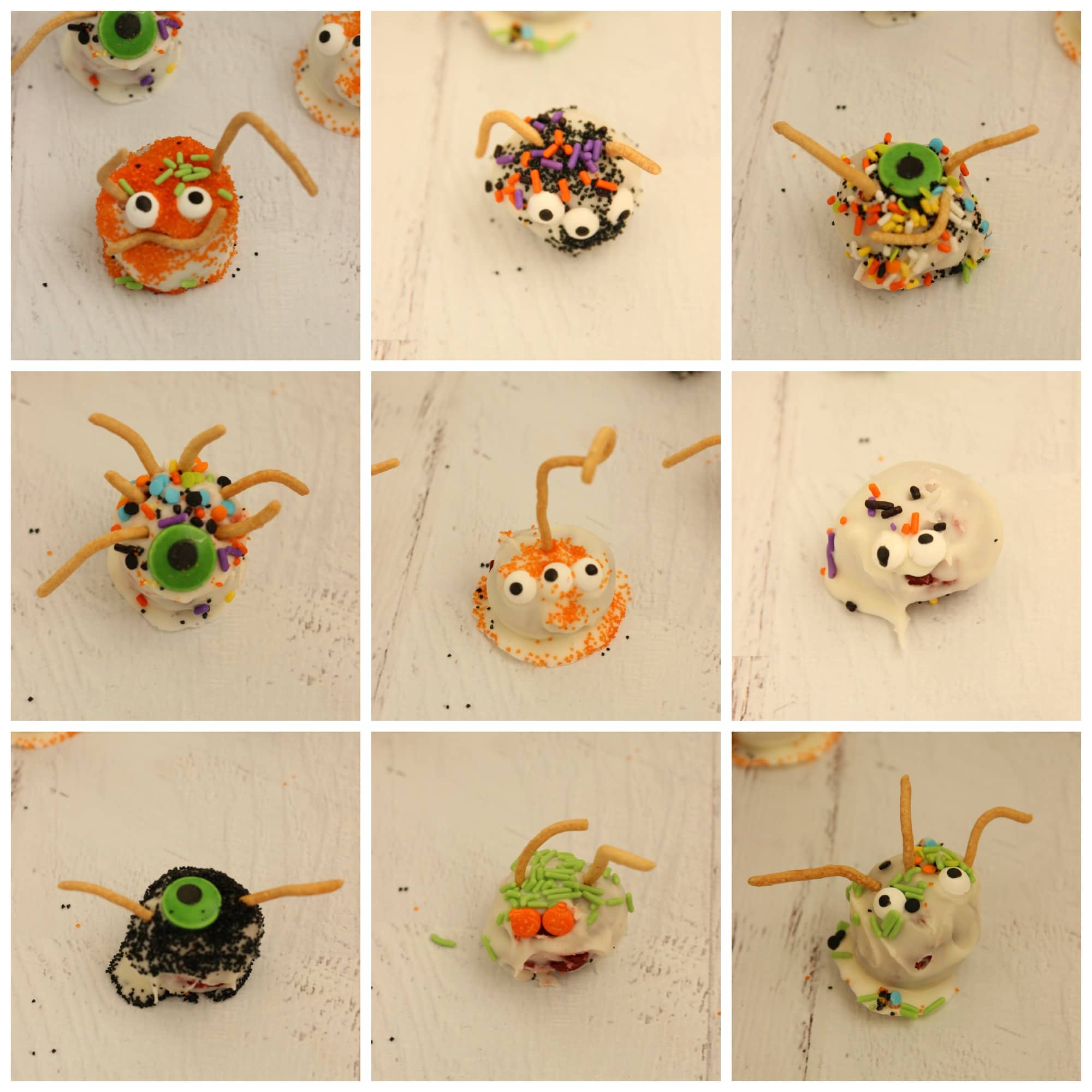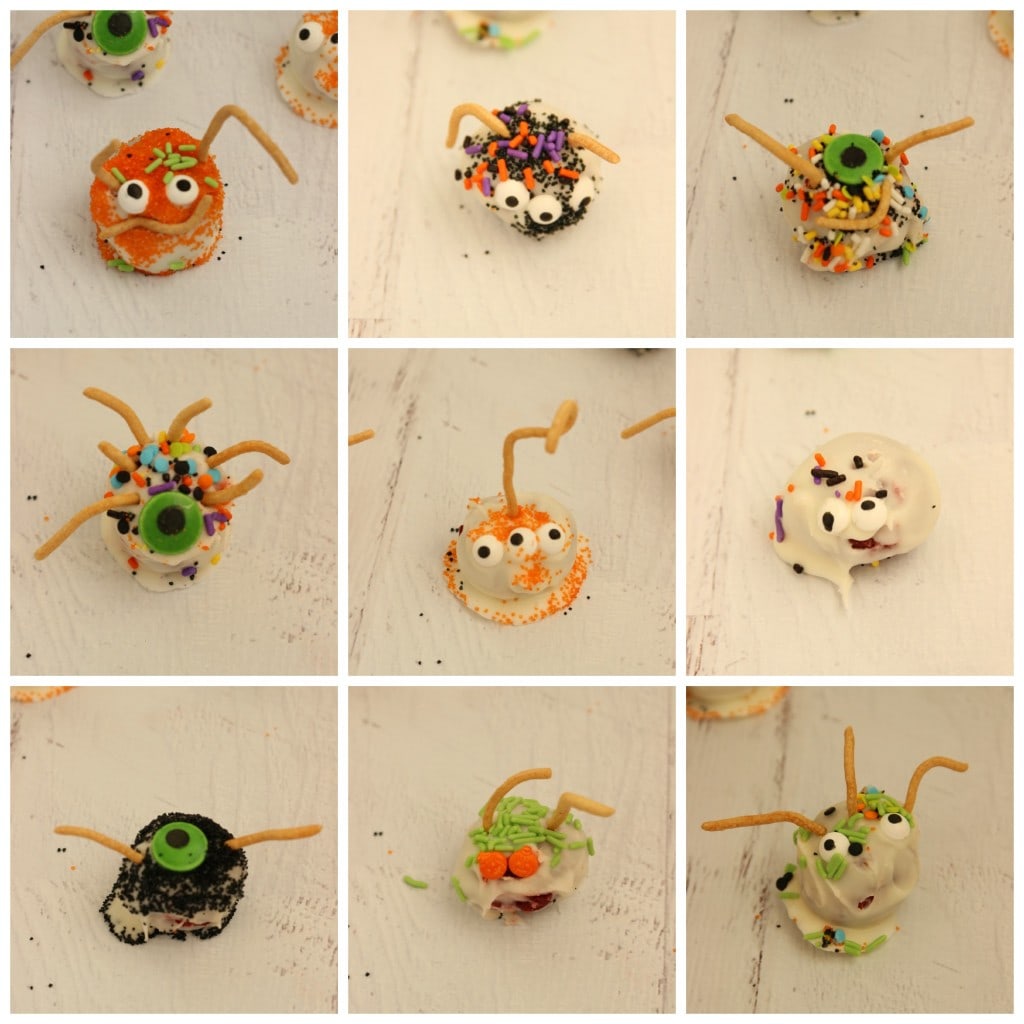 I think we will be making these a Halloween tradition!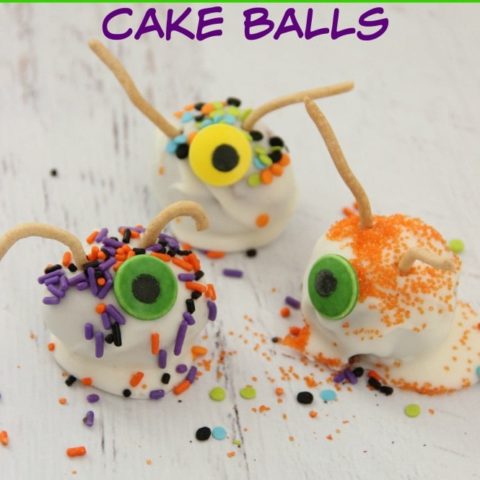 Monster Cake Balls
Ingredients
red velvet cake mix plus ingredients to bake cake
1 16 oz container of thick and creamy cream cheese icing
1 24 oz package white/vanilla almond bark
A variety of sprinkles
candy eyes (large and small variety)
chow mein noodles (found in asian food section)
Instructions
Bake cake according to package directions.
Allow cake to cool and crumble with fork in a large bowl.
Mix in cream cheese icing until all combined.
Roll into 1 inch balls and place on a parchment or wax paper lined cookie sheet to freeze for at least an hour. (Place in a plastic freezer bag after this until ready to use).
In a microwavable bowl, place 6 oz of almond bark. Microwave for 30 seconds, stir, microwave 30 more seconds, stir. At this point, microwave 20 to 30 more seconds. Time will vary according to your microwave. If it still has some clumps, just stir until they melt.
Take about 6 cake balls out of the freezer. Using a fork, dip them into almond bark and place on a sheet of wax paper and begin to decorate one at a time.
Once all almond bark is used, rinse and dry bowl, and repeat with 6 more ounces of chocolate.
Notes
*Microwaving smaller amounts of chocolate helps it melt better and prevents over-heating.
* Leaving cake balls in freezer until ready to use helps them to not fall apart in warm chocolate.
Other fun Halloween treats for kids:
Mini Halloween Trifles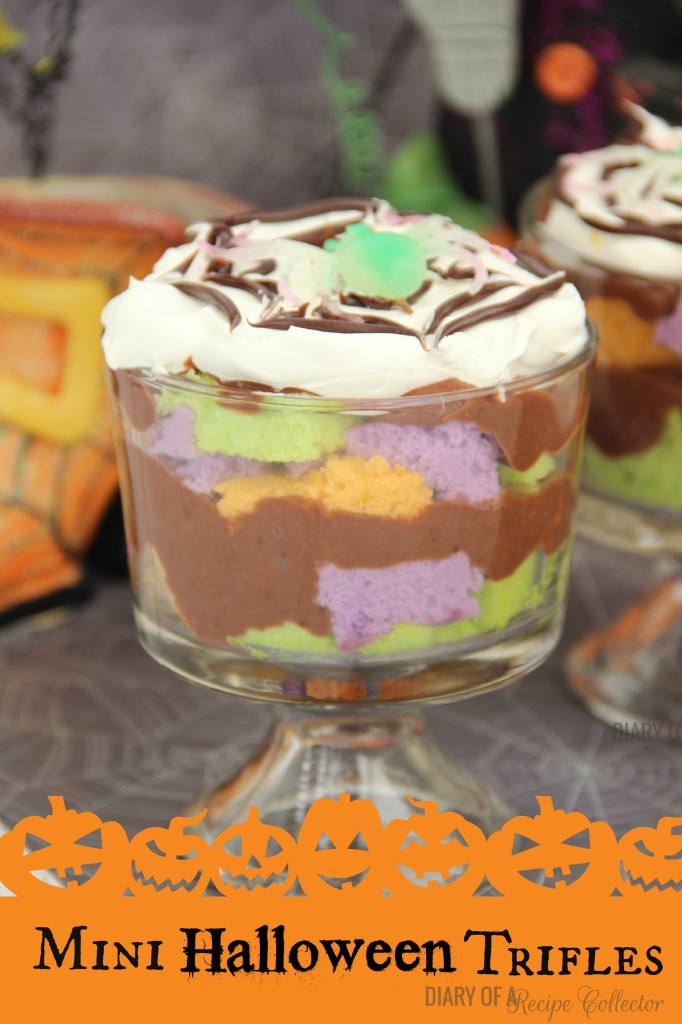 Gooey Halloween Popcorn Crunch