Gooey Halloween Popcorn Crunch – Popcorn, pretzels, candy corn, almonds, and cereal all mixed up in the most wonderfully addicting sugar coating!
 You MUST make this!  You will probably want to make this more than once if you do!  Make this for friends, co-workers, teachers, and your kids, and they will LOVE you!  Then make a batch on Halloween night to hand out to your favorite trick-or-treaters!
It's like caramel popcorn seriously kicked up a notch!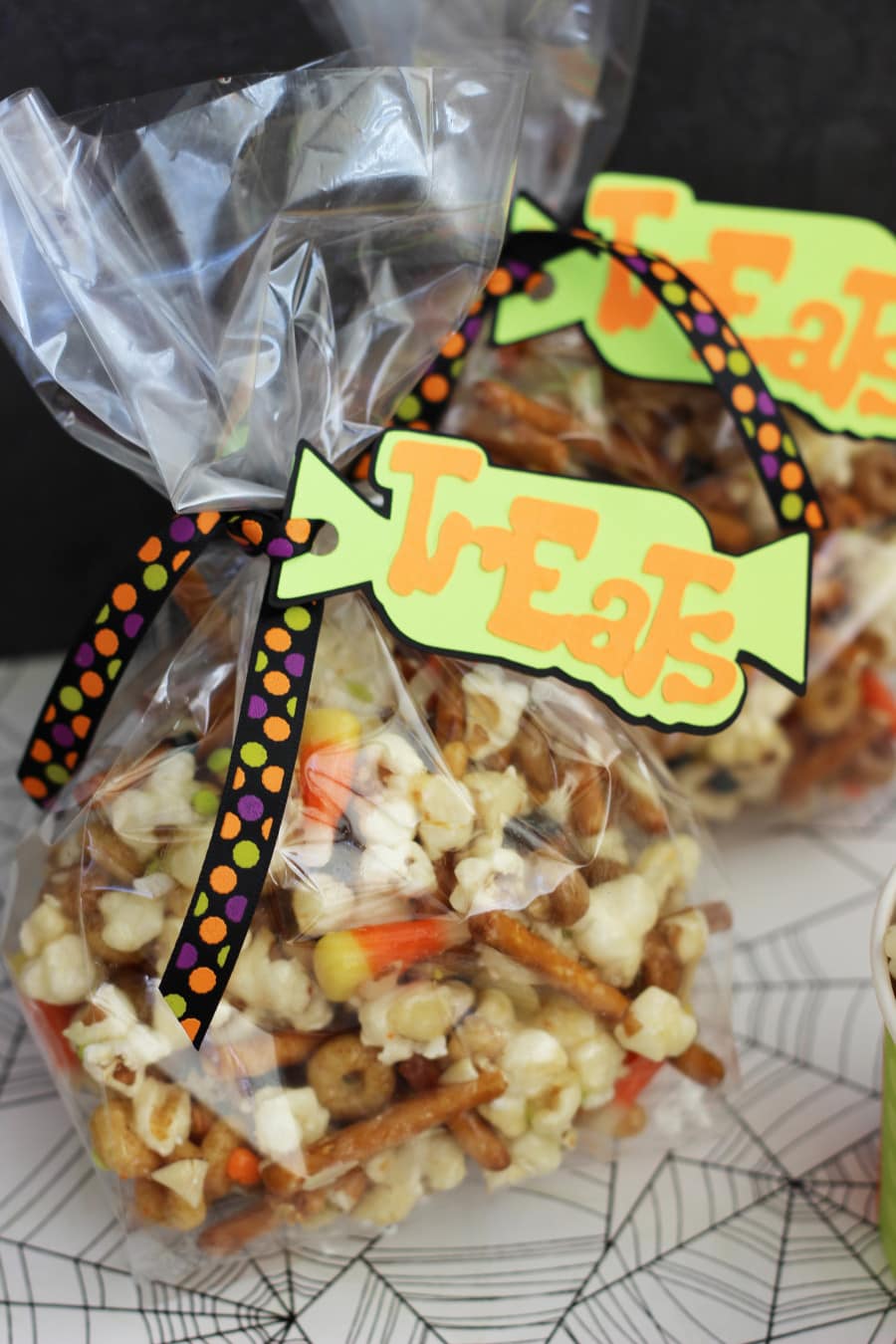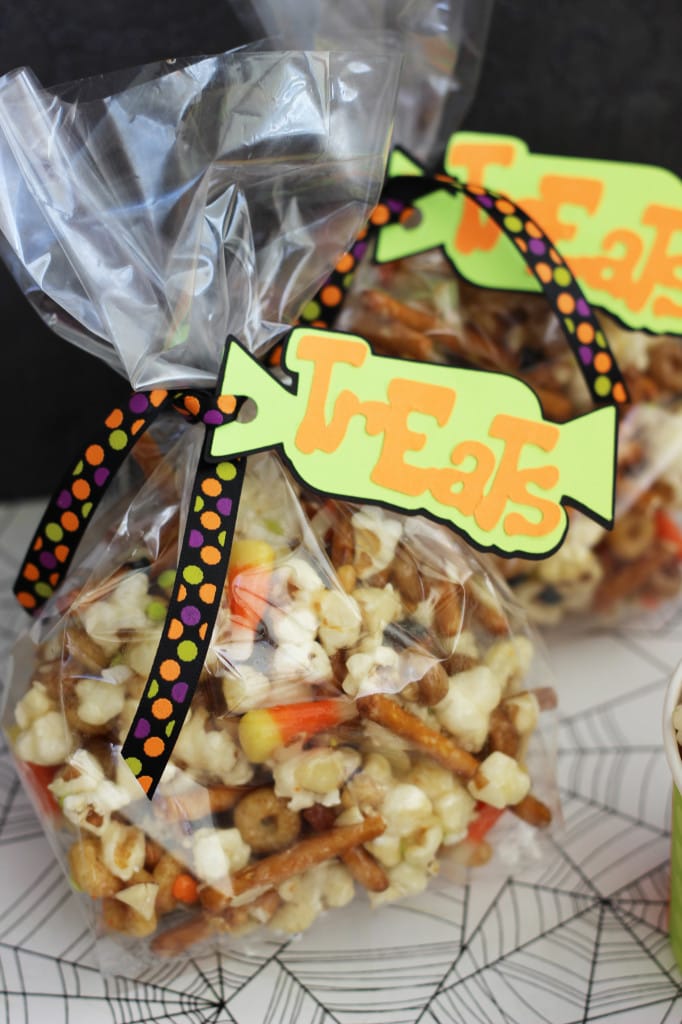 I bagged some up and took them to our good friends' house.  Cute little packages tied up in strings….one of my favorite things!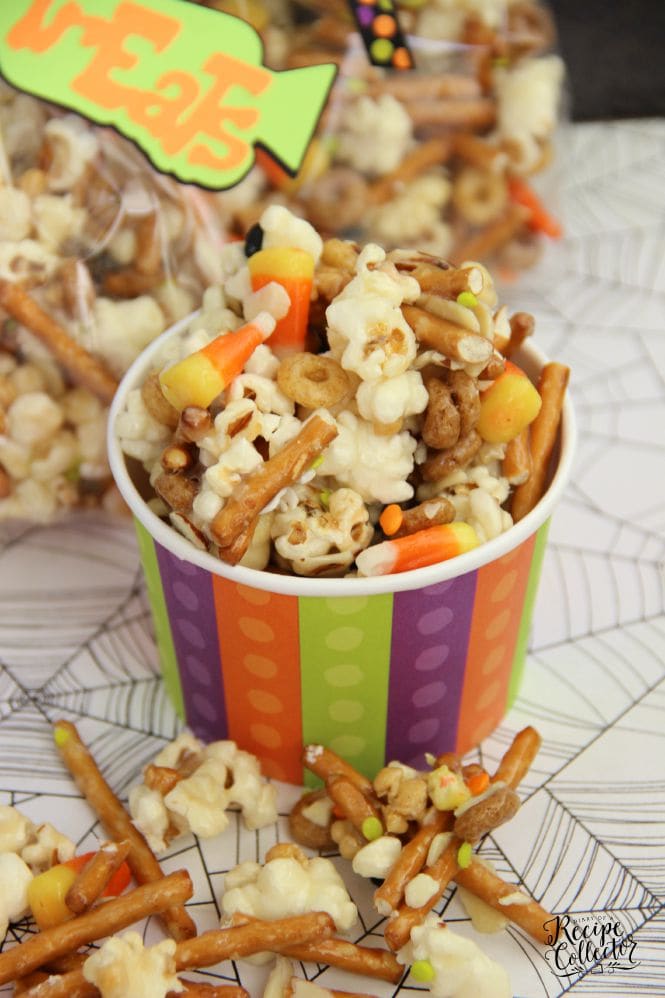 It is super easy to whip up.  To make it even easier, use pre-popped popcorn…put everything in a BIG bowl and stir in the sugar coating.  Spread it out on a sheet pan and try very hard to resist snacking before it is all set up!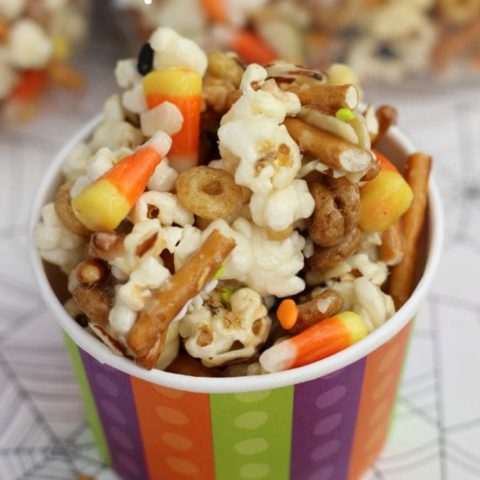 Gooey Halloween Popcorn Crunch
Ingredients
6 cups popcorn (I used pre-popped Kettle corn)
4 cups pretzel sticks
2 to 3 tbsp sprinkles
2 cups Protein Cheerios (Cinnamon Almond flavor)
3/4 cup sliced almonds
1 cup candy corn
1 cup sugar
1 cup light corn syrup
1 1/2 sticks butter
Instructions
In a LARGE bowl, mix popcorn, pretzels, sprinkles, Cheerios, and almonds.
In a saucepan, heat sugar, corn syrup, and butter to 234 degrees while frequently stirring. (Mixture will be boiling and foamy for about 2 minutes while reaching this temperature).
Remove from heat.
CAREFULLY pour sugar mixture into bowl over popcorn mix.
Stir to coat evenly.
Mix in candy corn.
Spread out onto wax paper lined sheet pan to cool and set up for a few hours.
Break up and store in an air tight container or storage bag.
Recommended Products
As an Amazon Associate and member of other affiliate programs, I earn from qualifying purchases. This helps us keep our blog running efficiently and allows us to create more recipes for you.
Here's another version without popcorn: