Mini Halloween Trifles – Layers of fun colored cake with pudding and topped off with some spider-webbed whipped cream!  It's a super fun dessert for your kids or grandkids, and it's really quick to put together!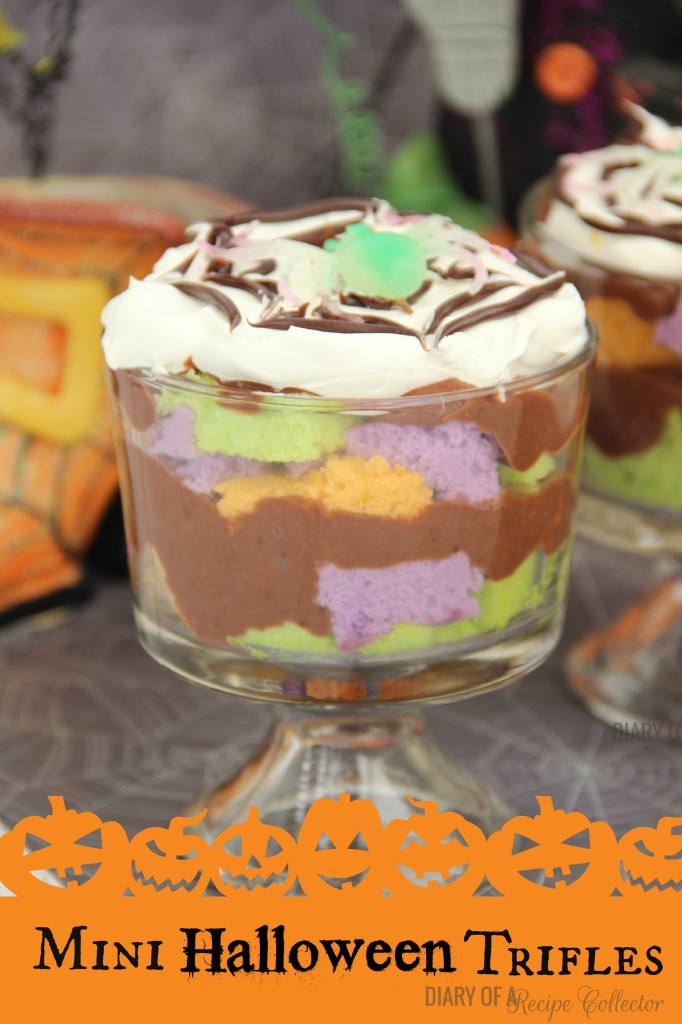 I LOVE Halloween!  Not the super scary/gross Halloween…but the fun kind!  It is one of the funnest food holidays, and there are always a ton of cute things to make for kids the whole month.  The weekend before Halloween I usually make mummy hot dogs, ghost pudding cups, and this little treat!  It is so simple to make and put together.  It's just a fun dessert for all your little people!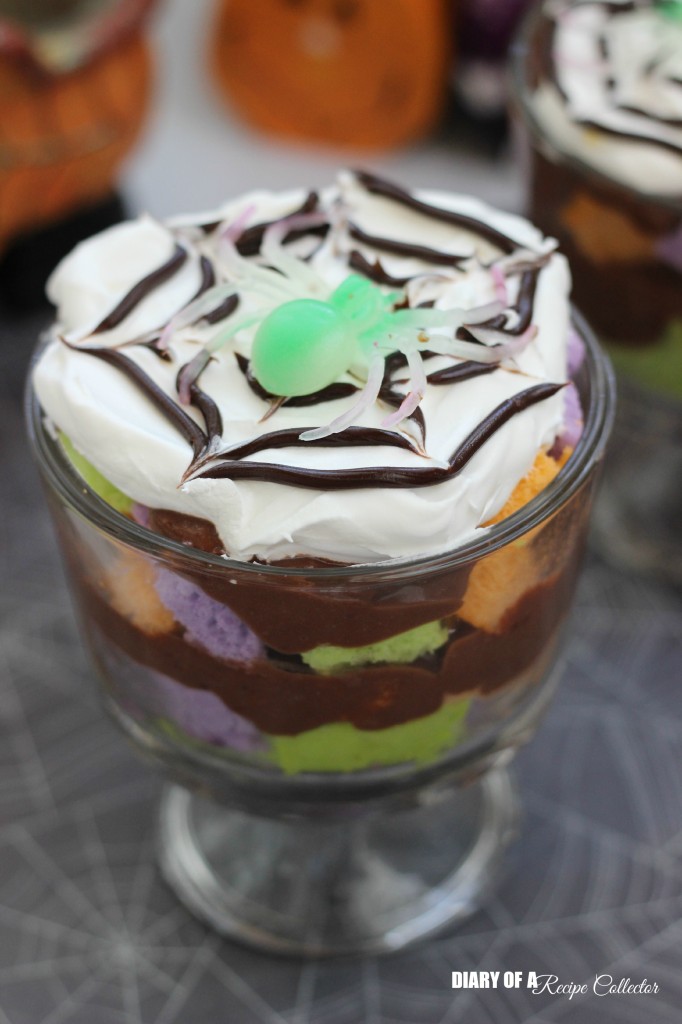 This year we are hoping for a better Halloween in our neighborhood.  It is a fairly new neighborhood and there are a ton of houses.  It should be a candy-lovers dream!  Last year, however, it rained and poured on Halloween night and our city did not reschedule trick-or-treating.  Boo!  This year they promise to set a new date to trick-or-treat if the weather looks bad.
We plan on cooking a big gumbo and having lots of fun treats like this one to munch on before we go out and collect all the goodies.
We will have a Wolverine,  a Dorothy,  a Sophia the First, and a Baby Superman, so we should have some fun!
Mini Halloween Trifles
Ingredients
1 box white cake mix with necessary ingredients to make cake
1 3.4 oz box chocolate pudding mix
2 cups milk
4 oz cool whip or homemade whipped cream
orange, purple, and green food coloring gel
jarred hot fudge
plastic spiders
Instructions
Make cake according to package directions.
Divide batter into three separate bowls,
Using food coloring gel, place about ¼ tsp of each gel into the different bowls to make one orange, one purple, and one green. Add more gel to get desired color.
Pour colored batter into three 8 inch cake pans
Bake at 350 for 15 minutes. Check for doneness with a toothpick.
Let cakes cool.
Whisk pudding mix with 2 cups of cold milk. I whisk it until combined, let it sit for a few minutes to thicken, and then I mix it again for a few seconds.
Cut cakes into small ½ inch cubes.
Begin layering: Place a small amount of cake cubes in the bottom followed by a few tablespoons of chocolate pudding, repeat cake cubes and pudding. Place a small dollup of hot fudge in the center. Top with cool whip.
Place a few teaspoons of hot fudge in a small plastic ziploc. Cut a really small hole in the corner of the bottom to use to pipe out hot fudge. Pipe fudge into concentric circles on cool whip. Use a knife and very slowly drag and pull knife through the circles to create a spider web. Place a plastic spider on top of the web. *Caution your kids not to eat the spider please 🙂
Other recipes you might enjoy: