Mocha Brownie Ice Cream Cake – Layers of delicious brownie, coffee cream cheese, coffee ice cream, and whipped topping.  If you love an iced mocha frappe, then you will love this dessert!

This Mocha Brownie Ice Cream Cake is a perfect summer dessert!  And I have a confession to make…
I am not much of a cold coffee fan.  I don't order the iced coffee drinks at Starbucks.  I'm more of a warm comfort kind of drink girl.  But this Mocha Brownie Ice Cream Cake is so good!  There is just something about that melting coffee ice cream with that brownie!  I could go on and on about it!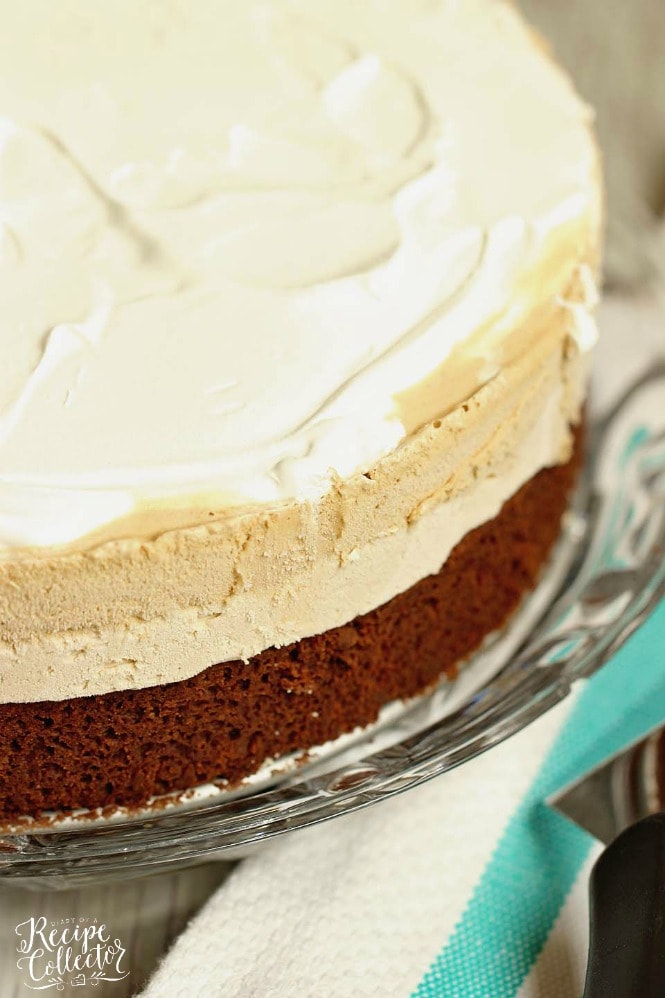 My mom made this dessert a few years ago, and I've been wanting to try it out ever since.  It's definitely a dessert you need to commit to making.  This is not a last minute idea for sure.  I knew I wanted it for Sunday, so I made it on Saturday.  None of the steps are complicated at all.  But it is definitely not a one bowl and done kind of dessert.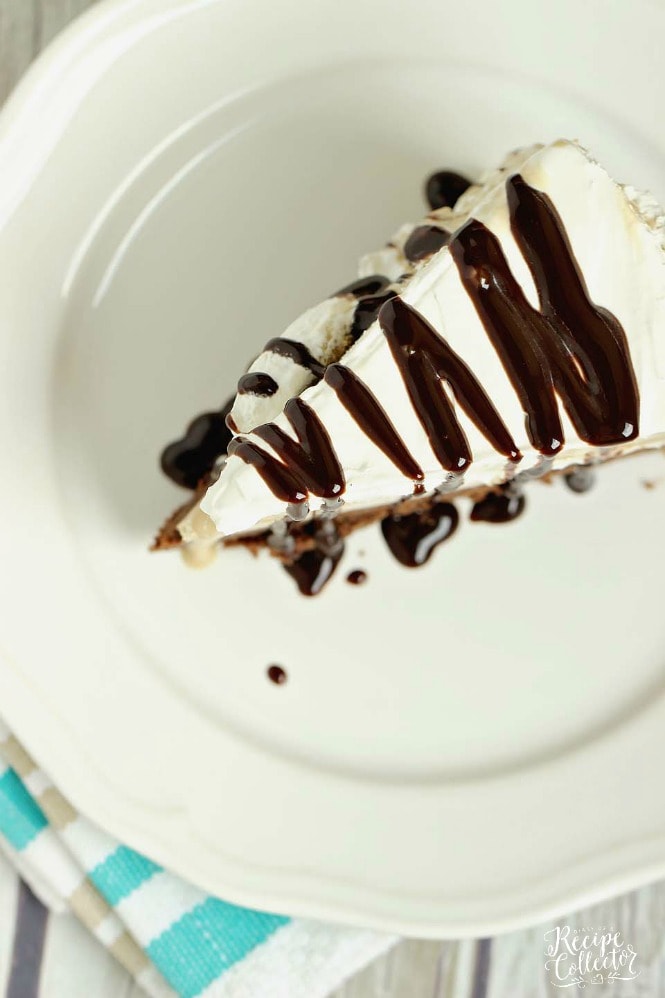 So now that I've talked you out of making it, let me tell you about the steps which are all really easy.  The brownie takes about 10 minutes max to put together and start baking.  Then I start with the coffee ice cream, which requires literally 3 ingredients and putting it in the ice cream maker to do all the work.  The last step just requires beating some cream cheese, sugar, coffee, and whipped topping.  It is super easy.  The hardest part is waiting on the brownie to cool so you can layer it.  So do that ahead of time, and then make the coffee ice cream.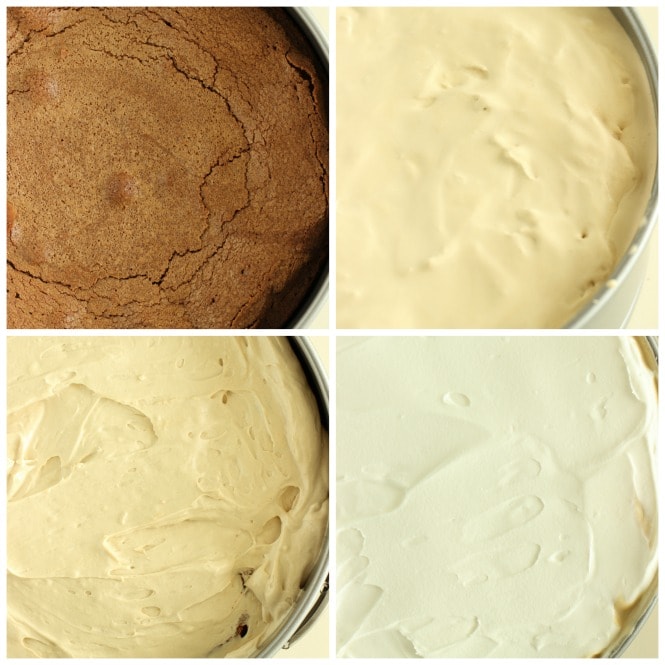 See all the layers of goodness? 🙂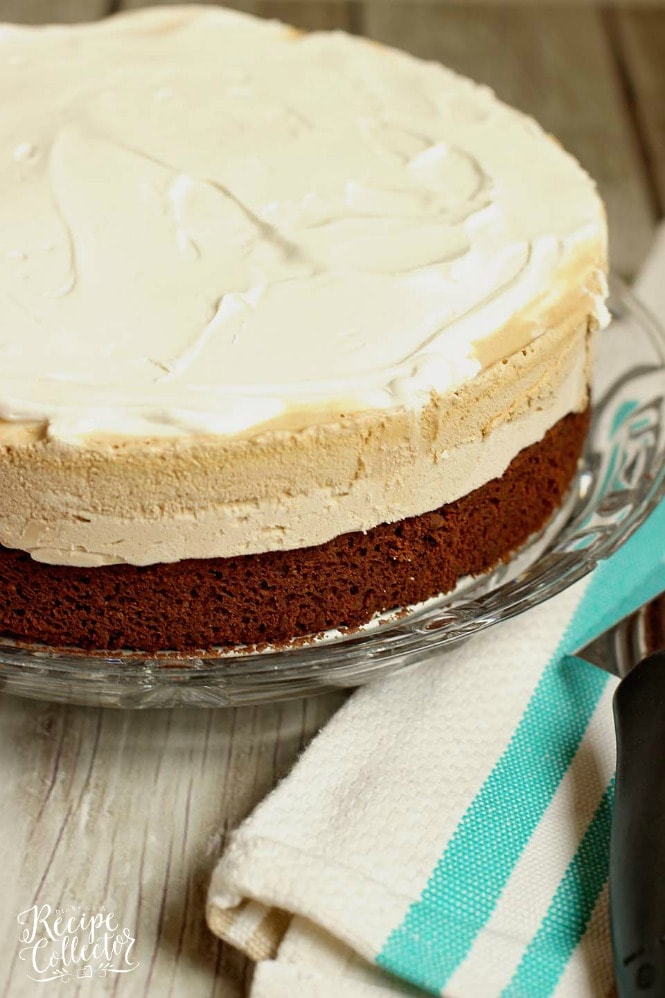 It makes a gorgeous dessert and is definitely a show stopper with that chocolate drizzle!  It's a perfect summer dessert!
*I used a 9 inch springform pan and an ice cream maker for this dessert.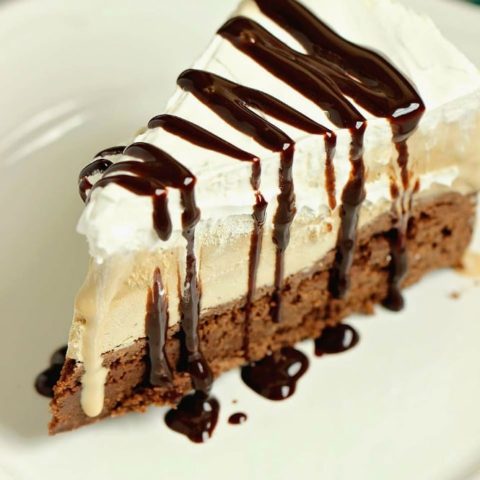 Mocha Brownie Ice Cream Cake
Ingredients
FOR THE BROWNIE LAYER:
4 ounces unsweetened chocolate
2 sticks of butter
2 cups of sugar
4 eggs
2 tsp vanilla extract
1 1/4 cup all-purpose flour
FOR THE COFFEE ICE CREAM:
16 oz. heavy whipping cream
1 14 oz can sweetened condensed milk
1 to 2 tbsp of instant expresso powder
FOR THE CREAM CHEESE LAYER:
1/4 cup warm water
2 tsp instant expresso powder
8 oz cream cheese
1/2 cup powdered sugar
1 8 oz container Cool Whip
Topping:
Instructions
MAKE THE BROWNIE LAYER:
Preheat oven to 325 degrees. Spray a 9 inch springform pan with cooking spray.
Place chocolate in a microwave-safe bowl. Melt chocolate in microwave for 1 minute. Remove and stir. Continue microwaving and stirring in 30 second intervals until melted. Set aside to cool.
In a medium bowl, cream the butter and sugar. Add eggs and beat until fluffy. Add melted chocolate and vanilla. Mix until combined evenly. Add flour and mix until combined.
Pour batter into springform pan and spread it evenly. Place onto a sheet pan to catch any drips. Bake for 35 to 40 minutes or until center is set and starts to crack. Allow to cool completely before building ice cream cake.
FOR THE COFFEE ICE CREAM:
While brownie layer bakes, make ice cream in an ice cram maker. Make sure bowl has been frozen for at least 24 hours. Begin by adding heavy cream, sweetened condensed milk, and expresso powder (use the amount you prefer) to a bowl. Whisk to combine. Pour this into ice cream maker and follow ice cream maker instructions. (My ice cream was ready in about 25 minutes). Place in freezer until ready to assemble cake.
FOR THE CREAM CHEESE LAYER:
Mix warm water and expresso powder until combined. In a large bowl, beat cream cheese, powdered sugar, and coffee mixture until smooth and combined. Mix in 1 cup of cool whip. Set aside until ready to assemble cake.
ASSEMBLE CAKE:
Take ice cream out of freezer to soften for about 10 minutes. Loosen edges of brownie from sides of pan by running a knife along edges. Top brownie with cream cheese layer followed by coffee ice cream layer. If ice cram won't spread easily, let it set for a few minutes and then spread it. Top with remaining cool whip. Place in freezer on a baking sheet for an hour and then cover it. Let it freeze for at least 2 hours or overnight.
Remove from freezer 20 to 30 minutes before serving. Immediately after removing from freezer, loosen edges by running a knife between pan and cake. Lift spring form pan ring off of cake and allow cake to set before slicing. Drizzle each slice with chocolate sauce upon serving.
Notes
*This dessert is best made the day before you would like to enjoy it.
If you do not have a spring form pan, you can make this dessert in a smaller square/rectangular pan such as a 9 x 9 or a 7 x 10.
Recommended Products
As an Amazon Associate and member of other affiliate programs, I earn from qualifying purchases. This helps us keep our blog running efficiently and allows us to create more recipes for you.
Looking for other great summer desserts?
No Churn Banana Split Ice Cream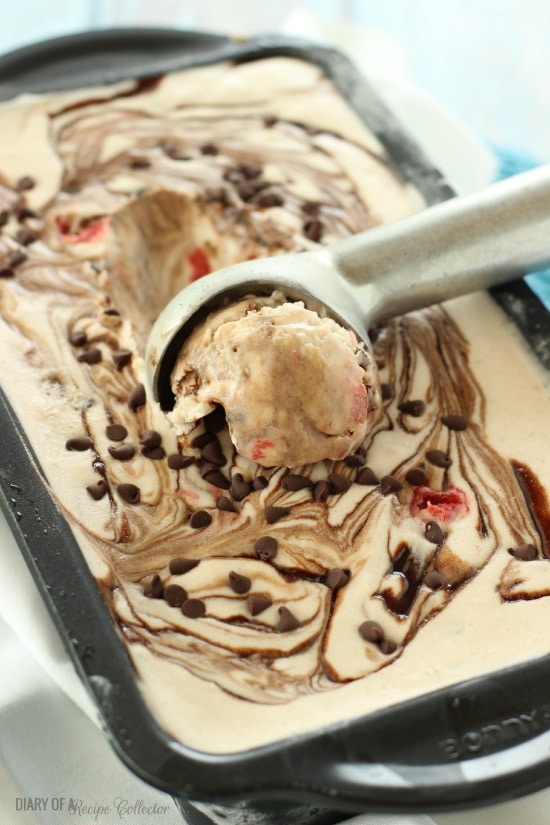 Not Yo Mama's Banana Pudding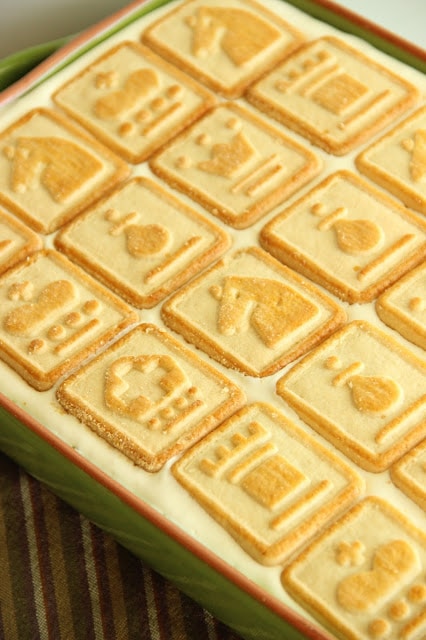 Salted Caramel Brownie Ice Cream Cake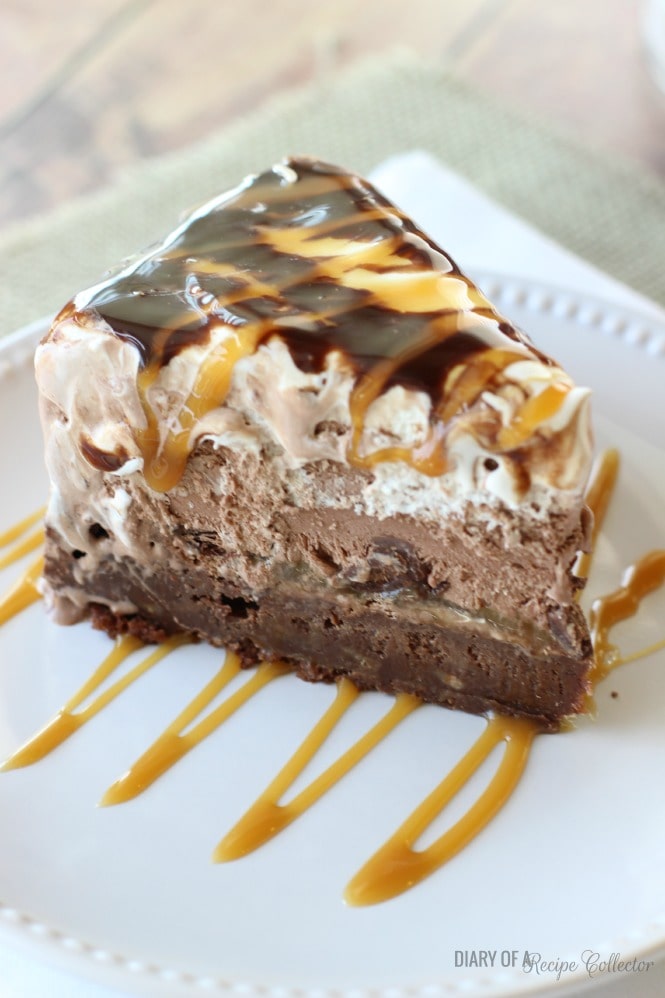 Banana Peach Popsicles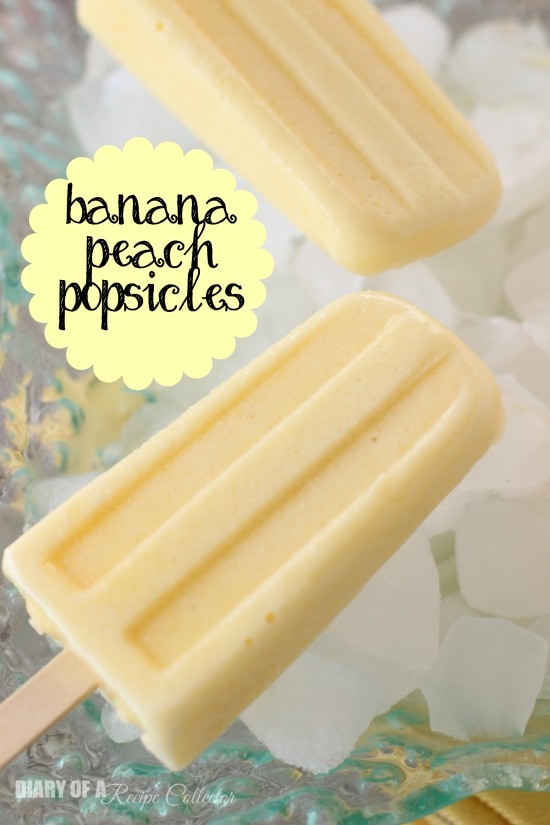 You can find more DESSERTS RECIPES HERE.
You can find ALL RECIPES HERE.
For more ideas, follow me on FACEBOOK, PINTEREST, INSTAGRAM, TWITTER, AND PERISCOPE.
Get FREE recipes delivered to you by email:  SIGN UP HERE!