No Churn Banana Split Ice Cream – No ice cream maker is needed for this delicious recipe filled with bananas, pineapple, cherries, strawberries, and chocolate syrup!

Is it just me, or did last week fly by?  It's Saturday, and I don't normally post on the weekends, but this week was one of those weeks where it was hard to accomplish anything.  Plus I had a few blog maintenance issues going on that had to be taken care of on Friday…hence, no post.
But I was not going to hold out on you any longer because I couldn't wait to share this No Churn Banana Split Ice Cream with you!  And here's a little confession:  It was my first no churn ice cream to make!  It was so easy!  I have a great ice cream maker and all, but I couldn't pass up an opportunity to try this method.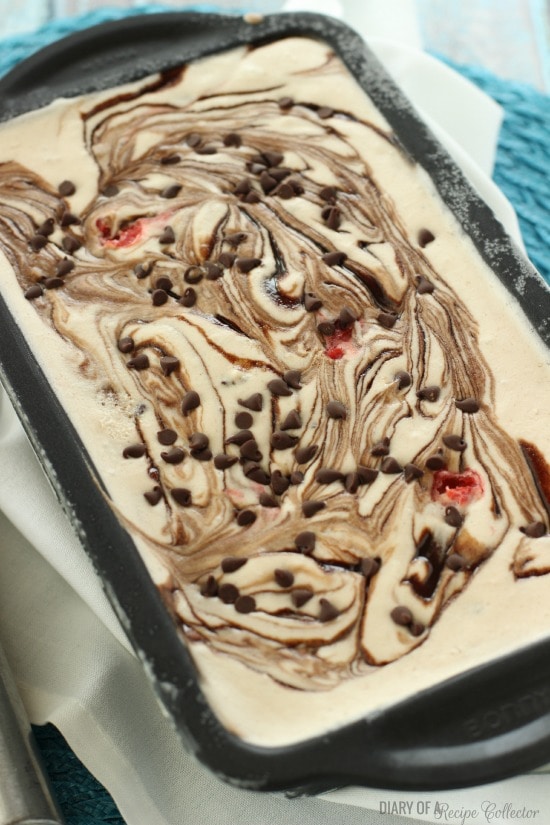 We ate it in waffle bowls, and the kids absolutely loved it…well almost all of them.  I was 3 for 4.  My oldest son doesn't like cherries, so he skipped out on the deliciousness.  That must have taken some will power to deny oneself the swirls of chocolate syrup and mini chocolate chips all because of a few cherries.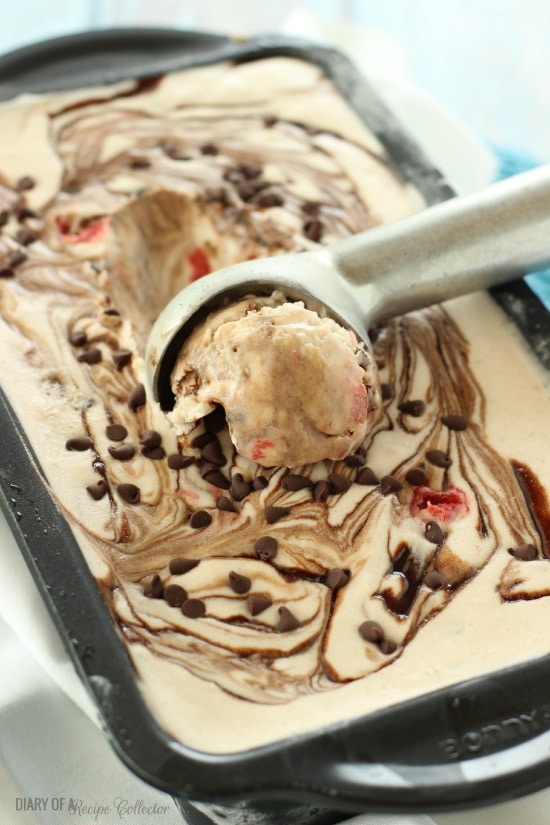 Now you do need a good bit of down time to make this recipe.  The initial mixing goes pretty quickly, but you do need to allow some time for it to freeze.  I left mine in the freezer overnight.  So plan to make this the day before you want to have it.
So now I'm totally obsessed with no churn ice creams!  My brain is just spinning thinking of new ones I want to make now!  Enjoy!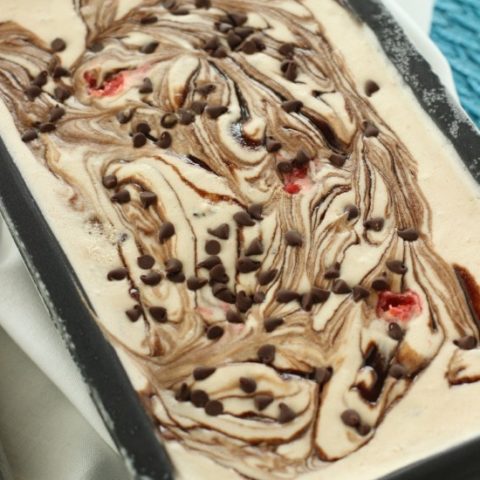 No Churn Banana Split Ice Cream
Total Time:
8 hours
20 minutes
Ingredients
2 ripe bananas
2 cups heavy cream
1 can sweetened condensed milk
1 tsp vanilla
1/3 jarred cherries, chopped
1/2 cup chopped strawberries
1 8 oz. can crushed pineapple, drained
chocolate syrup
Optional: toasted pecans
Instructions
In a blender or food processor, blend bananas until smooth.
Using a stand mixer or a hand mixer, beat heavy cream until soft peaks are formed.
Add bananas to a large bowl. Stir in sweetened condensed milk and vanilla.
Add cherries, strawberries, pineapple, and pecans. Stir.
Add whipped cream and fold in to combine.
Pour half the batter into a 9 x 5 loaf pan. Drizzle with chocolate syrup. Use a knife to swirl.
Add rest of batter and drizzle with more chocolate syrup. Swirl using a knife.
Place in freezer overnight and serve once completely frozen.
Recommended Products
As an Amazon Associate and member of other affiliate programs, I earn from qualifying purchases. This helps us keep our blog running efficiently and allows us to create more recipes for you.
Looking for other treats?