Loaded Blackened Chicken – Seasoned, pan-fried chicken breasts topped with smothered onions, bacon, and pepper jack cheese.  You'll definitely want to make this chicken dinner recipe very soon!
We LOVED this Loaded Blackened Chicken, so I'm super excited to share this recipe with you today!  The whole recipe inspiration came from one of my favorite dishes at the restaurant, Walk-Ons.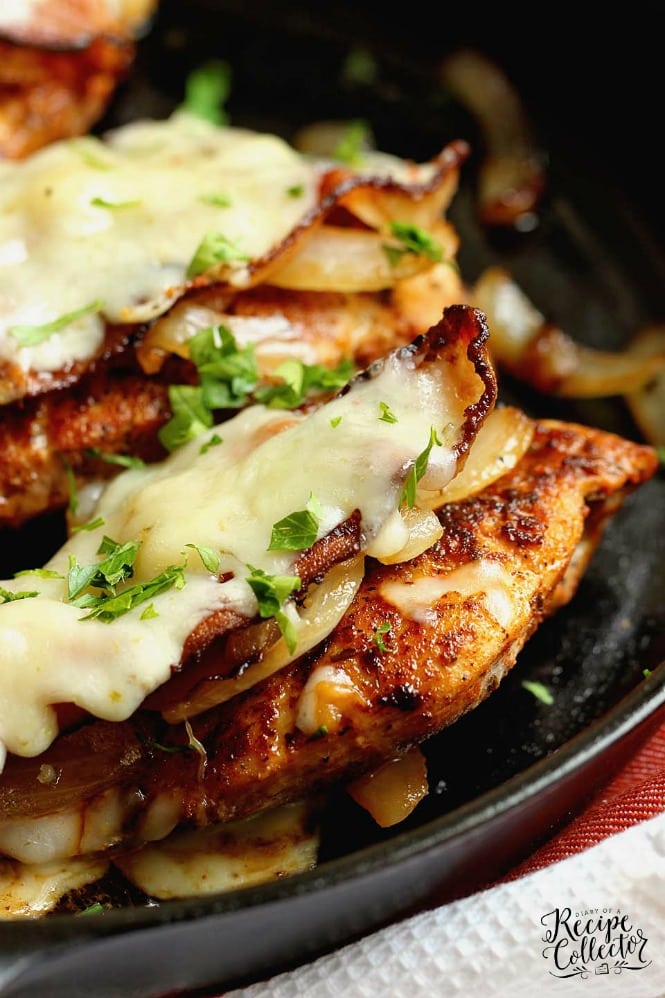 I get the Black Jack Chicken Sandwich that is basically this chicken recipe sandwiched on a toasted bun.  It's fabulous, but I usually end up eating it without the bread because it falls apart so much.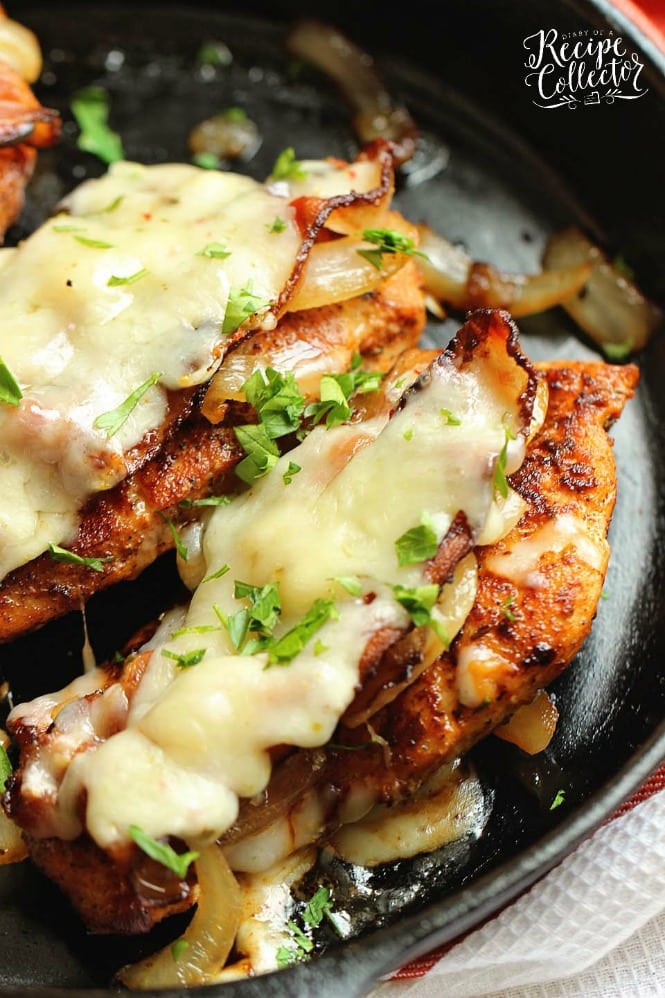 So, last time we went, I made it my mission to make it at home.  I highly recommend a good blackening seasoning.  And please don't feel like you can only use it for this recipe!  It's great on fish too!  You should be able to find it in your regular grocery store.
Tips for Making Loaded Blackened Chicken:
Use an oven-safe skillet for less clean-up.
Never tried Blackening Seasoning?  It's a great addition to your spice cabinet!
Roast some veggies like broccoli or asparagus in the oven while you make the chicken for a great side to this recipe!
Want to really indulge?  Turn this into a sandwich!  Just slice the chicken once its cooked.  Top with bacon, onion, and cheese.  Broil buns while you melt the cheese on the sliced chicken and pile it on their once finished.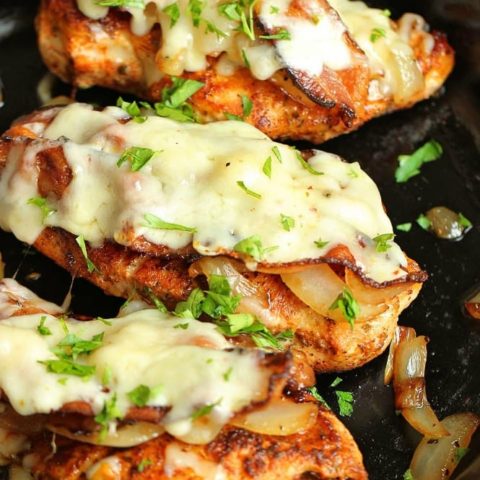 Loaded Blackened Chicken
Ingredients
1.5 pounds boneless chicken breasts (about 3)
1 tsp blackening seasoning
1 large onion, sliced
6 strips bacon
1/2 tsp salt
1/4 tsp black pepper
4 oz pepperjack, shredded
fresh parsley, chopped
Instructions
Season chicken breasts with blackening seasoning. Set aside.
In a skillet, cook bacon until crispy. Remove to a paper towel-lined plate.
Drain all but about 1 1/2 tbsp of the bacon grease from the skillet making sure you have enough to coat the bottom of the skillet. Reserve the rest.
Add sliced onion, salt, and pepper. Saute onion over medium heat about 10 minutes or until translucent. Remove to a bowl.
Add a little more bacon grease or 1 tsp of olive oil to coat the bottom of skillet again. Add seasoned chicken breasts and cook over medium for 8 to 9 minutes per side or until cooked through.
Top each chicken breast with onions and bacon. Top with shredded cheese.
Place under broiler for 2 minutes or until cheese is melted. (If not using an oven-safe skillet, transfer chicken breasts to a pan before placing under broiler).
Top with fresh parsley. Serve warm.
Notes
*Use an oven-safe skillet for less clean-up.
Recommended Products
As an Amazon Associate and member of other affiliate programs, I earn from qualifying purchases. This helps us keep our blog running efficiently and allows us to create more recipes for you.
Other Recipes You Might Like:
Basil Pesto Chicken Alfredo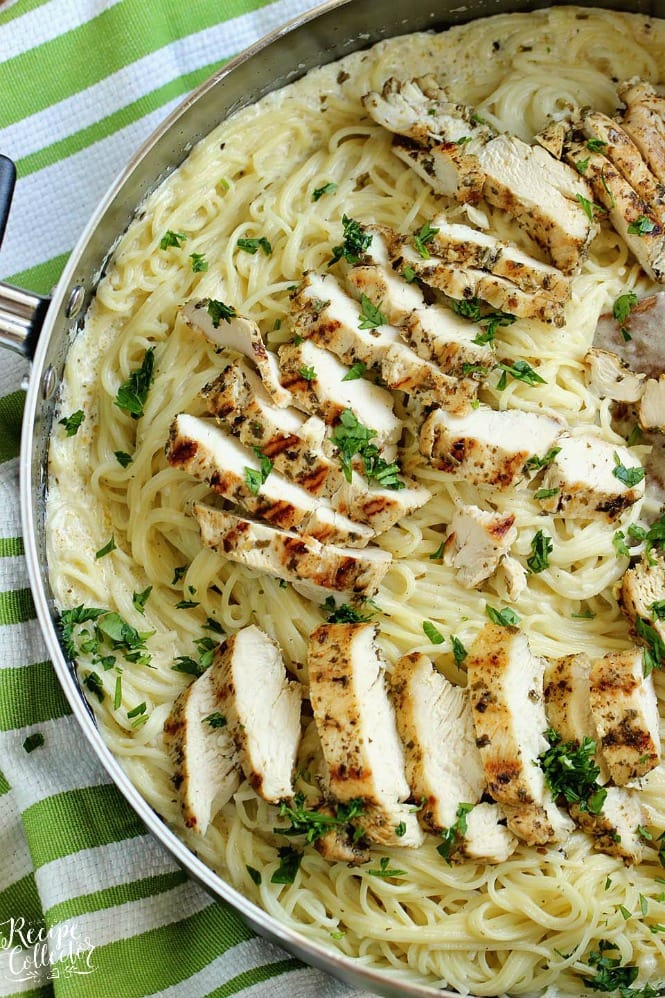 Mini Meatloaf Pepper Rings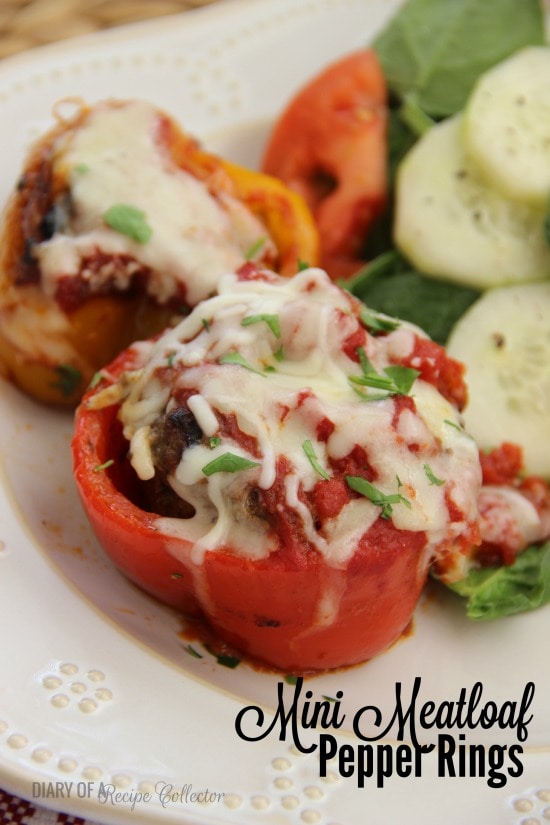 Spinach & Provolone Chicken Pinwheels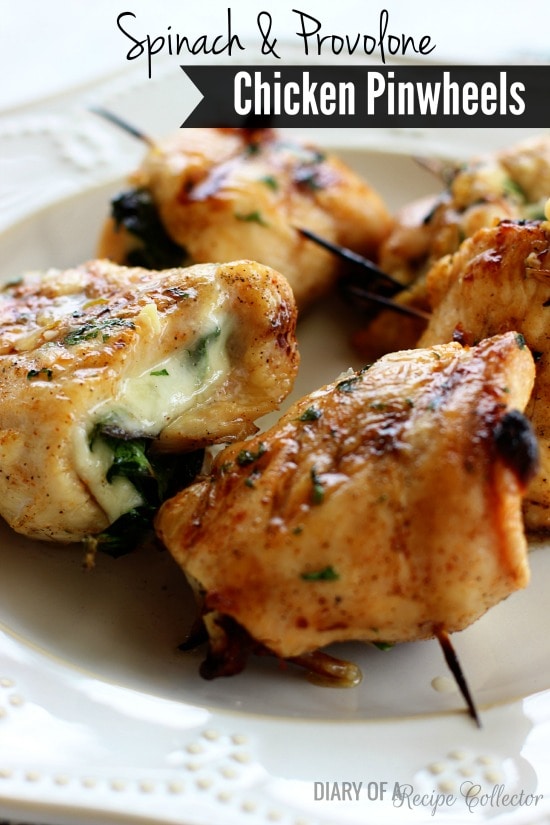 Stuffed Cream Cheese Chicken Pinwheels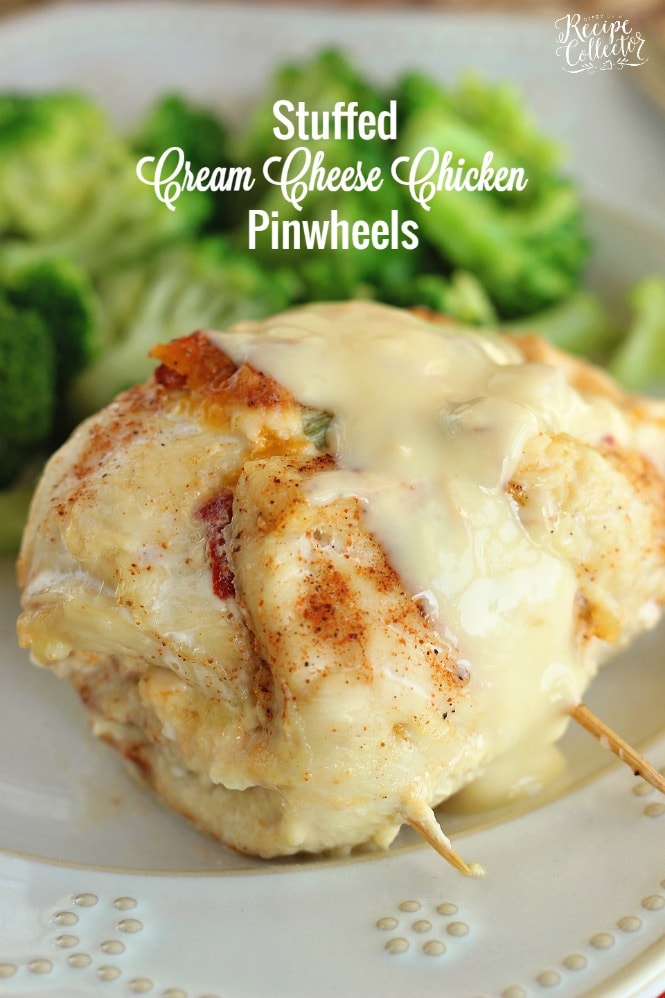 You can find more MAIN DISH RECIPES HERE.
You can find ALL RECIPES HERE.
For more ideas, follow me on FACEBOOK, PINTEREST, INSTAGRAM, AND TWITTER.
Get FREE recipes delivered to you by email:  SIGN UP HERE!