Enter to win a KitchenAid 5 Quart Stand Mixer with the ice cream maker!!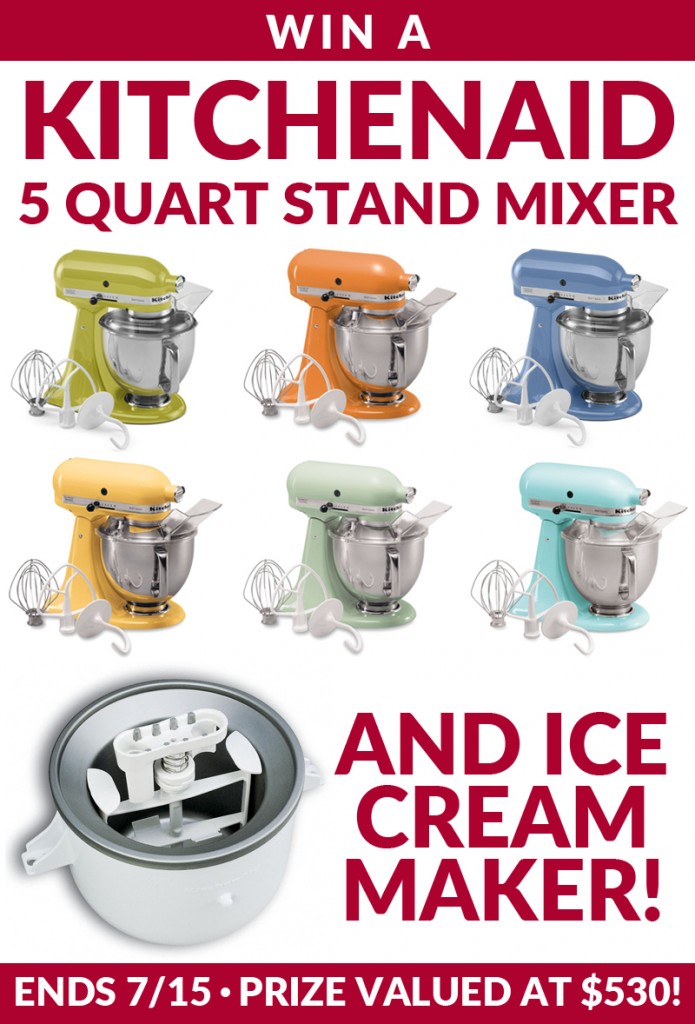 I have a special treat today!  I've gotten together with some other fabulous bloggers to give our readers a chance to win this fantastic prize!!  I'd have to say my stand mixer is one of the most used appliances in my kitchen.  I use it to make all my baked goods, bread dough, and pizza dough.  And now you can even make ice cream with it too!!
My favorite thing about my mixer is that it makes all the prep work in the kitchen go so much faster.  Since I'm not having to stand over the bowl and hold the hand mixer, I can easily get started on my next step in a recipe.  Or I can start cleaning up the disaster I just made in the kitchen while it is busy doing all the work!  I love it!
Plus these new colorful ones are so great!  It's the perfect gift for someone you know who loves to bake!
Good luck to all who enter and look below for some great recipes to make with a stand mixer!!!
This giveaway has been sponsored by these amazing bloggers:
Kristin | Yellow Bliss Road
Jen | Yummy Healthy Easy
Cate | Chez Catey Lou
Jaren | Diary of a Recipe Collector
Amanda | Fake Ginger
Nicole | Or Whatever You Do
Sandra | A Dash of Sanity
Tonia | The Gunny Sack
Sara | Bitz & Giggles
Jessica | Sprinkle Some Sugar
Christine | I Dig Pinterest
Serene | House of Yumm
Mandy | Mandy's Recipe Box
Megan | The Housewife Training Files
Ashley | Spoonful of Flavor
Danae | Recipe Runner
Jenn | Deliciously Sprinkled
Maggie | The Love Nerds
Sarah | High Heels & Grills
Laura | Petite Allergy Treats
Mariah | Mariah's Pleasing Plates
Looking for some great recipes to try with a stand mixer?
Banana Cake with Pineapple Cream Cheese Frosting