Chocolate Praline Trifle – A delicious dessert filled with layers of chocolate cake, praline pecans, and whipped cream makes a perfect dessert for a crowd!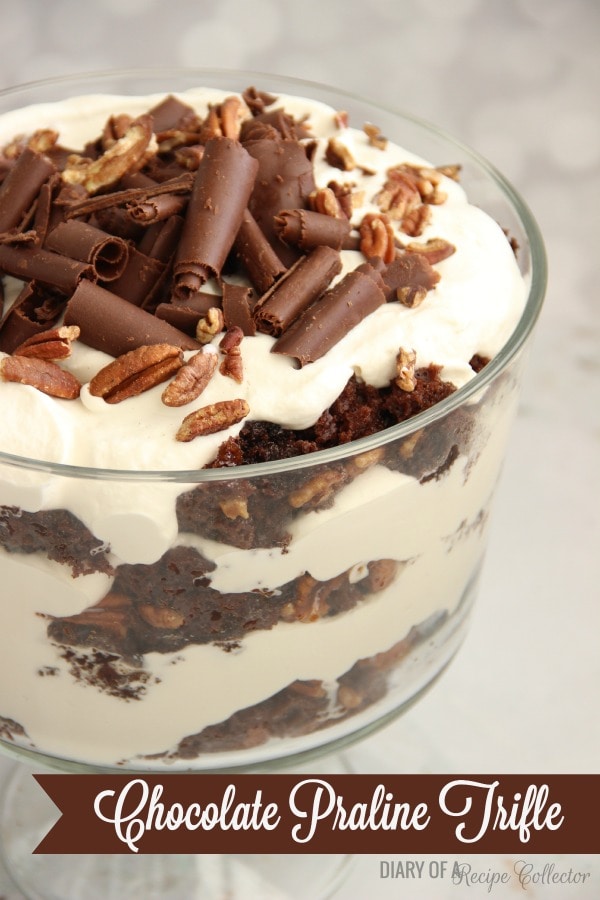 So I know I've been sharing a lot of sweet stuff with you all lately.  Apparently I have a real sweet tooth right now.  Maybe it because I know a lot of you are looking for great desserts to make for your gatherings this summer.  Well this recipe is perfect for just that!
I love trifle desserts!  They always look impressive.  Plus they are super easy to serve.  You don't have to worry about cutting perfect slices of cake.  Just grab a big ol' spoon and serve 'em up!  Nothing fancy, and yet at the same time this is such a beautiful dessert.  People love anything praline (pronounced prah-leen down here in Louisiana) too!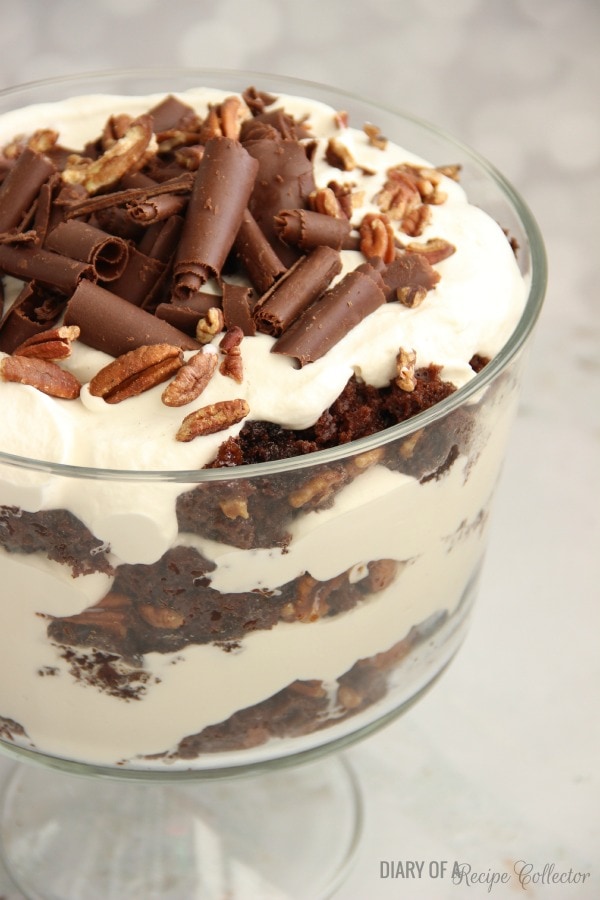 This is a really easy cake to make and layer.  The praline layer actually bakes into the cake!  You turn it out onto a pan right after it is finished baking, let it cool, and scoop it out into a trifle while stacking it between layers of whipped cream!
It's a great make-ahead dessert!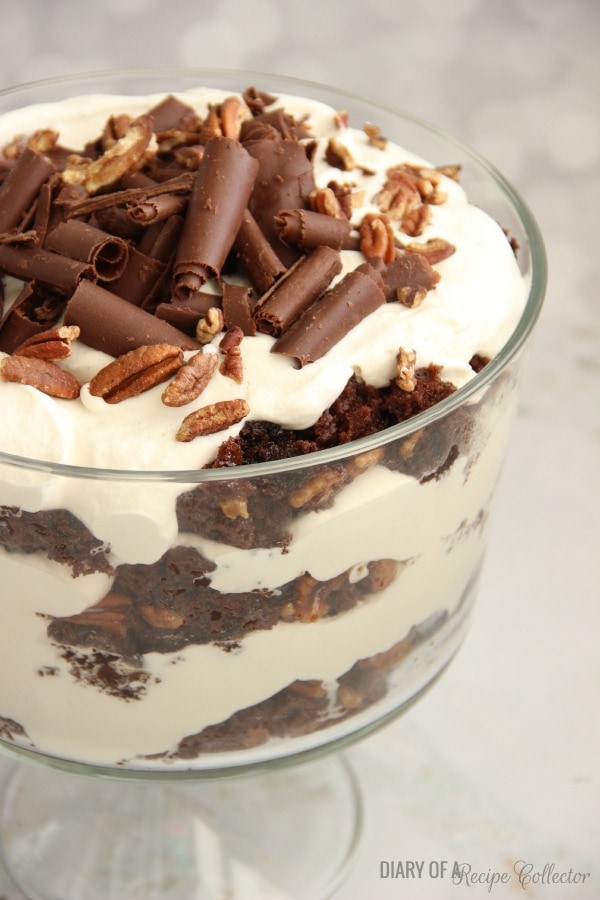 I always love to add the chocolate curls to the top as well.  It makes such a beautiful presentation.  Plus I impress my kids, and hey, what mom doesn't like that!  Hope you enjoy!
Chocolate Praline Trifle
Ingredients
1 stick butter
¼ cup heavy cream
1 cup packed light brown sugar
½ cup chopped pecans
1 box Devil's Food cake mix
¾ cup milk
¾ cup vegetable oil
3 eggs
1 tsp vanilla
Whipped Cream: 3½ cups heavy cream, ¾ cup powdered sugar, 2 tsp vanilla
Garnish: Chocolate curls and ¼ cup toasted pecans
Instructions
In a small saucepan, add butter, heavy cream, and brown sugar. Cook and stir over low heat until butter is melted.
Remove from heat and stir in ½ cup pecans.
Spray a 13 x 9 pan with cooking oil spray and pour praline mixture into pan.
In a large bowl, combine cake mix, milk, vegetable oil, eggs, and vanilla. Beat on low speed for about 30 seconds and increase speed and beat for another 2 minutes.
Spoon chocolate batter over praline mixture in pan carefully spreading it around to edges without displaced the pecan mixture too much.
Bake at 350 degrees for 28 minutes. Use a toothpick to test to see if it is done. If the toothpick comes out clean, the cake is ready.
Very quickly (about 1 to 2 minutes after removing from oven), flip this cake out onto a sheet pan. If you wait, the praline mixture will cool too much and get stuck.
Let cake cool on pan.
While cake cools, make the whipped cream by beating heavy cream, powdered sugar, and vanilla until peaks form.
Layer in trifle dish or large clear glass bowl: ⅓ cake, ⅓ whipped cream, repeat two more times.
Top with chocolate curls and toasted pecans.
Looking for other great desserts?