Garlic Shrimp Scampi Poboys – Spicy garlic butter shrimp and jalapeños piled high into a sub roll make for an excellent napkin-worthy sandwich.

I couldn't pick a more perfect day to post this recipe. We are leaving today to head back to The Big Easy! It's cheer competition time once again. I LOVE going to New Orleans! It is a place like no other. This trip hopefully will be able to include a little more French Quarter shopping than last time. We compete Saturday morning and Sunday morning….early…hello time change…how nice of you to come this weekend!
I'm hoping to take the kids to see the cathedral too and attend mass. It is so gorgeous in there!
Last time was the first time for us to take kids to NOLA. My daughter likes to be Miss Independent at times. We all decided to take a little walk down to eat at the French Market. I tried to get her to hold my hand because walking along busy streets kind of makes us mommies nervous. She didn't want to and said she was just fine walking on her own. That is….until we had the first random person come up to us trying to get us to buy something. From that point on, she stayed very close and held my hand. Yes my dear…mommy knows what she's talking about!
So one of my favorite things about New Orleans is the food, of course. It just makes sense. New Orleans=Great Food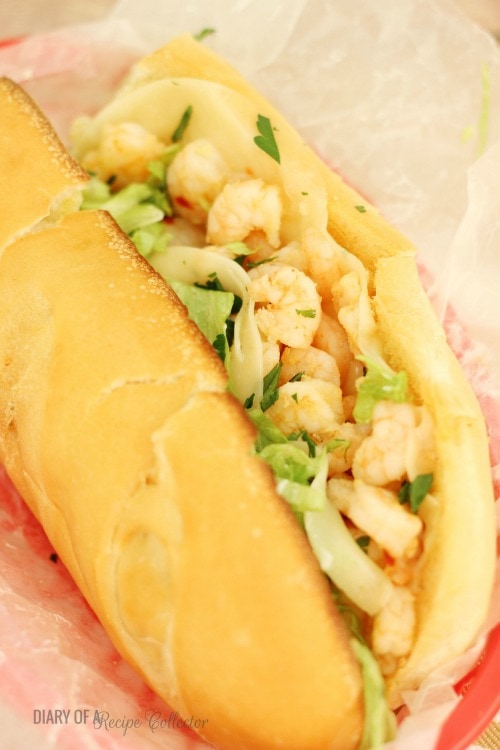 Well this little Garlic Shrimp Scampi Poboy is something that totally represents our food culture down here. It's filled with the spicy flavors we all love down here. It's also one of those messy sandwiches. Apparently I'm liking messy sandwiches this week.
Have no fear, I'll be back next week to sweeten things up around here and tell you all about our trip. I'll also post some pics on Instagram too!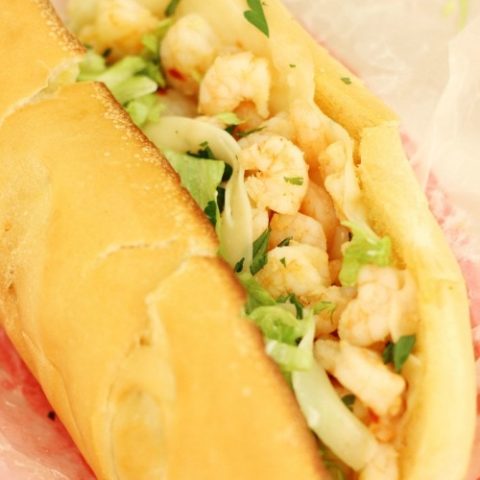 Garlic Shrimp Scampi Poboys
Garlic Shrimp Scampi Poboys - Spicy garlic butter shrimp and jalapeños piled high into a sub roll make for an excellent napkin-worthy sandwich.
Ingredients
3 tbsp butter
1 tbsp olive oil
2 lbs small shrimp (150 count)*
1 tsp kosher salt
1/4 tsp cayenne (red) pepper
2-3 cloves of garlic, finely chopped
a pinch red pepper flakes
juice of 1/2 lemon
1 tbsp chopped fresh parsley
hoagie rolls, split and buttered
thinly sliced provolone cheese (3-4 slices per sandwich)
Topping: mayo, chopped pickled jalapenos, shredded lettuce
Instructions
Melt butter and olive oil over medium high heat. Lower heat a little if butter is melting and bubbling too quickly to prevent it from burning.
Add shrimp and garlic and season with salt and cayenne pepper. Stir and cook for about 5 minutes or until all shrimp are pink and cooked through.
Turn off heat and add crushed red pepper flakes, lemon juice, and parsley.
Place split and buttered hoagie rolls under broiler in oven for about 3-4 minutes. Remove from oven.
Place 3 slices of cheese on bottom of roll. Top with shrimp and spoon some of the garlic butter sauce over shrimp. Top with one more slice of cheese.
Spread top half of bun with a little mayo and finish off with shredded lettuce and chopped pickled jalapenos. Wrap in foil or parchment until ready to eat.
Notes
*I buy frozen pre-peeled shrimp (150 count). If you can't find these you can use a medium size shrimp.
Other recipes you might like:
Garlic Shrimp Alfredo Pizza




Cajun Boiled Shrimp Stuffed Potato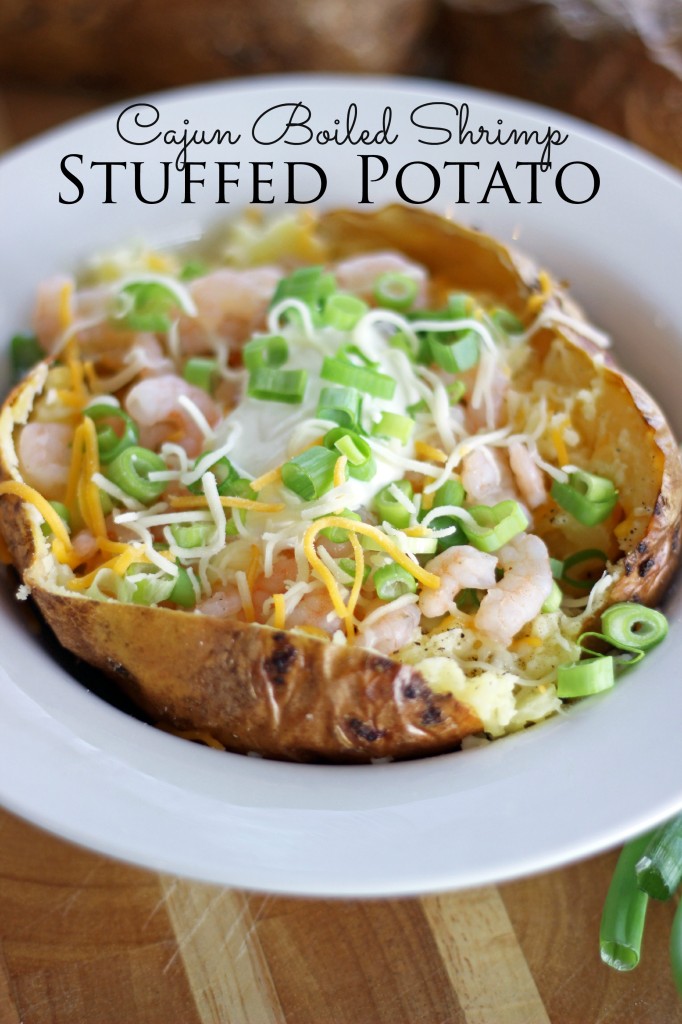 You can find more MAIN DISH RECIPES HERE.
You can find ALL RECIPES HERE.
For more ideas, follow me on FACEBOOK, PINTEREST, INSTAGRAM, AND TWITTER.
Get FREE recipes delivered to you by email: SIGN UP HERE!