Cajun Boiled Shrimp Stuffed Potatoes – A comforting quick and easy supper for year-around.  Super stuffed potatoes filled with cajun boiled shrimp and all the fixings!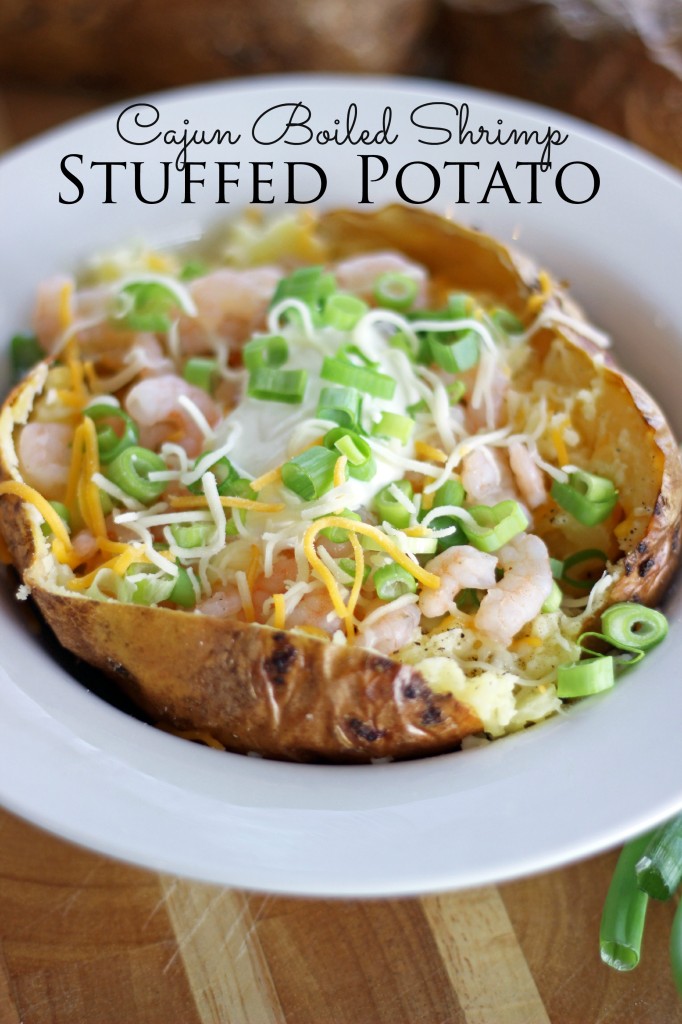 Well my week has started out a little rough as far as this blog is concerned.  Monday afternoon my website went down, and it turns out it was hacked!  Why!  Why do those mean Internet  people do that?   I immediately got on the phone to get it fixed, and after 24 hours I was back up and running.  My biggest fear was that I was going to lose all my work from the last 18 months.  Luckily, it was fixed with no other issues.
Meanwhile I was enjoying spending time with our newest addition.  He is just so sweet!  He really is the best baby!  Even with all the noise from the other three kids, he still gets in his sleep and usually wakes up once at night.  All the kids have been so great with him too!
So onto these Cajun Shrimp Stuffed Potatoes…one of our favorite suppers!!  These really are quick and easy.  I say this even though I bake the potatoes for a little over an hour.  The oven really does all the work there.  You can even microwave your potatoes, but we prefer it baked in the oven.
I'm excited to share some of my cultural foods with you.  I believe Cajun food is one of the best cuisines ever.  I guess I'm a little biased since I was born and raised in Southwest Louisiana.  But really…there is so much flavor in this wonderful cuisine!
This recipe calls for crab and shrimp boil.  There are different kinds, but we prefer Zatarains, which to my happy surprise, you can find it on Amazon if your grocery store doesn't carry it!!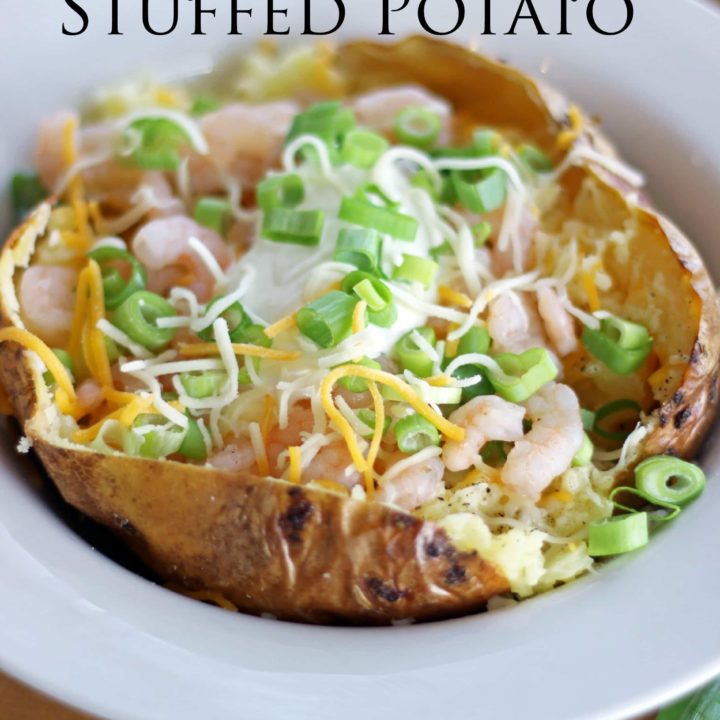 Cajun Boiled Shrimp Stuffed Potatoes
Ingredients
4 large baking potatoes
1 1/2 tbsp vegetable oil
kosher salt
6 cups water
1 1/2 tsp dry concentrated crab and shrimp boil*
1 tbsp liquid concentrated crab and shrimp boil*
2 lbs. 150-250 count shrimp (I buy pre-peeled frozen or see note below)
sour cream
butter
green onions, chopped
Instructions
Preheat oven to 400 degrees.
Line a baking sheet with foil.
Wash potatoes and pat dry. Prick with a fork several times.
Rub potatoes with vegetable oil and sprinkle with kosher salt and place on foil-lined baking sheet.
Bake for 1 hour and 15 minutes.
Shortly before potatoes are done, add 6 cups of water to a saucepan. Add both dry and liquid crab and shrimp boil.
Bring to a boil.
Add shrimp and bring back to a boil for 1 minute.
Strain shrimp in colander.
For each potato, slice open and squeeze into a circle shape. Place in a bowl.
Add 1 -2 tbsp butter, mix well.
Add 1-2 tbsp sour cream, mix well.
Add shredded cheese, shrimp, green onions, salt, & pepper.
Notes
*We used Zatarains brand.
**Butter and sour cream amounts are your personal preference.
***If you can't find 150 count pre-peeled shrimp, you can always buy larger shrimp, boil them, and then chop them up.
Recommended Products
As an Amazon Associate and member of other affiliate programs, I earn from qualifying purchases. This helps us keep our blog running efficiently and allows us to create more recipes for you.
Other shrimp recipes:
Bacon Jalapeno Lime Shrimp
l