First Timer's Guide to Three Days in New York City – How to maximize your fun and fit it all in three days! Here you'll find ideas for dining, sight-seeing, and shopping!
I waited a long time to finally take a trip to New York City, and it was definitely a bucket list trip for me. When my husband surprised me with a trip last Christmas, I was so excited I thought I would literally burst. I was absolutely giddy. For the next few weeks leading up to the trip, I completely immersed myself in all things NYC to make sure we maximized our three days there. After all, I had waited my whole 38 years to go, I was going to make the most of it for sure!
I'm pretty meticulous when it comes to trip planning for us. We have a google doc with links and the whole nine yards. I love to plan trips and travel…I really should be a travel agent. Anyone want me to plan a trip for them? This trip was no exception. I had a complete google doc ready to go, so here are all the details I share with you.
Disclaimers: 1. I am by no means an NYC expert. But I can tell you how to have a good three days and see A LOT even on a last minute trip! 2. We didn't do anything that required a long wait in a line. We were there the first weekend in December, so there were lots and lots of lines! But it was such a beautiful time to be there! 3. We WALKED quite a bit. My watch said 23,000 steps on Day 1 and that was with a flight that day. With all that being said, I cannot wait to share all the fun, so here we go!
DAY 1 -Friday
We took an early flight from Houston to New York. We made it there by 10:30 in the morning. It was a perfect time to arrive for a fun-filled day.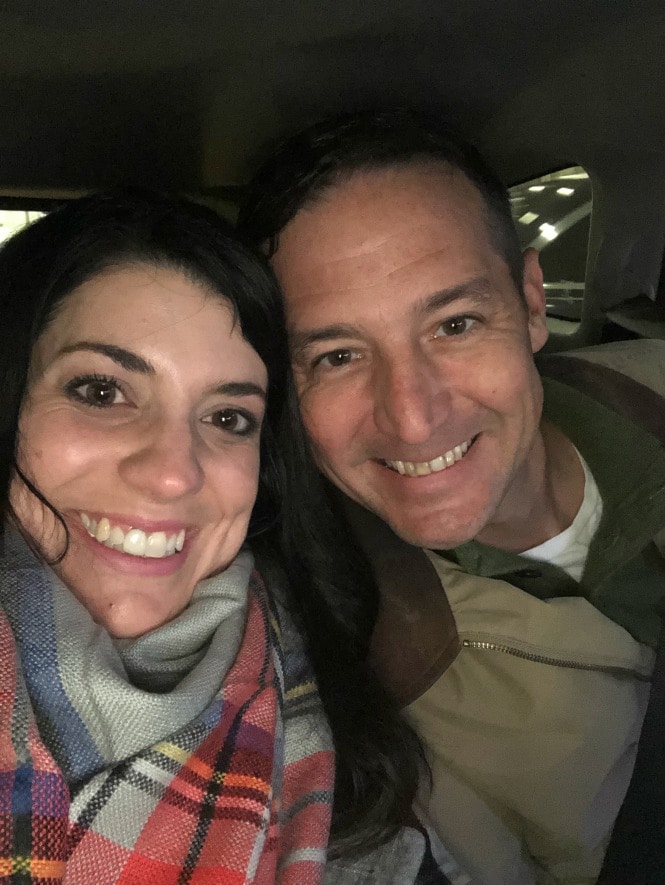 We took a cab from the airport, where I got a nice introduction to being car sick in the New York traffic right after we snapped this photo. Y'all, it was a bit of a rough start. I didn't expect that and luckily it went away once I got some fresh COLD air. We checked in to our hotel, the Millennium Times Square New York. We booked it through Expedia, and it was such a great location!
After we checked into the hotel, we had a nice walk towards Central Park for lunch. But first, right around the corner from our hotel was this!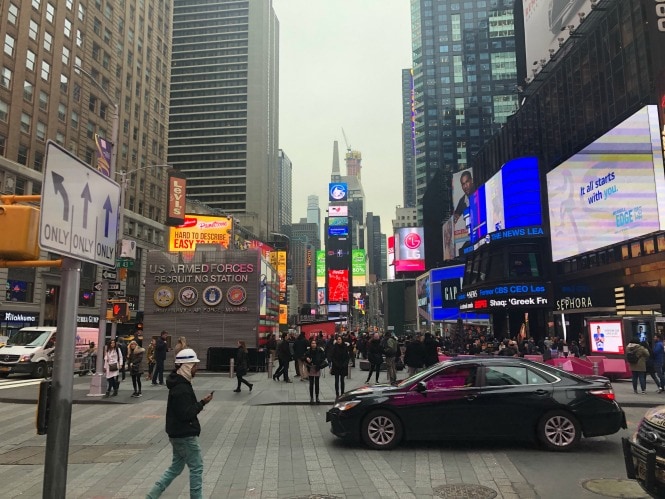 We had to start with a quick walk through Times Square. I loved that we got to walk through this area so many times. It was totally surreal! We headed towards 8th Ave. so that we could walk through Columbus Circle on our way to our lunch spot.
I made lunch reservations on the OpenTable app at Sarabeth's Central Park. I think that's one of the biggest tips I can give you!! Make reservations as soon as you can! This app was so easy to use! I made them for around 1:30 to give us plenty of time for a nice walk. We made it with enough time to see this!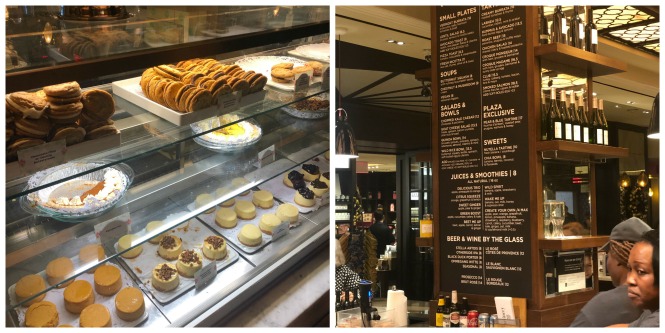 The Food Hall NYC at the Plaza Hotel was incredible! Obviously, I'm a foodie. This place was like a dream. I really wanted to grab a bite, but I had to resist since we had reservations. But folks, this would be a great option if you didn't have reservations. They had so much to choose!! It was also a great spot for souvenirs.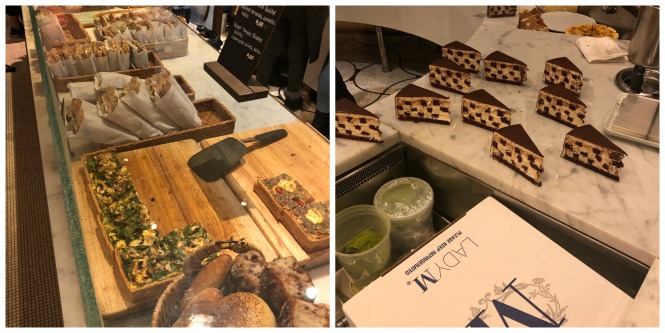 But off to eat! Sarabeth's was a cozy stopping point for us to rest. We had a nice view of the park as well.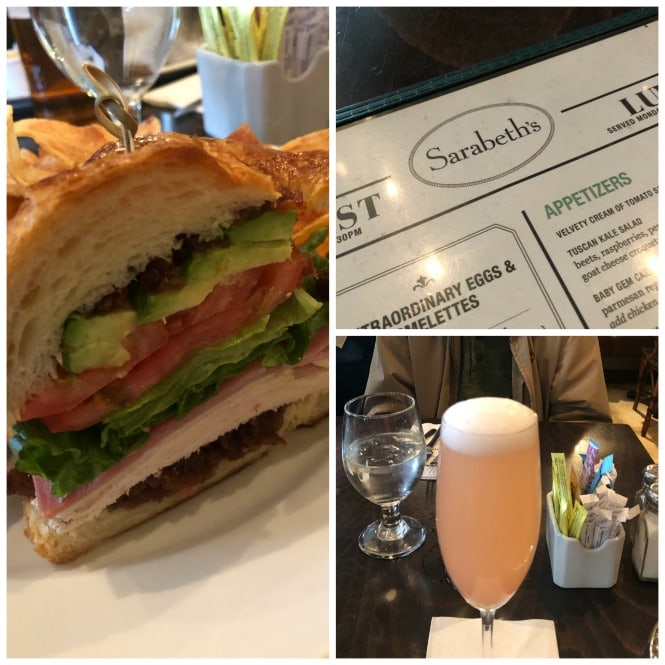 I just kept pinching myself! Was I really there?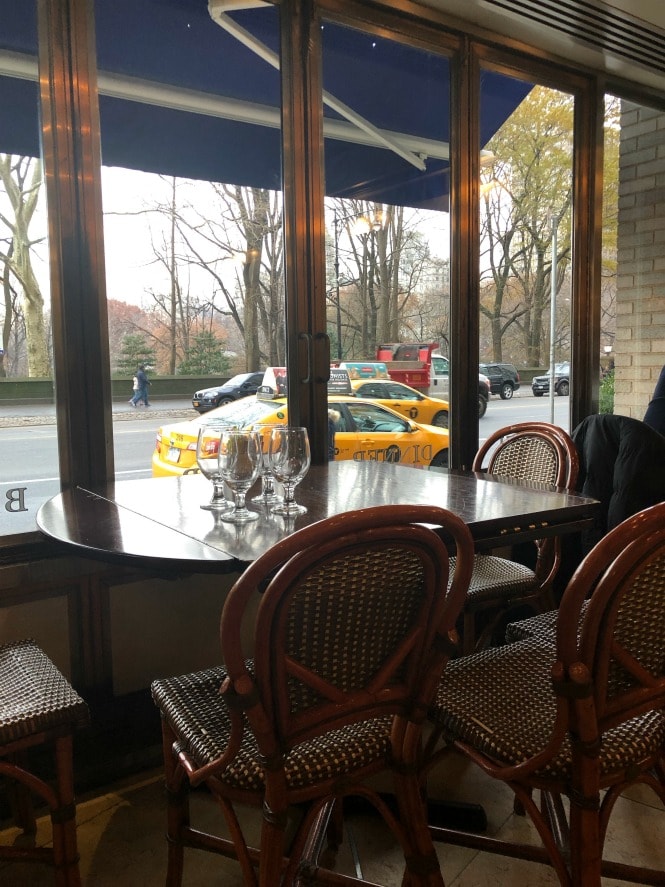 After lunch, we took a walk in the park. It was kind of misty and really cold, but we didn't care! We just took it all in and loved every minute.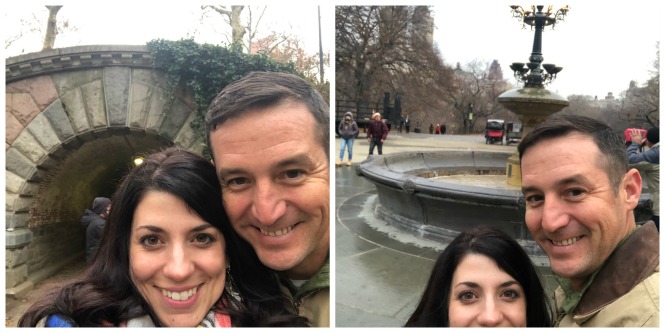 Next, we headed west through the park to the Upper West Side to see the famous brownstones!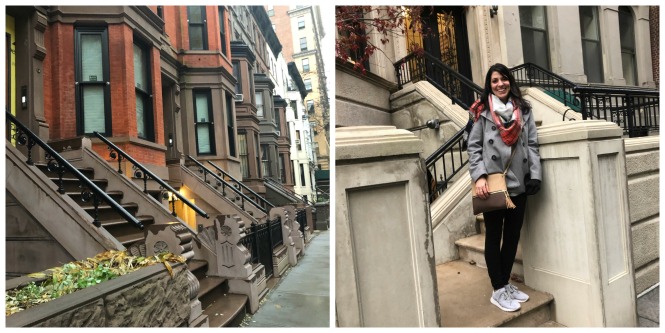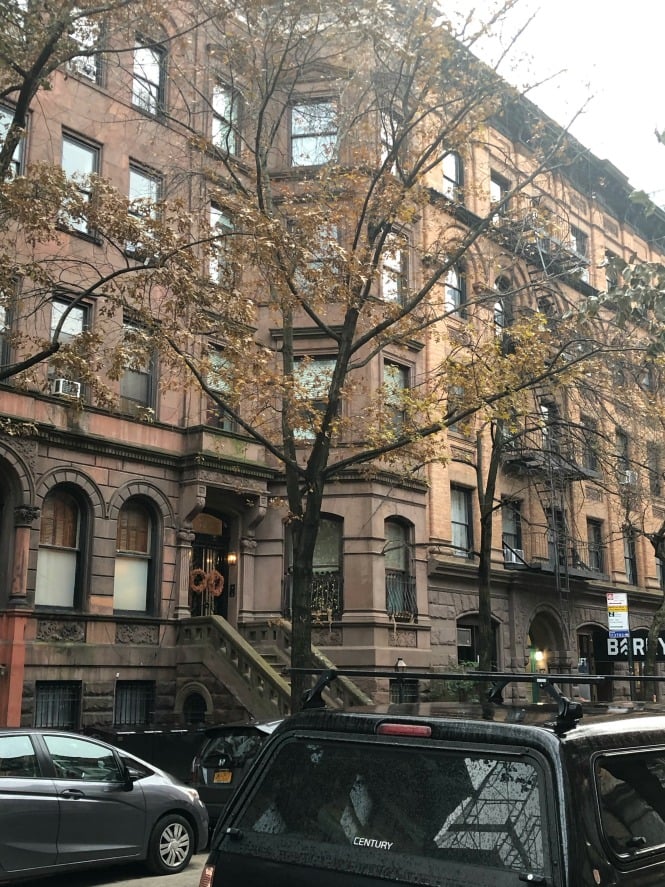 We walked 69th Street. I'm so glad we did that. I've always wanted to see these since I was little. After all that walking, it was time for something warm. We stopped in at Magnolia Bakery on Columbus Avenue for a coffee and the most wonderful cheesecake brownie. I nibbled on that brownie for the next two days. It stayed so yummy and moist. I even grabbed a cookbook while I was there 🙂
Next, we headed to a subway around the corner. I don't have any pictures of this. It was our first time doing this and it took us a minute to figure things out. By the end, I'd say we got pretty good at it. There were a few trips where we wondered if we were headed the right way though! On this trip, we headed back to Times Square. By this point, it was dark, and we got to see it lit up for the first time. We took that moment to FaceTime the kids to see all the lights!

We headed up to the room for the first time! Here is our view! We changed for dinner and headed out again.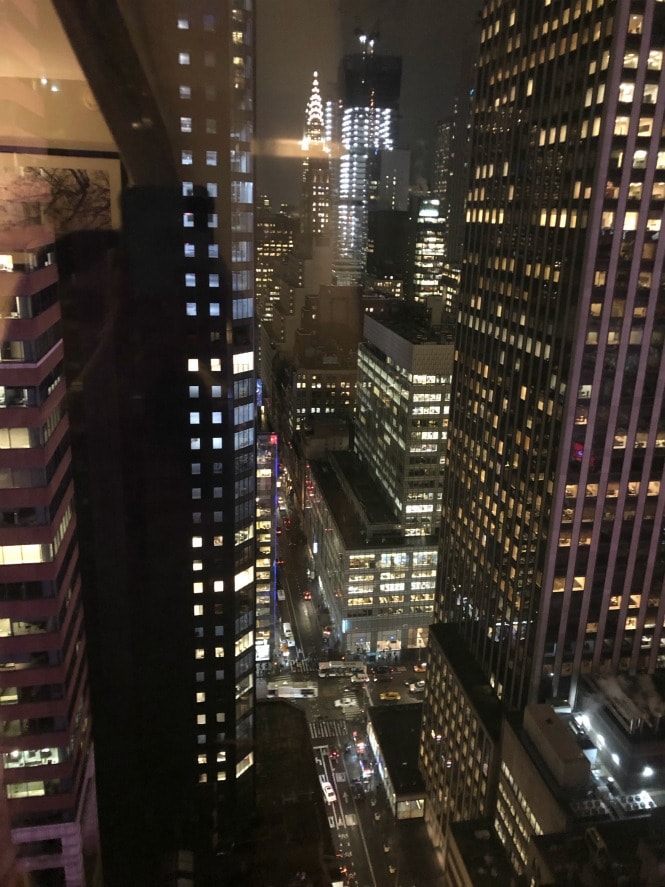 We decided to walk to our dinner reservations. It was about a 25 minute walk in a new direction that included passing by some great spots like Macy's and the Empire State building as we headed down Broadway to 29th St. Our dinner location was one of our favorites of the trip! It was a cozy place called Tavern 29. We sat in this cozy nook under the stairs, which made for a perfect spot to reflect on all the fun of the day and the fact that we couldn't believe we were actually there.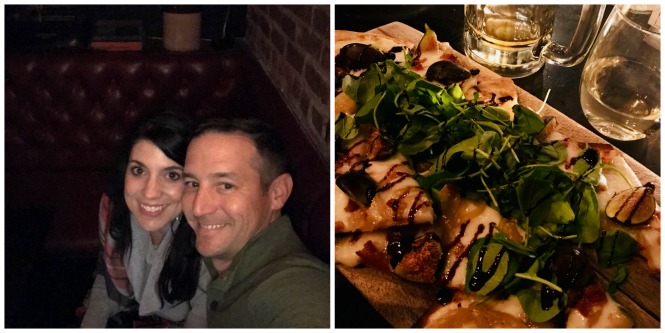 The food was so darn good! We shared this flatbread with figs and truffle fries. After this, we weren't ready to settle in for the night yet, so we headed towards Rockefeller Center to see the Christmas tree, of course! We headed up 5th Avenue and took in all the lights at Saks.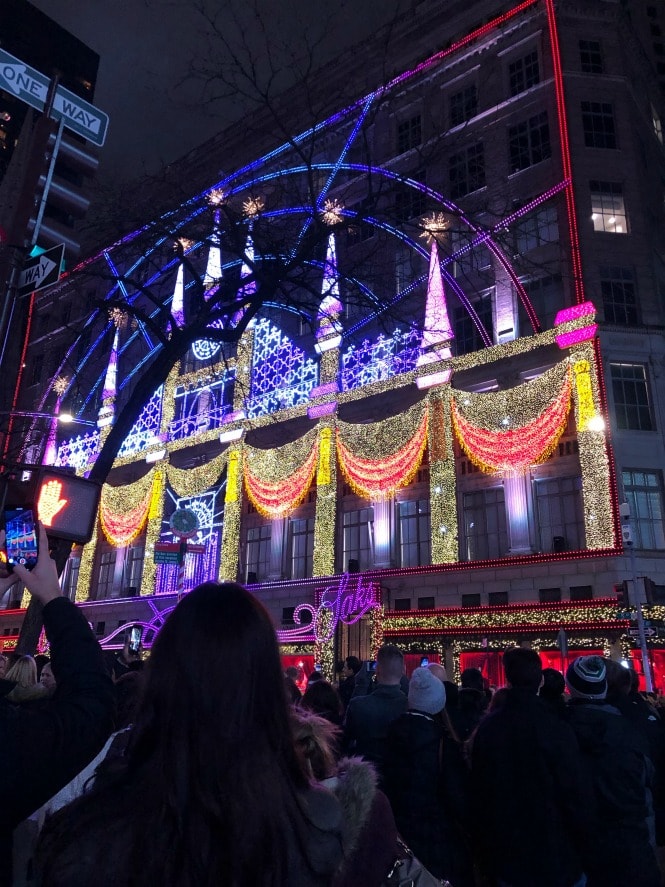 Oh Christmas Tree, you were so beautiful! And crowded!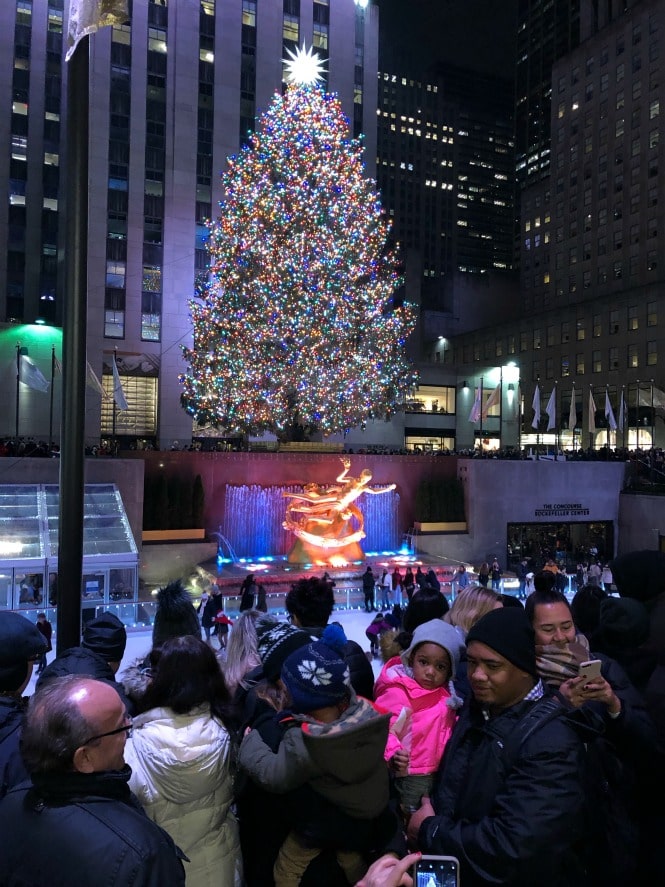 We just took it all in because there was so much to see right here. There was the Today Show studio and NBC Studios. Also, right around the corner was Radio City Music Hall.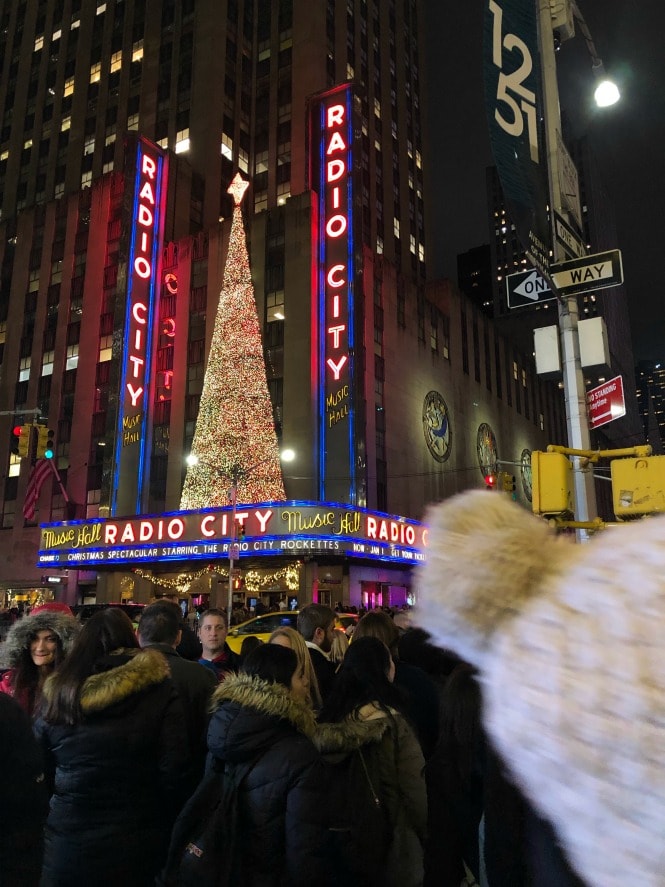 Our walk back to our hotel down 6th Avenue meant we got to see more Christmas decorations too. It was only about a 10 minute walk back, and even though we weren't ready to call it a day, we knew tomorrow would be just as fun!
Day 2 – Saturday
The next morning we headed out towards downtown via subway from Grand Central Station to see…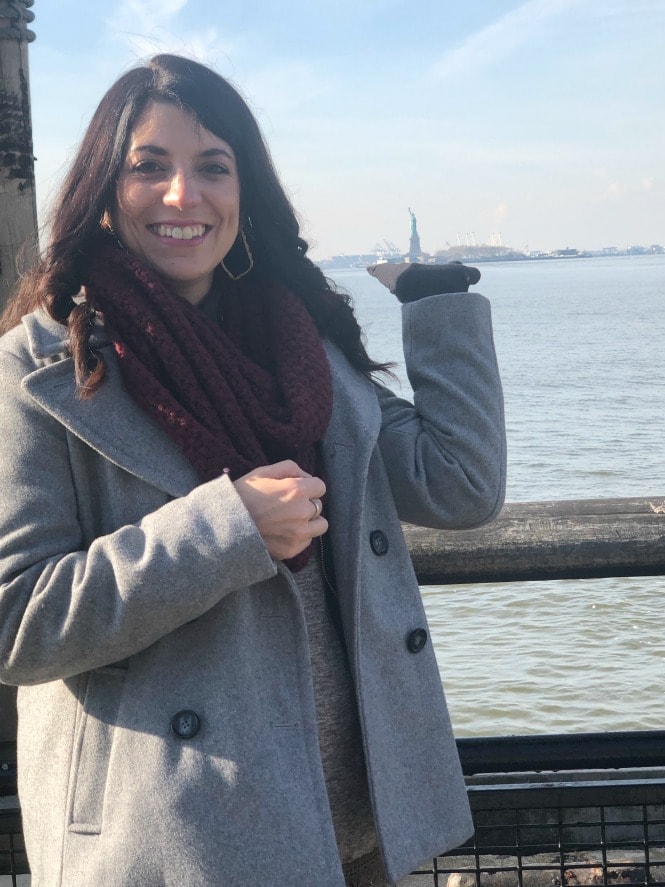 Like I mentioned earlier, we wanted to see all we could in 3 days. That meant we didn't actually take a ferry to the statue, but we were good with that! There was much to see and do on the schedule today! From there we walked to see all the Wall Street things…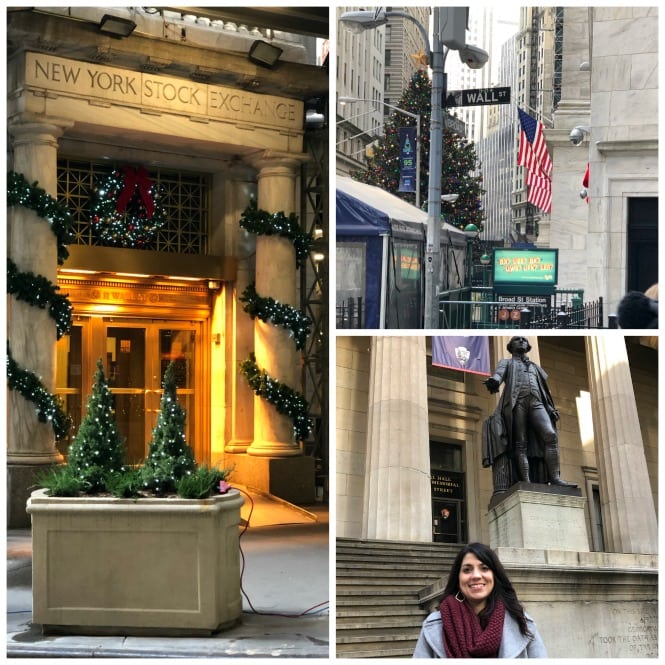 And then we walked to see Freedom Tower and the 911 Memorial. This is definitely something I'd like to take more time on for our next trip. I really wanted to go to the top of Freedom Tower, and we should have gotten skip the line tickets (which still had a line). We would have had we gotten out even earlier that day, but we knew we had lunch in Little Italy planned and an early dinner that night, so we had to keep on schedule!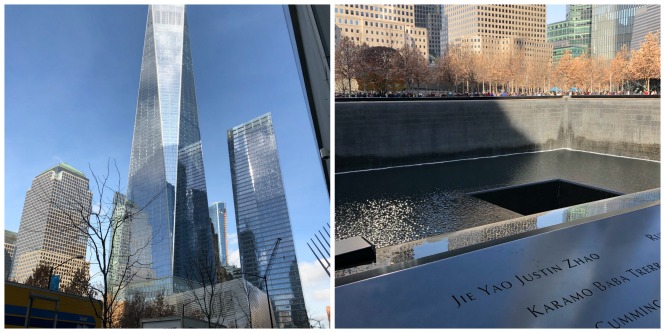 We headed towards Mulberry St. in Little Italy. It was about a 25 minute walk. This would have been a great chance to take some pictures at the Brooklyn Bridge too, but that was the plan for tomorrow. We were not able to make lunch reservations in Little Italy, so we wanted to get down there and we were starving by this point. I had done my research and had a few places in mind. A few of the places were crowded already, but one on my list Il Cortile, didn't open until right at noon. We decided to wait for that and did a little shopping. It was so worth the wait!! We were one of the first customers of the day, and we were able to grab the most picturesque spot!!!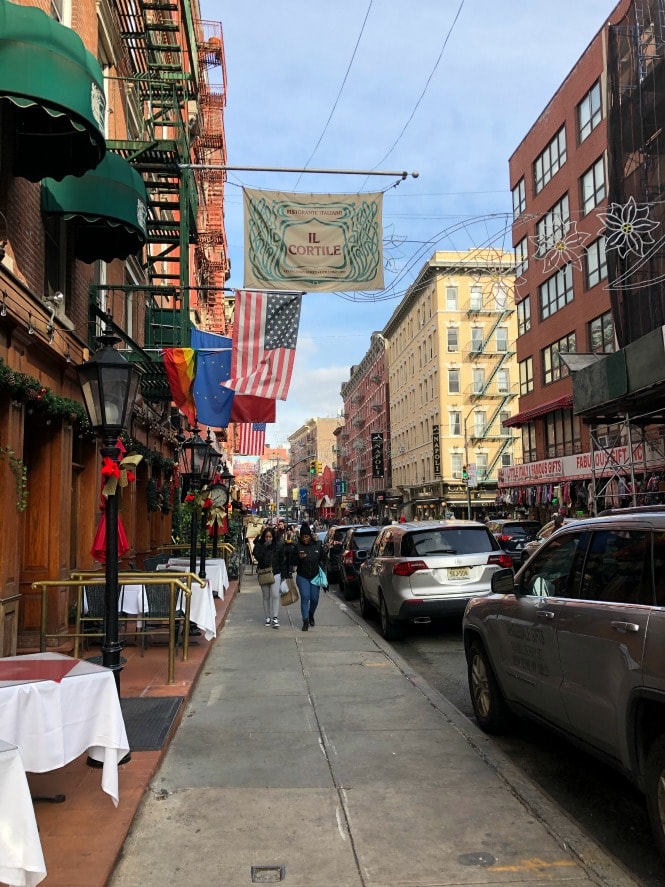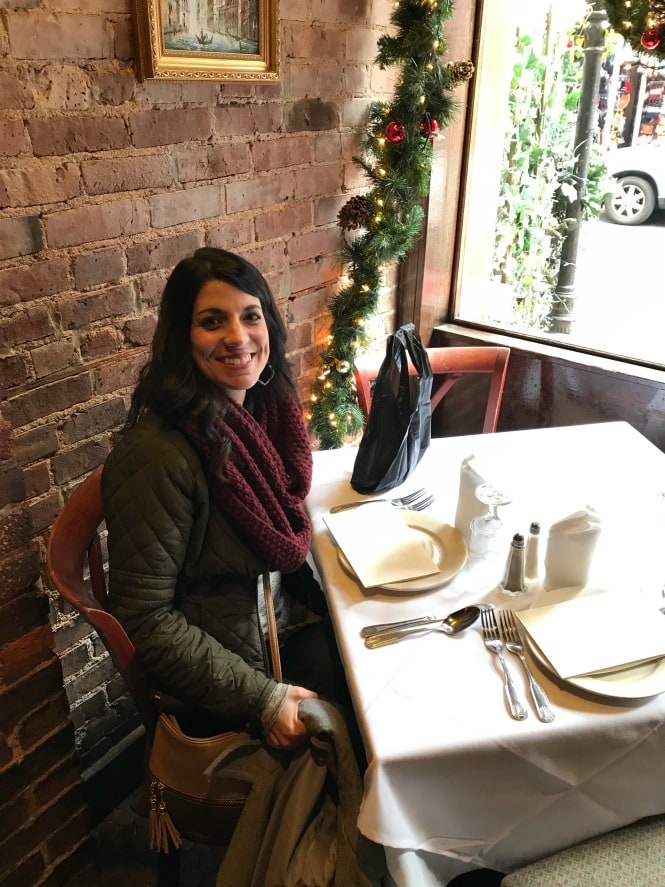 The food was fantastic! That's fried mozzarella right there, and it was glorious. We got to try our first cannoli too!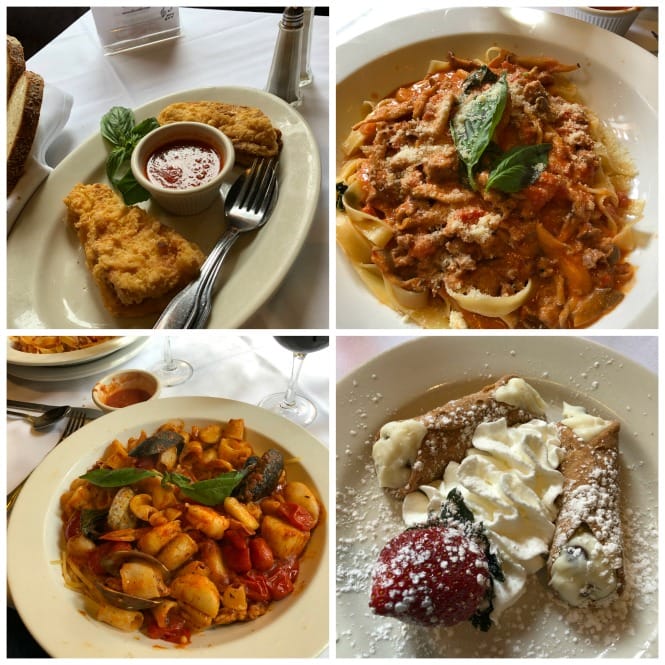 We left the Little Italy area after a brief little walk through Chinatown and headed to the Soho area to…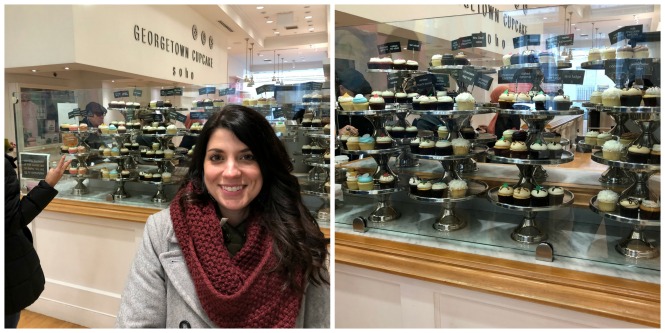 Even though, I was still full from that awesome lunch, I could not pass up coffee and a cupcake at Georgetown Cupcakes! I can't wait to take my kiddos here one day too! We settled on a few we liked, but the decision was not easy at all folks.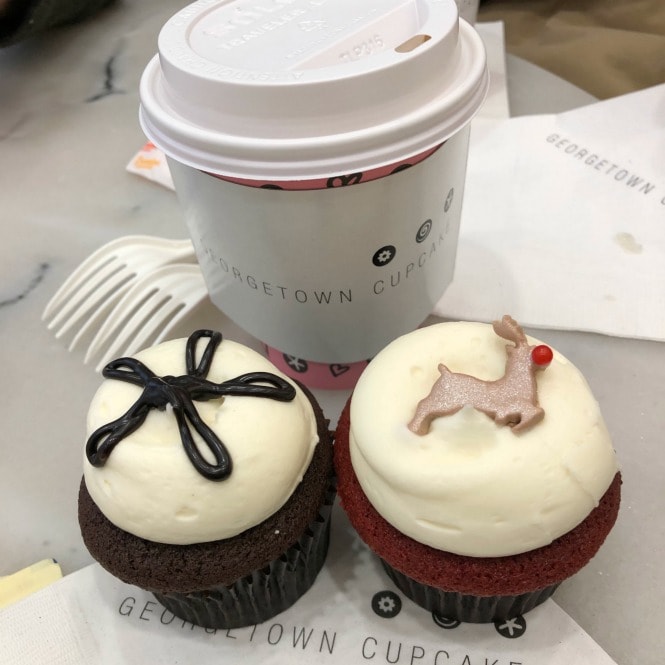 By this point, we knew we had dinner reservations at 4:30. Yes, crazy early, I know! We had Broadway plans that night, and 4:30 was about all that was available at the restaurant we wanted. So we took a quick subway trip back to hotel to get ready to head out for the night again. Dinner plans were for Carmine's! The Times Square location was booked solid, so we had reservations for the Upper West Side one. One walk in that place, and you would have never known we were there at 4:30 in the afternoon. It was like we were in the middle of a busy dinner rush. There were so many people and it was just so lively and cheerful! I loved the atmosphere so much! We sat in another cozy corner 🙂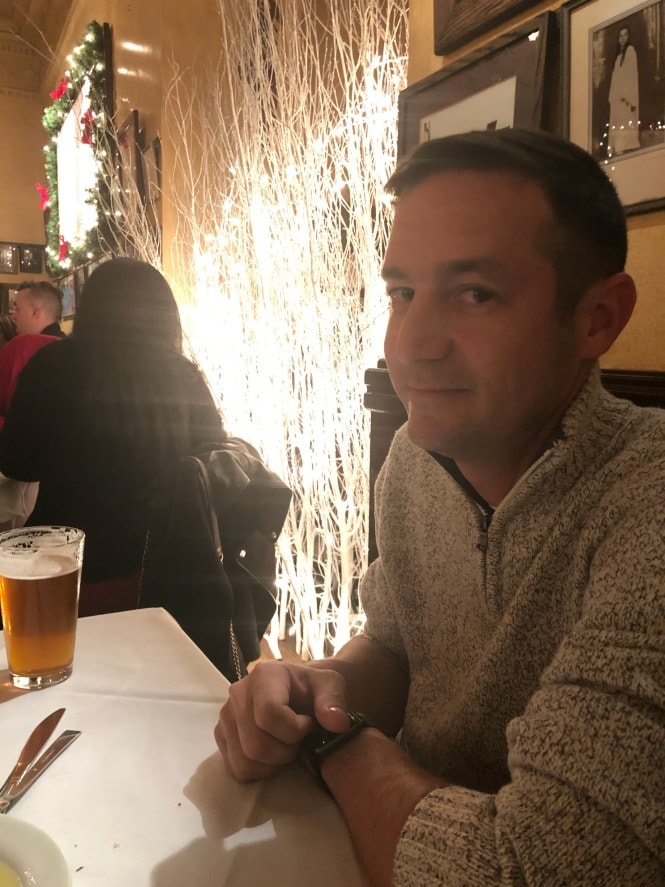 One thing I wish I'd known about Carmine's was that it was an enormous amount of food. And this was not exactly the best for an early dinner. We probably should have done this one on another night. But it was still wonderful!!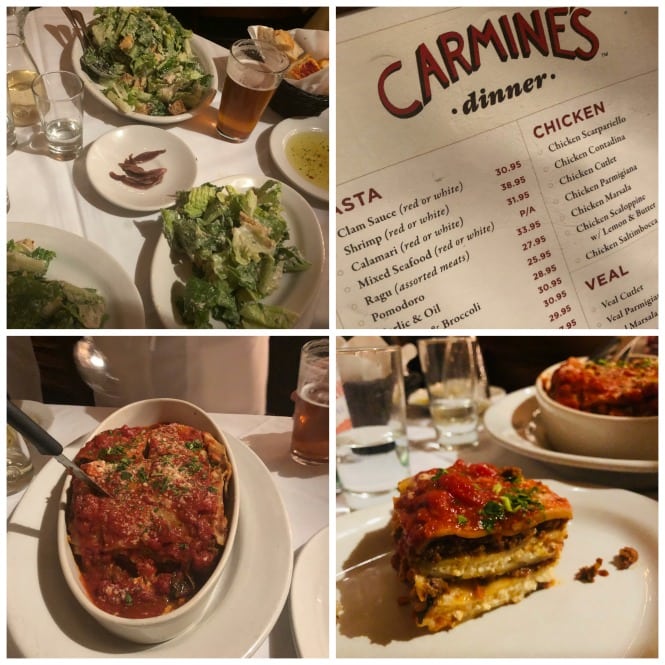 When we got out of there, we took a subway to Broadway to see…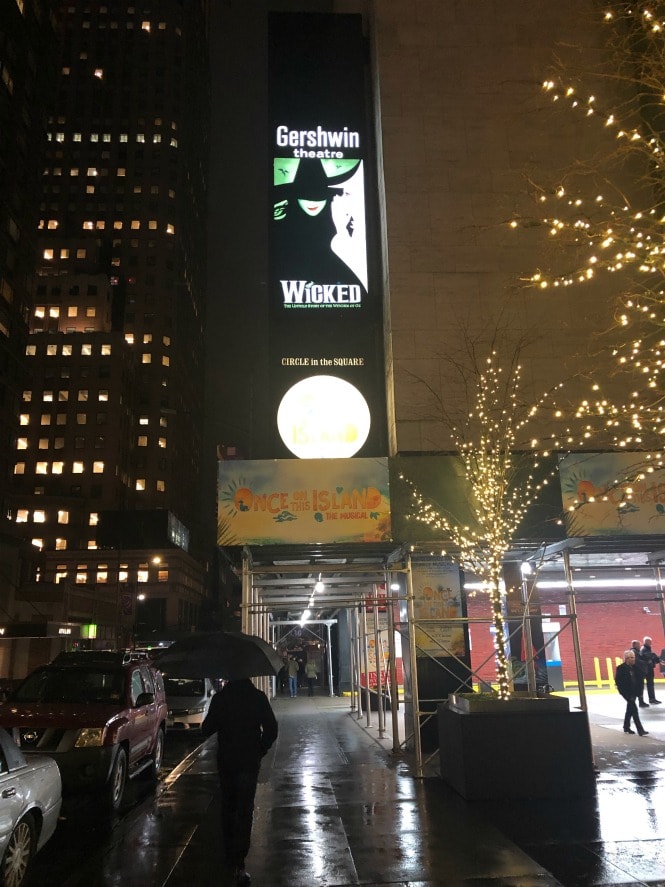 It was our first Broadway play ever! It was so good! I liked our seats too! It was definitely a cool experience, and I cannot wait to see another one next time!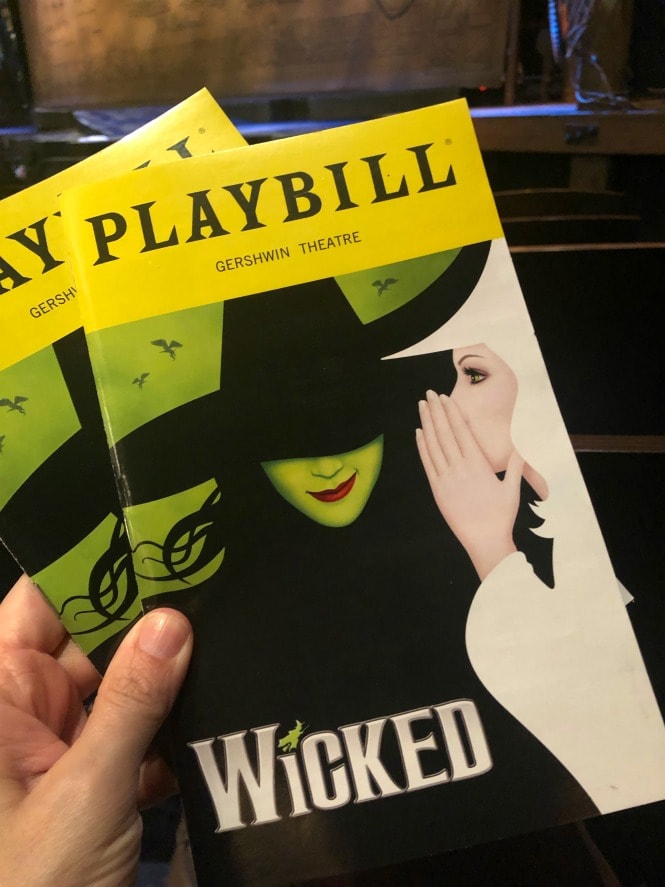 It was almost 11:00 by the time we got out of there, and we walked through Times Square and back to the hotel. We were exhausted. We definitely packed in the fun on this day! And we had more in store on Sunday.
Day 3 – Sunday
Today, was our last day to pack in all the things on our to-do list. The weather didn't exactly cooperate for us, but we made the best of it and still had a great day!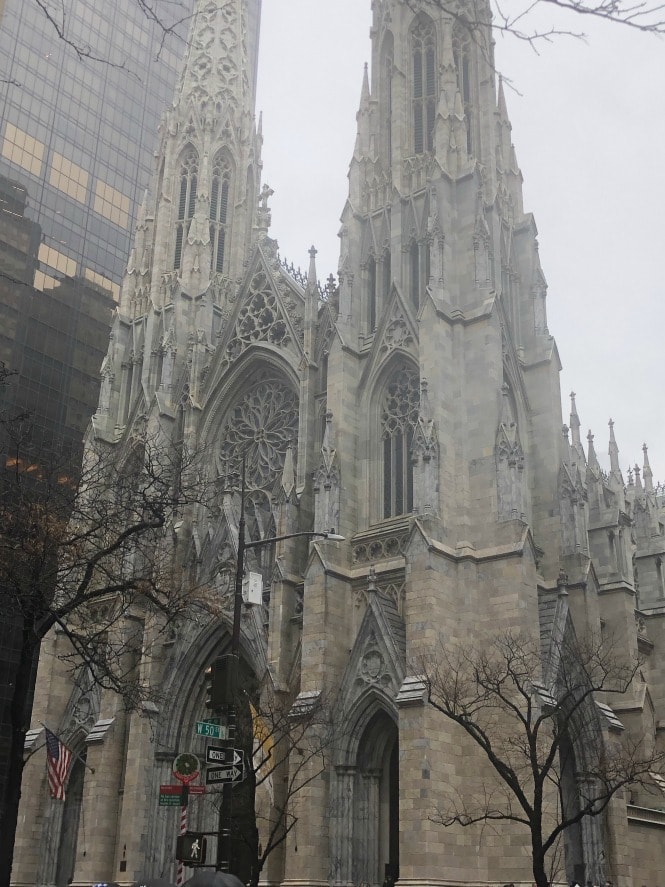 We started the day with mass at St. Patrick's Cathedral at 8:00. This picture does not do this beautiful building justice. It was gorgeous. It was just a quick walk from our hotel. After mass, we headed to a highly recommended brunch stop that I will now highly recommend to you! It's called The Smith. We had reservations at the 2nd Avenue location. The food was so good, and I will visit again on my next trip! The Breakfast Pot Pie was amazing!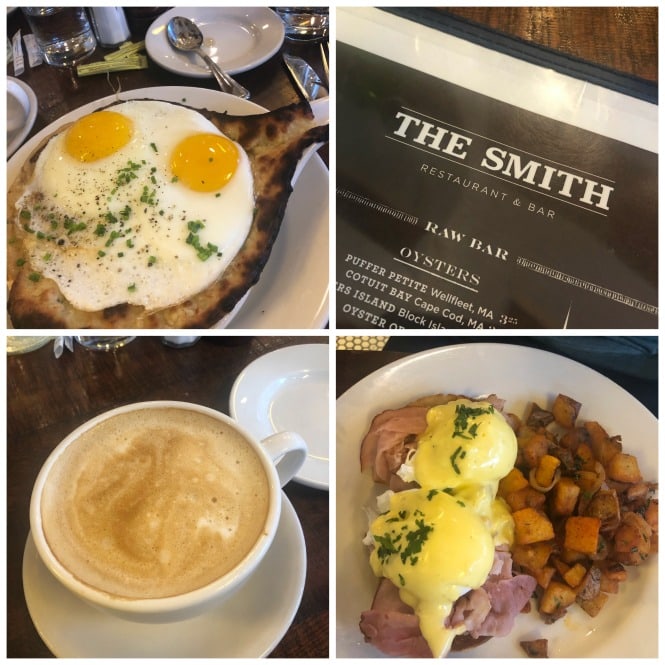 After this, we headed towards 3rd Avenue to visit Dylan's Candy Bar! We sent the kids a sneak peak photo, and they were super excited for the treats that would probably come home.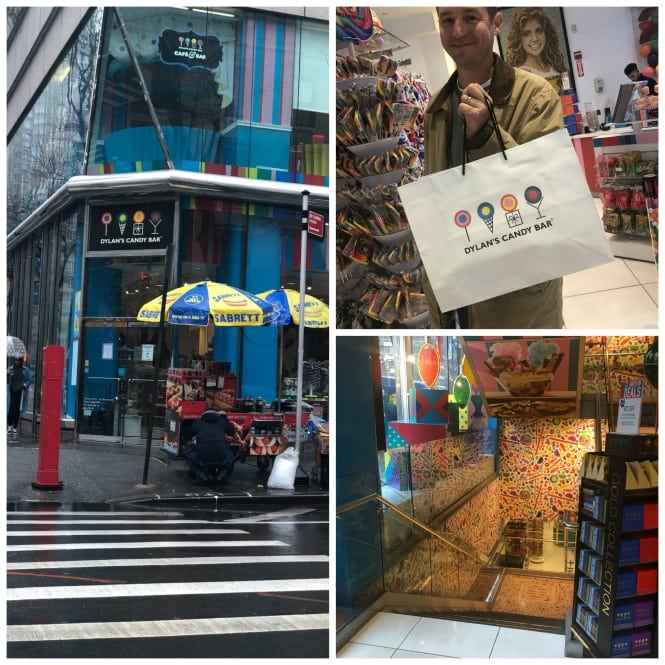 After this, we walked around the Upper East Side a bit towards Serendipity. This will be on my next trip when I have time to wait in a little line a bit. Then we headed back to take a peak at the Christmas tree one more time before heading to do some shopping or browsing at Saks and then Macy's.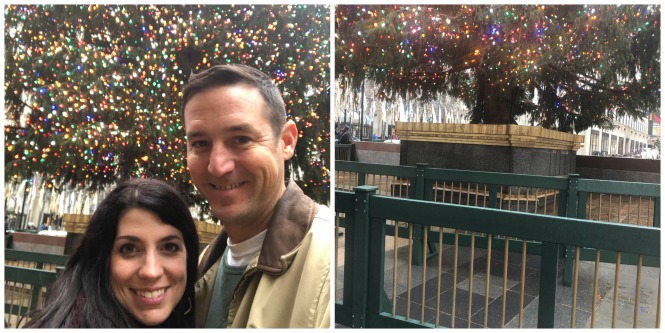 Next up for the day was a subway trip to Chelsea Market…a foodie's dream place as well. I wish I would have been more hungry! I will definitely visit this place for a meal next time! It was super cool to see and do a little shopping!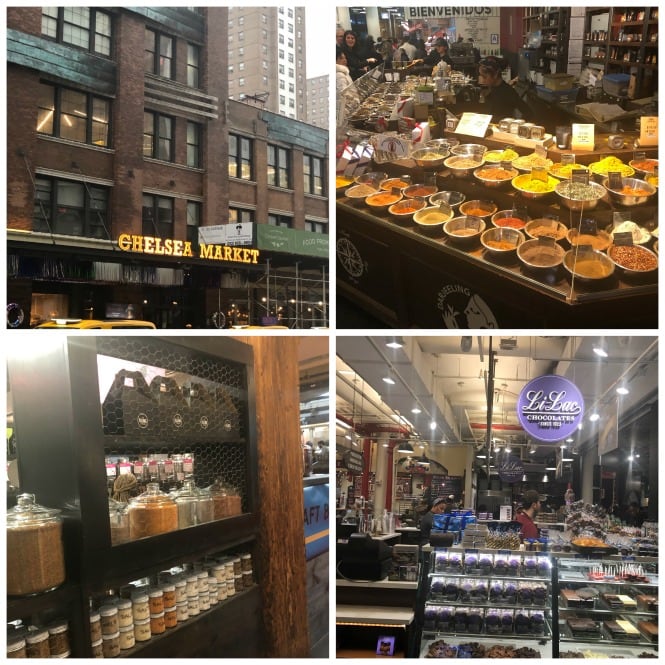 We headed back to the hotel to change for dinner. The weather was really misty and foggy at this point. The plan was a walking trip across the Brooklyn Bridge to have dinner at Julianna's Pizza in Brooklyn. We made the best of it and got some foggy pictures. I had no idea how long that bridge really was! It was dark by the time we got over it.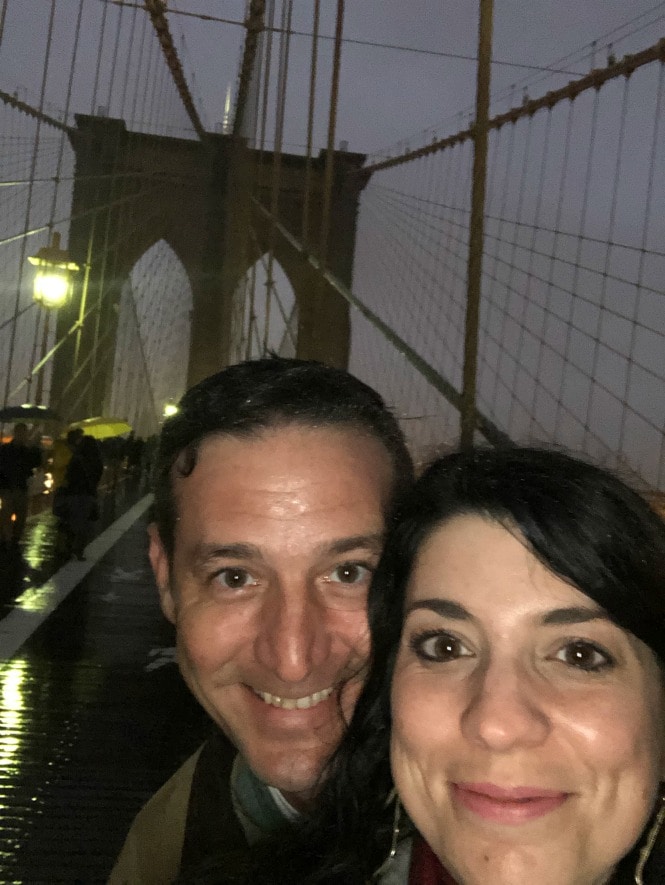 Once we got over the bridge, it was dark, navigation was sketchy, and we got a little lost. In the dark…
It was not a great moment. I got a little nervous when we didn't see anyone around. Finally, we found the restaurant and the people! There was a little line, but it wasn't too bad. Next time, we will make this a day visit for sure!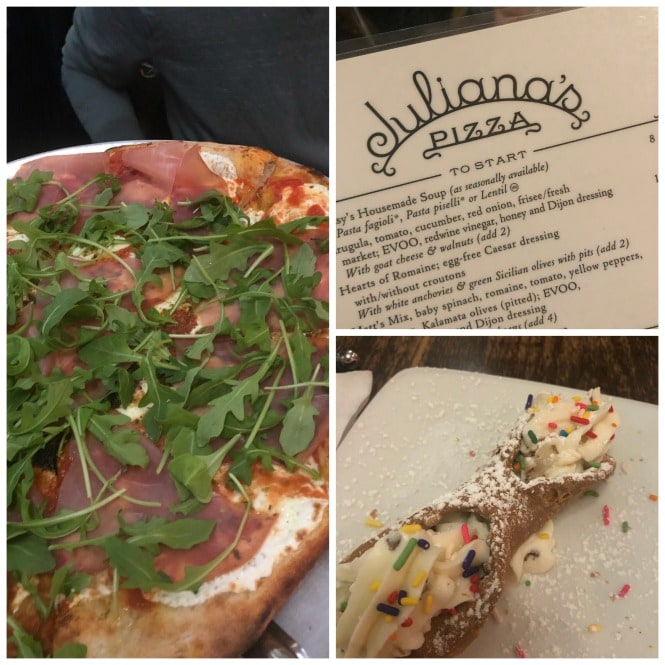 The pizza and cannoli were so good! I think it was my favorite cannoli of the trip too. At this point, I was a little sad. I knew we were headed home the next day, and the weather was just too foggy for our plan to go to the Empire State Building. I was bummed. So that will be on the next trip! We took a subway back to Times Square and headed in for the night to pack up. We missed our kiddos and couldn't wait to see them!
Doing this little recap has completely brought me back! I've never enjoyed a vacation in all my life like I enjoyed this one. I guess that's why it was on the bucket list.
I thought I'd wrap up this post by giving you some other suggestions I found when doing my research for the trip.
Tips and Suggestions for a First Time Visit To New York:
Other Dining Suggestions:
Here are some other dining options, I'd like to try on future trips:
I hope you enjoyed my little recap of our trip and this first-timer's guide to three days in New York City! I sure did enjoy making it!
Want to see other trips we've taken? Check these out!
Our First Disney Cruise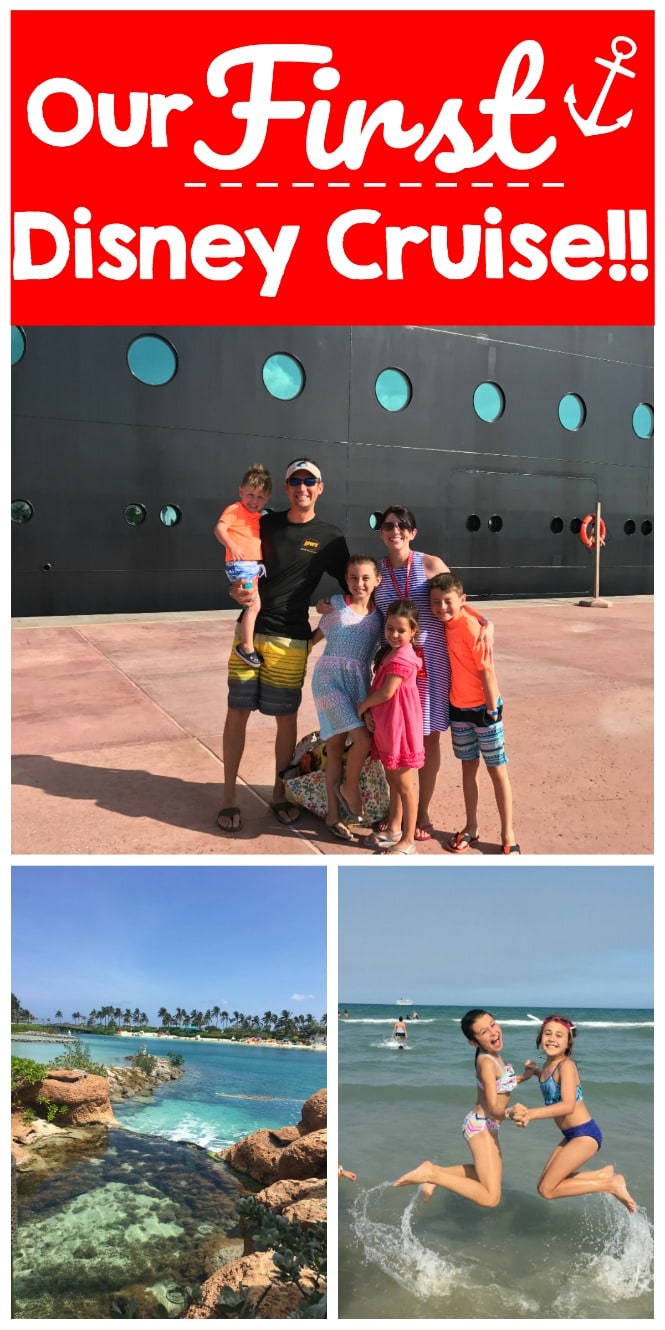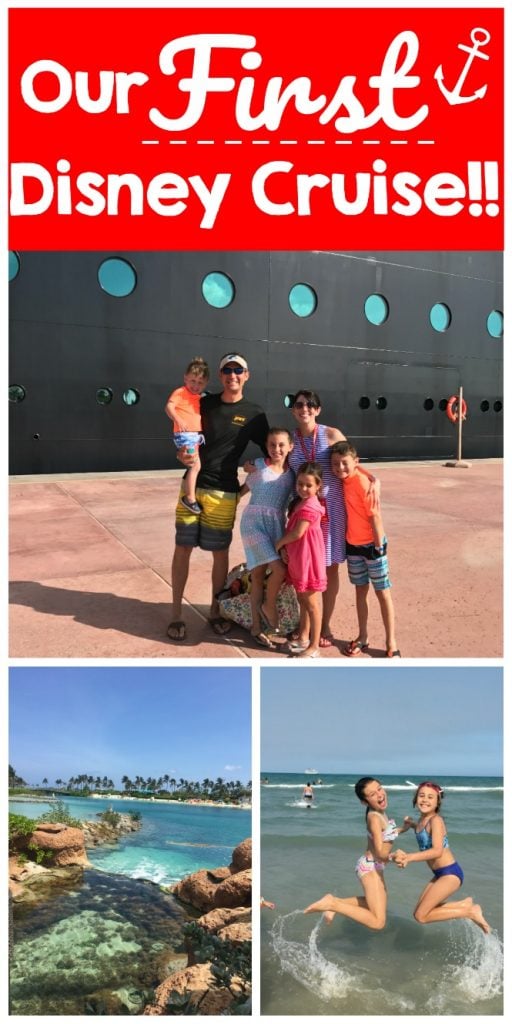 Tennessee Road Trip