First Disney Cruise – A look into our first 4 night Disney Cruise to the Bahamas plus some tips and tricks we learned along the way!

I am so excited to share our first Disney cruise pictures with you!!  We had an absolute blast, and my kids will talk about this vacation for a long time to come for sure.  We were newbie cruisers, so we definitely learned a few things along the way.
As a first cruise, we did not want to do a 7-night, so we opted for the 4-night Bahamian cruise.  It had two ports of call:  Nassau and Castaway Cay.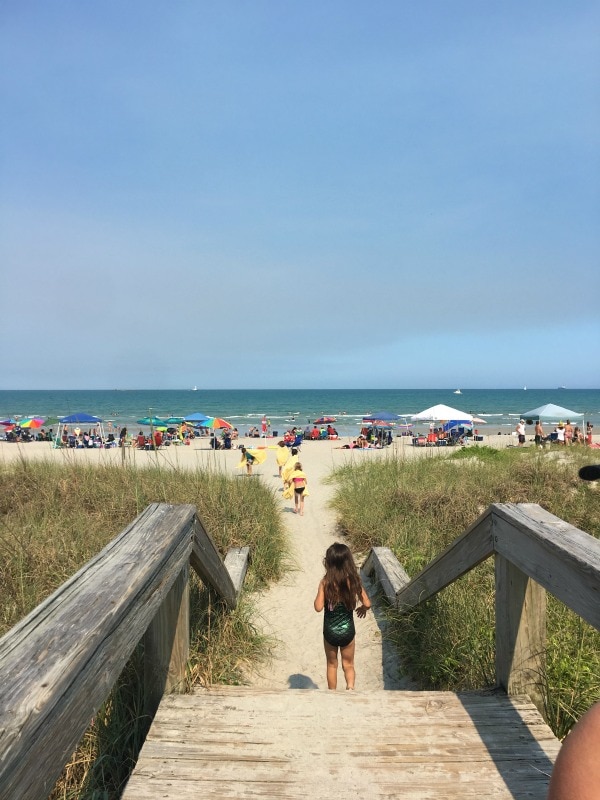 We started off driving from Louisiana a few days before our sail date.  We made a two day trip out of it.  The day before the cruise we stayed in Port Canaveral, FL.  We hung out at the hotel pool a while, and then we decided to check out the beach nearby.  The kids were super excited!  Can you tell?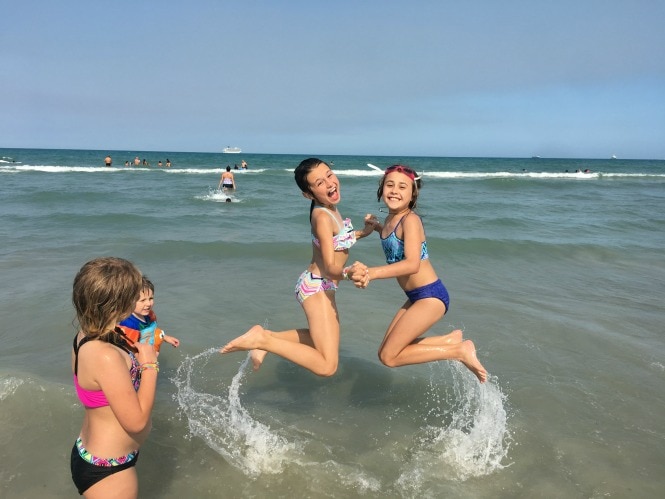 The next morning we were cruise ready and headed to the terminal!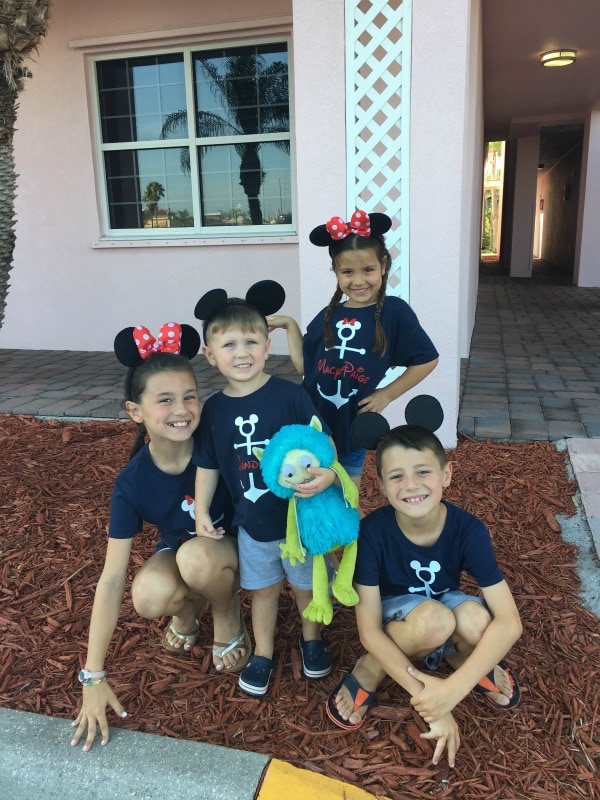 Our shirts came from this Etsy shop 🙂
We stayed at the Radisson Resort at the Port in Port Canaveral, FL.  It had a huge pool, and it was a great place to stay before the cruise.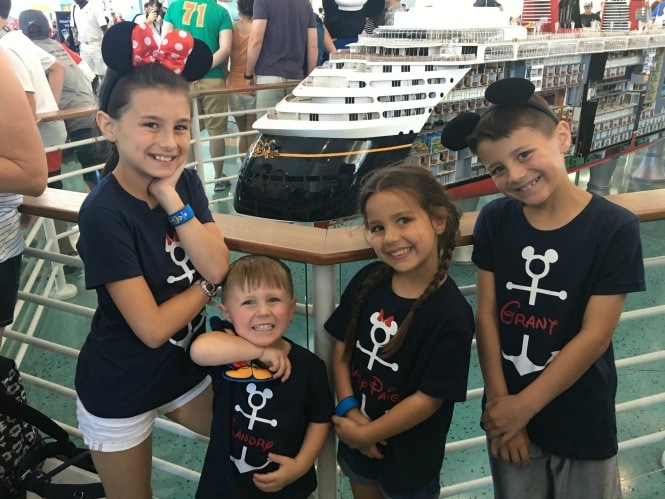 We were finally on the ship!!  It was so exciting!  We started off by just walking around and exploring.  We must have told the kids to slow down and let us catch up 100 times.  Grant has been watching Disney Cruise videos for the past year, so it was so neat to get to be there in person!  He was still watching one yesterday saying, "Hey!  We were right there, Mom!  We were right there!"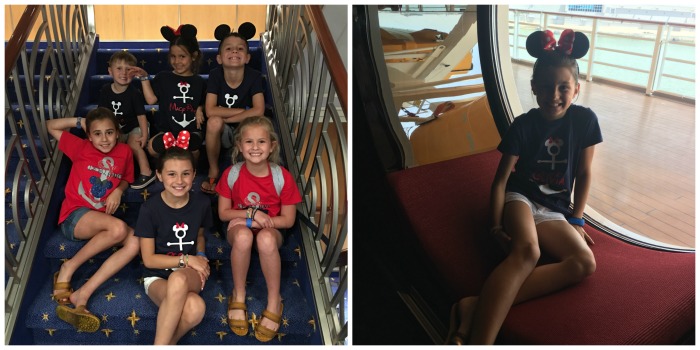 After we met a few characters, we went to check out the amazing Kids' Club!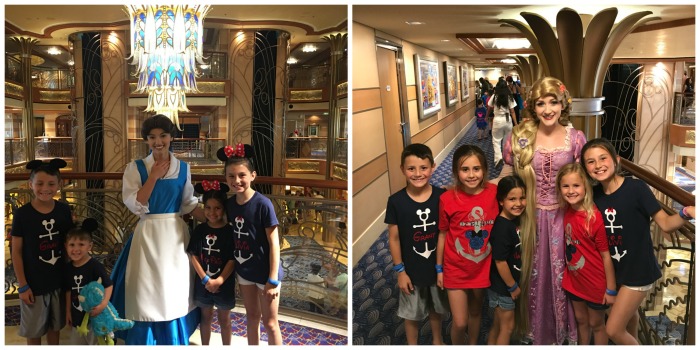 There is a nursery for kids under 3, which Landry went to a few times.  There is a charge for that one.  He did love all the toys in there.  It was just like a little daycare.  It made it really nice for us to enjoy some adult time one night.
The other kid's area was the Kids Club which was without a doubt AWESOME!  Holy Cow!  They had a little open house on the first day, so we got to explore the whole thing.  Let me just start by saying the hand-washing station was super cool, and we were all impressed!  You stick your hands in this thing, and your hands get a little high-powered washing!  Grant thought it was so cool!
That club went on forever.  It was huge!  The kids loved going…begged to go!  You check them in and out.  You must have your key card and a password, and they know where the kids are at all times with the help of their Oceaneer bands.  I felt very comfortable about the whole process.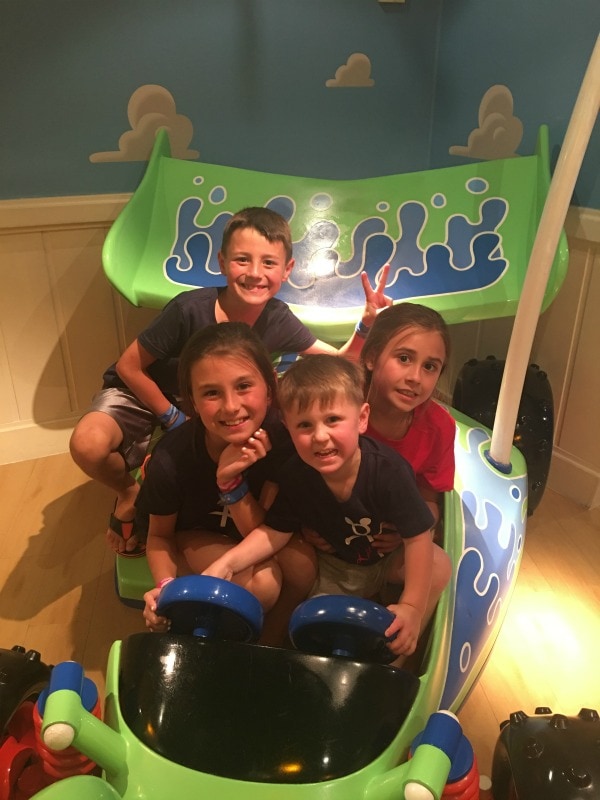 The first morning we arrived in Nassau.  We decided to try out the Atlantis Aquaventure waterpark excursion.  The grounds of this resort are gorgeous!  You get a nice little walk to see a lot of it when you are there.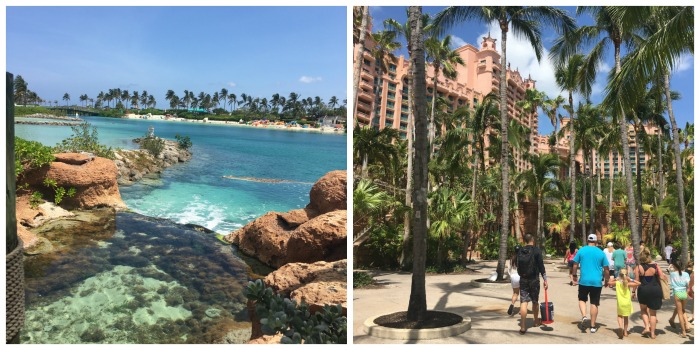 There are a couple of beach areas you can visit while you are there too.  I thought that was pretty neat because you can knock out the waterpark and the beach on the same day.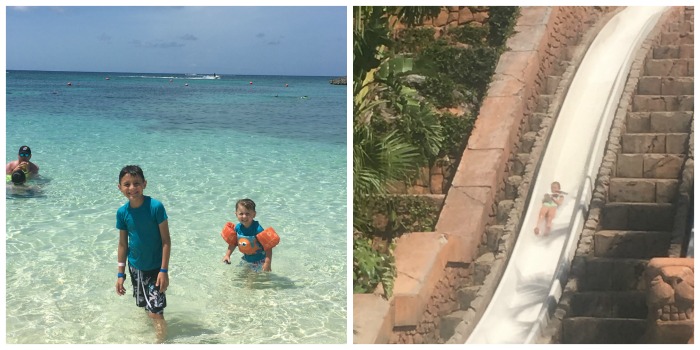 I think the kids really enjoyed their day.  The not-so-lazy river was the hit of the day!  But my favorite…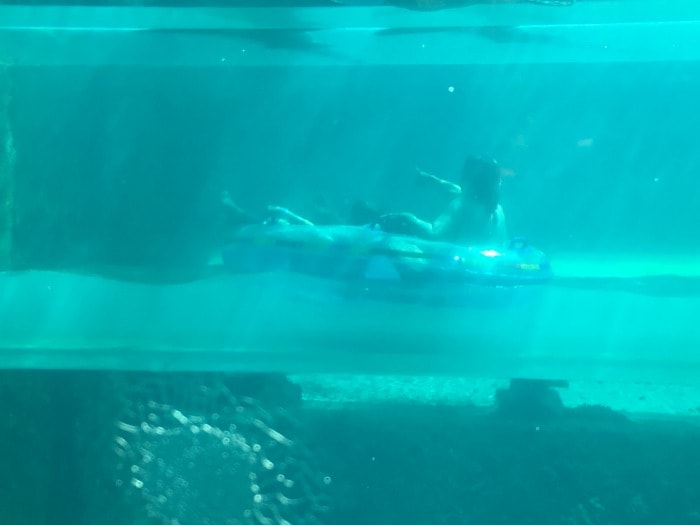 …was the water slide that led to the shark tank!!!  Yes, the tube slide goes into a tank where sharks are all around you…and you go pretty slowly through that part.  It was very cool.  That's Grant and I checking out the view!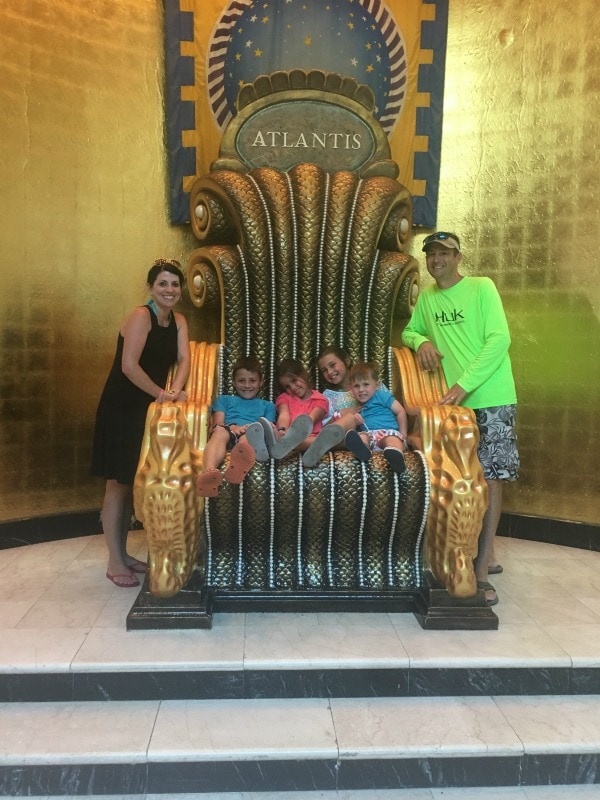 So would I recommend the excursion?  I'm having trouble with that one.  It's really expensive, and I don't think my kids were old enough to take full advantage of all the slides.  I love a good waterpark, so I wish we could have done more for the money.  It seemed like before we knew it, it was time to go.  We probably only had about 3 or 4 hours in the park because we had to get back on the ship.  But in the end, I am glad I got to see Atlantis.  I'd like to go check the resort out more one day when everyone is a little older.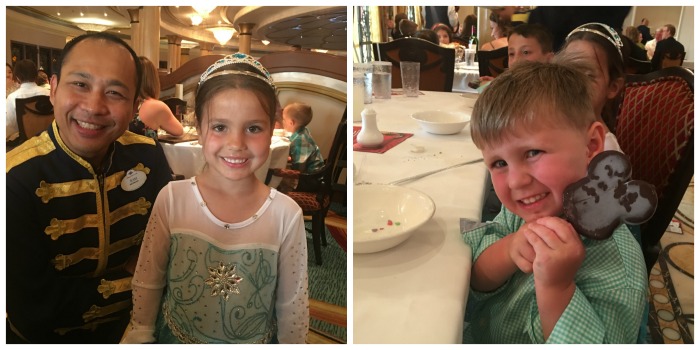 So that night we dinner at the Royal Palace restaurant.  We ate there two nights.  This was one of our waiters, Sam.  He was fabulous with the kids!!  They seriously talked about him all day long and couldn't wait to see him at dinner!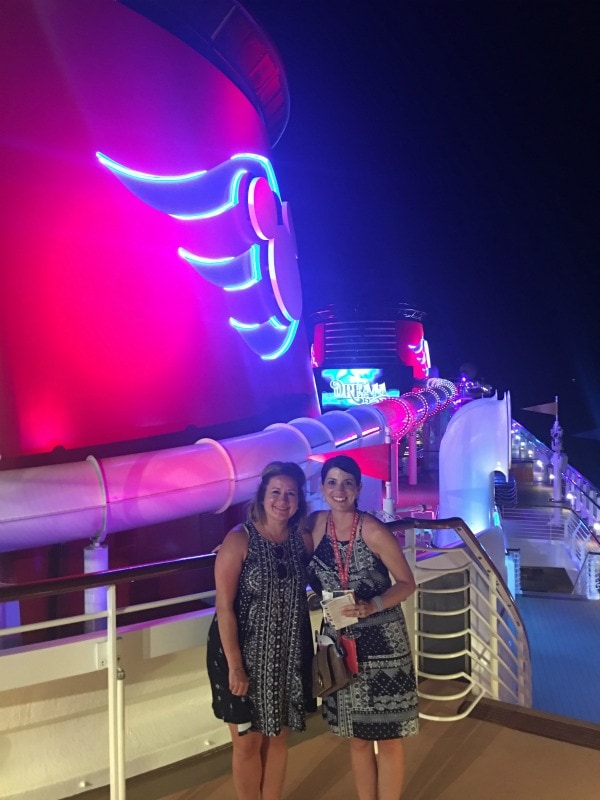 Later that night, all the kids wanted to go the the Oceaneer Club, so we took advantage of our adult time, and checked out this nice Pink Champagne bar and walked around the ship a little.  All the other nights, we chose to go the shows, which were great!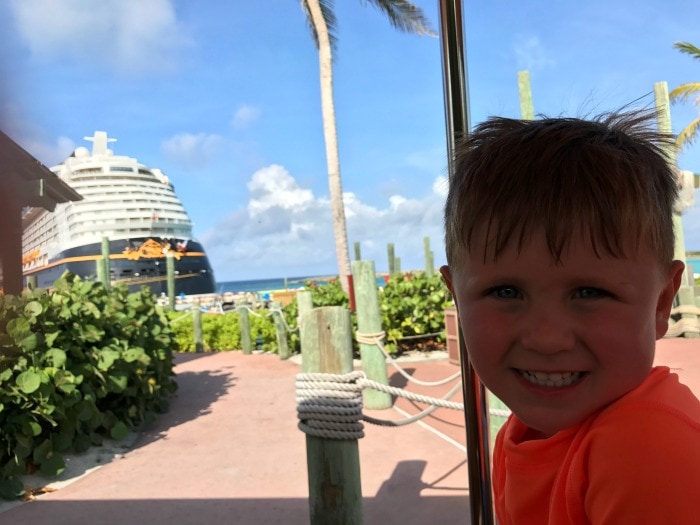 So onto my favorite day!  Castaway Cay!
The ship docks right on the island, and you get to go at your leisure.  We wasted no time, and got right off the ship.  We took the tram and stopped at the second stop by the big water slide.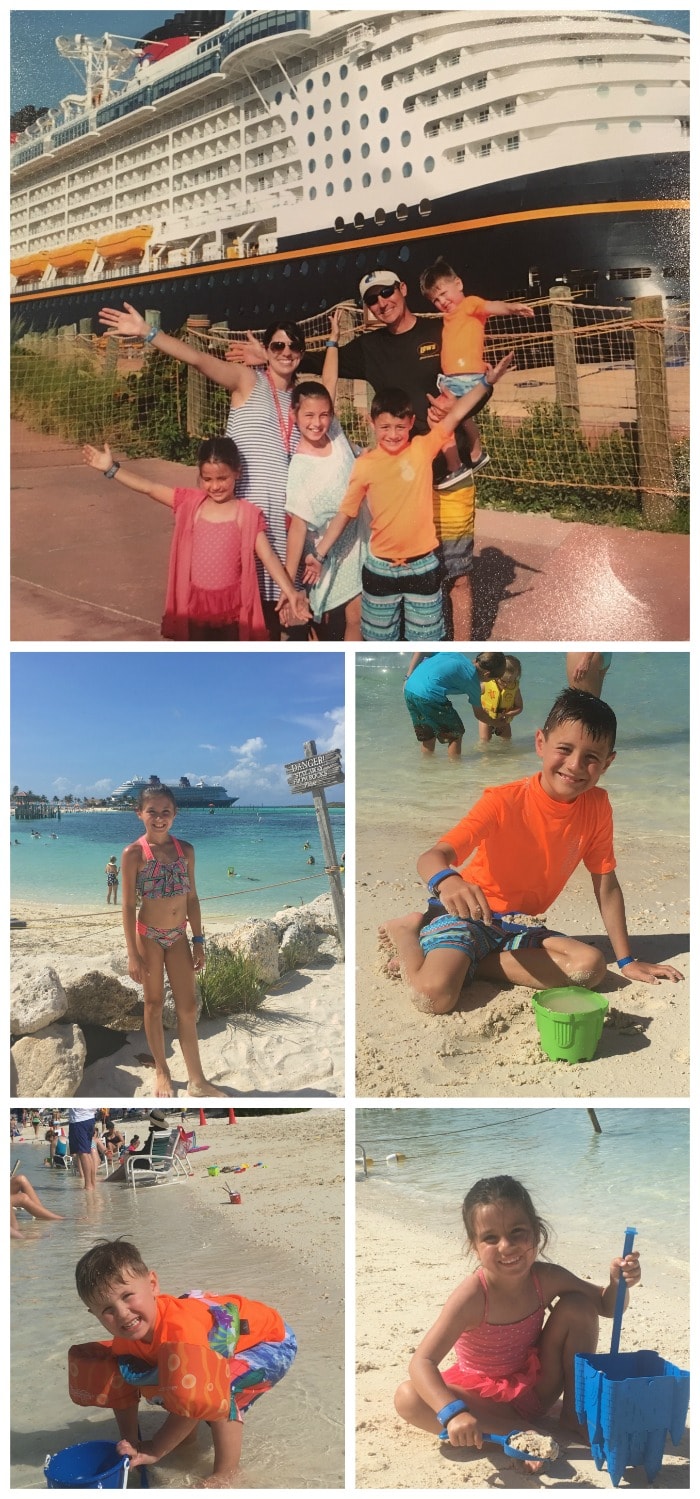 We bought the sand toys right on the island.  And the big kids loved the waterslide!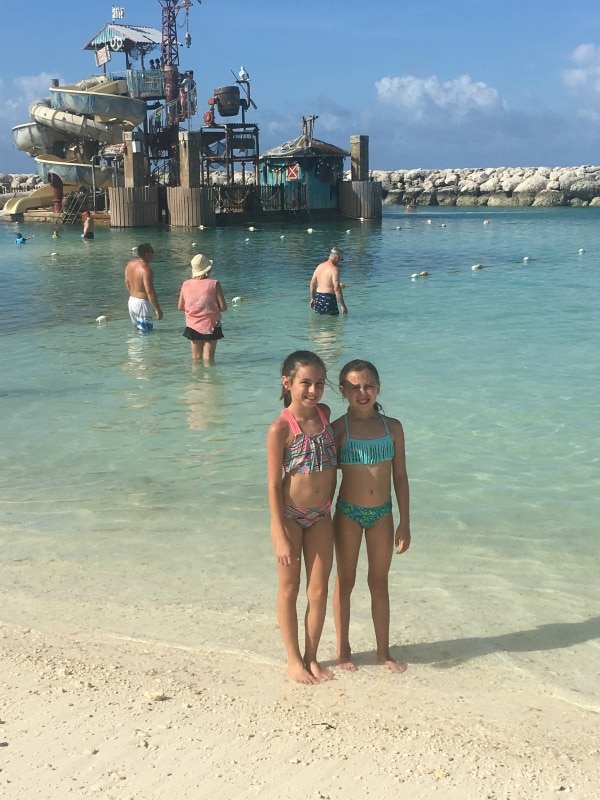 We did the stingray excursion that day.  The two little ones and I actually observed from the side, but it would be easy to take turns if you needed to do so.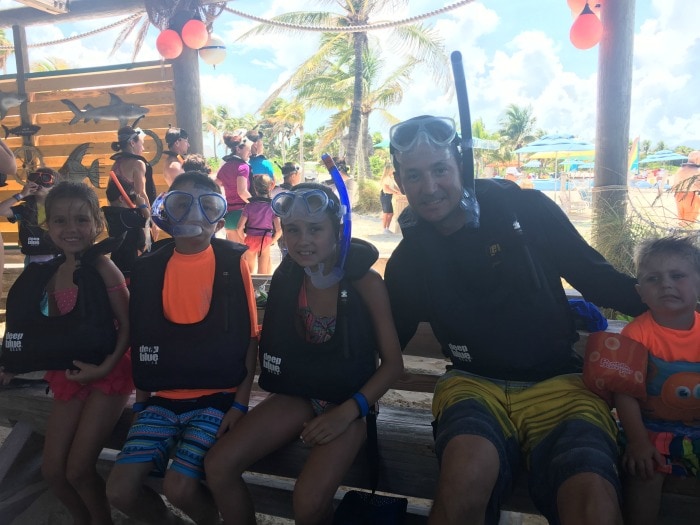 The big kids really LOVED this!!  After getting to feed and touch the stingrays, they then got to snorkel with them!  It was very cool!  Olivia was not too excited at first, but by the end she was following them around 🙂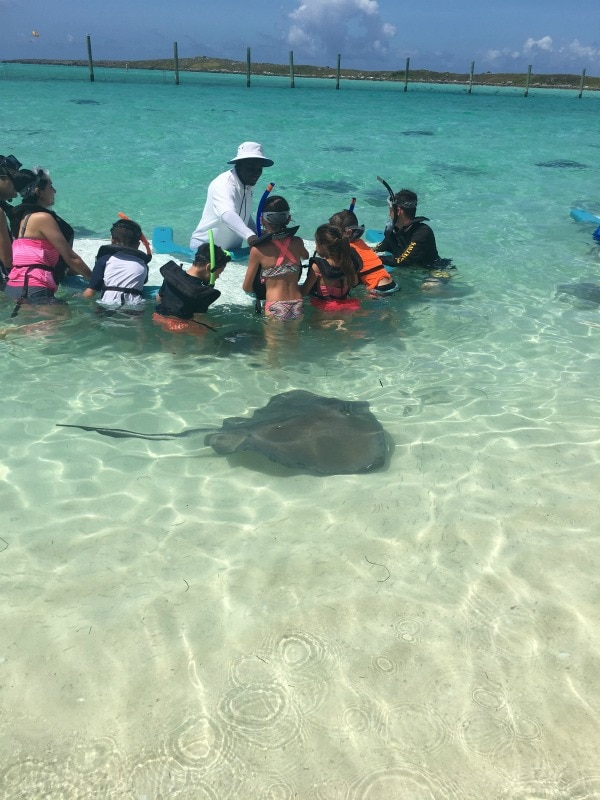 So after a long day on the beach, we went back on the ship to get ready for this…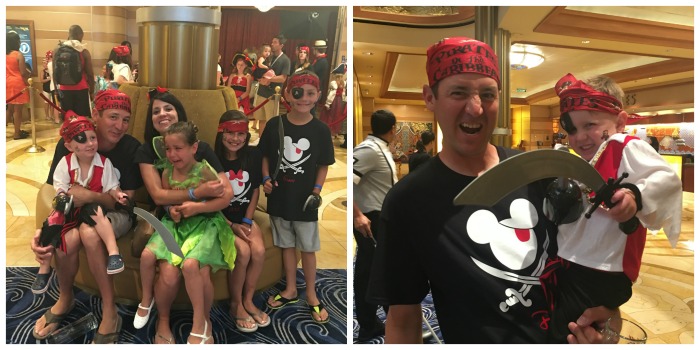 Pirate Night!!  And as you tell by our lovely family photo, someone was not happy.  She wanted to wear that Tinkerbell costume, but she was beyond exhausted that night.  That girl needs her sleep, and we were so busy the whole time.  She just wasn't getting it.  We sat down to dinner with the meltdown continuing.  I finally talked her into going back to room to change into her t-shirt like the rest of us, and she was good after that.   Our t-shirts came from this Etsy shop.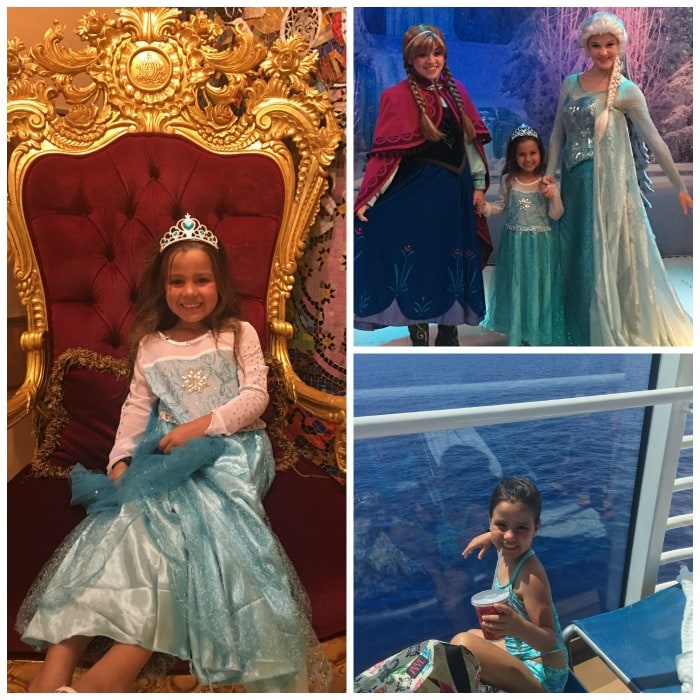 The next day was our day at sea.  We got ready early for our Frozen character meet and greet.  Then we hung out by the pool a little.  I rode the Aquaduck slide with the big kids a few times.  Macy rode the other swirly slide.  Later, her and I went back up to the room so she could rest and I could start packing up.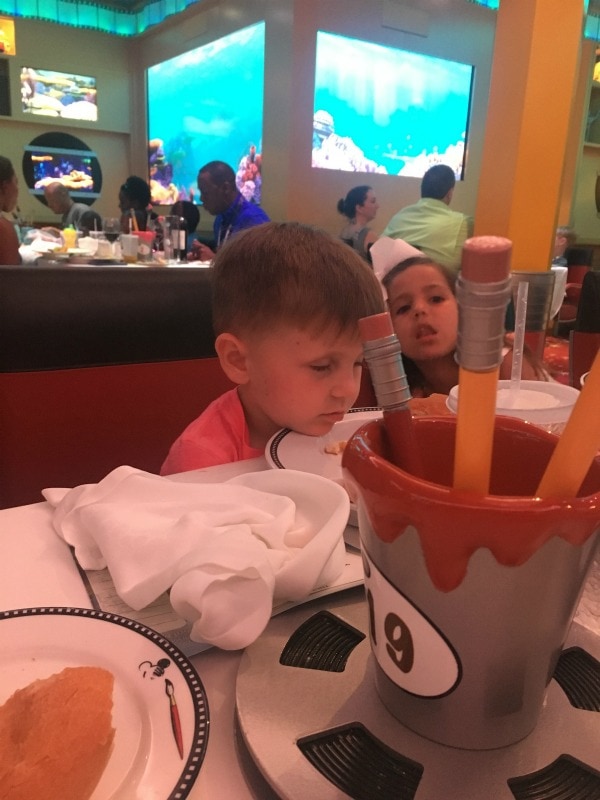 This cruise was so fun!  And sometimes you were so tired, you fell asleep on your burger!  That night dinner was in Animator's Palate, which was really cool.  But Landry couldn't keep his little eyes open!
The next morning, we disembarked the ship and headed to…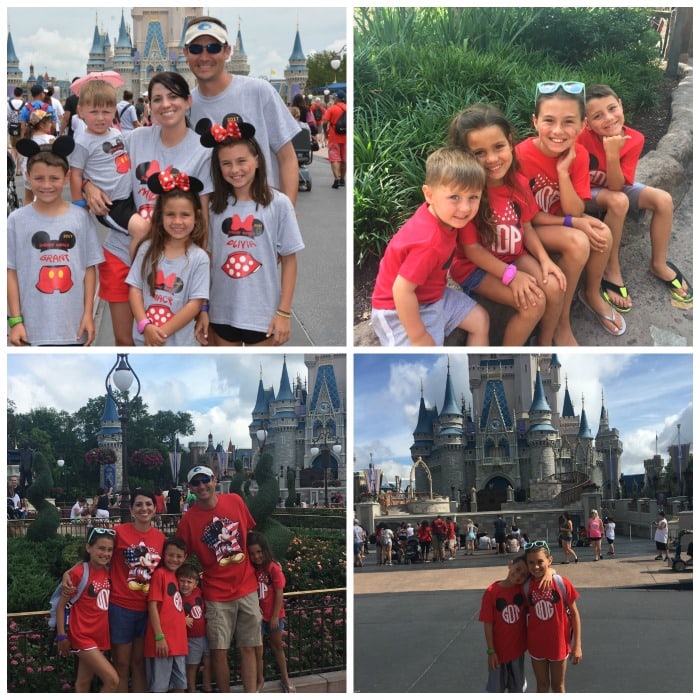 …Disneyworld!  We went for a few days since our cruise was only a 4 night one.  I am glad we did it.  Macy Paige was 2 last time we went, and I was pregnant for Landry.  We kept it really simple only went to Magic Kingdom.
The gray t-shirts were from this Etsy shop.  I ordered the red monogram ones a long time ago on Groopdealz.
***And part of the Disney fun on the ship is decorating your stateroom door.  I ordered cute magnets for our doors at this Etsy shop.
Well that is it!!  It was a trip I know my kids will be talking about all year!  And since I love to travel, I am already starting to plan next year's road trip!
To check out last year's 11-Day Road Trip, click here.
For my recipe home page, click here.
Need a good idea for dinner?  Here are some of our quick and easy favorites.
15 Best Weeknight Dinner Recipes