I'm taking a break from recipes today to share our recent road trip with you guys.  It was 11 days total, one minivan, and 4 kids…and we had a blast!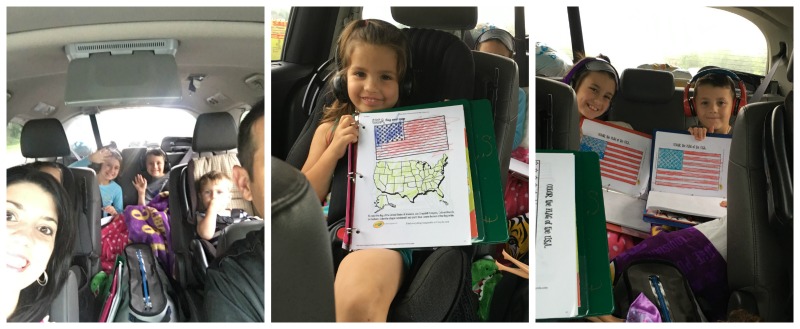 We headed out on a Friday morning near the end of May.  I surprised the kids with "Road Trip Fun Binders" in their seats when they got in the van.  They were filled with printables about the states we would be visiting.  I really had a lot of fun putting these together instead of packing.  🙂  If you are interested in making one of these, I just googled "road trip printables" and found some great stuff.  Here are some:  Restaurant I Spy,   Road Trip Binder Printables, Scavenger Hunt, and the License Plate Game.  This site has a ton of cool stuff on the states too.  123HomeschoolforMe also had some great state printables too.  The kids were able to mark off over 40 license plates!!  They are still looking at license plates now that we are home.
And before we get to more pictures, months before the trip, I wanted to prepare the kids and help them learn their states.  So I downloaded a few great apps on their iPads.  Our favorites were:  Shake the States and Stack the States.  The play them ALL THE TIME!!  They can really learn so much geography from these two games.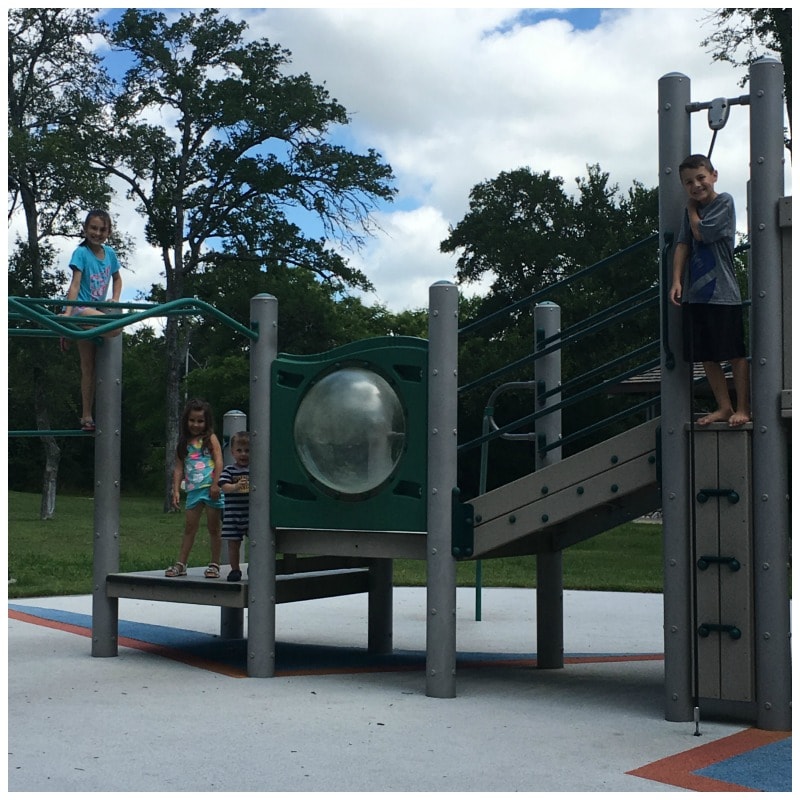 We drove a little over 7 hours the first day.  We found a great rest area in Texas with a nice little park to play and eat lunch.  We had kind of mapped that out the night before knowing the first day would be tough on our two little ones.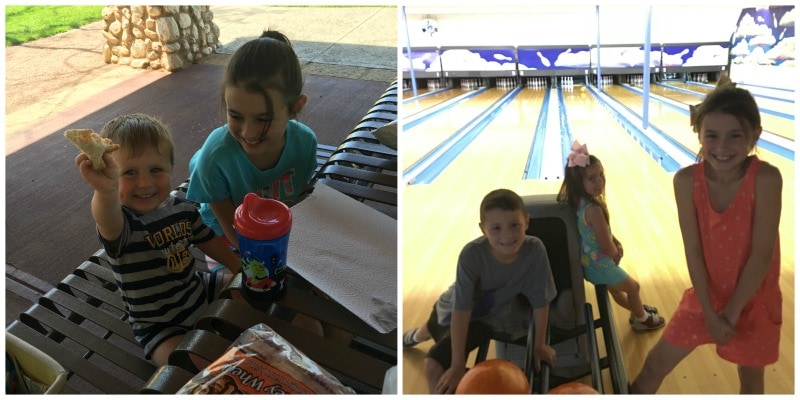 So after we ate and played a little while, we hopped back in the car and landed in Witchita Falls, TX for our first night.  There wasn't a pool at the hotel…BOO!  So we went bowling instead 🙂  The kids had a great time that night because this bowling alley had laser bowling.  You can't tell on that picture above, but they did turn out the lights later.  The next morning we woke up early and headed out to Santa Fe, NM!!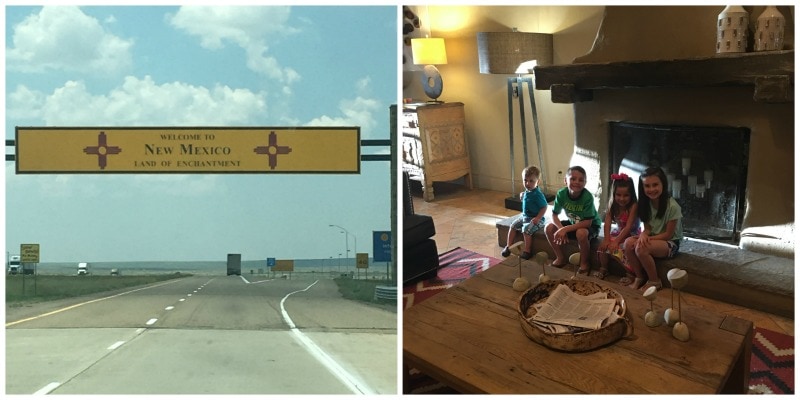 It was exciting to make it through Texas…FINALLY!  I think the kids now really understand how big Texas is.  We stayed at the Hilton Santa Fe Historic Plaza.  It was a beautiful hotel with a great big pool area.  However it was quite cold outside for us.  The kids still swam a little, but it wasn't for very long.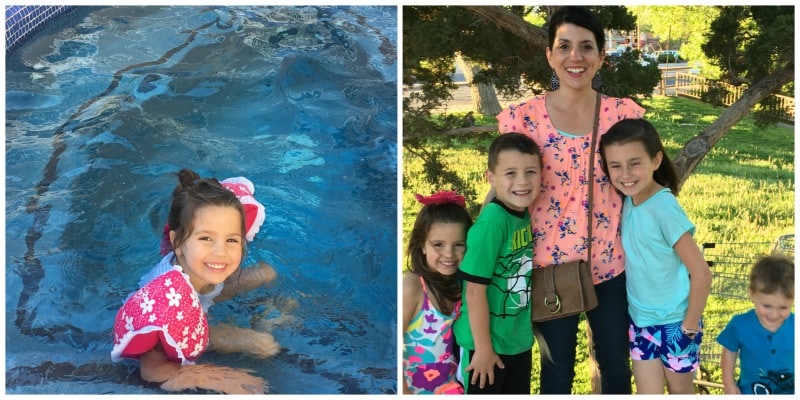 We headed out for supper right near the hotel, and kind of walked around a bit to burn more of that energy!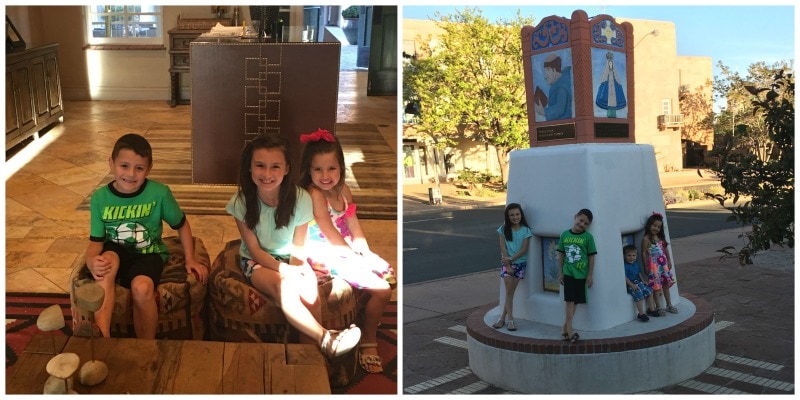 We decided to eat at a restaurant right behind our hotel called Casa Chimayo.  It was so cool!!  I had no idea that we would be walking into this little jewel at all!  And "little" is an appropriate word to describe it.  When we got there, we saw a sign that it had been featured on Diners, Drive-ins, & Dives!  I was so excited!!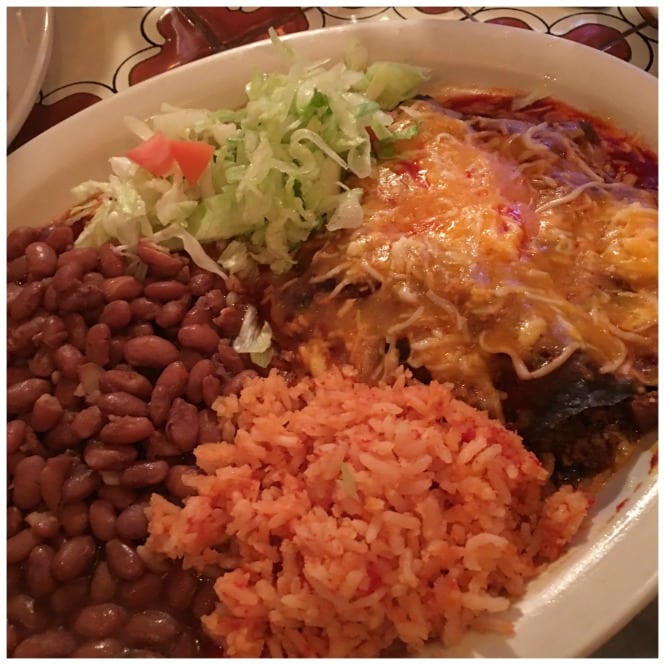 I ordered the Blue Corn Enchiladas.  It was good, and it had a great atmosphere!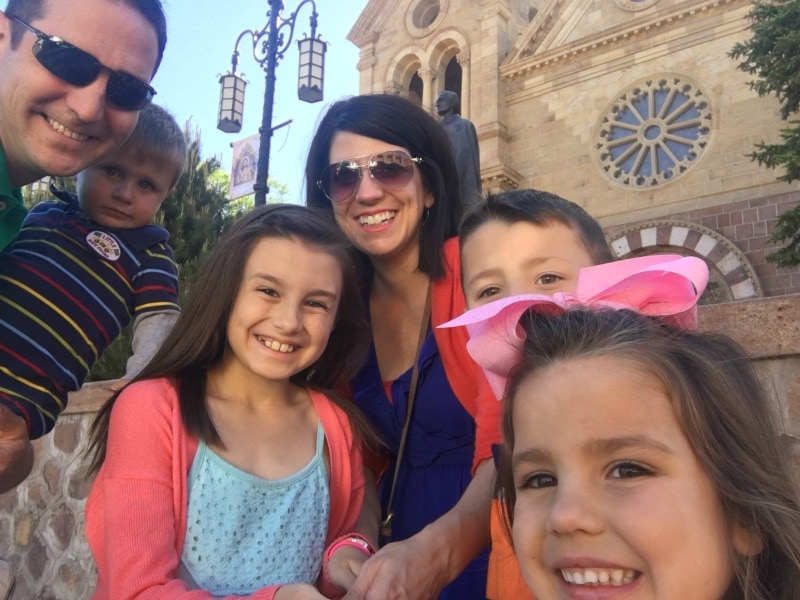 The next morning we woke up early, ate breakfast, and headed out for church.  This picture is in front of the Cathedral Basilica of St. Francis of Assisi.  It is a beautiful church built in 1887.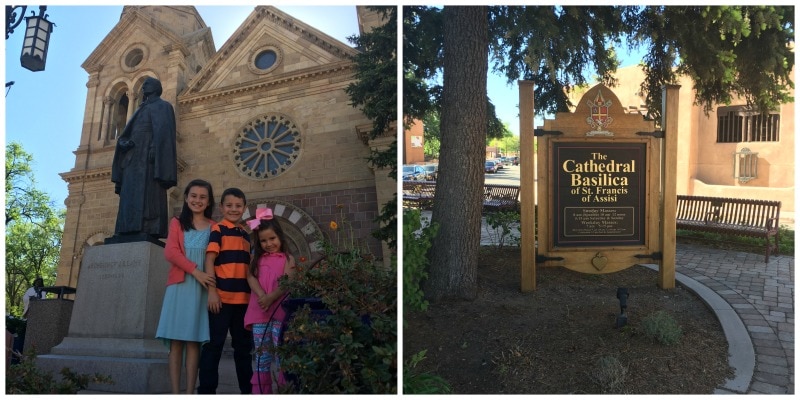 The kiddos were quite wired before going in the church.  I blame it on two days of sitting in a car.  But as soon as mass started (after a few prayers from my husband and I), they got amazingly calm.  It was quite nice for sure!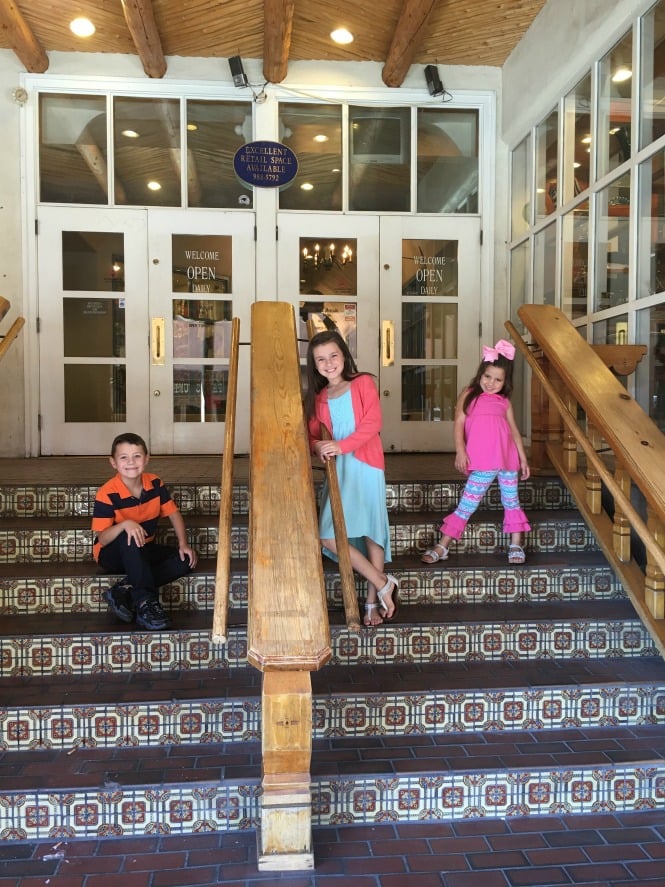 We also walked around a bit.  I told the kids to take a picture on these steps and this is what I got.  I swear I did not pose them at all.  Aren't they little professionals?  I love this picture.  And that #3…she's a mess!



Santa Fe is so beautiful!  I'm so glad we were able to stop there!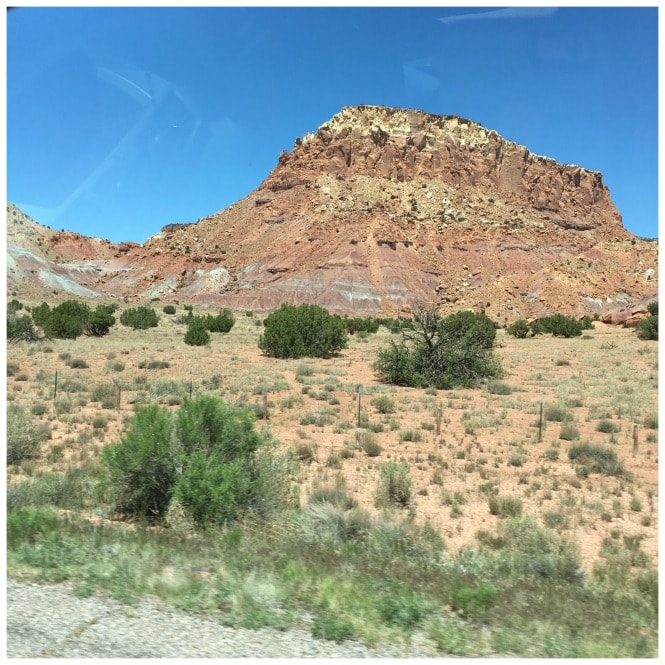 We headed out around lunch time!  We were on our way to Colorado!  This drive was so beautiful.  To see the land change, was just amazing!!!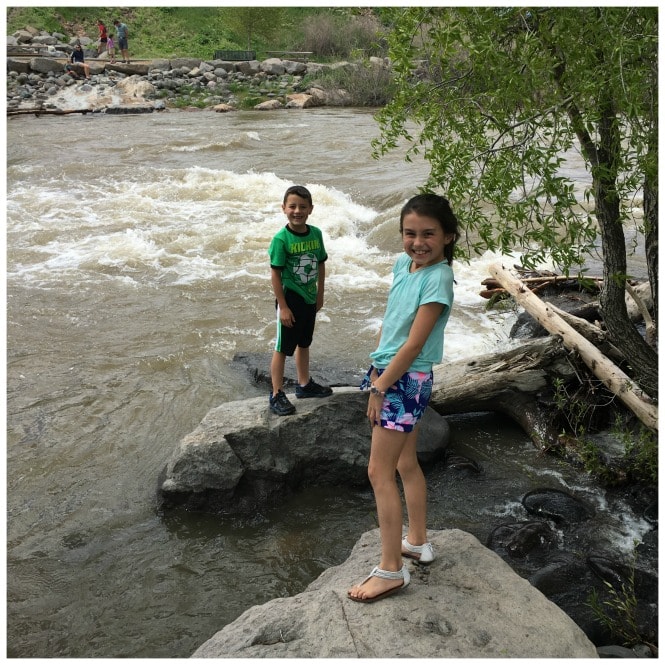 Our next little stop was in Pagosa Springs, CO.  This was a totally planned stop for sure!  I love this little town!!  My only regret was that it was on a Sunday, so not everything was open.  We found a little place to eat and then we walked around.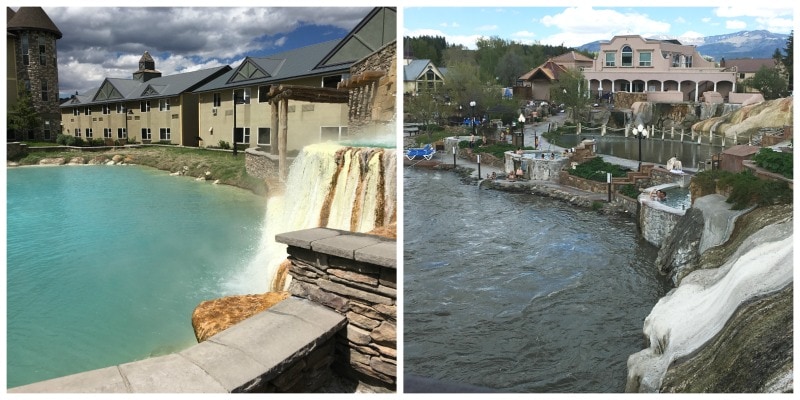 There are hot springs everywhere.  It is so cool!  The San Juan River that runs through the town is cold, and the hot springs were….well…hot.  It was such a neat contrast.  The town has grown quite a bit since I visited 18 years ago.  See all those people in those little hot springs?  Very cool!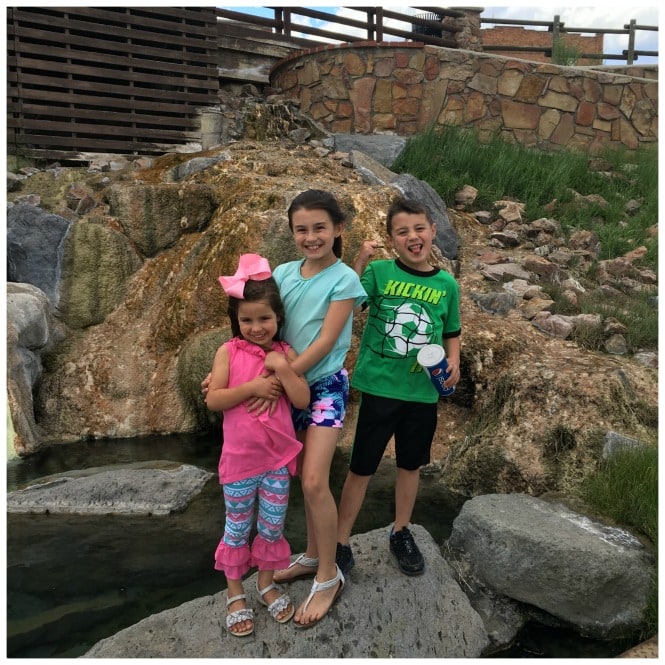 Afterwards, we headed out to my husband's parents house outside of Durango, CO.  It was nice to have destination where the kids could burn some of that energy and play outside some more!
So that was Days 1-3!!  Tomorrow, I'll be back with a recipe, and then on Wednesday, I'll recap a little more of the trip!  My favorite part is yet to come!!
For Days 4-6, click here.
For Days 7-11, click here.
And if you are hungry, we had this for supper last night.  It was always a regular in our house, but for some reason I haven't made it in a while.  The kids scraped their plates clean!!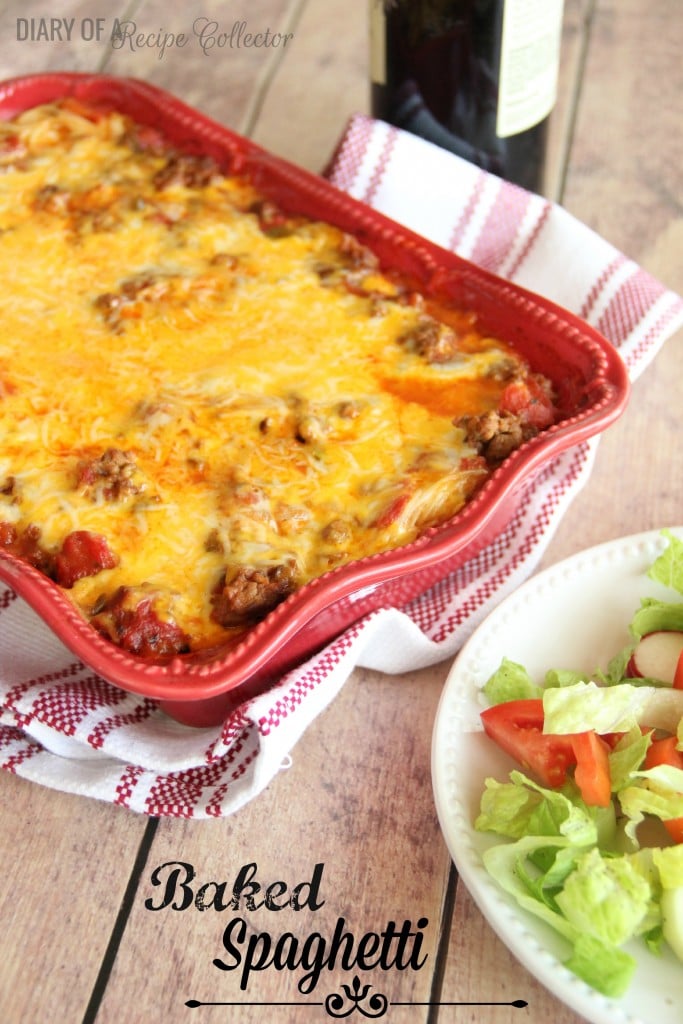 You can find more MAIN DISH RECIPES HERE.
You can find ALL RECIPES HERE.
For more ideas, follow me on FACEBOOK, PINTEREST, INSTAGRAM, TWITTER, AND PERISCOPE.
Get FREE recipes delivered to you by email: SIGN UP HERE!