A fun Easter treat using the classic dirt pudding recipe makes a perfect dessert for your family this Easter.



 Hey everyone!  So I know I need to explain my lack of posting lately.  The truth is I have been CRAZY busy lately…like can't catch up…spinning my wheels!
It doesn't help that we've pretty much had something going on every weekend since the middle of January.  Between cheer competitions, a Mardi Gras Ball, and my upcoming ACTS Retreat, I've been a little stretched thin.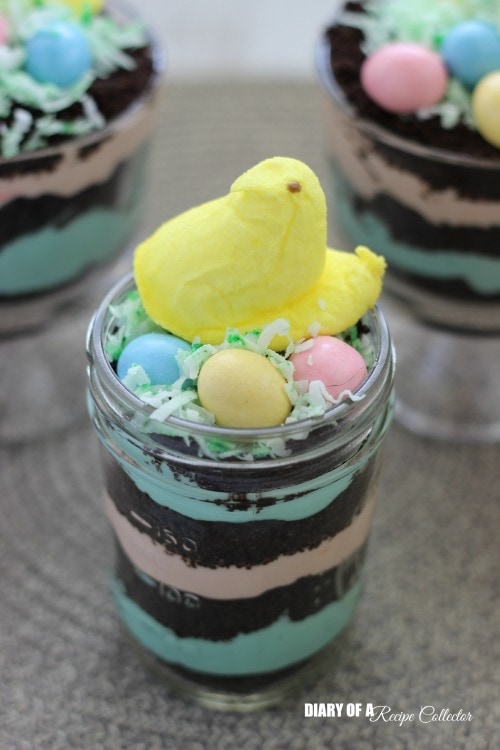 Despite how busy we've been, I have been having fun traveling with my kiddos.  I know…I can't believe I just said that!  Really!  Last weekend went so good with all 4 of them.
We went to Moody Gardens in Galveston, Texas for my daughter's last cheer competition.  I'm happy to say, it was our favorite one.  Why?  We didn't compete until Sunday, which meant we were able to spend all day Saturday enjoying ourselves.  We went to the aquarium and the rain forest.  Then the kids swam at the HUGE pool for hours.  Yes, it was cold water, but somehow kids don't seem to mind too bad.  The weather was beautiful!!!
If you live in Texas or Louisiana, you should totally take your family to Moody Gardens.  It is such a great family friendly place.  Not only do they have all the exhibits, IMax, etc., but the hotel has activities for kids all day long.  Saturday night, they had a band, and the kids hula-hooped, played tug-o-war, and bounced in the bouncy house.
Let me just say they slept WONDERFUL Saturday night!!
There is also Schlitterbahn Waterpark next door to Moody Gardens.  It is a perfect summer vacation spot!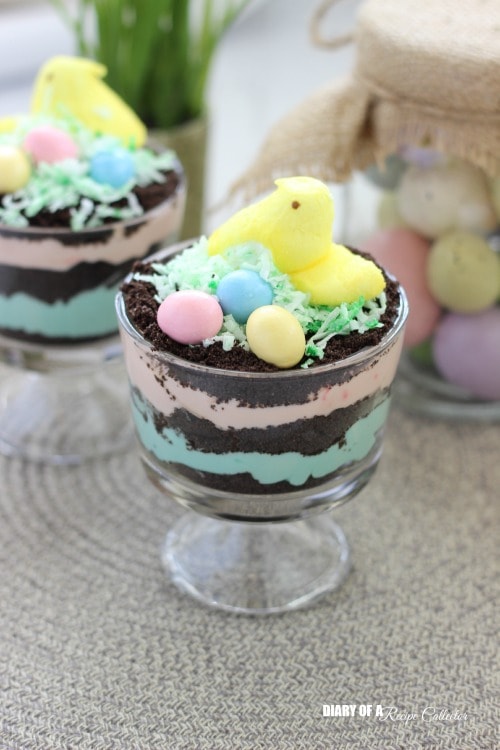 So this weekend I won't be home…Again.  But it is for such a good and exciting reason.  I serve on Team for an ACTS retreat for my church.  I'll be away for 4 days.  I know I will come back refreshed and renewed.  I will tell you all about it next week.
I promise I will get back to a normal posting schedule soon!
So now for these Easter Peeps Dirt Pudding Cups!  Let me just say that they were devoured at my house like no dessert ever before.  I mean I've made dirt pudding for them before, but I think the Peeps and the chocolate eggs sealed the deal!  I have a feeling I'll be making another batch of these before Easter.  If you have little ones around, you must make this for them!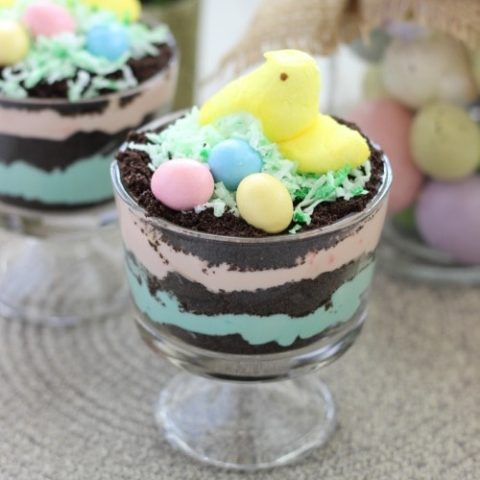 Easter Peeps Dirt Pudding Cups
Ingredients
1 14 oz package of Oreos
2 small boxes instant vanilla pudding
3 1/2 cups milk
12 oz cool whip
1 8 oz block cream cheese, softened
1/2 cup butter, softened
1/2 cup powdered sugar
Blue and pink food coloring
Topping: 1 cup coconut, green food coloring, chocolate eggs with candy shell, Easter Chick Peeps
Instructions
Crush Oreos in a food processor. (This can also be done by putting them in a plastic storage bag and crushing them with a rolling pin or canned good).
In a large bowl, whisk pudding mixes and milk for about 30 seconds. Set aside to thicken while you make the cream cheese mixture.
In another large bowl, beat cream cheese and butter until smooth. Add and beat in powdered sugar.
By this point, pudding should be thickened. Whisk it a little more to combine thoroughly. Whisk in cool whip into pudding.
Pour pudding mixture into cream cheese mixture and mix until combined.
Divide mixture in half. Using a few drops of food coloring for each, dye one blue and the other pink. Stir until color is completely mixed in, adding more dye if necessary..
Begin layering in small jars or mini trifle dishes: 1-2 tbsp crushed Oreos, 2 tbsp blue pudding, 1-2 tbsp Oreos, 2 tbsp pink pudding, 1-2 tbsp crushed Oreos, 1 tbsp blue pudding, 1 tbsp crushed Oreos.
Place coconut in a small plastic storage bag. Place a few drops of green food coloring into the coconut. Seal bag while letting air out. Begin moving and mixing coconut around in bag to dye the coconut green.
Place coconut onto top layer of Oreos.
Place a few candy eggs onto coconut.
Finish off with a Peep Easter Chick.
Repeat with remaining jars.
Notes
This can also be made using a large trifle dish or a small punch bowl. Start and end with crushed oreos as you layer. You will end up with 4 layers of pudding mixture and five layers of oreos.
Recommended Products
As an Amazon Associate and member of other affiliate programs, I earn from qualifying purchases. This helps us keep our blog running efficiently and allows us to create more recipes for you.
 Other recipes you might like:
Mini Cherry Cheesecake Trifles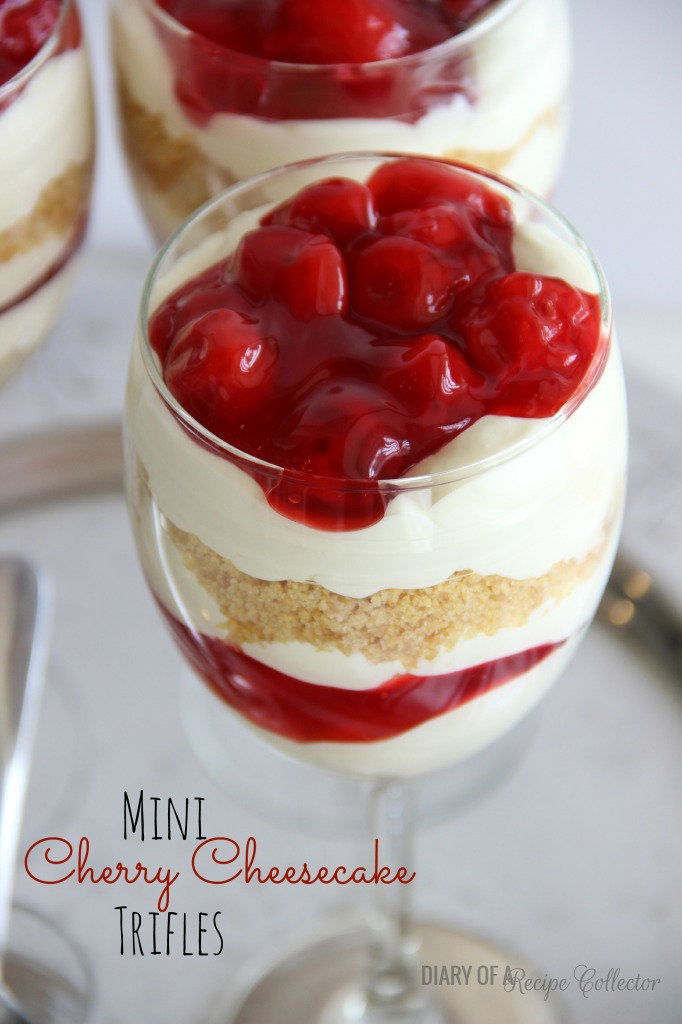 Connect with Jaren: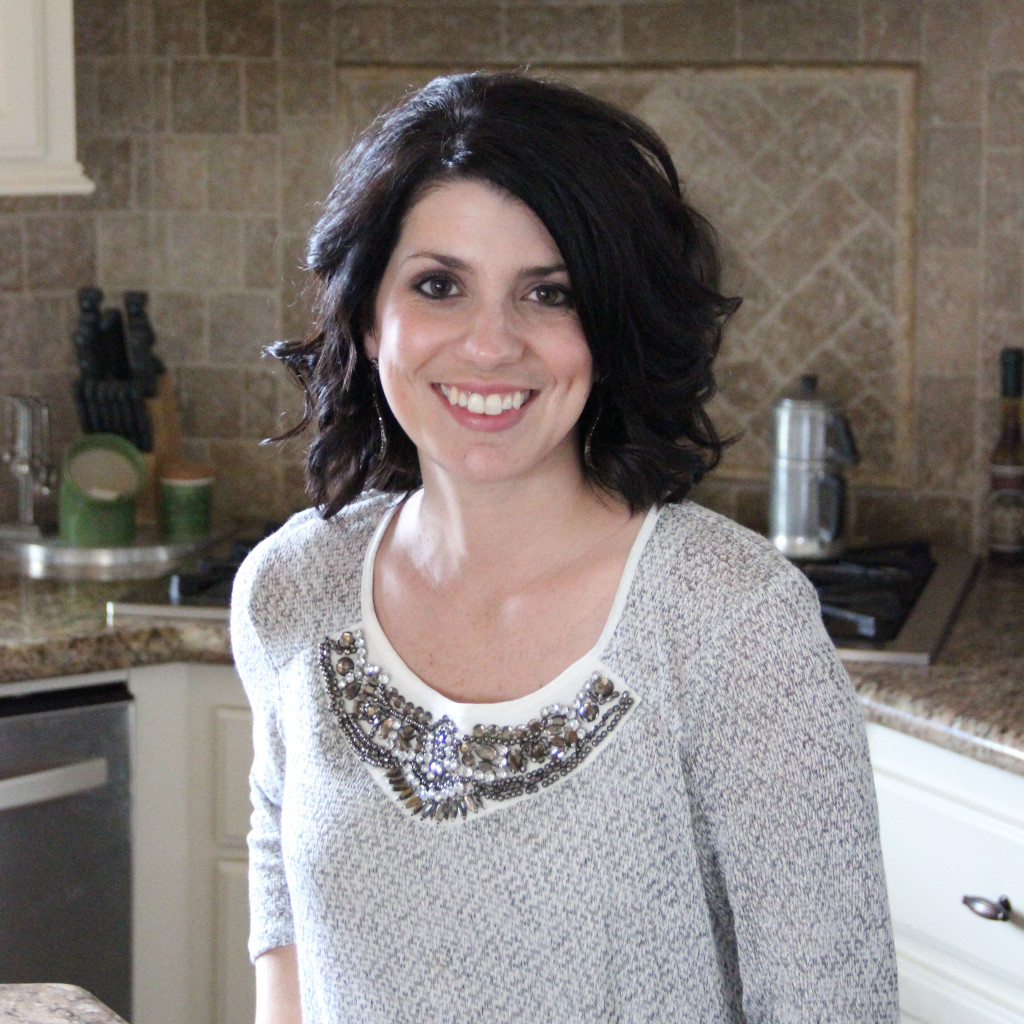 Blog | Facebook | Pinterest | Instagram | Bloglovin | Twitter