Cranberry Chipotle Cream Cheese – The smoky flavor of chipotle peppers mixed with sweetened cranberries served on top of cream cheese makes a great holiday appetizer served with crackers.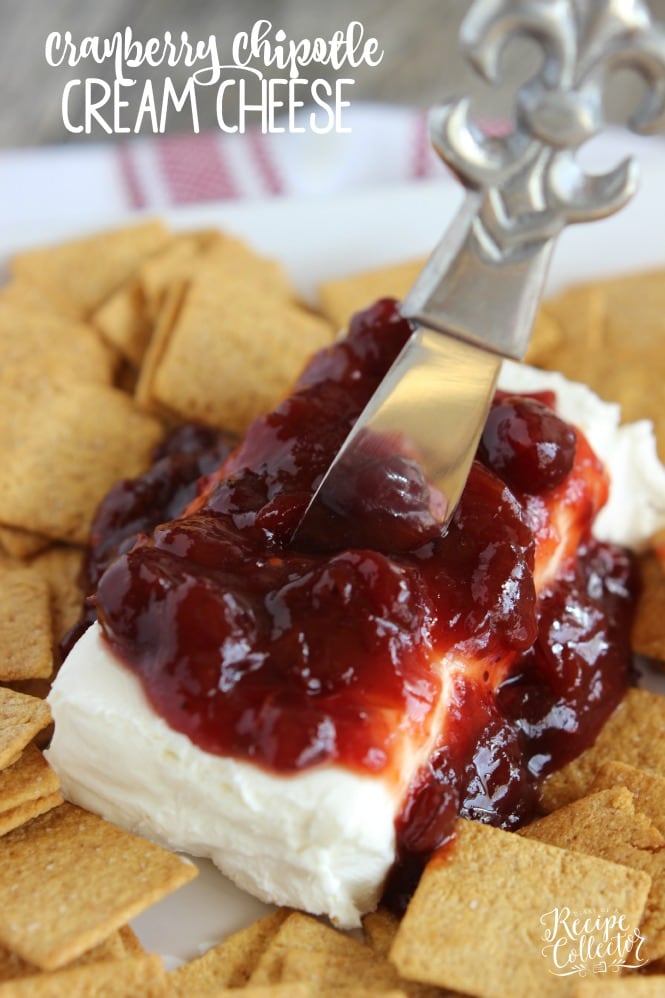 Y'all this week has been so busy.  I feel like I haven't spent much time on here lately.  Luncheons at school, class parties, and class plays, and the usual hustle and bustle of the week is my excuse.  This mama needs a vacation.  I'm so glad to be off of our schedule the next two weeks!!!  We won't have to wake up so early (although I still do so I can be sane and have my coffee), and we won't have to go somewhere every night.  Yipee!!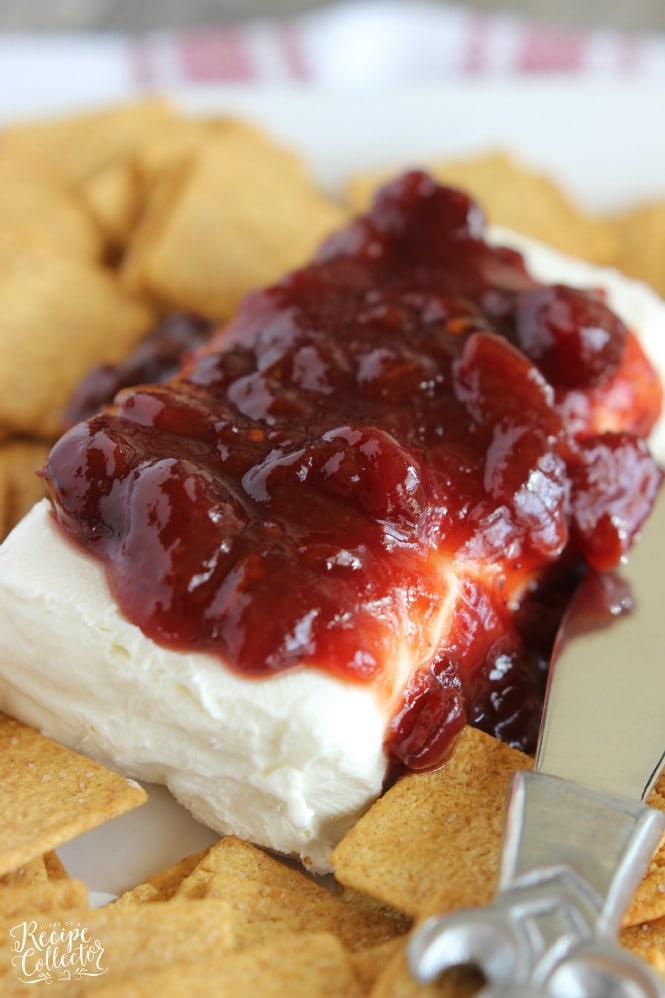 Plus, we have some fun plans for Christmas!   We have a lot of family things to do, Christmas cookies to decorate, and Christmas movies to watch.  I just recorded The Family Man, and I cannot wait to sit down, get cozy, and watch it.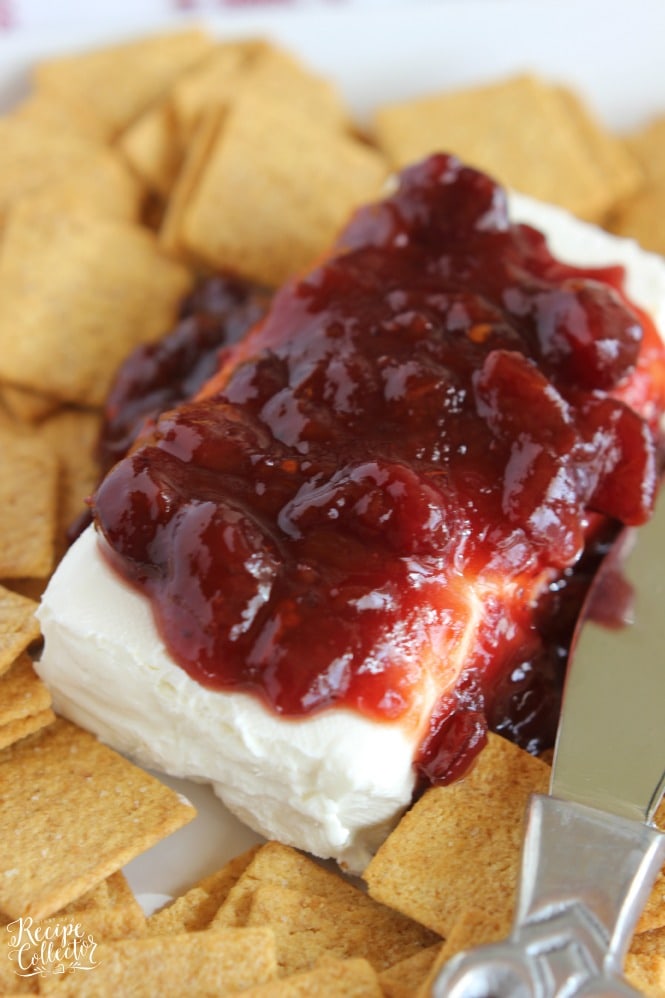 And last but certainly not least, I am ashamed to admit it, but I have not wrapped One. Single. Present.
I have a good excuse…I don't want to have to redo wrapping after the 1 year old gets after them.  But the main reason is when would I have had time lately??  When those kiddos go to bed, this mama is tired.  So are you all finished wrapping?  If so, I am soooo jealous!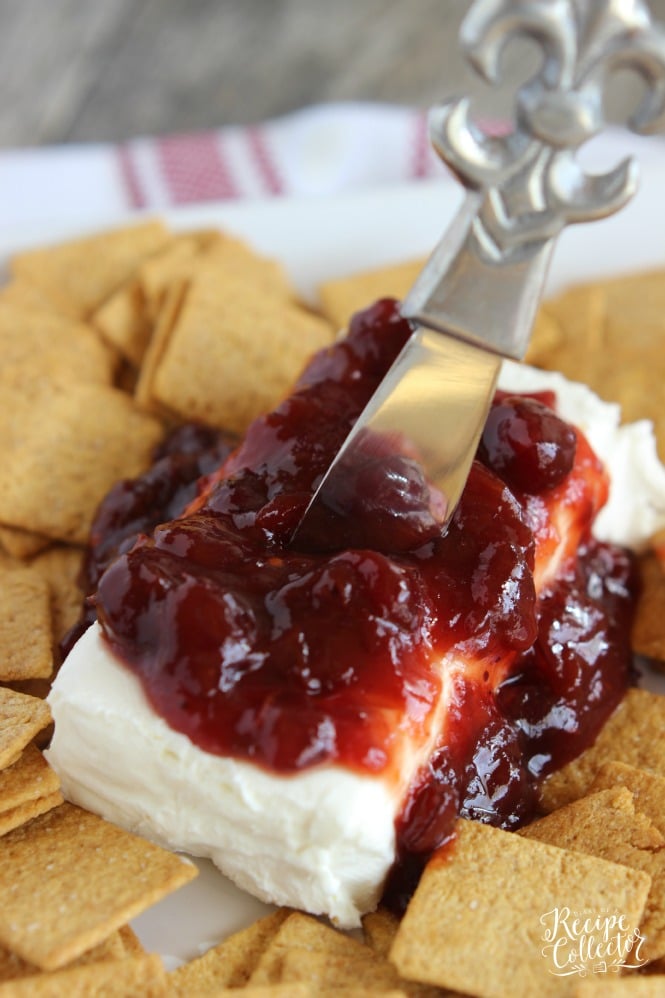 So onto this Cranberry Chipotle Cream Cheese appetizer.  There really is no easier appetizer than a block of cream cheese with a sauce poured on top surrounded by some crackers.  Easy Peezy!  This sauce takes less than 10 minutes to make, and you let it cool.  You can even make it a day ahead like I did.
Also, a little chipotle pepper goes a long way.  They are spicy and full of a smoky flavor.  I also blended mine the best I could in my mini food processor, but you can always finely dice it too.  I only used 1 tbsp of brown sugar, but you could add a little more if you prefer it sweeter.  Hope you enjoy!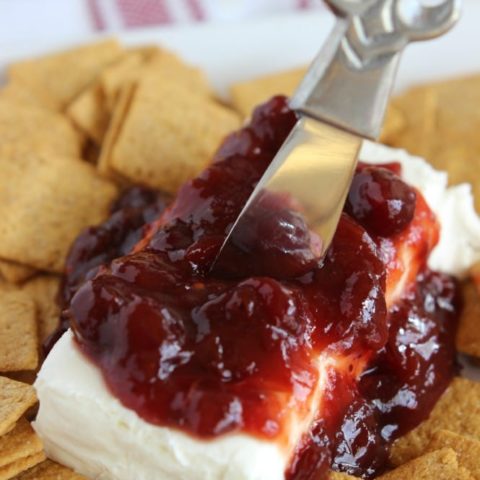 Cranberry Chipotle Cream Cheese
Ingredients
1 chipotle pepper
1 can whole berry cranberry sauce
1/4 cup chili sauce
1 tbsp brown sugar
1 blocks cream cheese
1 box of crackers
Instructions
Finely chop chipotle pepper with a knife or food processor.
Add chopped chipotle, cranberry sauce, chili sauce, and brown sugar to a small sauce pan. Heat over medium high heat for about 5 minutes. Taste and add more brown sugar if you prefer it sweeter. Allow it to cool.
Just before serving, pour half of mixture on top of cream cheese. (See note)
Serve with crackers.
Notes
*You will have extra sauce, and you can double the cream cheese and crackers if you'd like. Sauce stores fine in the fridge for a few days to serve with another block of cream cheese and crackers again later.
*You can find canned chipotle peppers with the Mexican/Latin foods in your grocery store. Only use 1 pepper from the can unless you prefer things really spicy.
 Other appetizers you might like:
You can find more Appetizer RECIPES HERE.
You can find ALL RECIPES HERE.
For more ideas, follow me on FACEBOOK, PINTEREST, INSTAGRAM, TWITTER, AND PERISCOPE.
Get FREE recipes delivered to you by email: SIGN UP HERE!