Today I wanted to share three of my favorite parts of our recent road trip!  I scratched a few things off my bucket list for sure on this leg of the trip!! It was incredible!  To see days 1-3, click here.
So for this part of the trip we stayed at my in-law's house near Durango, CO.  This was nice since we had been staying in hotels the previous 2 nights.  It gave the kids a chance to run around and play since they live on several acres.  It was just what we needed!!
So on the morning of Day 4, Monday, we woke up and hung around their house a while before heading out to see the sights.  Today it was all about Durango and Four Corners!!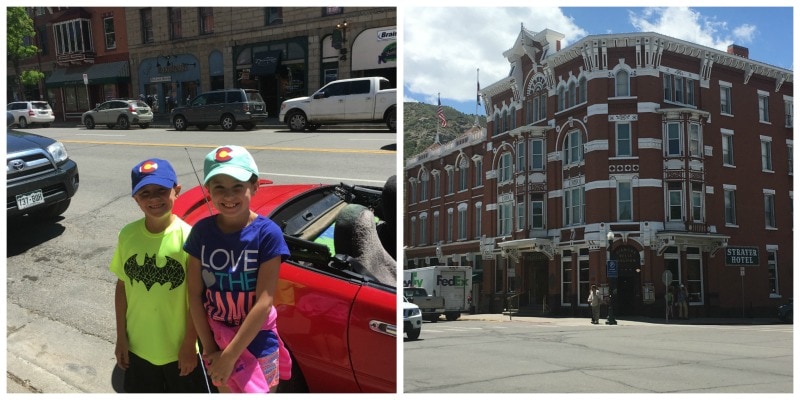 We headed out to go walk around Main St.  We did a little shopping (notice the hats purchase) and found a little brewery to go get a bite to eat.  After that we stopped for some ice cream.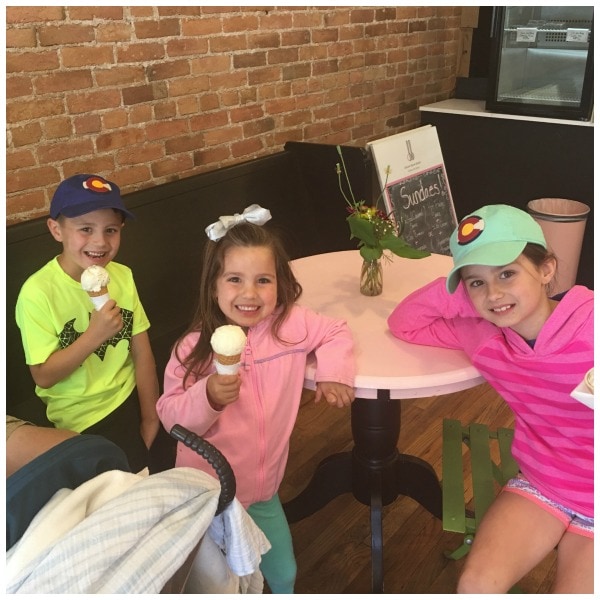 Now this wasn't the kind of ice cream my kids are accustomed to getting.  It was artisan ice cream with different/natural flavors like lavender and ginger.  After that, we got in the car for about an hour and a half drive to the Four Corners Monument!
This has been on my bucket list since I learned about this as a child.  When we first started planning this trip and telling the kids about it, I told them how they could stand in four states at one time.  They thought this was so cool and couldn't wait to try it out!
Now this little monument is in the middle of nowhere.  I don't think I really expected that.  However, it was still super cool!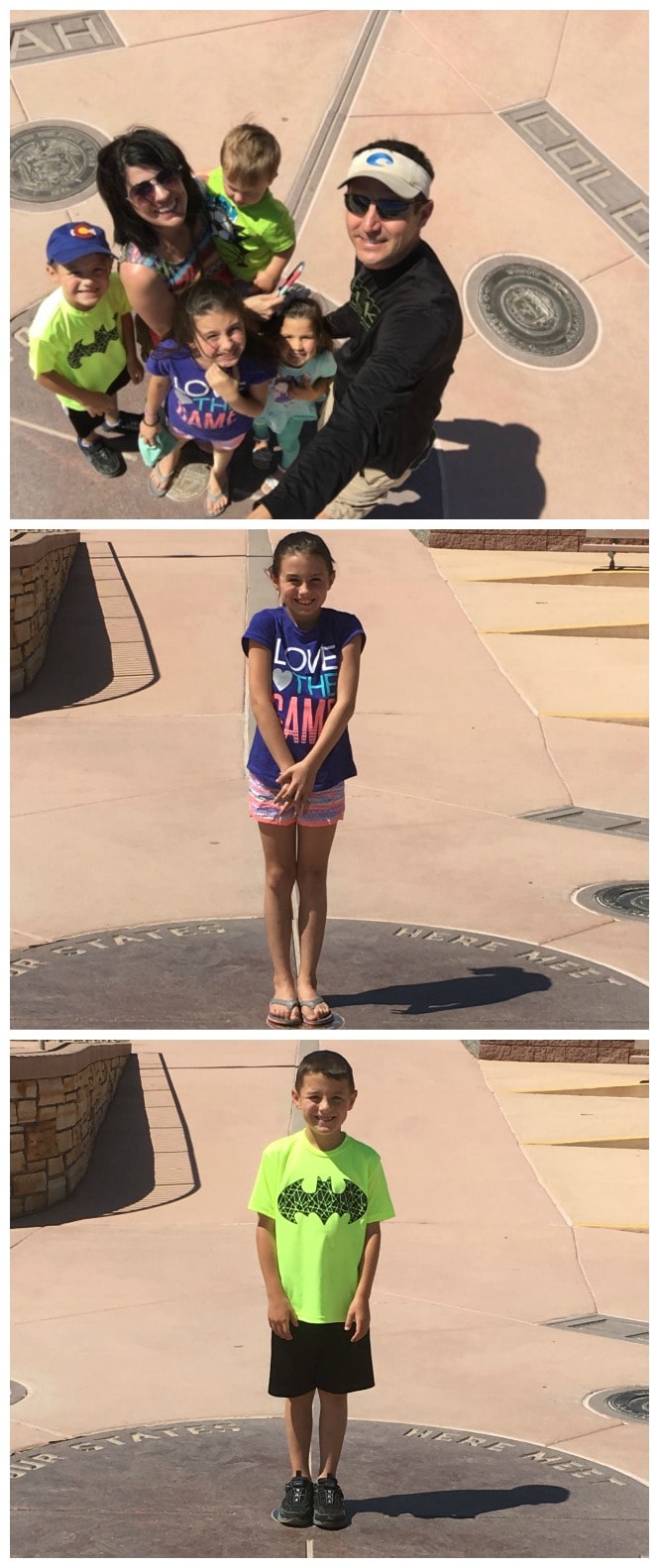 Our time here was very short and sweet.  I would have liked to have walked around a little more and explore the vendor booths set up all around it, but we had a 4 year old that seriously needed a nap.  Meltdowns and monuments are kind of awkward if you know what I mean.  So we got back in the car and called it a day.  We headed back to my in-laws house for a nice home-cooked supper!
So on Day 5, Tuesday, we woke up early and headed out for this: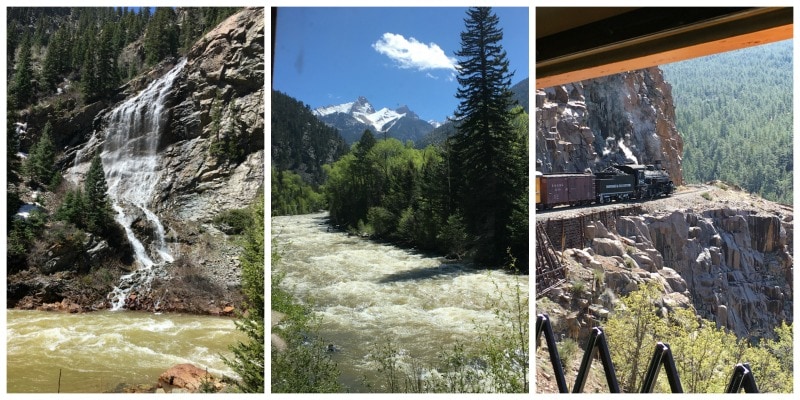 We took a train ride from Durango to Silverton, CO.  It was an old steam-engine train, and it was one of the coolest experiences in my life! I'll admit that I was a little scared since it was a 3 and a half hour ride and I have 4 kids.  I was also a little scared to get sick since I have pretty bad motion sickness.  But I couldn't let this opportunity pass.  I took a dramamine, and it all worked out fine.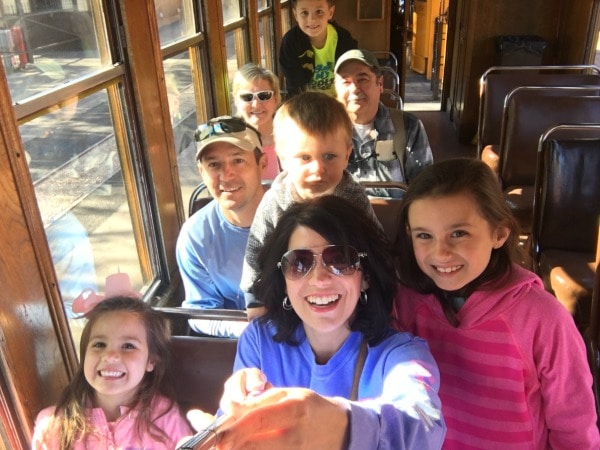 The tour guides were great, and we even got to walk back a few cars to visit the concession stand for some hot chocolate.  The kids loved it!  It was definitely worth it!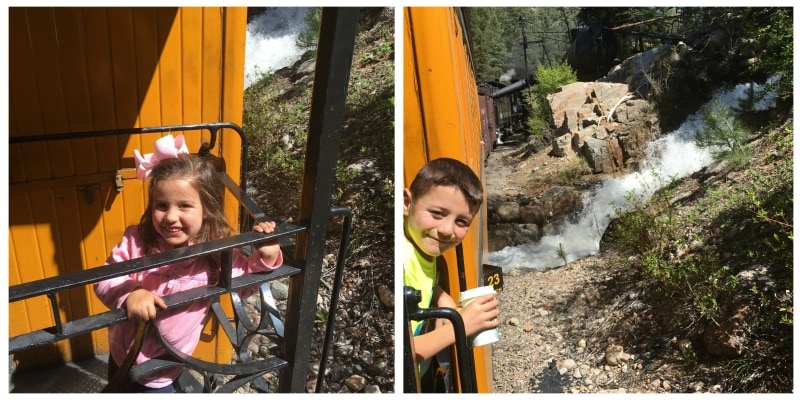 We stopped periodically so the train could get water 🙂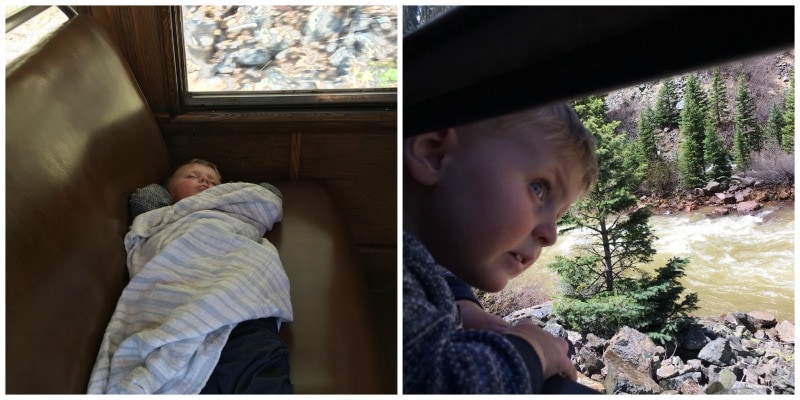 And this little guy slept most of the way, but woke up just in time to see some pretty sites.  He now thoroughly knows what a choo choo train is!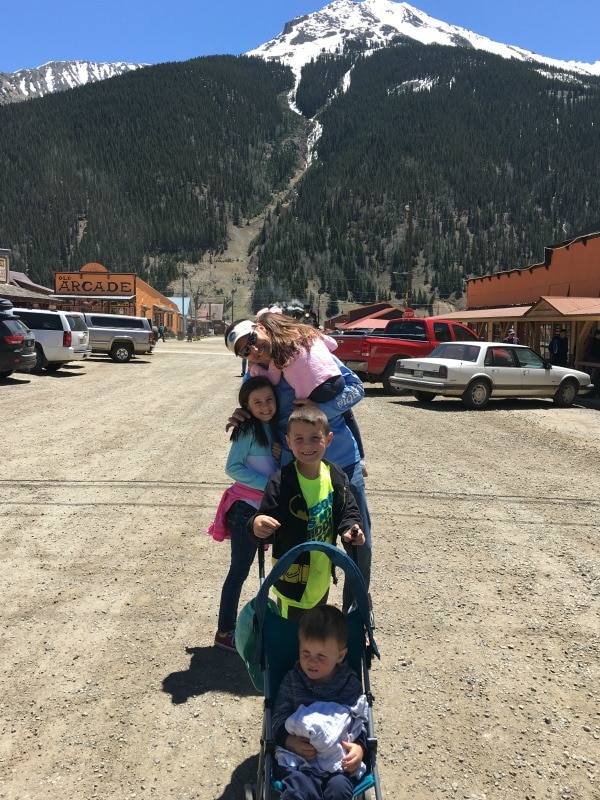 So we arrived in Silverton around lunch time.  It is a beautifully preserved in time little town reminiscent of the Old West…so very cool!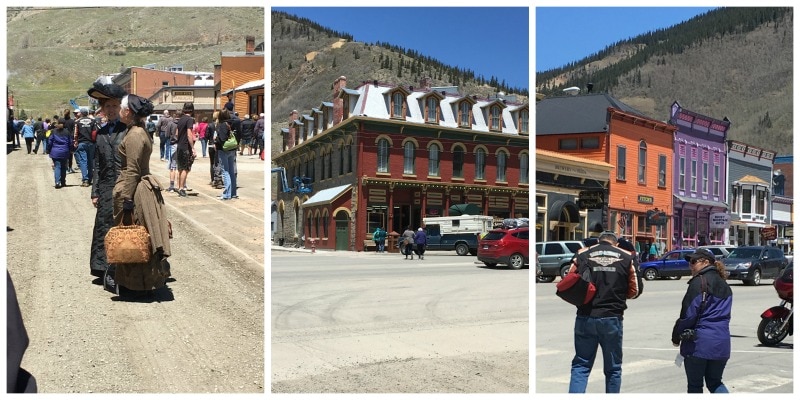 The town even has a few people dressed in the 1800's attire.  We ate lunch at a saloon.  Afterwards we walked around and did a little more shopping.  I highly recommend this little excursion.  It was probably my favorite part of the entire vacation.  They do have the option to take the train back to Durango, but we chose to take the charter bus back.  It was quicker, and the kids passed out on the smooth ride home.  You also got to see different sites on the ride home, and it was just as beautiful.
The next day we woke up, said goodbyes, and headed out for Moab, UT.  I got the opportunity to go here 18 years ago with my friend and her family.  I have talked about it to my husband our entire relationship.  I couldn't wait for the kids and him to see it.  It was a 2 hour drive from Durango.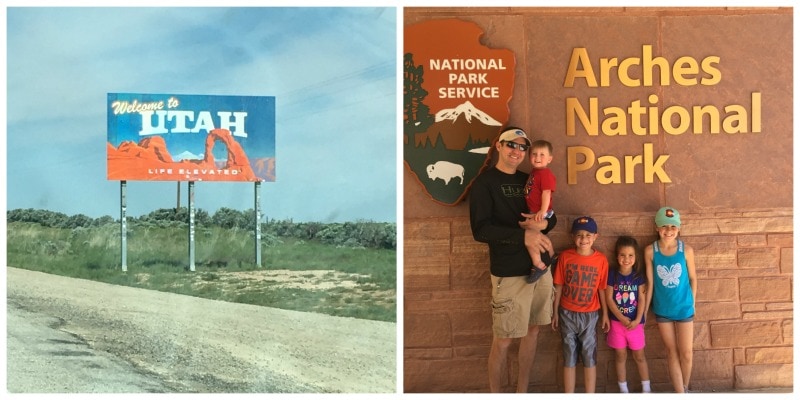 We went to Arches National Park to see some of the most incredible, majestic sites on this Earth.  This park is HUGE y'all.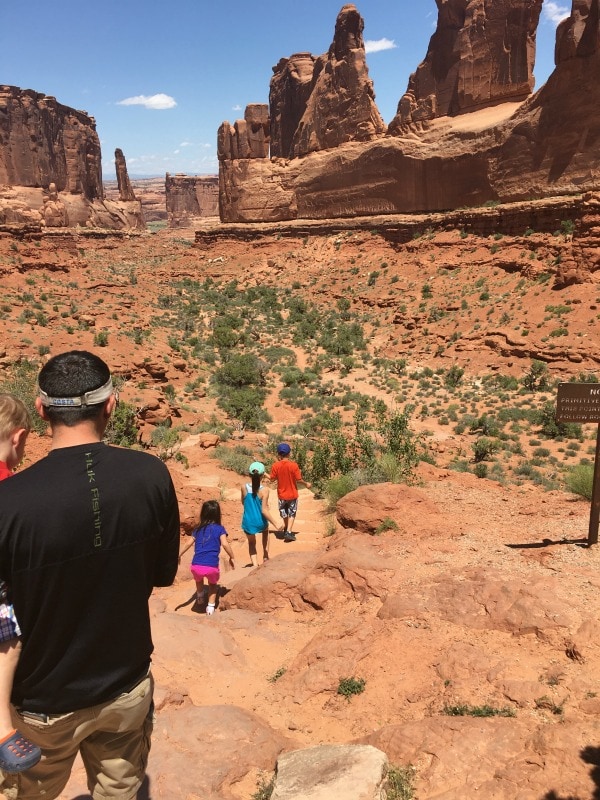 And the kids were very ready to do some hiking.  They had been talking about it for 5 days.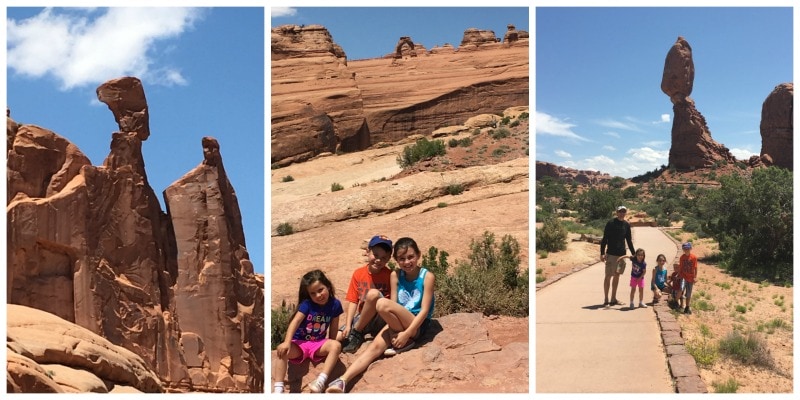 We definitely will make a trip back when everyone is older.  We knew we would be limited on what we could see with the little ones.  But they hung in there for a while.  They were very impressed with the Balanced Rock.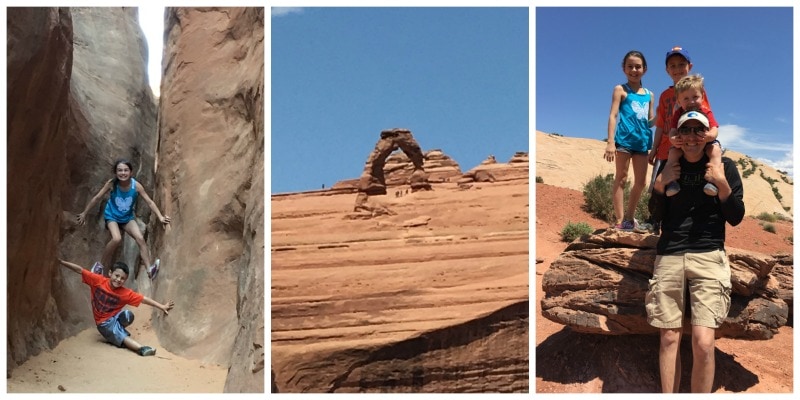 So the picture on the left above was a very sought after picture.  I have one of myself there 18 years ago.  I could not remember where in the park it was, but on our very last stop, we finally found it.  Now we had a few missing members here because the little ones were done at this point.  The big kids and I quickly walked to find this, and headed back to the van to head out.
It was time to swim a little before supper!  And supper plans were amazing!!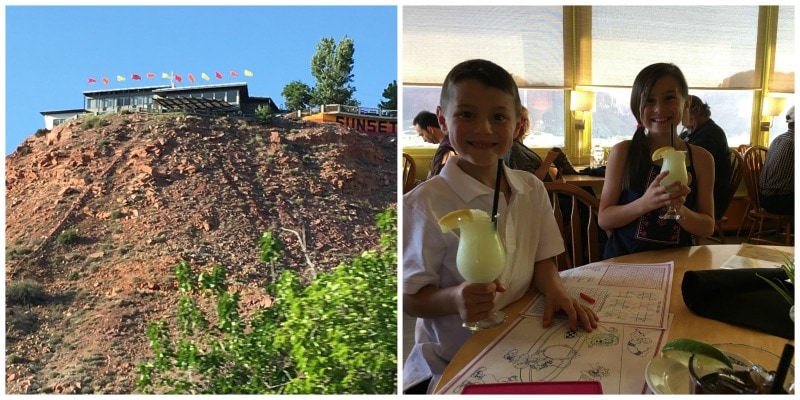 We ate at the Sunset Grill in Moab.  It's on a little cliff where you can see the most beautiful sunset.  The kids enjoyed their frozen lemonades too!  It was a nice ending to great day!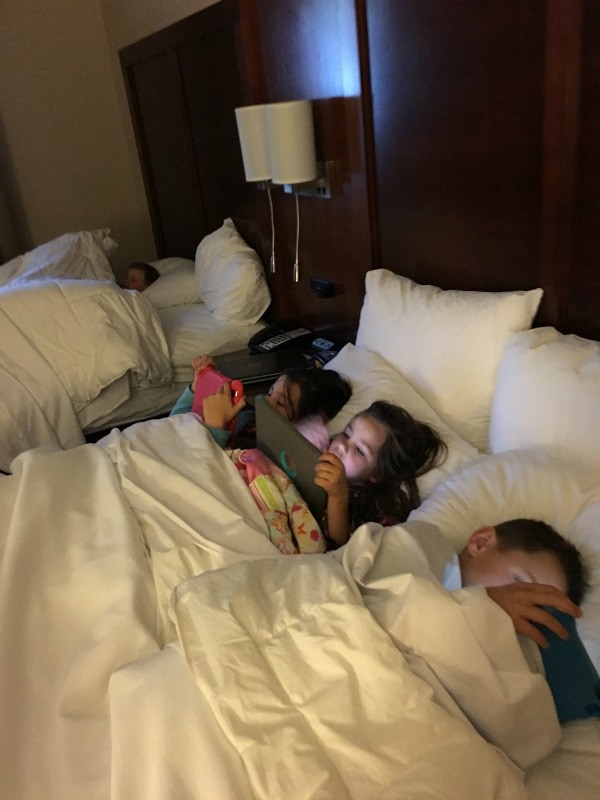 And I had to snap this pic of hotel life…
So that was days 4-6!!  I can't wait to show you the rest!  Thanks for visiting!!