Baked Spaghetti – Layers of homemade meat sauce, angel hair pasta and cheese make this the perfect spaghetti! It's great for company too!

Everyone usually has their favorite spaghetti recipe. This one happens to be mine. It is spaghetti that goes one extra step, and it is so worth it!
The key to this spaghetti is skipping the jar sauce and also going with angel hair pasta. You layer it with cheddar and jack cheese. It is great for a family gathering too.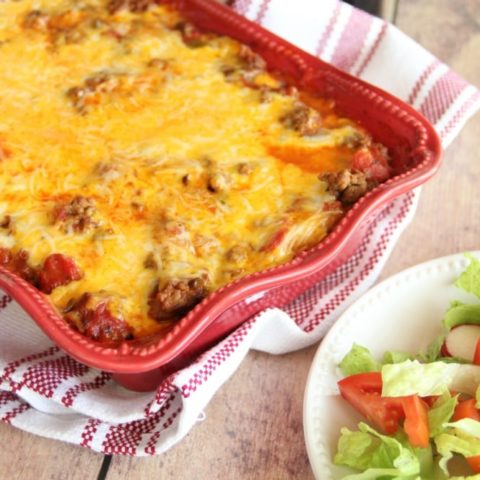 Baked Spaghetti
Ingredients
2 pounds ground beef
1 onion, diced
1/2 bell pepper, diced
2 cloves garlic, chopped
2 cans diced tomatoes
2 15 oz. cans tomato sauce
1 cup water
3/4 tsp dried parsley
3/4 tsp dried oregano
3/4 tsp dried basil
2 tsp creole seasoning, divided
3 to 4 tsp sugar, depending on your preference
2 small bay leaves
16 oz. angel hair pasta
1 1/2 cups cheddar, shredded and divided into thirds
1 1/2 cups jack cheese, shredded and divided into thirds
Instructions
In a large pot, brown the ground beef, 1 tsp creole seasoning, onions, bell peppers, and garlic.
Add in the diced tomatoes, tomato sauce, water, parsley, oregano, basil, remaining 1 tsp creole seasoning, sugar, and bay leaves.
Bring to boil and reduce to a simmer, covered for about an hour. Shortly before this is finished, boil the angel hair until it is just barely done and drain.
Preheat oven to 350 degrees and assemble the spaghetti in a 9 x 13 casserole dish. Begin by covering the bottom with sauce. Add 1/2 of the angel hair, and top with a third of the cheddar and a third of the jack cheese. Repeat with half of the remaining sauce, rest of angel hair, next third of cheeses, rest of sauce.
Bake in oven for 30 minutes, uncovered.
Top with remaining cheese and bake an additional 5 minutes.
Let sit for about 10 minutes before serving.
Notes
*This recipe can be halved easily. You can also split it between two smaller casserole dishes and freeze one of them prior to baking.
*Adapted from Paula Deen
Enjoy with a nice salad and garlic bread!