Coconut & Caramel Pecan Parfait – A decadent dessert filled with layers of pecan cookie crust, toasted coconut, cream cheese filling, and caramel.  It is so perfect for fall!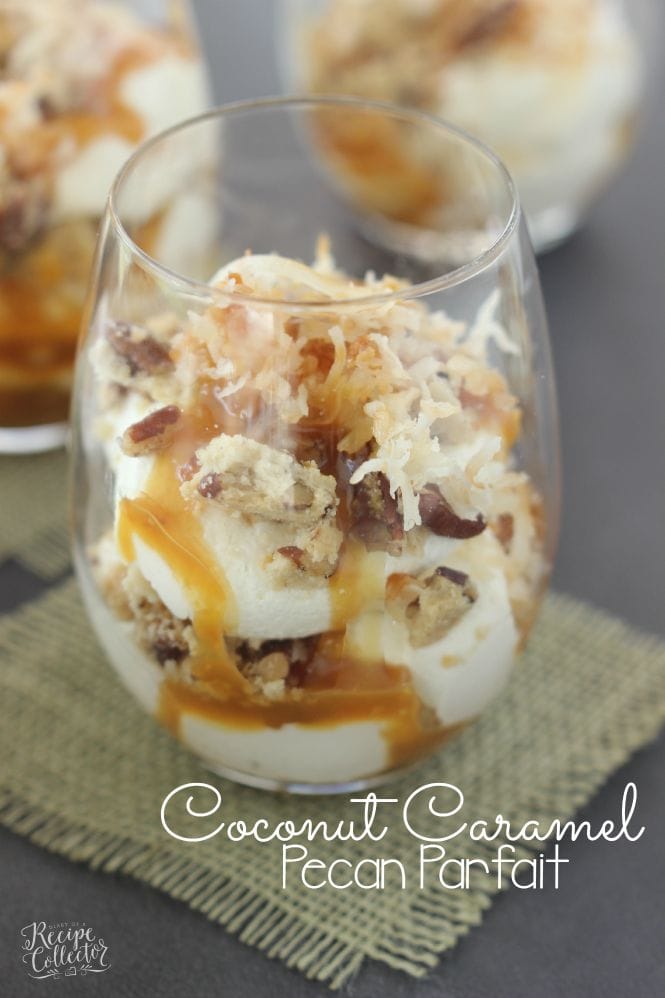 I am a bit unorganized lately.  Well…if I am being totally honest, I've been a bit unorganized since #3 was born.  But lately, I am a total scatterbrain.  I have a really good excuse though, and I am super excited about it!!  In fact, I can't wait to share pictures and details with you soon!
We are in the process of adding on a butler's pantry to our kitchen.  And anyone who has ever remodeled knows that it can be a little scary.  To do so, I had to clean out my big built-in hutch, which was STUFFED with dishes and appliances.  I now have that stuff STUFFED everywhere else…under my bed, in boxes all over my bedroom, in my current pantry, and  in other kitchen cabinets.  I may find stuff put places I don't remember in a year from now!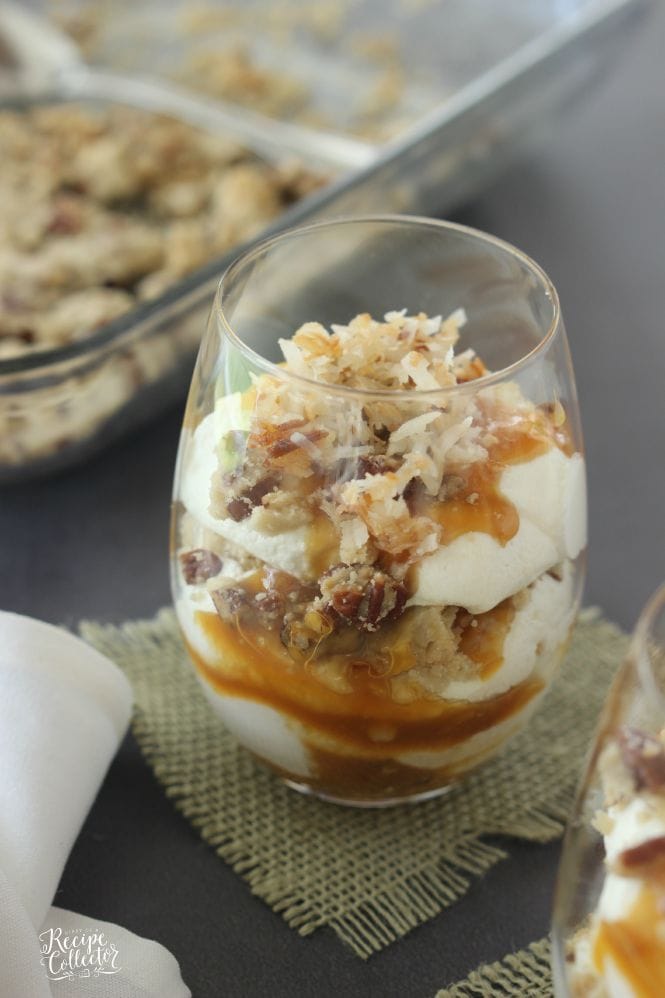 But I am totally excited and nervous at the same time.  I am a terribly indecisive person.  Really, it's bad.  My husband gets so annoyed with me about that.  We are moving our big built-in hutch to a wall in our breakfast area.  I'm not completely sure I like it.  I just keep looking at it.    But I do love this extra little room we are gaining.  I will be showing you pictures and details in a post once it is complete.  For now, you can follow me on Instagram where I am sharing a few pics.  I may even do a Periscope on it too.  Just search for @jarendubois to follow me.  Don't have Periscope or know what it is?  Well, let me tell you!  It's a live-streaming app, and I am totally smitten over it!
And you know what else I am smitten over?  Dessert!  Especially when it comes in the form of one good layer after the next.  You guys, this dessert can be so easy yet so impressive.  I made it in individual serving glasses, but it would be perfect in a larger trifle dish as well!!  In fact, my mom has requested it for Thanksgiving.  It definitely has those fall flavors.  And y'all…it has sweetened condensed milk mixed with cream cheese!  Need I say more?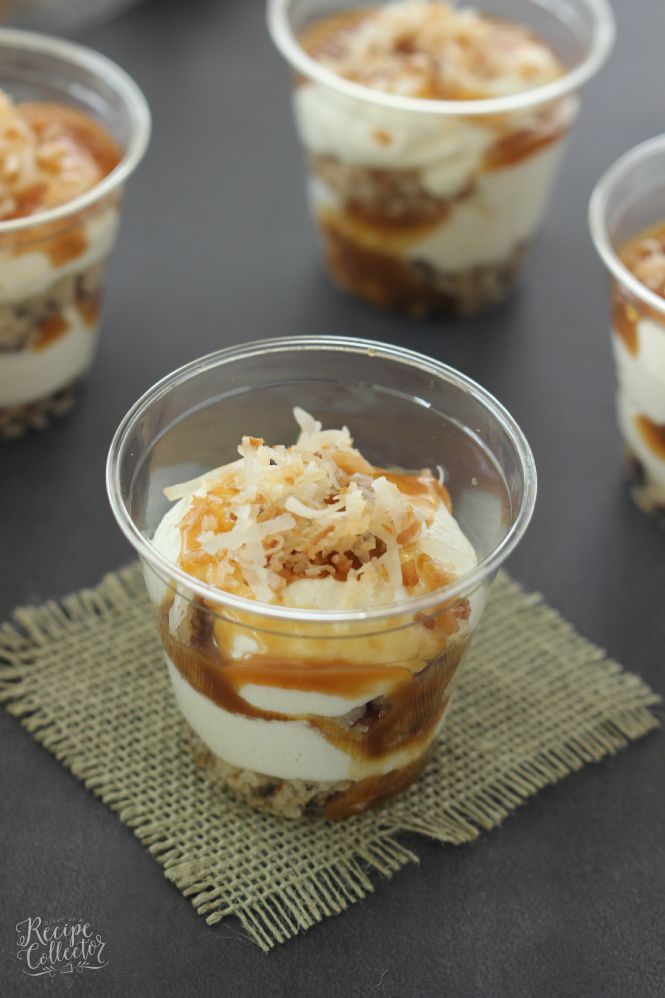 This dessert would also be great in disposable serving cups for little family party.  The servings can be quite small too because a little goes a long way on this one.  And who doesn't love a dessert that can be made the day before or the morning of a gathering?  Those are my favorites!  I can get them done and out of the way, and I can focus on any other dishes I need to make.
I hope you put this one on your fall menu for sure!
Coconut & Caramel Pecan Parfaits
Author:
Ingredients
1 cup flour
1 stick of butter plus 2 tbsp (divided), melted
1 cup chopped pecans, finely chopped
1 3/4 cups shredded coconut
1 8 oz. block cream cheese, softened
1 14 oz. can sweetened condensed milk
1 16 oz. cool whip
12 oz. jar caramel ice cream topping
Instructions
Preheat oven to 350.
In a bowl, combine flour, 1 stick melted butter, and pecans.  Stir until it comes together.  Press into the bottom of a 13 x 9 pan and bake for 18-20 minutes.  Let cool and crumble with a fork.
Melt 2 tbsp butter in a skillet.  Add coconut.  Stir constantly and cook until golden brown and toasted.  Remove to a paper towel-lined plate to cool.
In a large bowl, beat cream cheese and sweetened condensed milk with an electric mixer until smooth.  Stir in cool whip until combined.
Layer into serving glasses or into a trifle bowl:  1 tbsp. cooled pecan cookie crumble, cream cheese filling, caramel, cookie crumble, toasted coconut, cream cheese filling, caramel, and toasted coconut.
Refrigerate at least 2 hours before serving.  This can be made the night before as well.
*This dish is perfect for small portion serving glasses.
Looking for other layered desserts?
Mini Cherry Cheesecake Trifles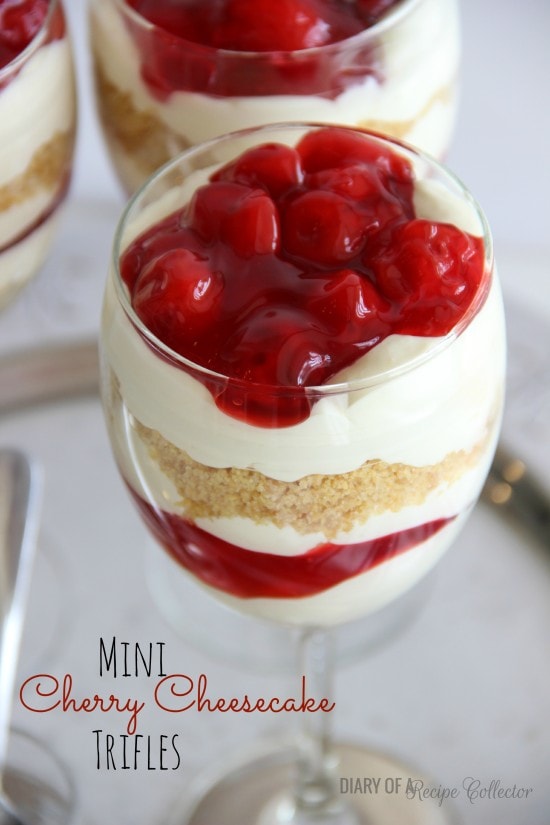 You can also follow me on Pinterest where I'm always pinning yummy recipes!!