I love a club sandwich.  I always order them at restaurants if they are on a croissant.  There's just something about that light, flaky, buttery bread!  This one has a roasted red onion mayo which makes it better than any one I've had in a restaurant.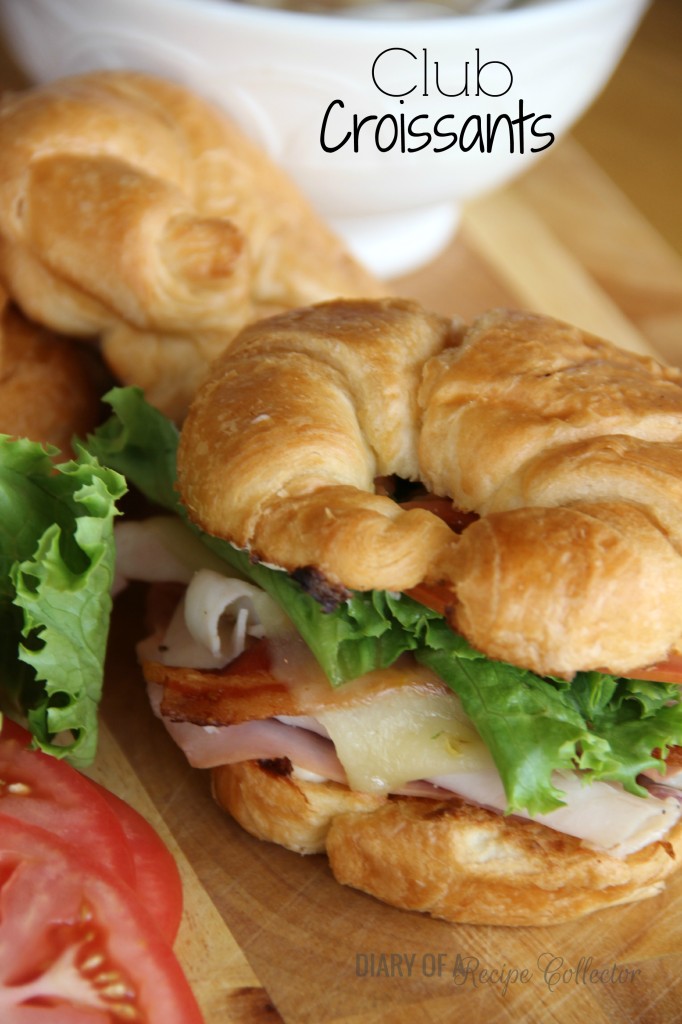 I have not been able to get this sandwich out of my head!  I made it for lunch one weekend, and then I brought all the fixings to work to make it there too.   I just loved it!  Who wouldn't?  It has pepper jack cheese, ham, turkey, bacon, and a great roasted red onion mayo all on a toasted croissant.
This sandwich makes the perfect lunch or supper for the summer.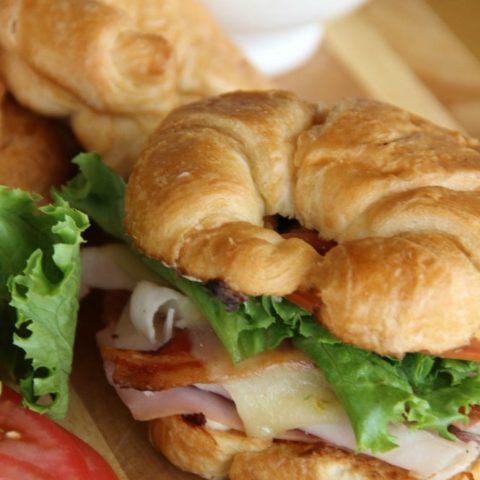 Club Croissants with Roasted Red Onion Mayo
Ingredients
8 slices of bacon
1/2 large red onion, chopped
1 tbsp olive oil
salt and pepper
4 croissants
1/2 cup mayo
8-12 slices of thin ham
8-12 siices of thin turkey
4 slices of pepper jack
green leaf lettuce
1 sliced tomato
Instructions
Preheat oven to 425.
Lay bacon on a sheet pan lined with parchment paper.
Place chopped red onion on another sheet pan and toss with olive oil, salt, and pepper.
Put both bacon and onions in the oven and cook for 10 minutes. Remove bacon once it is crispy.
Split croissants in half and place under broiler for a few minutes. Watch it carefully.
Mix 3 tbsp onion mixture with 1/2 cup mayo.
Spread onion mayo on both sides of toasted croissant.
Top bottom with 2-3 slices of thin ham, 2-3 slices thin turkey, 1 slice pepper jack, a few slices of bacon. Place under broiler to melt cheese.
Top with green leaf lettuce, a slice of tomato, and top of croissant.
Grab a napkin and dig in!
I'm linking up with:
Time to Sparkle 61
Totally Talented Tuesdays
T asty Tuesday
Wake Up Wednesdays 37
Weekend Retreat
Best of the Weekend
Show Stopper Saturday
Saturday Night Fever 35
Here are some other great sandwiches to try: