Best Chocolate Sheet Cake Recipe – This homemade chocolate cake with a homemade chocolate pecan icing is one of the best chocolate desserts ever!  There's nothing better than an old-fashioned recipe like this one!
Have you ever made a chocolate sheet cake?  It's a dessert that I sometimes forget to make, and when I do, I wonder how I don't make it every time I need to make a dessert.  It's that good!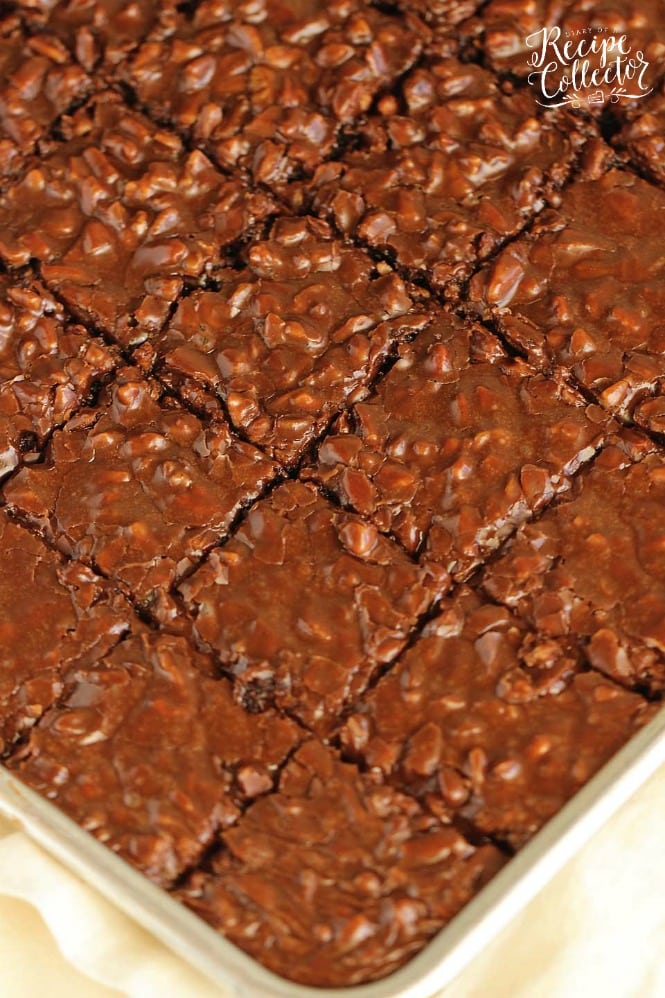 The thin layer of moist cake is topped with the most decadent homemade chocolate pecan icing soon after you take it out the oven.  Then you let it cool on top of the warm cake and try not to sneak a piece.  And let me warn you that this dessert does feed a crowd.  It's perfect for any potluck, barbecue, or holiday.  It's even great on the couch in front of your favorite Netflix show with a big ol' glass of milk!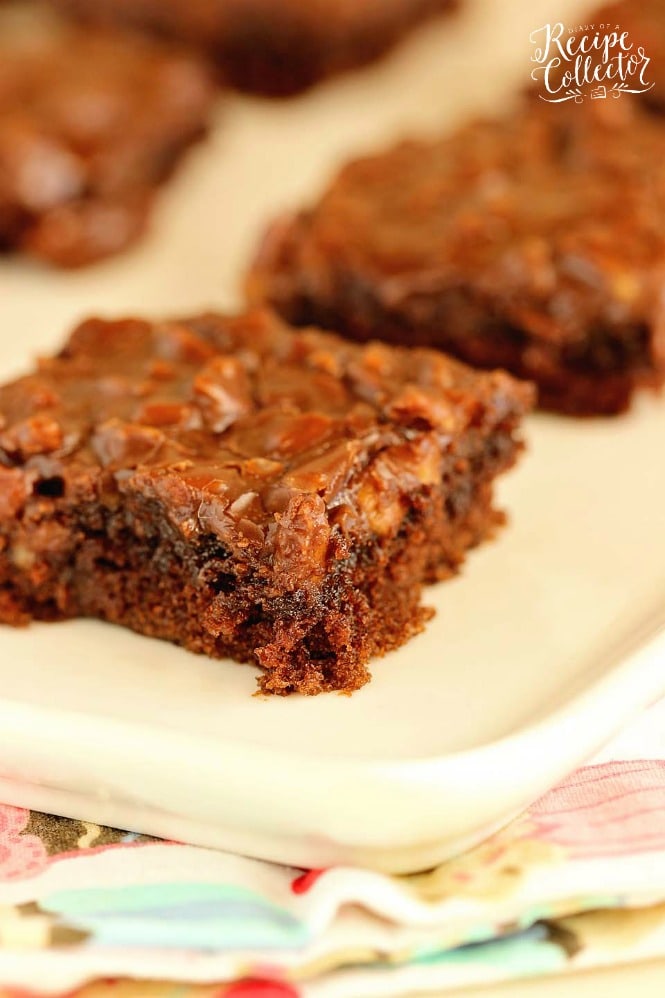 Tips for Making the Best Chocolate Sheet Cake:
I use a half sheet pan (18 in. by 13 in.) for this cake.  Don't have one?  You can use TWO 13 x 9 pans.
Don't go buy buttermilk!  Make your own by mixing 1/2 tbsp white vinegar with 1/2 cup milk and let sit for 5 minutes.
Adding expresso powder is optional, but it really amps up that chocolate flavor.
This icing recipe calls for about 1 and 1/2 boxes of powdered sugar, which is about 5 to 6 cups.
Make this dessert early enough to allow it to cool before cutting into squares.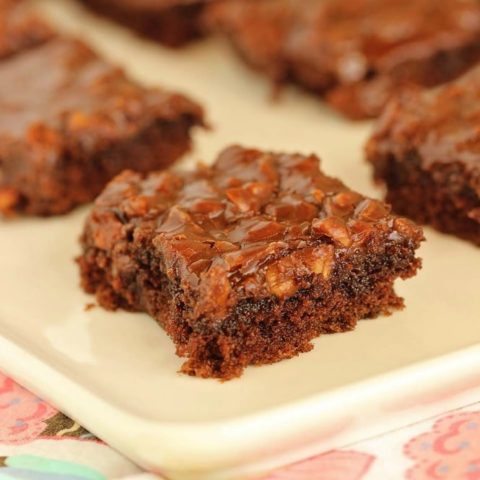 Best Chocolate Sheet Cake Recipe
Ingredients
For the cake:
2 cups granulated sugar
2 cups all purpose flour
4 tbsp cocoa powder
1 cup butter
1 tbsp expresso powder
1 cup water
1/2 cup buttermilk*
1 tsp baking soda
2 eggs
For the Chocolate Pecan Icing:
3/4 cup btter
6 tbsp cocoa powder
2/3 cup milk
1 1/2 tbsp vanilla
5 1/2 cups powdered sugar
2 cups chopped pecans
Instructions
Preheat oven to 350 degrees.
Using a large mixing bowl, sift flour and sugar into the bowl.
In a sauce pan, combine butter, cocoa powder, expresso powder, and water. Stir and bring mixture to a boil. Remove from heat.
Pour chocolate mixture over flour mixture and stir to combine.
Add buttermilk, baking soda, and eggs. Beat to combine well.
Pour into a greased half-sheet pan (18 in.x 13 in.). Bake for 25 minutes.
Five minutes before cake is finished baking, start making the icing by adding butter, cocoa powder, and milk to a sauce pan. Bring to a boil and remove from heat.
Add in the vanilla and stir. Pour this into a large bowl. Add in the powdered sugar 1 cup at a time, beating well after each addition. Finally mix in the pecans. Spread icing over warm cake.
Let cool before cutting into square for serving.
Notes
*Don't buy buttermilk! Make your own: Mix 1/2 tbsp of vinegar with 1/2 cup milk. Let sit for 5 minutes and then add to your cake mixture.
Recommended Products
As an Amazon Associate and member of other affiliate programs, I earn from qualifying purchases. This helps us keep our blog running efficiently and allows us to create more recipes for you.
Other Desserts We Love:
Boston Cream Pie Poke Cake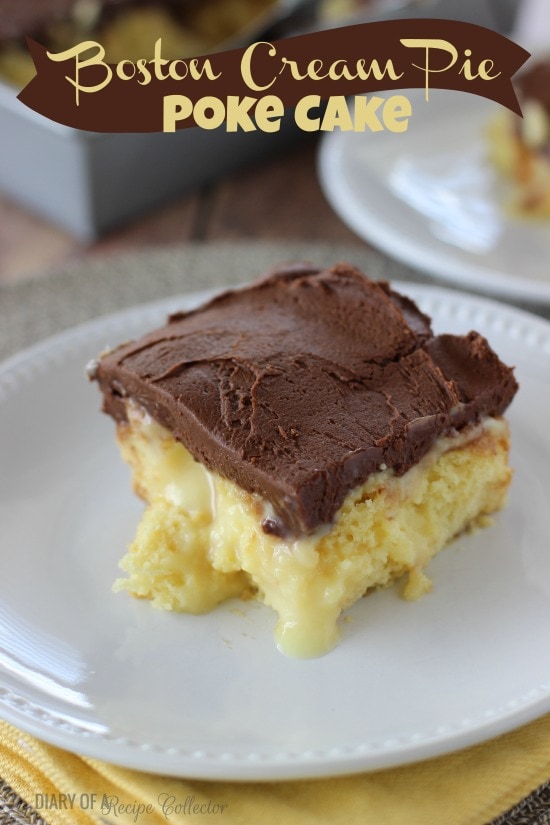 Double Chocolate Cups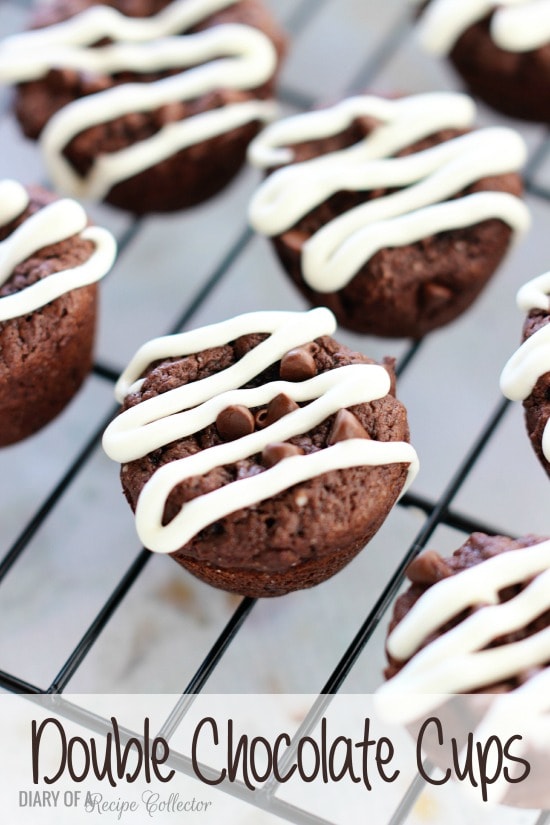 You can find more DESSERTS RECIPES HERE.
For more ideas, follow me on FACEBOOK, PINTEREST, INSTAGRAM, AND TWITTER.
Get FREE recipes delivered to you by email:  SIGN UP HERE!