I'm a huge pepperoni pizza fan.  Pizza is just one of those foods that I have a lot of trouble resisting.  It is my biggest food weakness.  That love affair with pizza also crosses over to anything dealing with pepperoni and cheese.  Especially when it involves bread…my other weakness.
It is such a quick and easy way to make a calzone and the dough is so forgiving.  No worrying about yeast and kneading.  Just thaw it out a few hours before dinner or in the fridge overnight, stuff it, and dinner is done!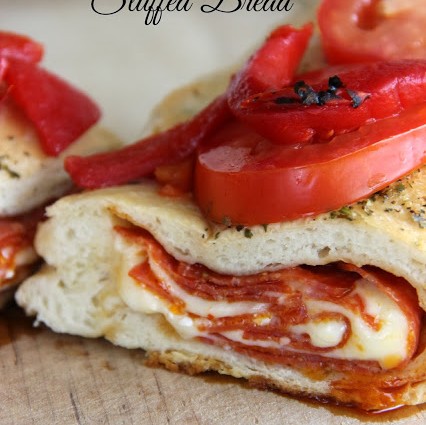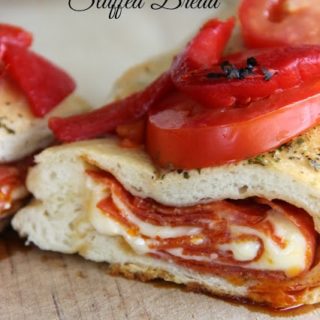 Pepperoni and Cheese Stuffed Bread
Ingredients
1 loaf frozen bread dough (thawed)
1 bag of sliced pepperoni
7 slices mozzarella cheese, divided
4 heaping tbsp cottage cheese
1 jar of pizza sauce
1 tsp Italian seasoning, divided
2 tsp olive oil, divided
Roasted red bell peppers (found in jar near pickles)
Roma tomatoes
Instructions
Preheat oven to 350 degrees.
Cut dough in half. Working with one half, flatten it out by pulling and stretching the dough until it is about 9 inches wide.
Put a generous layer of pepperoni almost to the edge of dough.
Put down three slices of cheese.
Add another layer of pepperoni.
Add two dollops of cottage cheese and just another half of mozzarella.
Pull up sides of dough and press together to seal.
Place it seam-side down. Brush with a teaspoon of olive oil and a 1/2 tsp of seasoning. Cut three slits to vent.
Lift up and spray a little cooking spray underneath the dough.
Repeat with other dough.
Bake for about 25 minutes or until golden brown.
Top with roasted red bell pepper slices and sliced Roma tomatoes. Serve with pizza sauce.
 To make the perfect supper, serve with nice salad.  Try this salad dressing recipe: