Strawberry Lemon Slush – A fun and refreshing treat filled with lemonade and sweetened strawberries, and it's perfect for summer!

Can you believe June is over?  I know we are busy and all with little kids, but geez, the months sure do fly!  My oldest daughter was really examining our summer bucket list yesterday, and trying to decide what we still needed to do.  I, on the other hand, just wanted a break yesterday.  Some days are harder than others with all the kids at home.
My three year old is really is at the "tyrant threes" peak, I believe…
We all decided to go to a skating rink last week.  I knew she wasn't going to skate, but they have several bounce houses there too.  Well, lately, she is going through a "mommy attachment" stage.  I think it has something to do with starting at a preschool twice a week.  She has gotten extremely clingy and decides she "can't" do certain things.
Now I've read my share of parenting books over the last eight years.  I know she is going through a stage where she needs extra attention.  How long will it last?  I'm not sure.  But I really hope she is going to get through it soon.
Back to my story…once I got the kiddos set up with skates, I took her and my oldest son to the bounce houses.  Well she normally loves them, but on this particular day, she wanted to go but didn't want to leave my side.  She did let go for about 5 or 10 minutes and played, but then she was right back glued to me again.
This behavior continued and progressed to major frustration on both our parts.  She ended up having a complete meltdown.  You know the kind…screaming kid, rolling around on the floor…
I had to end up taking her to the car to try to let her calm down.  Thank goodness my sister was with me to help out with the other kids.  Once we got back inside, she ended up falling asleep.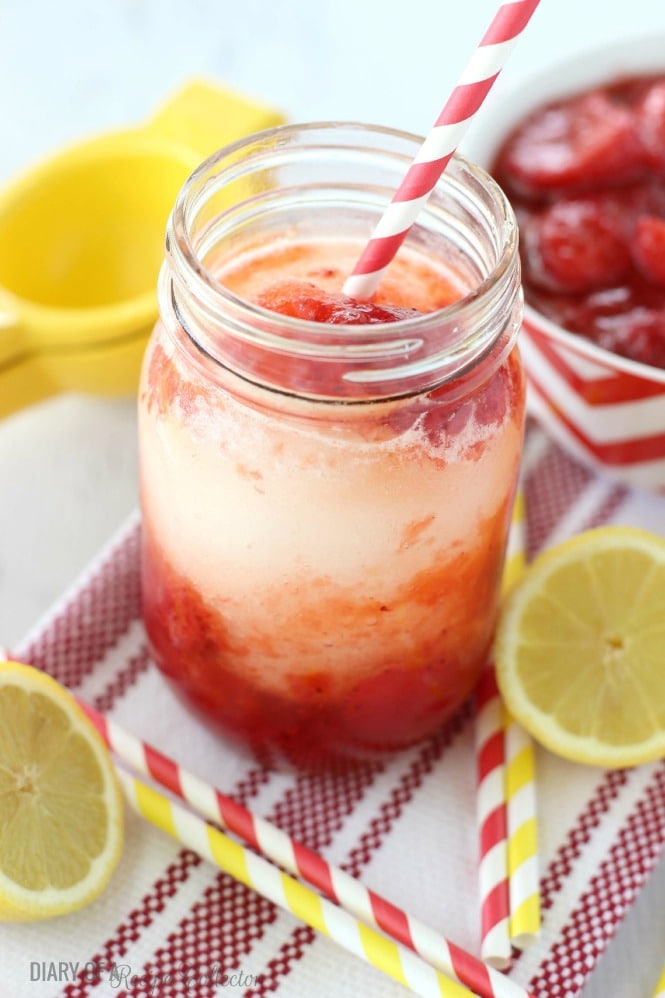 I can honestly say that I haven't had that experience too often in public.  Thank goodness!
I'm also hoping we are going to get out of this stage…SOON!
In the meantime, let's chill out with one of these Strawberry Lemon Slushes.  These were a real treat!  I've told you all before that I was a Sonic Carhop back in high school.  One of my favorite drinks to this day is a Lemon Berry Slush.  So  I had to try to recreate it.  I wasn't quite sure how I was going to get that slush texture, and I didn't want to just use ice, so I did a little experimenting.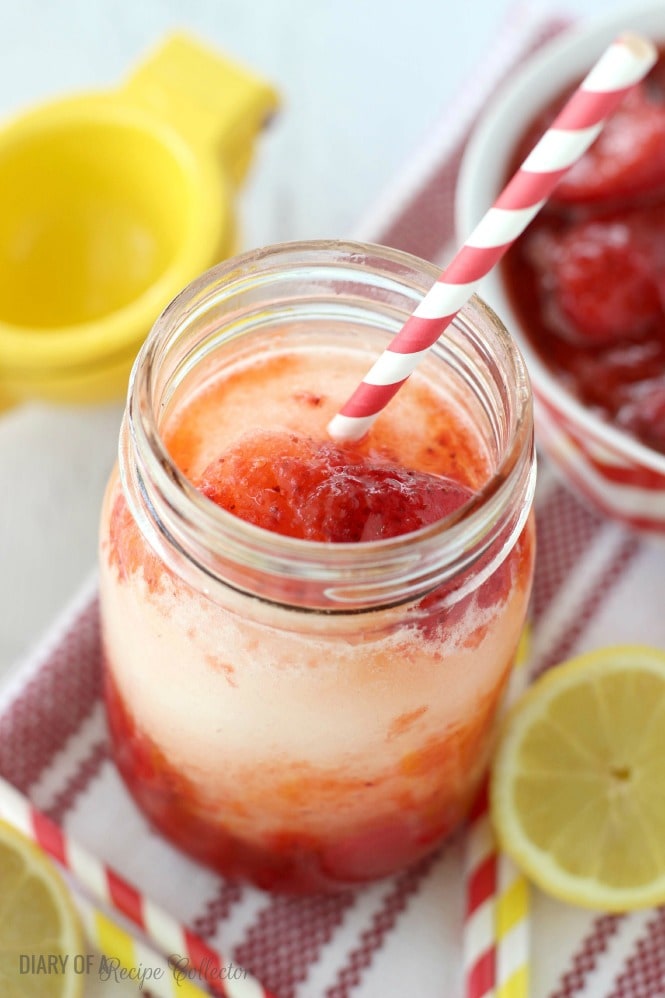 I started with some simple syrup, which I had frozen, and then I added fresh lemon juice and sweetened strawberries.  I was happily pleased with how it came out!  Simple syrup is super simple to make…hence the name!  I will now have some made and frozen in the freezer for this little treat all the time!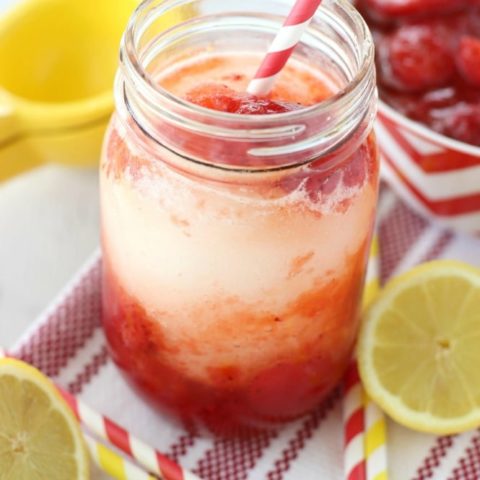 Strawberry Lemon Slush
Ingredients
1 cup sugar
2 cups water, divided
3 lemons, juiced
3 cups ice
About 3 tbsp sugared frozen strawberries (thawed) per serving
Instructions
Make the simple syrup by bringing 1 cup sugar and 1 cup of water to a boil. Once sugar is dissolved, remove from heat and let cool slightly. Pour in a freezer-safe container and freeze for about 3 hours to overnight.
Make slush: Blend frozen simple syrup with 1 cup water and lemon juice.
Add about 2 tbsp strawberries to the bottom of a glass. Pour in slush. Top with another tbsp of strawberries. Serve.
Notes
*This recipe requires the simple syrup to be frozen. Do this step the day before or in the morning before you decide to make the slushies. You can also make a larger batch of simple syrup and freeze it in an ice cube tray. Once frozen, move them to a freezer bag to always have them ready to go for your next slush!
Recommended Products
As an Amazon Associate and member of other affiliate programs, I earn from qualifying purchases. This helps us keep our blog running efficiently and allows us to create more recipes for you.
 Looking for other recipes?