Southwest Shrimp Salad – Grilled shrimp and corn, black beans, diced avocado, and crispy southwest tortilla strips piled onto a bed of green leaf lettuce and topped with a mexi-ranch dressing.

Hello folks!  Hope your weekend was a good one.  We actually had a pretty relaxing one which was very much needed around here.  It seems like we have been gone on the weekends a lot here lately.  I even had time to start a new book!  This is pretty rare.  But I'm really making an effort to read again.  I love to read, but since having kids, I do not have much time except before bed.  That pretty much means I read 3 sentences and pass out.
But surprisingly, what I have had time for recently is a little binge-watching of Downton Abbey.
Y'all, I cannot even hardly explain to you how much I adored this show.  The writing was fabulous, and I was completely obsessed with it for about 3 weeks.  I watched all 5 seasons!  I ordered them online since you can just watch it from Amazon now.  I then passed it along to my mom and sister, who then both became completely obsessed with it as well!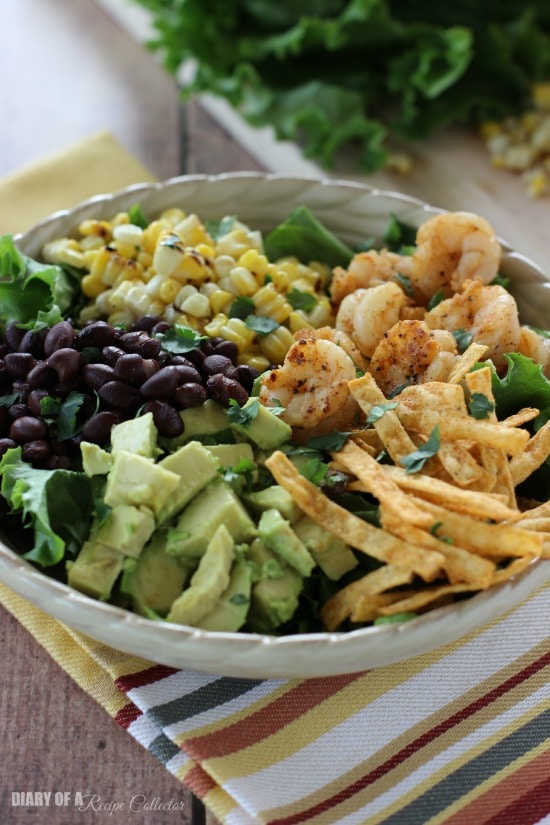 From all this binge-watching, I found myself wanting to speak in a British accent and even had my husband call me "My Lady" because he heard it on the t.v. so much!  I must admit that I quite liked that!  I even found myself googling British history and the castle where the show was filmed.  I'm telling y'all!  OBSESSED!
I'm a sucker for anything historical fiction especially in the Victorian era.  I'm just fascinated by it!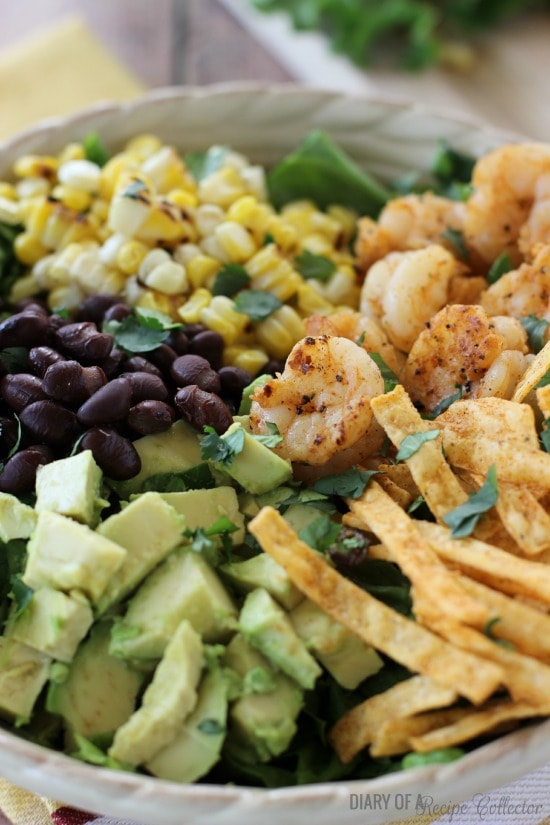 I'm also a little obsessed with shrimp.  If you have read my blog for a period of time, then you probably know that already.  Every time I post a shrimp recipe, I wonder if people are thinking, "Man, this girl can eat some shrimp!"  My response to that would be, "Why yes, yes, I can!"
This salad is perfect for summer grilling because you grill up the shrimp and the corn.  Now I used a little grill basket for the shrimp to make it a little easier.  Those things are super nice.  You could even do this on an indoor grill as well.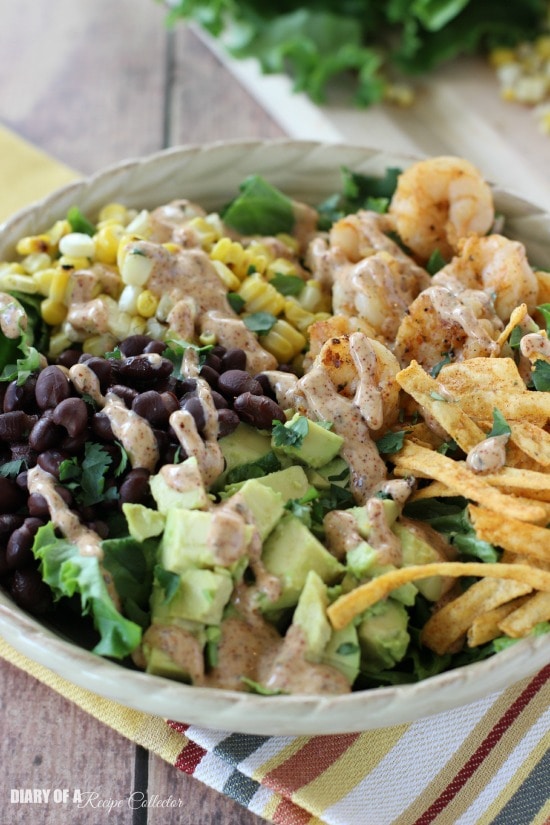 I finished it off with a mexi-ranch sauce.  If that is not your thing, just top it with whatever is your favorite kind of dressing.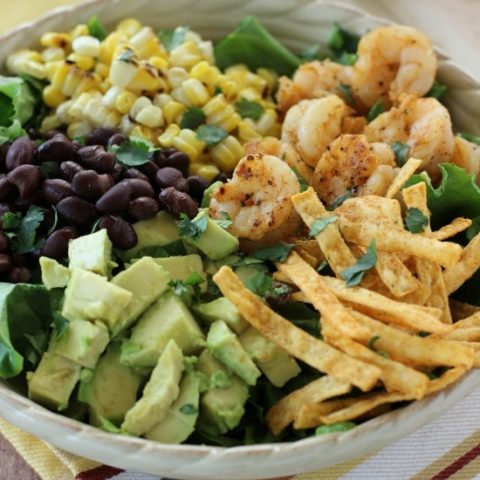 Southwest Shrimp Salad
Ingredients
1 lb. medium shrimp
1 tsp salt, divided
1 tsp McCormick Montreal Steak Seasoning
A pinch of crushed red pepper flakes
juice of 1/2 lime
1 tsp chili powder
2 ears corn, shucked
1 tsp olive oil
1 can black beans, drained and rinsed
1 avocado, diced
green leaf lettuce, chopped
Southwest tortilla strips (found in produce section with salad toppers)
Mexi-Ranch Dressing:
3 tbsp ranch dressing
1 tsp chili powder
1/2 tsp cumin
Instructions
Add shrimp to a medium-sized bowl. Season shrimp with 1/2 tsp. salt, steak seasoning, red pepper flakes, lime juice, and chili powder. Sir and set aside.
Preheat grill to medium-high.
Brush corn with olive oil and season with salt.
Grill shrimp over medium-high heat for about 5 minutes or until cooked through. Grill corn over medium-high heat for about 10 minutes or until slightly charred. Let cool slightly. Cut corn off the cobb using a knife.
In each serving bowl, arrange lettuce, corn, black beans, avocado, shrimp, and tortilla strips.
For dressing: Mix ranch dressing with chili powder and cumin. Drizzle over salads.
 Looking for other recipes?