This Sour Cream Breakfast Casserole is one of the BEST yet!  It is filled with layers of challah bread, breakfast sausage, eggs, sour cream, and cheese, and it is a perfect make-ahead idea!
It's almost the end of summer vacation around here.  #letthesobbingbegin
We start back to school in a little over 2 weeks. It feels like summer just began, and it is always so bittersweet to see another summer break gone.  But boy did we have a great one!  It started off with such a bang with our big Colorado Road Trip which you can read all about here.  Then we filled the rest of the summer with LOTS of swimming, vacation bible school, basketball camp, and even a fabulous week of scuba camp!  It really has been one of my favorite summer breaks ever!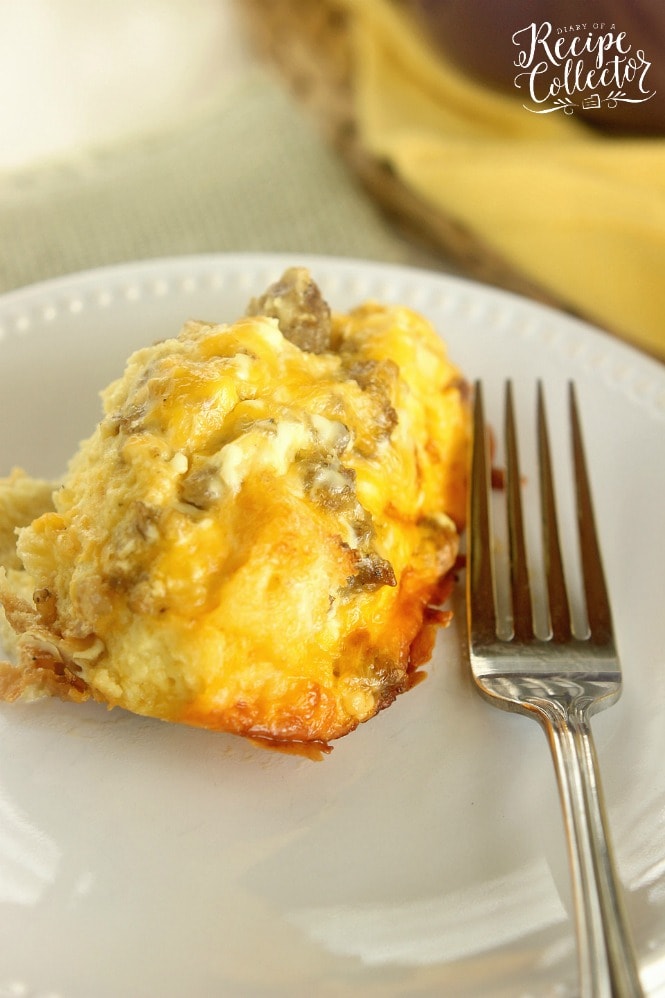 So, I'm not sure if you guys remember or not, but I did go back to teaching last spring.  It was a temporary position and an extremely unexpected, life-changing course kind of event.  You can read all about this big change and how blessed I felt at the true wonder and awe of how God works in our lives here.
So with all the great things that came along with that teaching position, I have decided to stay at that same position in the school.  And even better…my kiddos will be joining me this year too!!!!!!  We are so excited!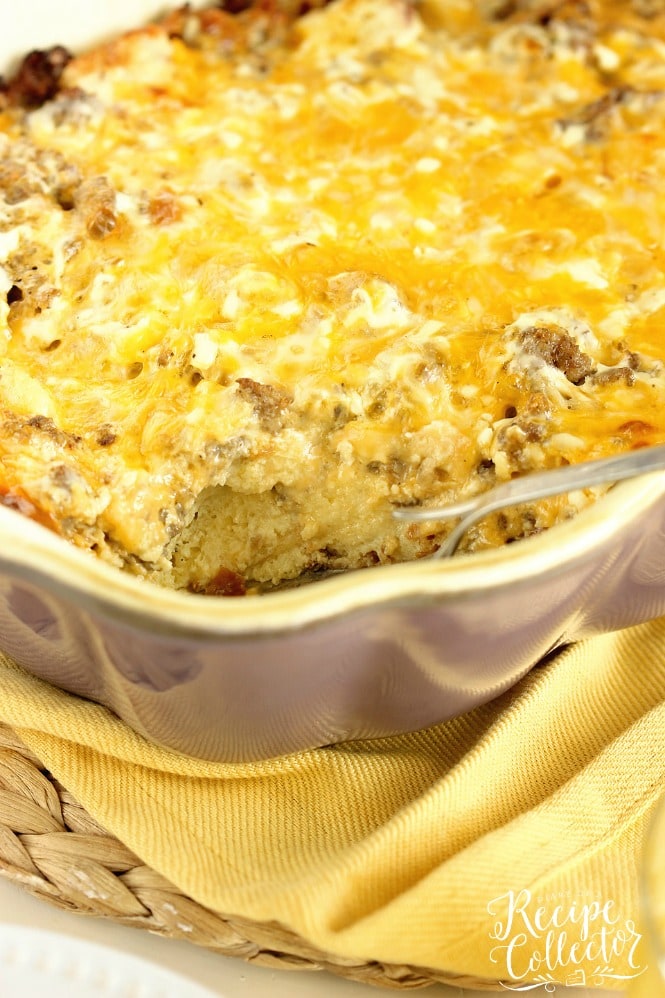 Now I'm not gonna lie to y'all and tell you it was just peachy going back into the classroom after being out for 3 years and now having 4 kids.  It was a transition for the whole family.  I'm also not going to tell you I think it will be a breeze keeping up with this blog I LOVE so much while I work full-time for the whole school year.  It almost brings me into a panic state just thinking about it.  However, I know I need to trust in God's plan for my family.
I am going to give this blog as much attention as I can because it is like my 5th child, and I cannot let it starve either 🙂
I just may not be the most consistent I've ever been as I go throughout the year.  But I know you guys just want some good recipes, so I'm sure you won't mind!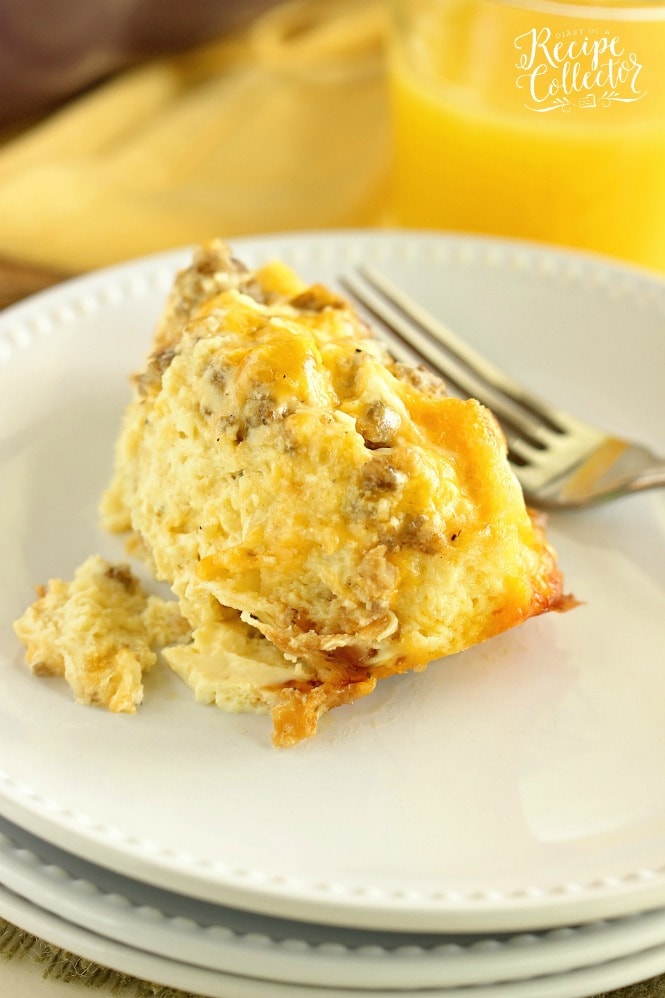 And speaking of good recipes, this Sour Cream Breakfast Casserole recipe is one of the BEST breakfast casseroles I've eaten to date!  My mom made it for a bridal brunch shower we had recently.  It is so creamy and delicious with all that sour cream!  I had to make it again!  My kids loved it too!  Heck, we might even be having it for an easy supper one night at the start of school.  We love breakfast for supper!  We used challah bread, which is so perfect for a breakfast casserole, but you can certainly substitute a french bread.  You just need a pretty sturdy bread.
And the best best part of this recipe….you make it ahead…whoop whoop!!  Hope you enjoy!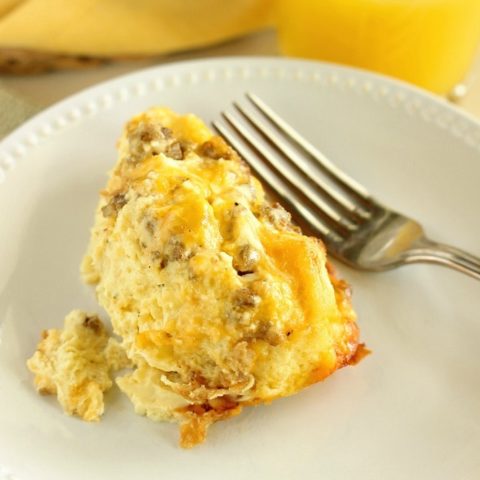 Sour Cream Breakfast Casserole
Ingredients
8 1 inch thick slices of challah bread* (about 1/2 loaf), cubed
8 eggs
1 lb. breakfast sausage
3 cups shredded cheddar cheese
2 cups milk
1 cup sour cream
1 tsp salt
3/4 tsp pepper
Instructions
Brown breakfast sausage until cooked through and drain on a paper towel.
Spray cooking oil spray inside a 13 x 9 casserole dish.
Place bread cubes into bottom of casserole dish followed by sausage and cheese.
In a bowl, beat eggs with milk, sour cream, and salt and pepper. Pour this mixture over the other ingredients in the casserole dish.
Refrigerate overnight.
Bake at 350 for 30 minutes covered. Uncover and bake 30 more minutes.
Notes
*French bread can be substituted.
Recommended Products
As an Amazon Associate and member of other affiliate programs, I earn from qualifying purchases. This helps us keep our blog running efficiently and allows us to create more recipes for you.
Other recipes you might like:
Sausage, Egg, & Cheese Croissant Bake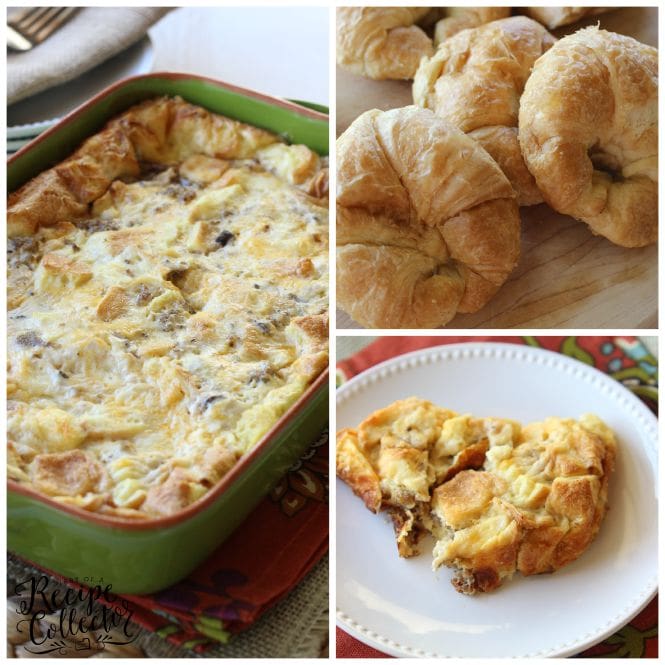 Breakfast Pizza Bake

You can find more BREAKFAST RECIPES HERE.
You can find ALL RECIPES HERE.
For more ideas, follow me on:
FACEBOOK, PINTEREST, INSTAGRAM, TWITTER, AND PERISCOPE.
Get FREE recipes delivered to you by email: SIGN UP HERE!