Tator Tot Breakfast Casserole – An easy breakfast casserole filled with breakfast sausage, eggs, pepperjack cheese, green onions and tator tots!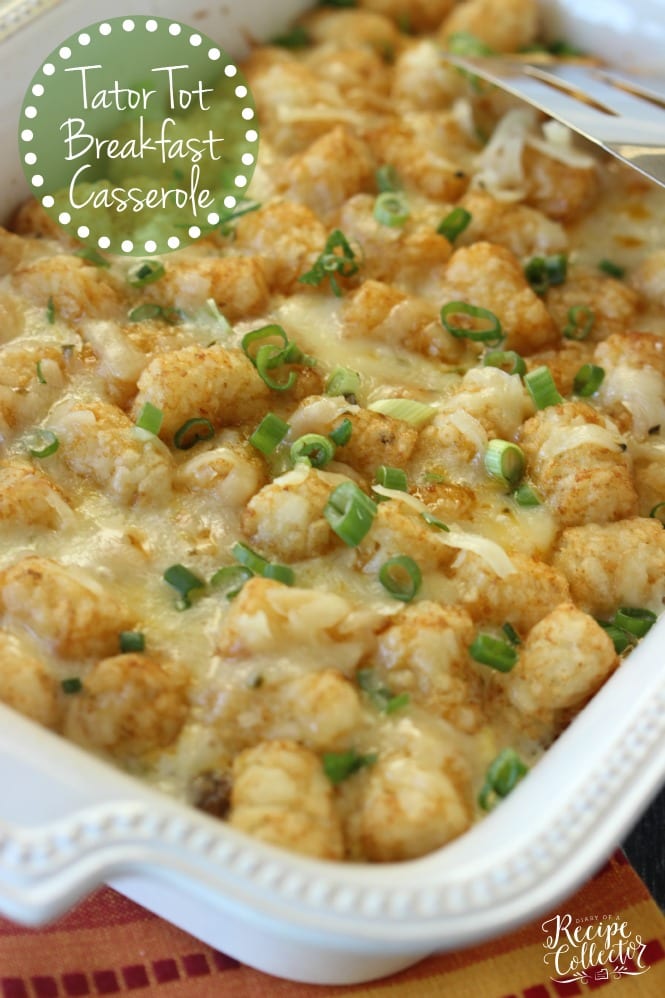 I love posting breakfast recipes.  I don't post them nearly enough to show my love for them, but I promise they are some of my favorites!  They remind me of happy moments, and I guess that is why I love them.  We usually have them Christmas morning or on vacation at the beach every year.  And every now and again, we will have them on a regular Saturday morning.  The common theme in all these times is just simple and fun happy family times.  Those are the moments I love most in life.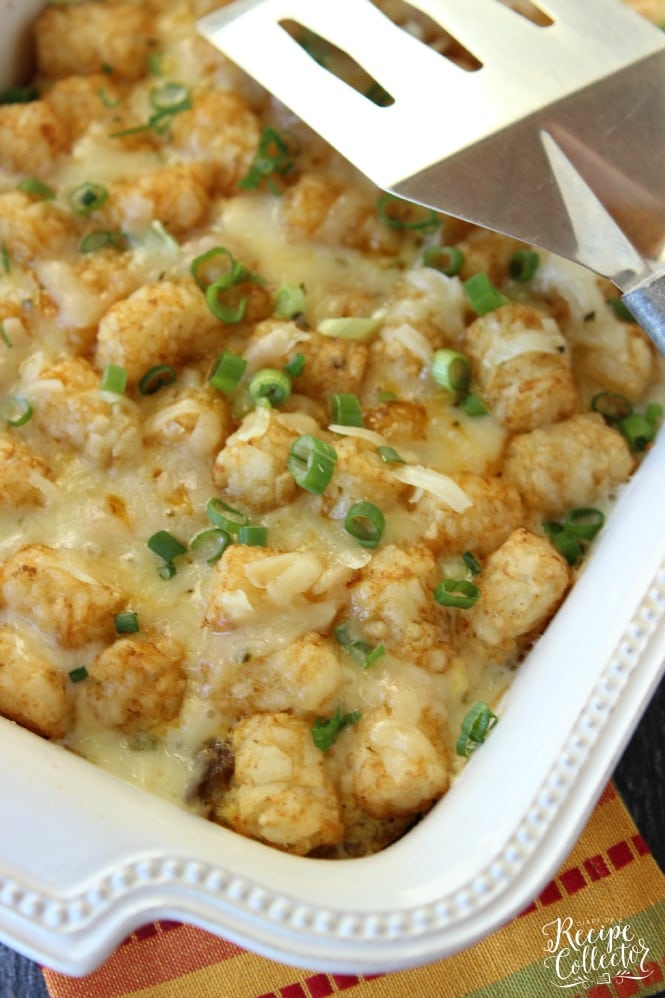 It also helps that my kids with the exception of #4 are all major egg eaters.  They could eat them every which way morning, noon, and night.  So while they may not be huge casserole eaters yet, they do love a good breakfast one with eggs and sausage.  Then throw in some tator tots and they are sold!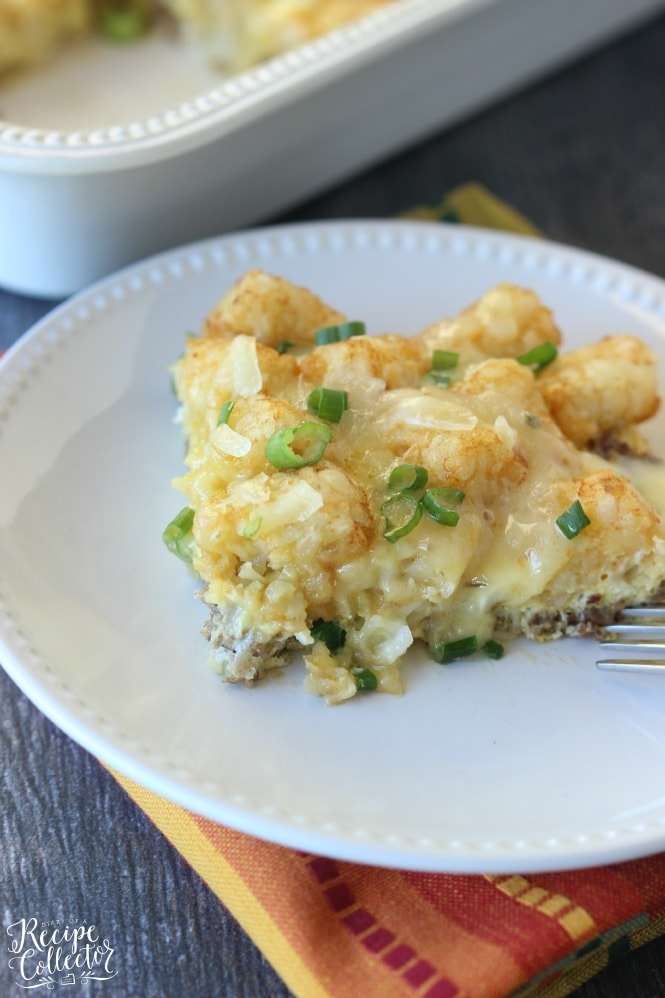 This breakfast casserole does have pepperjack cheese, which can be spicy for little ones.  I just put a little colby jack on 1/3 of the casserole in place of the pepperjack to cut down on the spice for them.  And since my son was watching me make this one, I had to be a little stingy with the green onions on the kid's portion too.  But his love for tator tots totally made him more than willing to try this even if it had "green things" on it.  #pickyeaters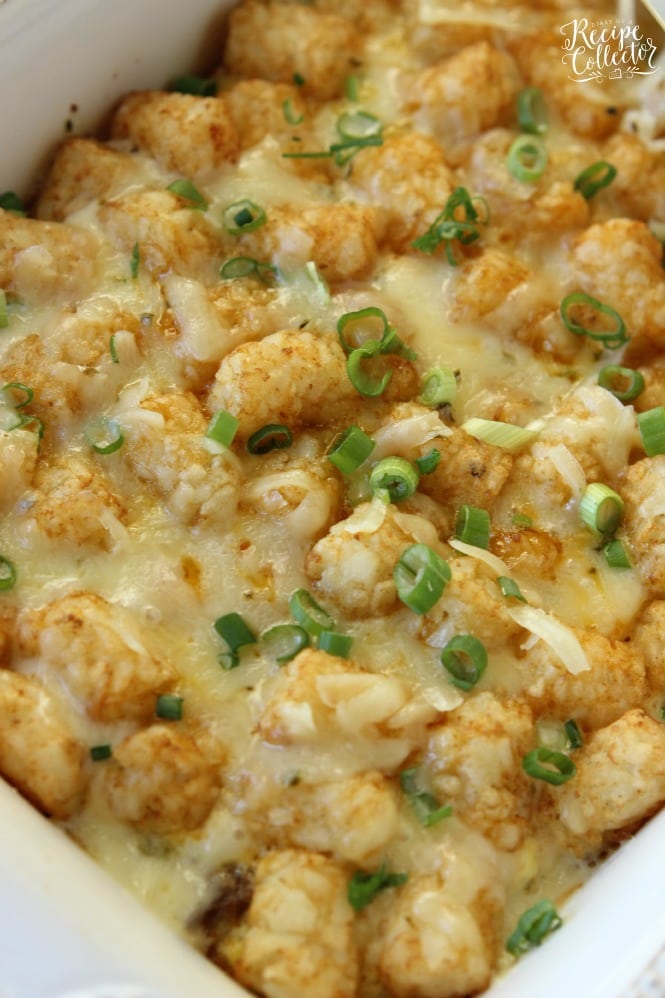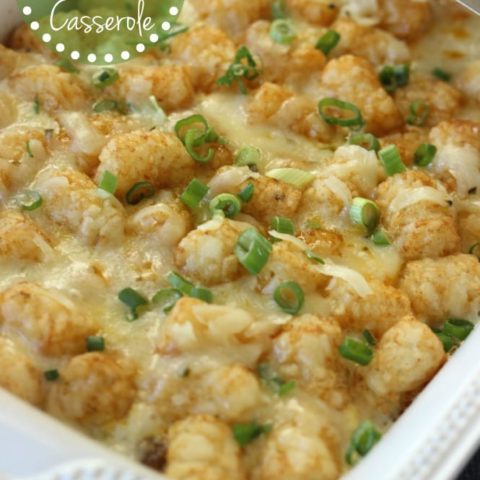 Tator Tot Breakfast Casserole
Ingredients
1 lb. breakfast sausage
8 eggs
1/4 cup milk
3 green onions, sliced
6 to 8 oz. pepperjack, shredded
1/2 of a 28 oz bag Tator Tots
salt and pepper
cooking oil spray
Instructions
Preheat oven to 400 degrees.
Brown sausage in a skillet until cooked. Drain.
In a small bowl, whisk eggs and milk.
Spray a 13 x 9 pan with cooking oil spray. Layer sausage, eggs, a cup of shredded cheese, and green onions (reserving a few for topping). Top with tator tots.
Bake for 25 to 30 minutes or until tator tots are browned and crispy. Remove from oven and top with remaining cheese and green onions. Season with salt and pepper to taste.
Recommended Products
As an Amazon Associate and member of other affiliate programs, I earn from qualifying purchases. This helps us keep our blog running efficiently and allows us to create more recipes for you.
 Looking for other breakfast ideas:
Sausage, Egg, & Cheese Croissant Bake