Shrimp Stuffed Peppers – Sweet red bell peppers stuffed with a creamy creole shrimp rice dressing is a fabulous meal and great for company too!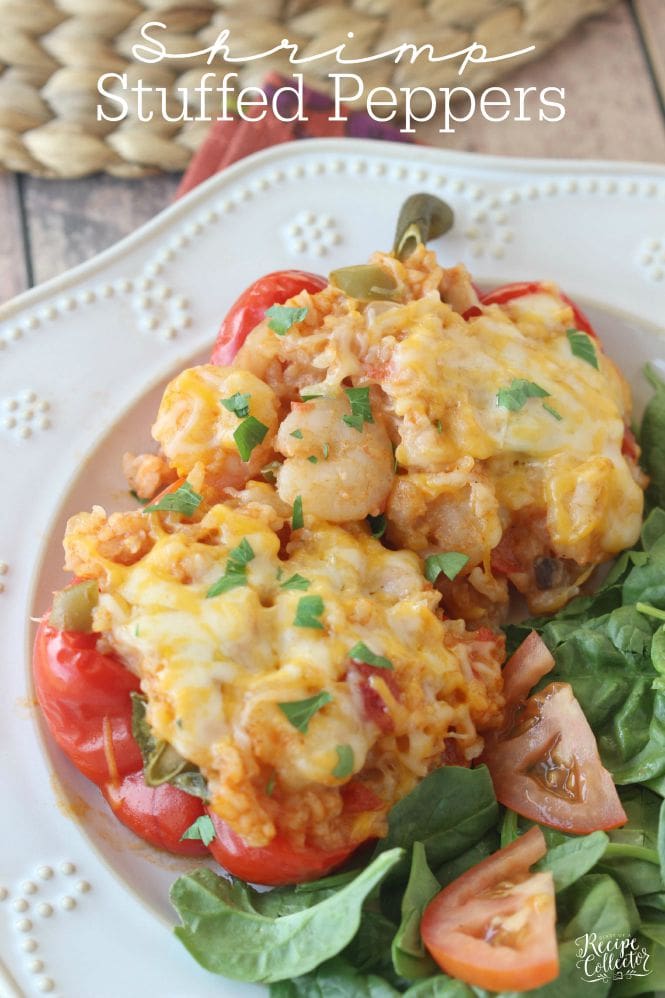 Hello friends!  I know I know…I clearly have a problem.  I'm back to share another recipe involving shrimp.  Just call me Diary of a Shrimp Recipe Collector…
But I could not hold out on you guys with this one.  I'm a huge fan of stuffed peppers.  My all time favorite are these.   If you haven't made that recipe yet, please stop what you are doing and make a little grocery list.  They are to die for good…and you know that is good:)
But back to these Shrimp Stuffed Peppers…they deserve their little day in the spotlight too.  They are easy and full of flavor.  Now if you've never made stuffed peppers with the pretty colored peppers (red, orange, yellow) and have only had experience with the green ones, please try the colored ones next.  They are sweeter than the green ones, which I find a little bitter.  Yes, I know they are more expensive, but they are so worth it!
This is the kind of dish perfect for company or a nice dinner.  But don't be fooled.  I made these on a regular Sunday for us…because remember, I heart shrimp.
I have another shrimp recipe coming up in a few weeks too…if I can wait that long…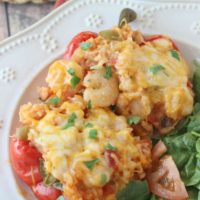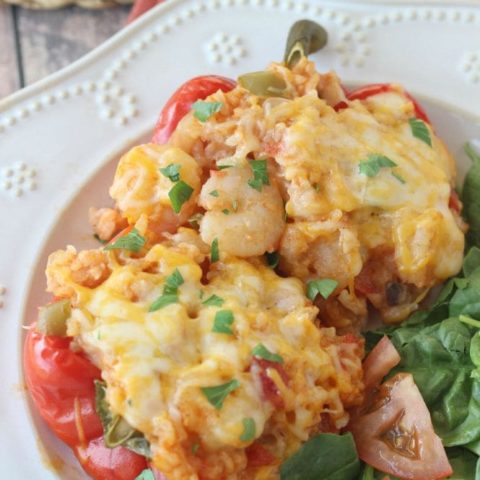 Shrimp Stuffed Bell Peppers
Ingredients
6 cups cooked rice (I cooked 2 cups raw rice)
1 1/2 tbsp olive oil
1/2 stick butter
1 1/2 to 2 lbs. medium sized shrimp (peeled/deveined), seasoned with 1 1/2 tsp creole seasoning
1 large yellow onion, chopped
1 green bell pepper, chopped
2 cloves garlic, chopped
Creole seasoning to taste
1 15 oz. can diced tomatoes
1 8 oz. can tomato sauce
1 10 oz. can cream of mushroom
6 red bell peppers
1 to 2 cups water
1 to 1 1/2 cups shredded cheese
Fresh chopped parsley
Instructions
Begin by making rice so it can be ready when shrimp sauce is ready.
Heat olive oil and butter in a large pot over medium high heat.
Season shrimp with creole seasoning.
Add shrimp and saute until shrimp are cooked through about 3 to 5 minutes. (At this point, it may be necessary to discard extra liquid out of the pot. A little liquid is fine to leave. My shrimp were just defrosted so I had a lot of liquid to take out).
Remove shrimp to a bowl.
Add a little more oil to pot, and saute onion, green peppers, and garlic. Season with a little more creole seasoning. Saute until onions are clear about 10 minutes.
Reduce heat to medium low and add diced tomatoes, tomato sauce, cream of mushroom and stir.
Add shrimp back to sauce and stir.
Stir in cooked rice. Turn off heat.
Slice 6 red bell peppers in half. Remove ribs and seeds. Rinse peppers. Arrange in one large casserole dish or two smaller dishes.
Fill each pepper with a good amount of shrimp mixture.
Pour 1 cup of water into the bottom of casserole dish (or both dishes if using two).
Cover casserole dish with foil and seal tightly.
Bake at 350 for 1 hour.
Remove from oven. Carefully remove foil (be careful of steam) and top with a little shredded cheese and fresh parsley.
Notes
This recipe makes a lot. It is perfect for company, but can easily be halved or eaten again the next day. It will make 12 stuffed peppers, and some adults can eat two.
The dressing alone is a great dish too.
Recommended Products
As an Amazon Associate and member of other affiliate programs, I earn from qualifying purchases. This helps us keep our blog running efficiently and allows us to create more recipes for you.
Other recipes you may like: