Awesome Stuffed Red Bell Peppers – This is the best stuffed bell pepper recipe made with a few extras that make them live up to their name!
This has to be one of my FAVORITE Paula Deen recipes ever!  I'm a huge fan, and I have a ton of her cookbooks, magazines, etc.  With that being said, this recipe right here is one of the best!!!  I make these when my in-laws come over to eat.  They are easy and great for a nice supper with family.  I usually make some sort of corn casserole along the side.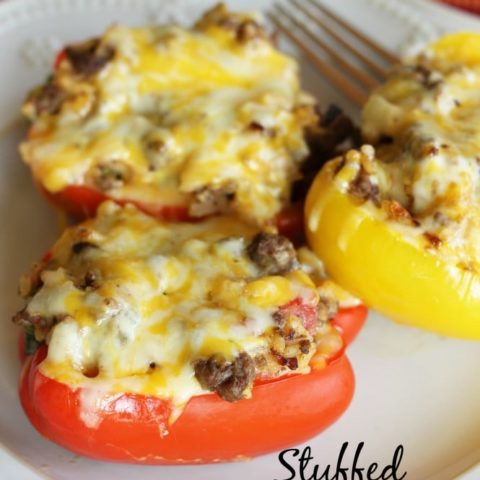 Awesome Stuffed Red Bell Peppers
Ingredients
4 large red bell peppers
1 1/2 lb. ground beef
1 med. onion chopped
2 cloves garlic, minced
2 1/2 tsp beef bouillon granules
salt and pepper or creole seasoning, to taste
1 1/2 cups rice , cooked
1/2 cup jarred Cheese and Salsa (found with chips and dip)
1/2 cup sour cream
1 cup diced tomatoes (canned is fine)
1/2 cup chopped green onions
1 tbsp soy sauce
1 cup hot water
1 cup shredded cheddar cheese or Colby jack
Instructions
Cut the peppers in half lengthwise, leaving the stems on if you can.
Remove seeds and ribs and set inside a large casserole dish.
Brown and season beef.
Add onions and garlic and 1 1/2 tsp beef bouillon granules.
Saute until onions are transparent. Drain grease.
Add the rice, jarred cheese, sour cream, tomatoes, and green onions, and soy sauce and mix well. Taste to check your seasoning and adjust if necessary.
Stuff this mixture into peppers.
Mix the hot water with the remaining bouillon granules and stir until dissolved. Pour into the bottom of the casserole dish. This will help steam the peppers while cooking.
Cover with foil and bake at 350 for 25 to 35 minutes.
Remove the foil and spoon a little of the juice from the dish onto the peppers. Top each pepper with a little shredded cheese and put back in oven for another 10 to 15 minutes. YUMMY!!!!!!
Notes
Slightly adapted from - The Lady and Sons, Too! Cookbook
Recommended Products
As an Amazon Associate and member of other affiliate programs, I earn from qualifying purchases. This helps us keep our blog running efficiently and allows us to create more recipes for you.