Shrimp & Artichoke French Bread – A perfect appetizer made with a cheesy, creamy topping filled with shrimp and artichokes!

Are you looking for a completely comforting dish to make? Well look no further because you have found it! Bread seems to speak comfort to so many people, and my friends, I am one of those people. It is a true weakness for me. Ask my husband. He, on the other hand, does not fancy it as much as me. How? It's like one of the best things in life in my opinion. And then when you top it with cheesy goodness, it's like a match made in heaven! If you love bread like me, then this Shrimp & Artichoke French Bread should be on your list to make soon!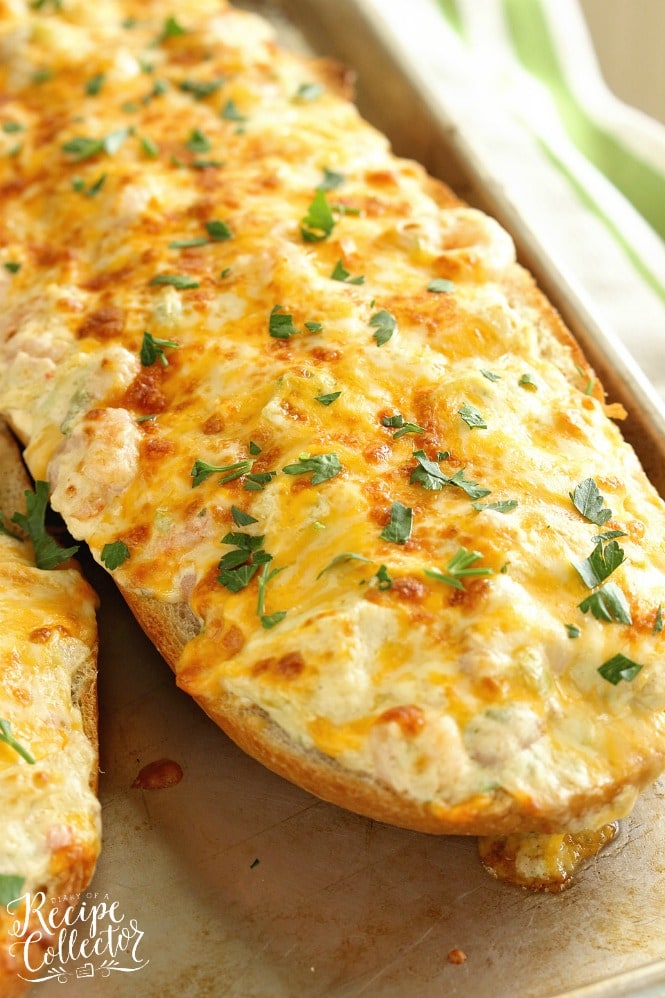 This was one of those recipes I made on a whim. I was craving a cheesy french bread, and I thought adding shrimp and artichokes sounded pretty much like the best thing ever at the time. And boy was it! Even my non-bread eating husband said it was the best thing ever! When I get that response, I know I have succeeded.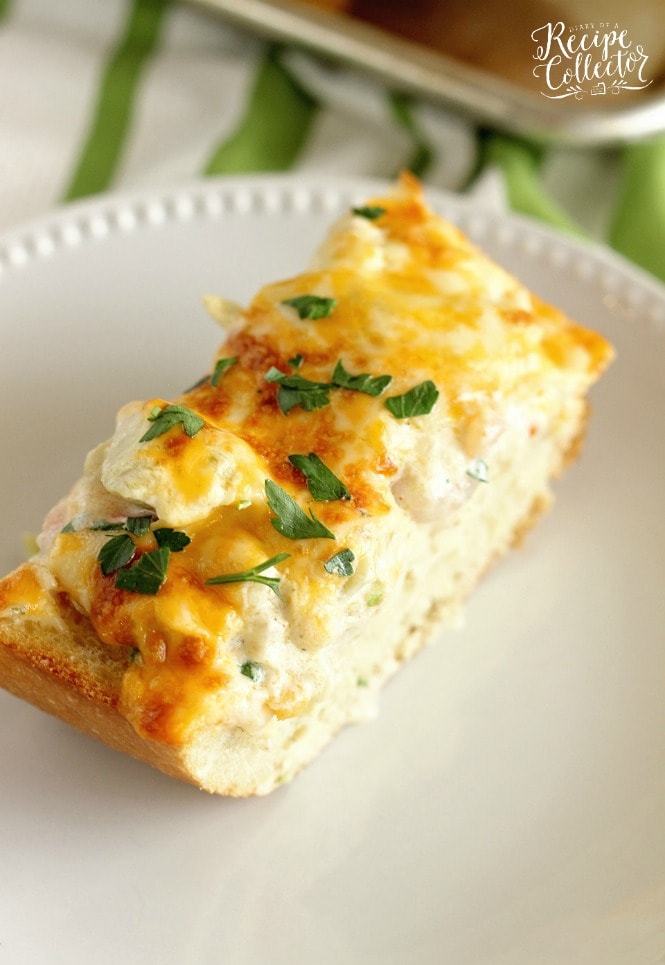 I definitely see myself making this a lot more in our future. A delicious french bread like this would be a perfect appetizer for a party too. And yet it is also hearty enough to stand on its own. I even brought a few slices to work after I made it, and it was still divine!
Tips for Making Shrimp & Artichoke French Bread:
Shrimp and artichokes go so well together too! I used a small to medium size shrimp. I like to buy them already peeled and frozen to help speed up this recipe.
If you have bigger fresh shrimp, I would just chop them up a little before cooking.
And I know not everyone has access to shrimp as easily as we do in Louisiana, but I do think this recipe would be good with just the artichokes. If you decide to go that route, double the amount of artichokes.
Enjoy my friends!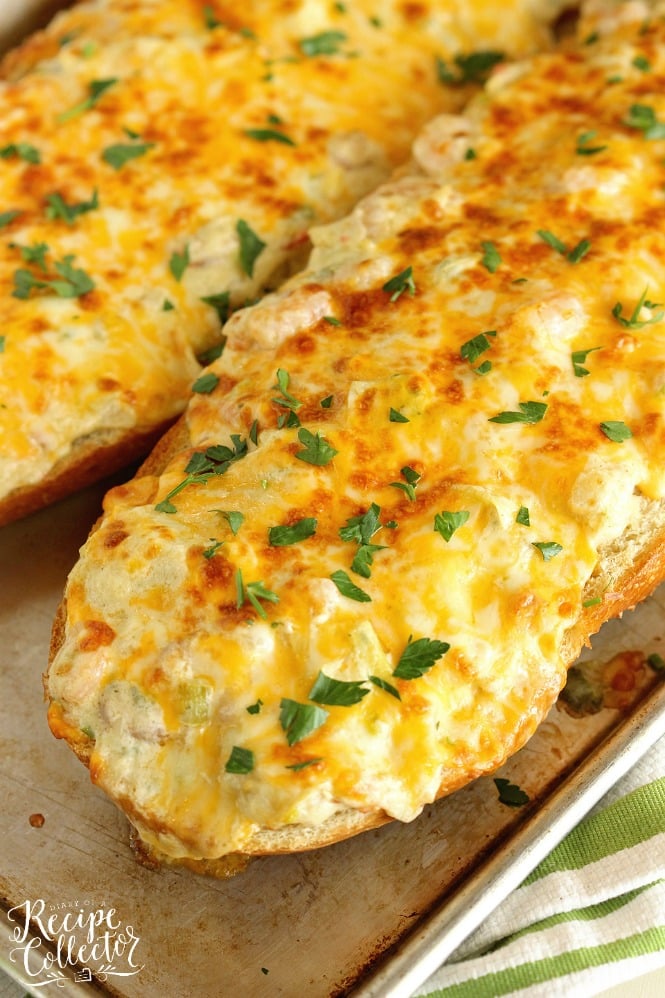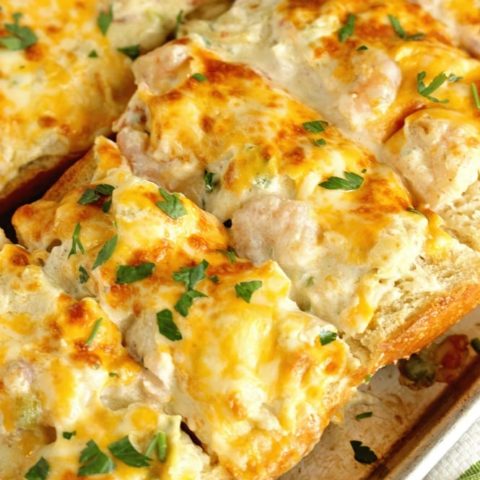 Shrimp & Artichoke French Bread
Shrimp & Artichoke French Bread - A perfect appetizer made with a cheesy, creamy topping filled with shrimp and artichokes!
Ingredients
4 tbsp butter
1 tbsp olive oil
2 cups Seasoned Blend chopped vegetables* (frozen)
1 1/2 tsp creole seasoning, divided
1 lb. raw shrimp, peeled & deveined (70/90 ct)
1 cup quartered artichoke hearts (non-marinated), roughly chopped
1/2 cup sour cream
1/2 cup mayonnaise
1 cup shredded Parmesan cheese
1 1/2 cups shredded Colby Jack cheese
1 french bread loaf
1 tbsp fresh chopped parsley (optional)
*Sub 1 chopped onion, 1 small chopped bell pepper, and 2 stalks chopped celery for Seasoned Blend
Instructions
Melt butter and olive oil in a sauce pan over medium high heat.
Add frozen onion/bell pepper/celery mix (I used Seasoned Blend). Season with 1/2 tsp creole seasoning. Saute for about 7 to 10 minutes or until onions are translucent.
Add shrimp and season with 1 tsp creole seasoning. Stir and saute for about 5 minutes or until shrimp are pink. Add artichoke hearts while shrimp are cooking.
Turn off heat. Add sour cream, mayo, and Parmesan cheese. Stir until well combined.
Slice french bread in half length-wise. Spread shrimp mixture evenly onto both sides of bread. Top each with shredded Colby Jack cheese.
Broil for about 5 to 6 minutes watching carefully to prevent them from burning.
Remove from heat. Top with fresh parsley. Allow to cool slightly before slicing.
You can see this recipe on Julie's Eats & Treats where I am a contributor!!
Other recipes you might like: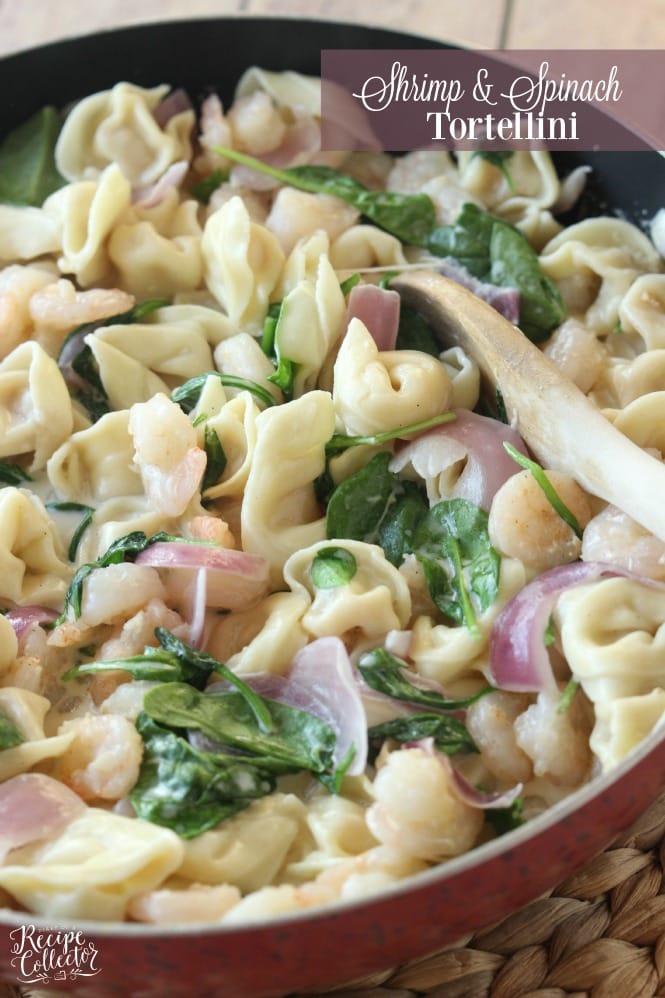 You can find more Appetizer RECIPES HERE.
You can find ALL RECIPES HERE.
For more ideas, follow me on:
FACEBOOK, PINTEREST, INSTAGRAM, TWITTER, AND PERISCOPE.
Get FREE recipes delivered to you by email: SIGN UP HERE!