Salted Caramel Brownie Ice Cream Cake – Layers of rich brownie filled with toffee, salted caramel, dark chocolate truffles, chocolate ice cream, and whipped cream topped with drizzles of chocolate syrup and more salted caramel. 


My friends, have I got a show-stopper cake for you without a lot of hard work!  Before your summer is complete, you've got to try this Salted Caramel Brownie Ice Cream Cake.
I am a huge fan of Lindt Chocolate Truffles.  They are my number one request for my Christmas stocking and on Valentine's Day.  It totally dawned on me the other day that I needed to make a dessert with these babies.  The fact that it took me this long is shocking.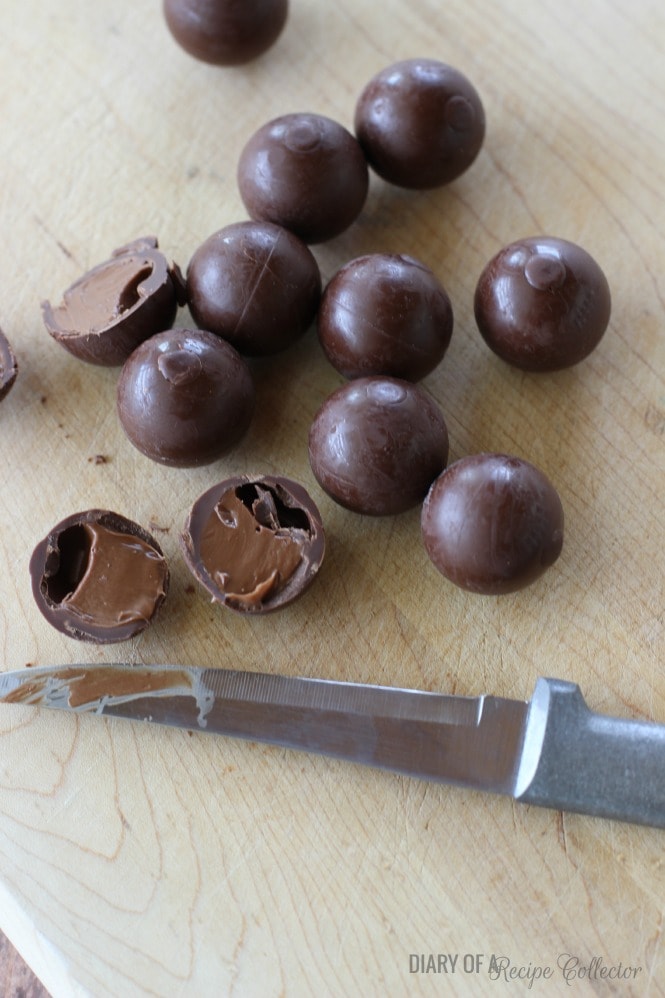 So the other day, a Monday to be more precise, my kids and I needed to get out of the house.  We were headed to a park.  Well, this plan was not to be.  As soon as we headed to Option #1, we realized it was closed on Monday.  So we went to Option #2, and it was also closed too.  By this point the kids were really getting antsy.  I told them we could try one more park.  In my head, I'm thinking, "Seriously people, why would you close all the darn parks on the same day!"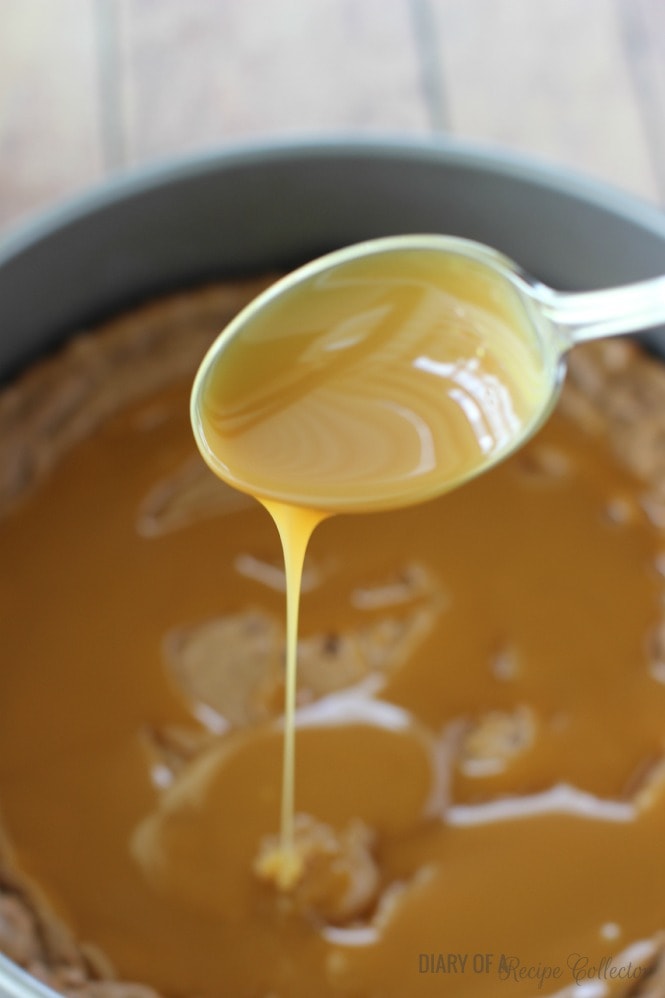 Before we headed to Option #3, we decided to stop by Dairy Queen and eat lunch.  And in my family, when one goes to Dairy Queen, it is a given that one must also have an ice cream.  Well I decided to give their Salted Caramel Truffle Blizzard a try, and holy cow, it was pure bliss on a spoon.  The wheels in my head immediately started turning knowing that I had to recreate this one.  And hence, this recipe for this Salted Caramel Brownie Ice Cream Cake was born.
Now to finish my little story, we did head out to Option #3.  The gate was open.  We all got unbuckled.  We all got out of the car, and then the thunder sounded.
Back into the car we went, and we headed home.  A day at the park was not meant to be for us.
But, it all worked out because this little dessert was born!
It is so easy too!  I used a homemade brownie recipe made with sweetened condensed milk, but you could even use a package brownie mix.  I baked it in a springform pan and let it cool.  Next, I added salted caramel and chopped dark chocolate truffles.  I then took an easy route and layered store-bought premium chocolate ice cream and whipped topping (Cool Whip).  I let it freeze overnight.  After I released it from the pan, I added yummy drizzles of chocolate syrup and salted caramel to finish it off.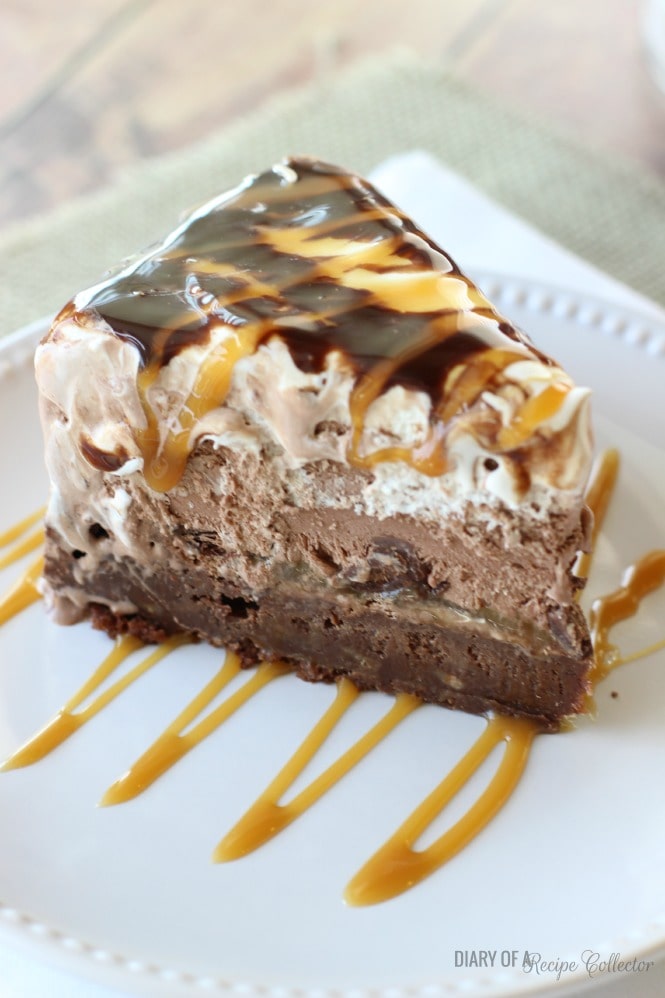 Can't get much easier y'all!  The hardest thing about this cake is cutting it.  You do need a little muscle because it has been frozen.  I let mine sit out for about 10 to 15 minutes before slicing.  I also sliced up all the leftovers before freezing them again, so I didn't have to do that later.
Enjoy!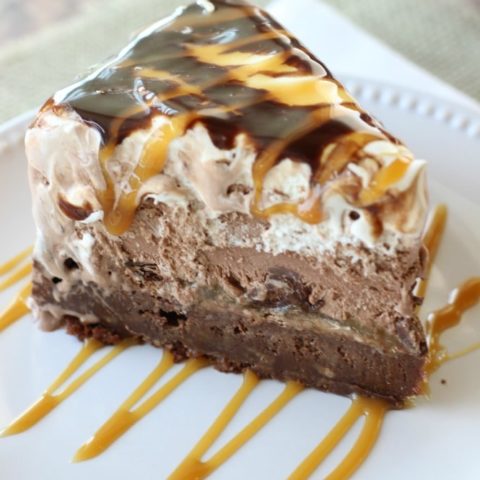 Salted Caramel Brownie Ice Cream Cake
Total Time:
9 hours
20 minutes
Ingredients
2/3 cup sweetened condensed milk
3 oz. semisweet baking chocolate squares
3 oz. bittersweet baking chocolate squars
1/2 cup plus 1 tbsp butter, softened and divided
3/4 cup brown sugar
1/3 cup granulated sugar
2 eggs
1 tsp vanilla
1 1/2 cups all purpose flour
1/2 tsp salt
1/2 cup toffee bits
4 to 6 tbsp jarred salted caramel (found with ice cream toppings)
12 dark chocolate truffles, chopped ( I used Lindt)
1.75 qt premium chocolate ice cream, softened
8 oz Cool Whip (or you can make it homemade)
Topping: Chocolate syrup and salted caramel
9 in. springform pan
Instructions
Preheat oven to 325. Spray a 9 inch springform pan with cooking spray.
In a medium saucepan, add sweetened condensed milk, chopped chocolate, and 1 tbsp of butter. Stir until chocolate is melted and then remove from heat. Set aside.
In a large bowl, beat butter with sugars until fluffy. Add eggs and vanilla and beat well.
In another bowl, mix flour and salt.
Slowly add to sugar mixture beating well. Stir in melted chocolate and toffee bits until well combined.
Pour batter into pan. Bake for 35 to 40 minutes or until center is mostly set.
Remove from oven and let cool completely.
Drizzle salted caramel onto brownie. Top with chopped truffles. When ice cream has softened, spread it over truffles carefully. Top with Cool Whip. Freeze overnight.
Take out when ready to serve and let it sit out for about 10 to 15 minutes for easier slicing.
Release the pan and run a knife along the edge to help release it some more. Remove ring of pan.
Drizzle with salted caramel and chocolate syrup. Slice and serve.
Notes
*The brownie layer will be frozen and a little hard to cut through, so allow it time to set out before slicing.
Recommended Products
As an Amazon Associate and member of other affiliate programs, I earn from qualifying purchases. This helps us keep our blog running efficiently and allows us to create more recipes for you.
 Looking for other recipes:
No Churn Banana Split Ice Cream