Pina Colada Muffins – These super EASY and delicious muffins filled with pineapple and coconut only require 5 ingredients!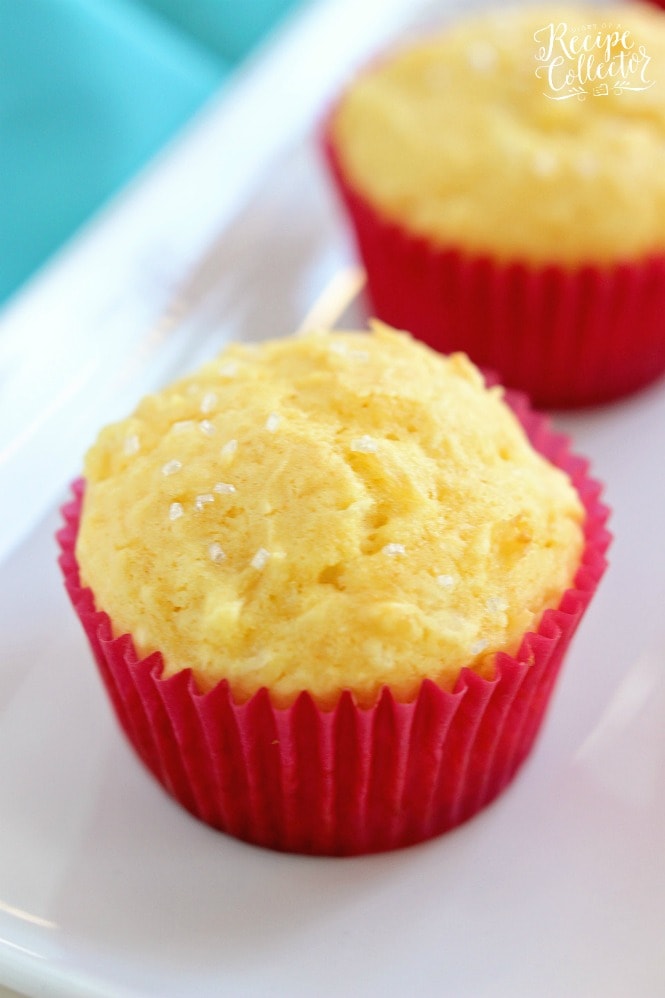 Do you like pina coladas….?  Sorry I couldn't resist!  I can't say the name of these muffins without breaking into the song in my head.  Now I'm sure I've probably got it stuck in your head now too 🙂  But these little muffins are definitely a reason to start singing in the morning.  They made me happy for a number of reasons.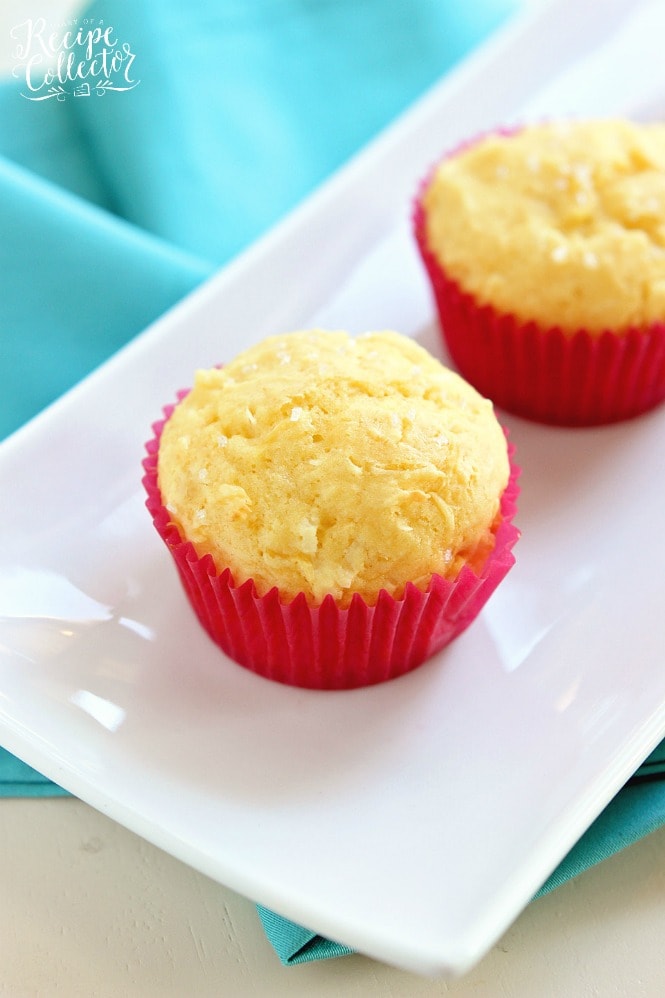 First, they are quick and easy.  Box cake mix, an egg, some crushed pineapple, some coconut, sprinkle with some sugar, and your done!  I even used a sugar-free cake mix.  I don't normally buy my sweets sugar-free either.  It was an accident, but it totally worked out fine!
Now the coconut in these is totally optional.  I didn't intend on putting it in there.  But it's kind of hard for me to have pineapple anything without coconut.  They just go hand in hand.  But if you are not a fan, you can totally leave the coconut out.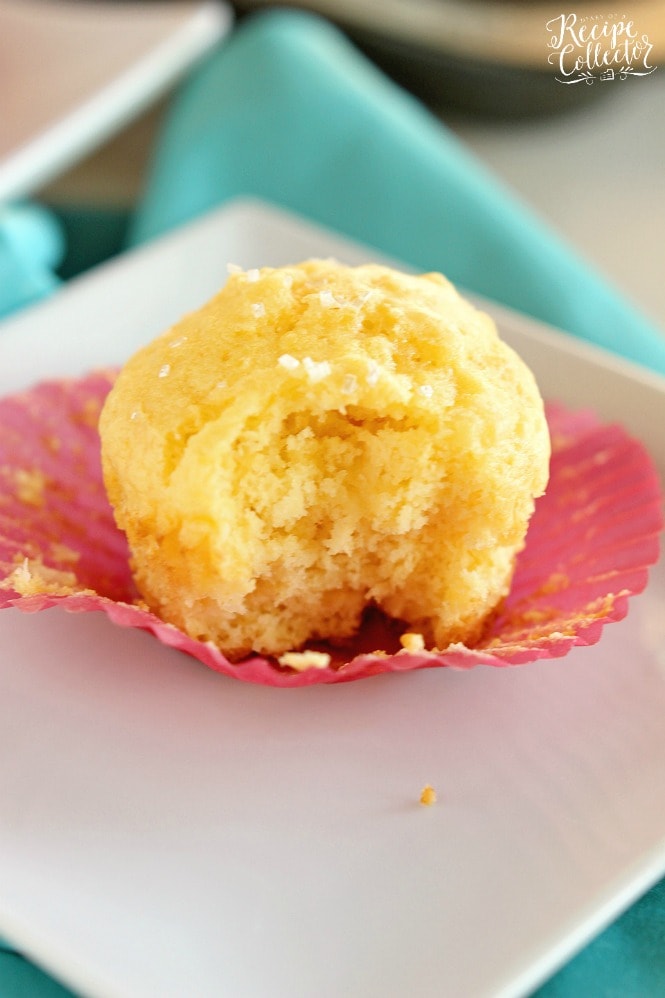 Another reason I love these little muffins is because they make a fairly large amount.  That meant I got to treat my new coworkers again 🙂  They even helped name them for me!  Have I mentioned how much I love this new group I work with everyday?  God put them in my life for a reason 🙂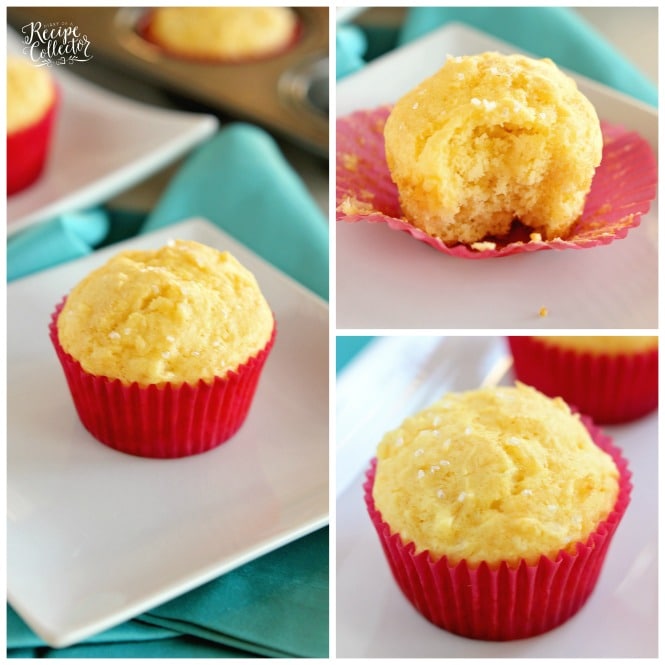 And one last little thing before the recipe… Could you please say a little prayer for me?  I head out of town a pretty long way for a little blogging trip this weekend.  It's my first one, and it's my first time to leave to go this far without my family.  I'm quite nervous and so excited at the same time.  But sometimes my anxiety gets the best of me.  So any prayers you could offer up would be so incredibly awesome.  And if you have any prayer requests, I'd love to pray for you too!  Just leave it in the comments or send me an email:  [email protected]
Have a great day!!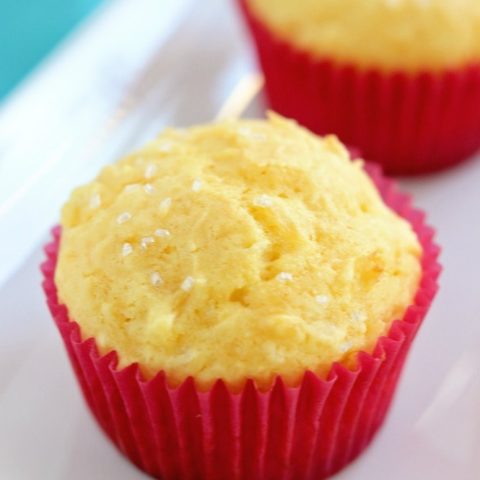 Pina Colada Muffins
Pina Colada Muffins - These super EASY and delicious muffins filled with pineapple and coconut only require 5 ingredients!
Ingredients
1 15 oz box yellow cake mix
1 15 oz can crushed pineapple with juice
1 egg
1/4 cup shredded coconut
sprinkling sugar
Instructions
Mix dry cake mix, pineapple with juice, egg and coconut until combine.
Line muffin tin with cupcake liners. Spray liners with cooking oil spray.
Fill with batter until 2/3 full. Sprinkle with a little sugar.
Bake at 350 for 20 to 25 minutes. Use a toothpick to check to see if they are done.
Notes
*You can omit coconut if you'd like.
*I used a sugar-free cake mix.
Recommended Products
As an Amazon Associate and member of other affiliate programs, I earn from qualifying purchases. This helps us keep our blog running efficiently and allows us to create more recipes for you.
 Other recipes you might like: