This is a sponsored conversation written by me on behalf of Dunkin' Donuts® . The opinions and text are all mine.
Cranberry Orange Loaf – A wonderfully easy and delicious recipe filled with cranberries and orange juice.  Plus a great gift basket idea featuring Dunkin' Donuts® Coffee!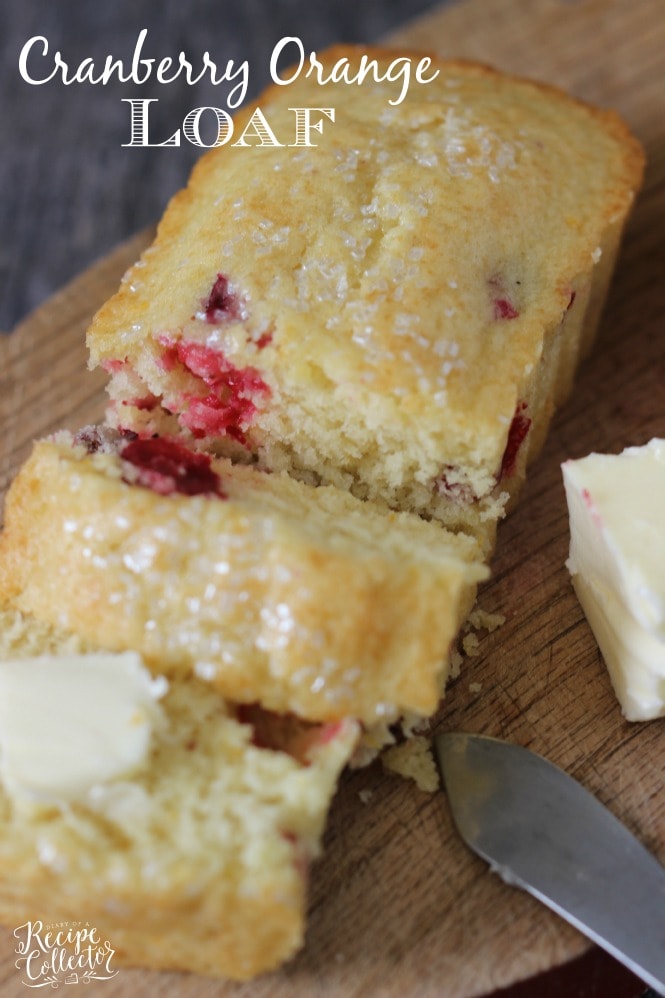 Today I have to tell you all about two of my latest obsessions.  First up…cranberry and orange.  Where has this been all my life?  I tried this for the first time last year, and there is a reason they are paired together.  Tart cranberries go great with the sweet citrus orange flavor.  I first found a muffin recipe in a family cookbook last year, and I was intrigued that the recipe called for very little butter and 3/4 cup of orange juice.  And I must say…I am so glad I made them.  The whole batter is filled with the most wonderful orange flavor, and it goes perfectly with the cranberries.  I need to remember there is a reason certain foods are born to go together.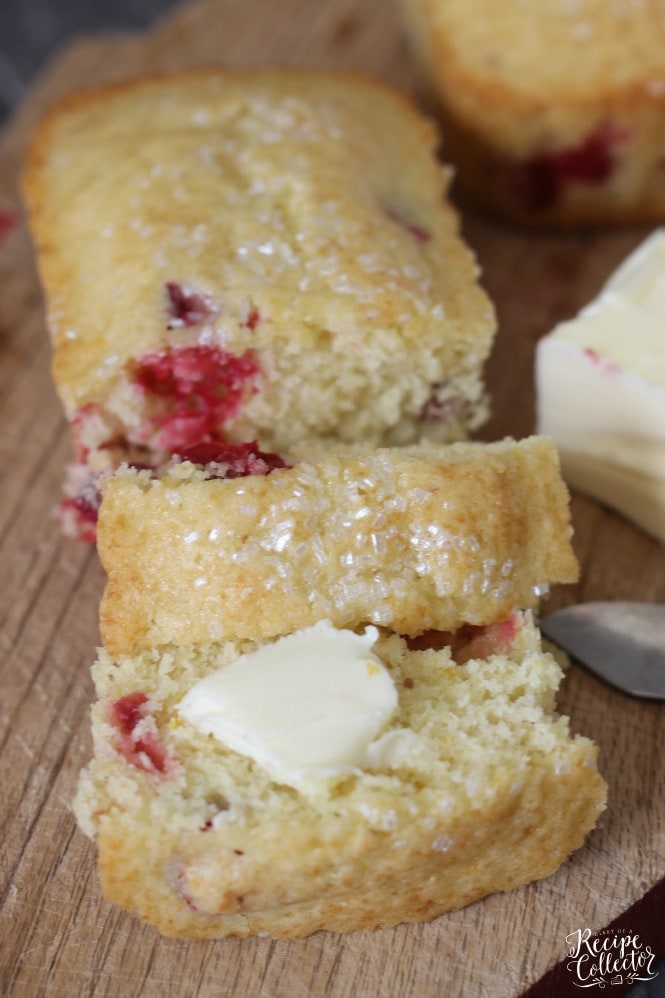 My second obsession lately…well really not lately…more like for years now…is coffee.  I heart coffee.  I love it in the morning, in the afternoon, and even at night.  There is nothing more comforting than coffee…the smell, the warmth, the whole vibe it brings.  I never pass up a chance for a cup of coffee.  To me, it represents one of those small and simple joys in life.  The chance to relax and plan the day ahead or wind down after a long day.  It's in these simple moments where I usually find the most appreciation for everything.  That is what coffee does for me.  I heart coffee.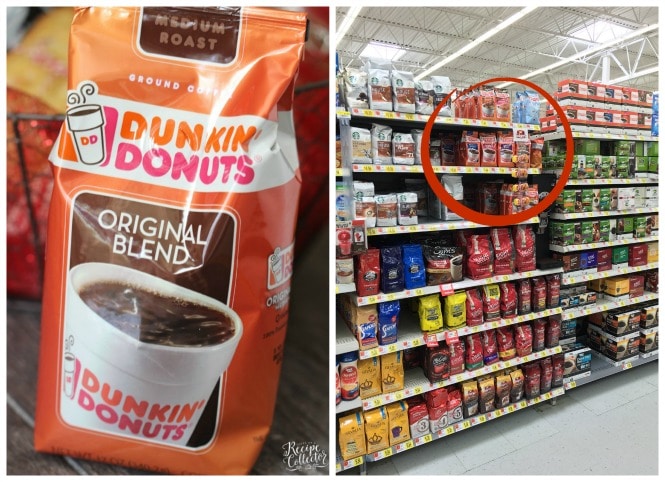 And I love finding a good coffee.  It makes the whole experience even better.  Dunkin' Donuts® has become on of my new favs.  I find it at Walmart.  And I decided to put together a cute gift basket that makes the perfect gift for a teacher, a coworker, or a neighbor.  I know when I was a teacher, I loved getting anything coffee related.  Like I said, coffee makes me happy.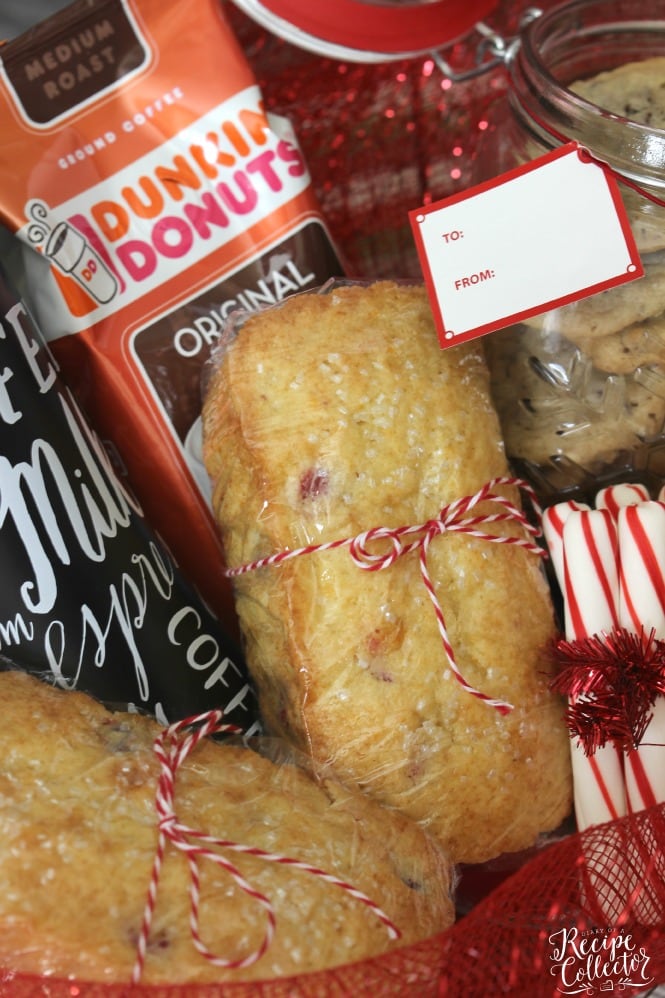 This gift basket includes a couple Mini Cranberry Orange Loaves, Mini Chocolate Chip Cookies, Dunkin' Donuts® Original Blend Coffee, a cute coffee tumbler, peppermint sticks, and some Christmas measuring spoons.  There are really so many different things you add to a coffee gift basket.  It's super easy to put together and customize to the person's tastes.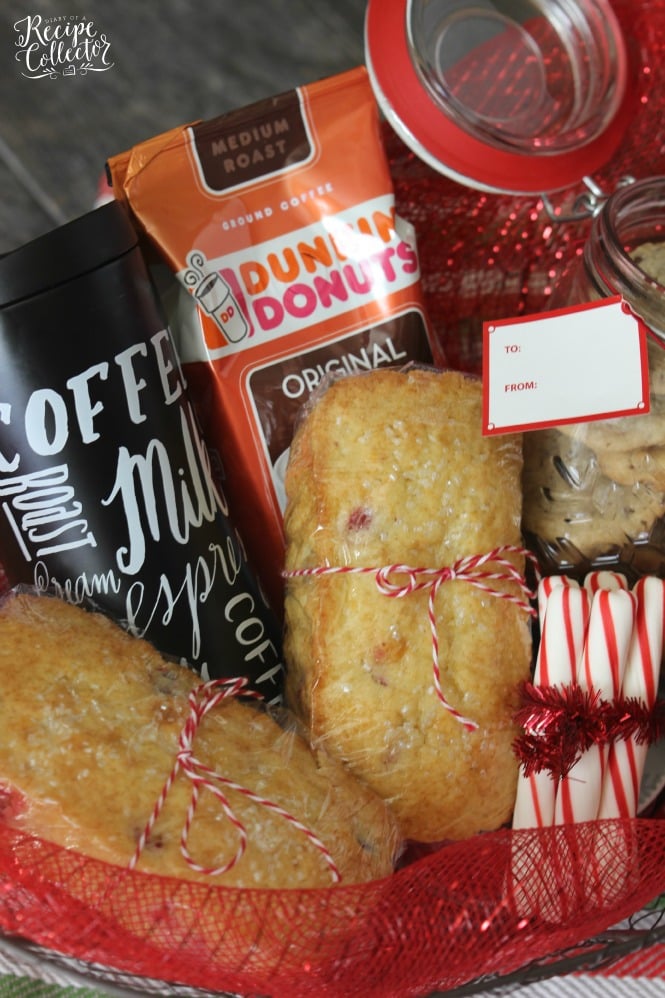 To dress up the basket a little, I just added some deco-mesh and wrapped up the loaves in some cute baker's twine.  The little jar came with a perfect tag.  The cookies are from this recent post.  I made mini versions by just measuring out 1/2 teaspoonfuls of dough.  And fyi, these are the easiest homemade cookies I've ever made in my entire cookie-making life 🙂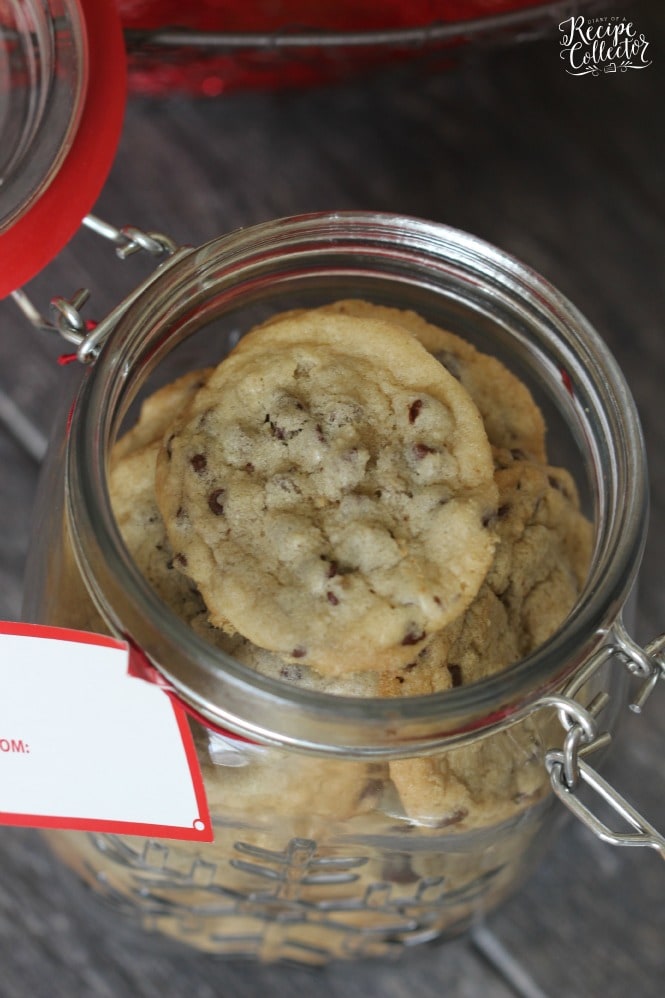 I finished off the loaves with a little sprinkling sugar too.  I just love how pretty they look when all finished and packaged up.  I know you will love this recipe!
If you'd like to get a coupon to buy some Dunkin' Donuts Coffee for your own gift basket, go HERE to do so.  Plus you can see more Dunkin' Donuts products available at Walmart HERE.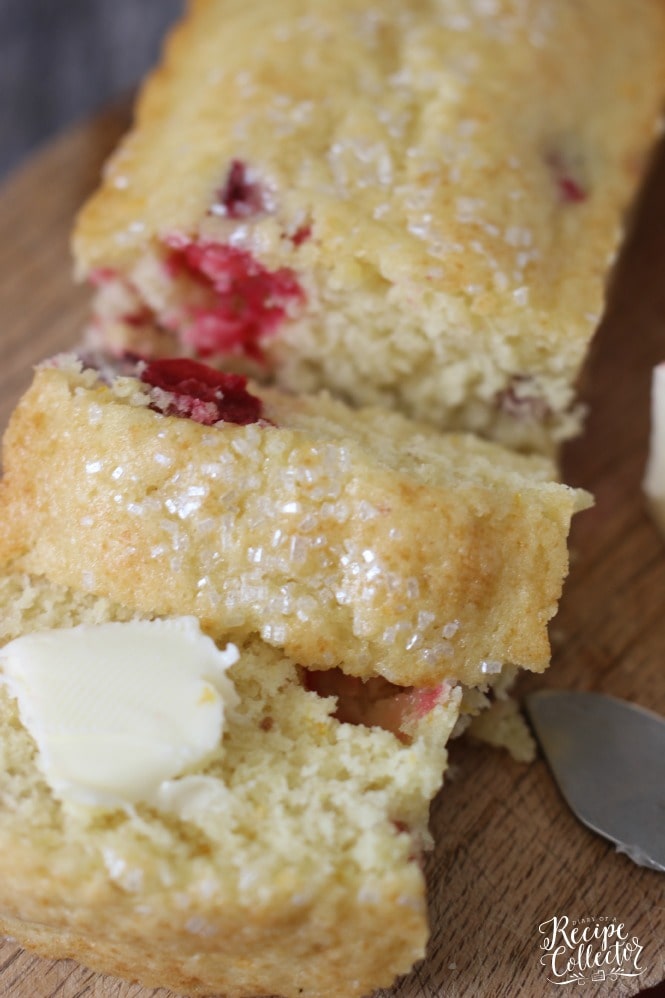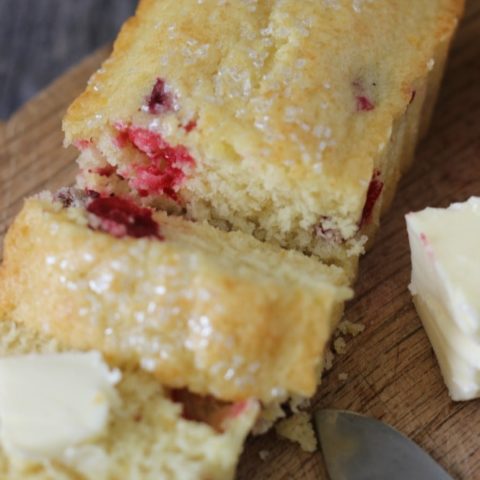 Mini Cranberry Orange Loaves
Ingredients
2 cups flour
3 tsp. baking powder
1 cup sugar
1/2 tsp. salt
3/4 cup orange juice
zest of 1 orange (about 1 tbsp)
1/3 cup butter, melted
1 egg
1 cup fresh cranberries, chopped
sprinkling sugar (found with sprinkles)
Instructions
Preheat oven to 375.
Whisk flour, baking powder, sugar, and salt in a large bowl.
Add orange juice, zest, melted butter, and egg. Whisk until just combined. Fold in cranberries. Spray 4 mini loaf pans with cooking spray. Fill loaf pans with batter until 2/3 full. Top each with a sprinkle of sugar. Bake for 22-24 minutes or until golden brown. Let cool a few minutes and remove to a cooling rack to finish cooling.
Notes
This recipe can also be baked in a large loaf pan. Bake for about 35 to 40 minutes or until golden brown and center is set.
Recommended Products
As an Amazon Associate and member of other affiliate programs, I earn from qualifying purchases. This helps us keep our blog running efficiently and allows us to create more recipes for you.
 You can find similar recipes HERE.
You can find ALL RECIPES HERE.
For more ideas, follow me on FACEBOOK, PINTEREST, INSTAGRAM, TWITTER, AND PERISCOPE.
Get FREE recipes delivered to you by email: SIGN UP HERE!
This is a sponsored conversation written by me on behalf of Dunkin' Donuts® . The opinions and text are all mine.