The name says it all on these wonderful lemon muffins soaked in a wonderful lemon coconut syrup…a burst of lemon flavor with coconut in the background…a perfect summer breakfast!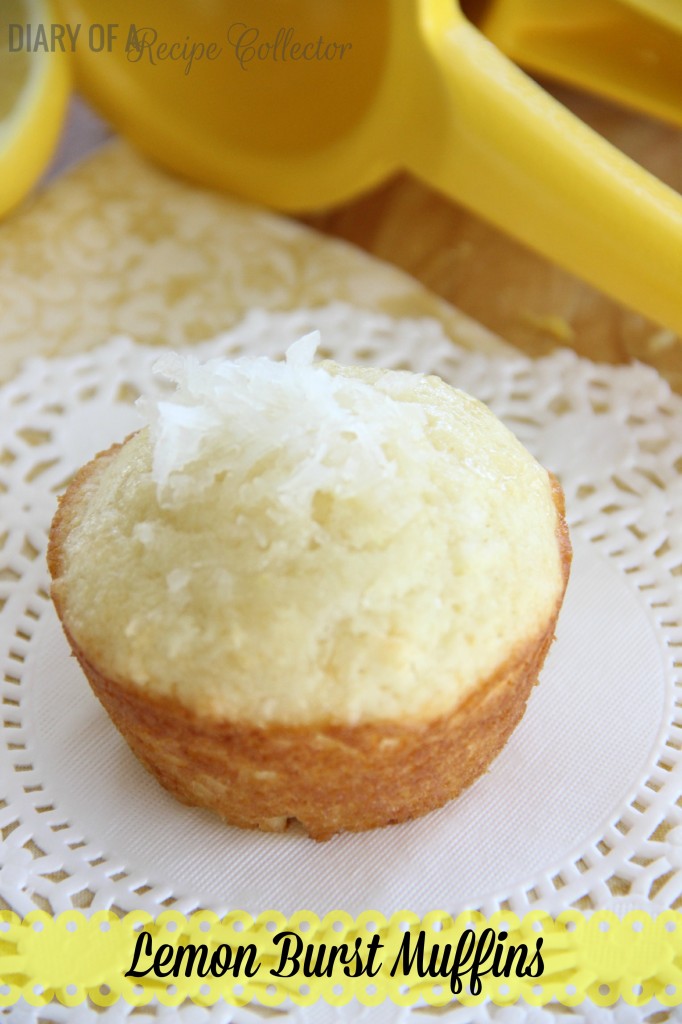 So my mom is not a huge lemon fan like some of my family members.  This is complete opposite of me.  I've blogged before about how much I just adore lemon.  I love it so much that when I'm not pregnant, I love to drink Crystal Light lemonade all the time.  I just love that tart, lemony flavor.  My former co-worker shared this recipe with me a few years ago, and I've been in love ever since.
Well I made some of these and brought a few to my parent's house knowing that my dad would like them.  Well I got a call later from my mom saying how much she loved them!  She went on about how delicious they were.  I knew this recipe was good, but then this really gave me all the affirmation I needed to pass this recipe along to you.
So I declare these Lemon Burst Muffins, a perfect lemon treat even for the non-lemon loving person.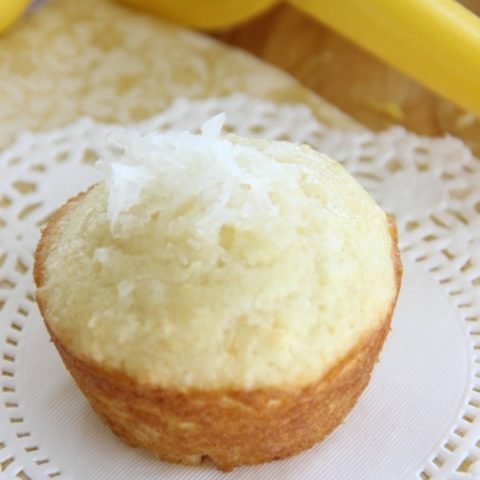 Lemon Burst Muffins
Ingredients
1 3/4 cup flour
3/4 cup sugar
1 tsp baking powder
3/4 tsp baking soda
1/4 tsp salt
1 cup lemon yogurt (or you can use vanilla)
1 egg
1/3 cup melted butter
2 tbsp grated lemon zest
2 tbsp fresh lemon juice
1/2 cup coconut
Toppping:
1/3 cup fresh lemon juice
1/4 cup sugar
1/4 cup coconut
Instructions
Preheat oven to 400.
In a large bowl, whisk yogurt, eggs, butter, and lemon zest.
Add dry ingredients and whisk just until combined.
Fold in coconut.
Spray muffin tins with cooking spray.
Fill muffin cups 2/3 full with batter.
Bake for 14-18 minutes or until toothpick comes out clean.
Cool in muffin tin for 5 minutes.
While muffins cool, begin creating lemon coconut syrup by heating sugar and lemon juice in a small sauce pan over medium heat until sugar is dissolved.
Remove from heat and stir in coconut.
Poke 10 holes in each muffin using a toothpick.
Spoon syrup over each muffin.
Let soak in for a few minutes and remove from pan.
Serve warm or room temperature.
Looking for other lemon treats: