Parmesan Crusted Zucchini Oven Fries – Sliced zucchini coated with panko breadcrumbs and shredded Parmesan roasted in the oven.  It makes a perfect healthy side dish.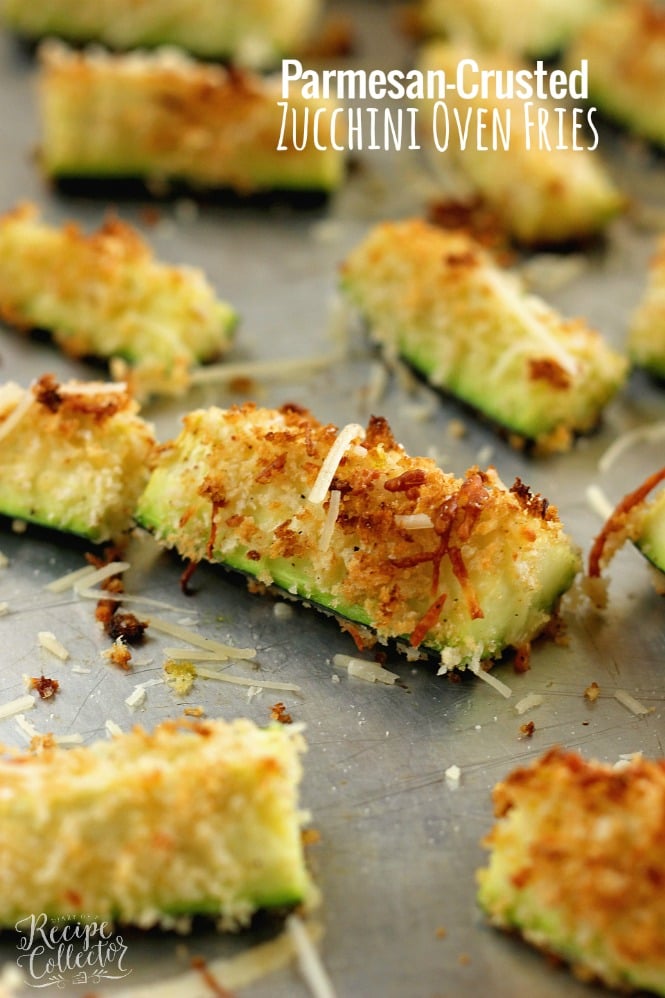 I'm trying to be good lately and eat healthy.  Since returning to the working world and having to wear something other than leggings and yoga pants, I have become a little more aware of the fact that it was necessary.  Since I'm pretty darn busy all day now, I don't have time to snack.   So that helps with all those unnecessary calories!  I'm also eating a little egg wrap each morning and either a turkey wrap or salad for lunch.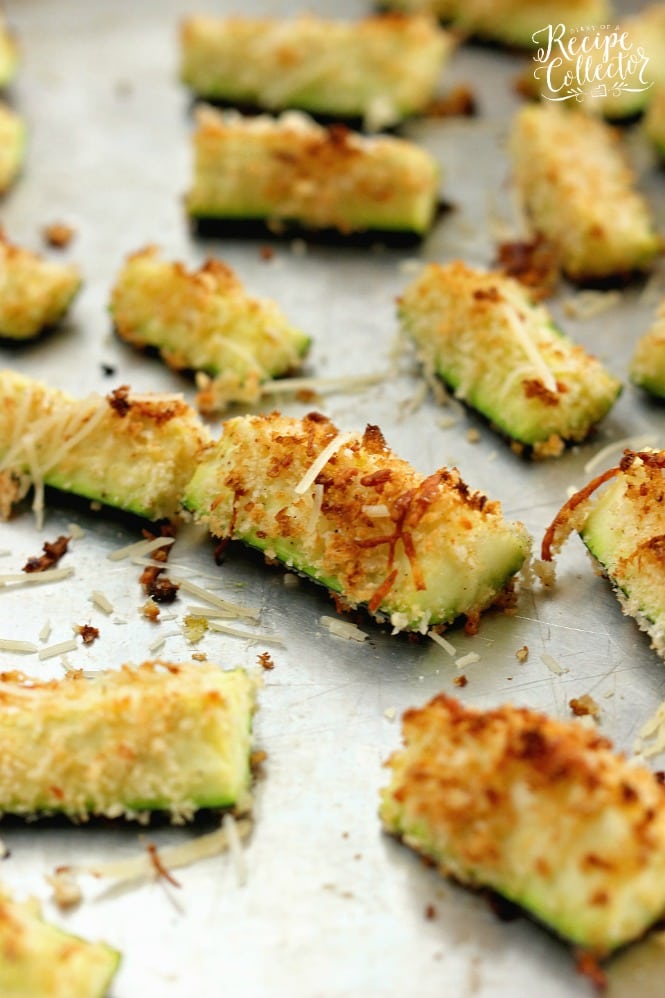 But y'all, I've discovered it is the time period from about 4:00 until bedtime that gets me.  I'm usually famished when I get home, and it takes some serious willpower not to open up a bag of chips.  Because really, all I want is something crunchy to munch on at that time.  I usually end up having half of a whole-wheat pita with some hummus.
For supper, we have been some grilling fools around here.  I find that is the easiest way to cook when I am trying to watch what I am eating.  Whether it be a steak or pork chop, my husband is all in favor of grilling us something for supper.  We also love making these Mock Filet Mignons.  In fact, he prefers them to hamburgers.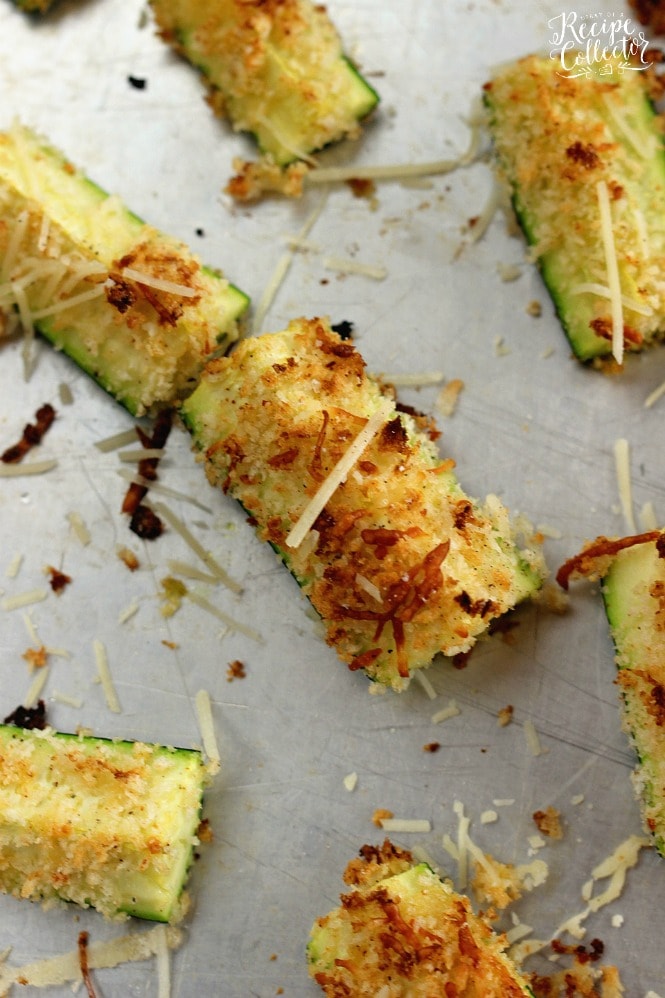 I always cook a vegetable, and we have a salad.  These little tricks are how I get my pants to fit again 🙂  I'm short (only 5'3″), so 5 little pounds makes a huge difference on me.  Usually after 3 or 4 weeks of watching what I'm eating, I can trim those 5 pounds.
So lately, I've been cooking dishes like these Parmesan-Crusted Zucchini Oven Fries.  I love zucchini in just about anything!  It is so easy to slice up and pop in the oven.  For this recipe, I just coated it in a little egg, panko and shredded Parmesan.  It made a great side dish that was super easy to prepare!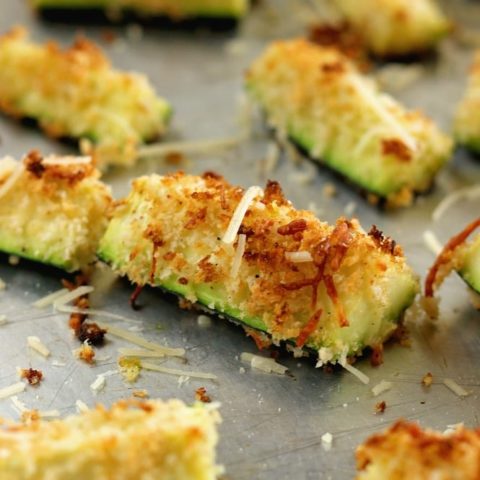 Parmesan-Crusted Zucchini Oven Fries
Ingredients
2 zucchini
1 cup panko
2 eggs
1 tsp creole seasoning
3/4 cup shredded Parmesan, divided
salt and pepper
Instructions
Preheat oven to 400 degrees.
Slice zucchini into thirds, then each into 4 strips.
Beat eggs in a shallow dish. Season with 1/2 tsp creole seasoning.
In another shallow dish, add panko, 1/2 cup Parmesan, and 1/2 tsp creole seasoning and stir.
Dip zucchini in egg and then into panko pressing to coat evenly.
Place onto sheet pan and bake 8 to 10 minutes or until golden brown.
Remove from oven and top with remaining Parmesan cheese and salt and pepper to taste.
Notes
*You can replace the egg with greek yogurt if you are watching your cholesterol.
Recommended Products
As an Amazon Associate and member of other affiliate programs, I earn from qualifying purchases. This helps us keep our blog running efficiently and allows us to create more recipes for you.
 Other recipes you might like:
French Onion Oven Potatoes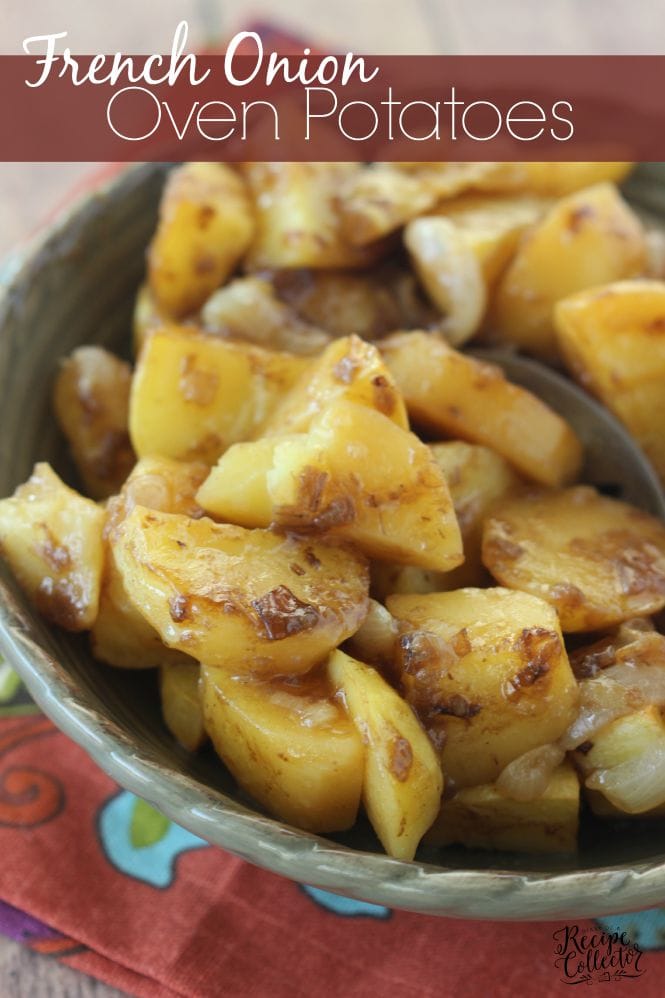 You can find more SIDE DISH RECIPES HERE.
You can find ALL RECIPES HERE.
For more ideas, follow me on FACEBOOK, PINTEREST, INSTAGRAM, TWITTER, AND PERISCOPE.
Get FREE recipes delivered to you by email: SIGN UP HERE!