A wonderful Mardi Gras cheesecake made using crescent rolls and sprinkled with cinnamon and festive sugar would be so fun to help celebrate the season.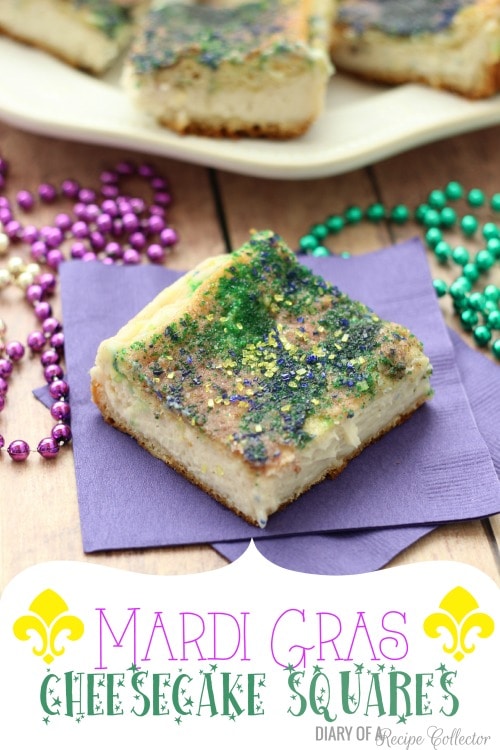 It's Mardi Gras time everybody!  Yes, it kicks off big time down here in January.  We like to stretch the season as long as we can.  This year, Mardi Gras is in February, which means it's somewhat early.  King cakes have been in the stores since right after the new year.  We don't waste time!
It's always a treat when someone brings a king cake to lunch or to school to share with everyone.  And who's going to get the baby and have to bring the next one is always fun too!  Everyone has their favorite flavor too whether it be strawberries and cream cheese, Bavarian, apple, or just plain.  I tend to lean towards anything with cream cheese.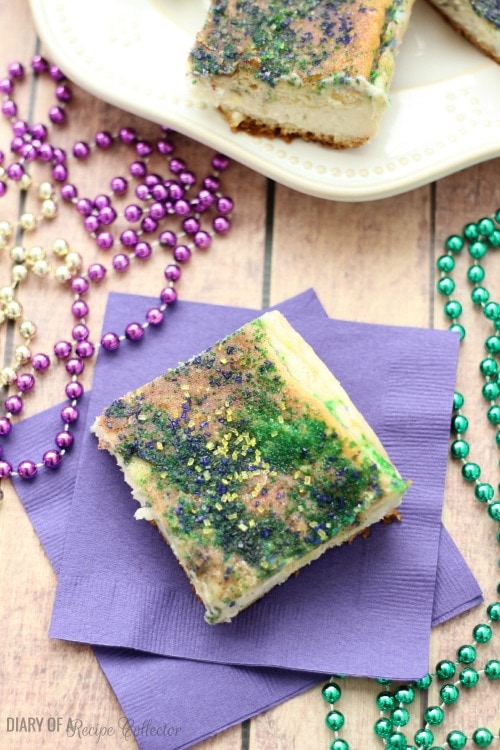 Well these Mardi Gras Cheesecake Squares are a fun change to the usual king cake.  They are so good.  They were so good that I had to QUICKLY get these suckers out of my house!  I dropped some off at my husband's office so I wouldn't eat like twelve of them…seriously!
And they are so easy to make!!  The filling is super simple with only a few ingredients.  It is sandwiched between two sheets of canned crescent rolls and topped with butter, cinnamon, and sugar.   Plus, you can make this the night before you need it.  It makes the perfect treat to bring to your co-workers or friends!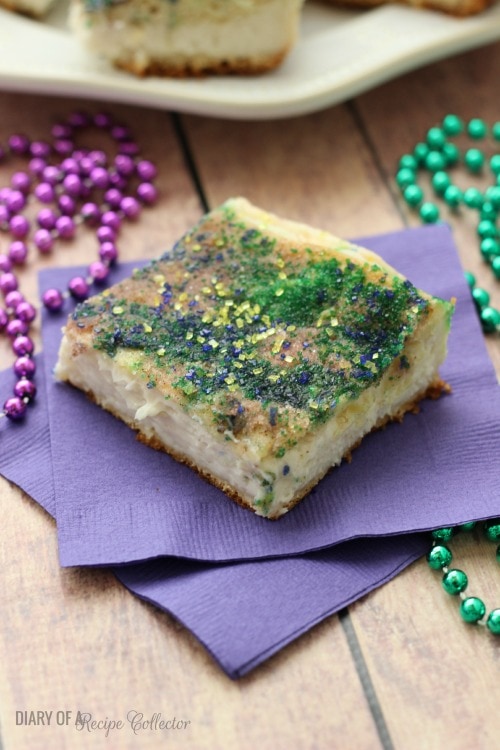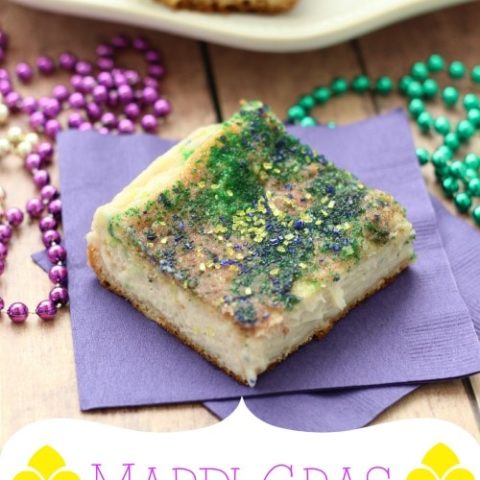 Mardi Gras Cheesecake Squares
Ingredients
2 cans crescent rolls
Filling: 3 8 oz. blocks of cream cheese
1 1/2 cups of sugar
1 1/2 tsp vanilla
Topping: 1 stick butter, melted
1 tsp cinnamon
1/3 cup sugar
1 tbsp purple sprinkling sugar
1 tbsp green sprinkling sugar
1 tsp yellow sprinkling sugar
Instructions
Preheat oven to 350 degrees.
Filling: In a mixing bowl, beat cream cheese with sugar. Add vanilla and continue beating until smooth.
Spray a 9 x 13 with cooking spray.
Carefully unroll crescent roll dough. Lay into the bottom of pan. Starting in the center and working outward, press to seal seams and spread dough to edges.
Pour filling onto crescent roll dough.
Carefully unroll second can of crescent rolls and place on top of filling. Press to seal seems the best you can and gently stretch dough to edges.
Pour melted butter onto top of dough. Spread all over the dough.
Mix cinnamon and 1/3 cup of sugar together. Sprinkle all over the top of the butter.
Sprinkle with remaining colored sugars.
Bake for 27-30 minutes or until golden brown.
Let cool and refrigerate. Slice when chilled.
Serve chilled.
Notes
* Make ahead to allow chill time in fridge.
Recommended Products
As an Amazon Associate and member of other affiliate programs, I earn from qualifying purchases. This helps us keep our blog running efficiently and allows us to create more recipes for you.
 Other recipes you might like:
Mini Cherry Cheesecake Trifles