This ultra comforting meal makes the easiest dinner on any busy weeknight!!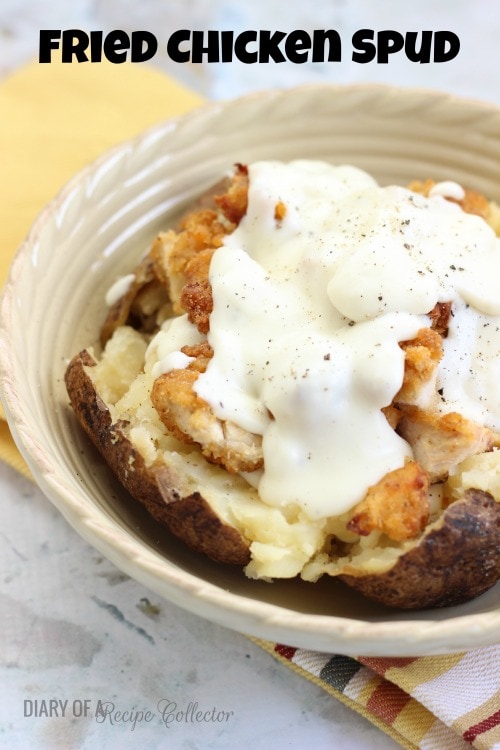 Hey everyone!  I'm back!  I know it has been like a week since I posted…sigh.  I just can't keep up with everything lately.  I'm desperately trying to get back in my groove again.  I was away for 4 days (from Thursday  to Sunday).  I was on an ACTS Retreat where I served as a team member.
I was away from all the busy everyday life stuff, and I got to spend a weekend with some wonderful friends and Jesus!  What more could a girl ask for?  I made my ACTS Retreat last year and I couldn't wait to serve on a team for one.  We met as a group to plan the retreat for the last 14 weeks!  To say it was very fulfilling to see it all come together is an understatement!  It was so wonderful!!
I'm glad to be back home though!  I'm ready to get back in my groove, get ready for spring, and get my house more organized!  This being gone all the time business has caused my whole routine to go completely out the window.  And I'm the type of girl who thrives on a routine.
So part of our spring, of course, is baseball…or t-ball I should say.
My son's 1st game was Monday.  I could tell you a whole story about how I forgot about it until like an hour before and realized he still didn't have socks or a belt…yeah…that's pretty much how my life is going lately.
My brain feels like it's just a jumbled mess…
So as I remembered he had a game, I was in the middle of this little supper.  I couldn't have planned it better if I tried!  I had the potatoes cooking in the oven and almost done.  The chicken was almost finished baking because I took a shortcut and used pre-cooked Southern-style chicken tenders.
Right before we left, I turned off the oven, wrapped the potatoes in foil, and left everything in there to stay warm.  Once we got back home, I made a quick white gravy, and supper was done!  No need to hit up McDonald's on this crazy night.  That at least made me feel better about almost forgetting the poor kiddos first game!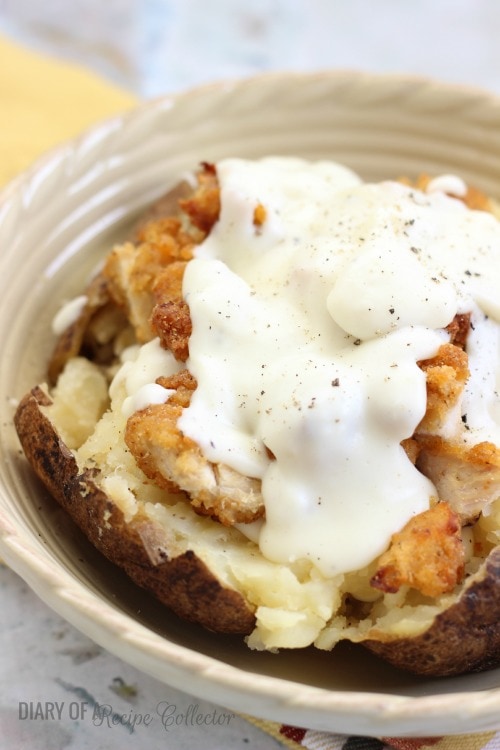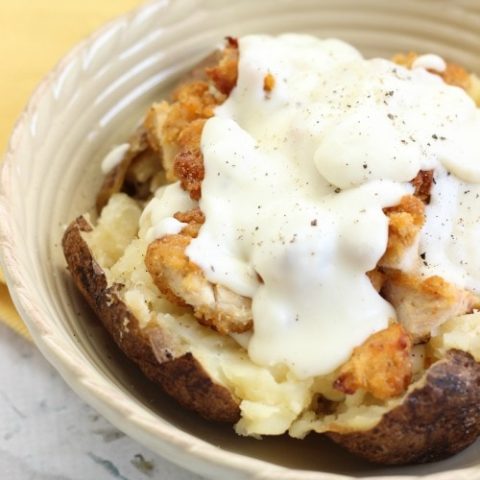 Fried Chicken Spud
Ingredients
6 large baking potatoes
olive oil and salt for baking potatoes
8 frozen chicken tenders (Southern-style) or use leftover fried chicken
1 stick butter
1/2 cup flour
3 cups milk
2 tsp kosher salt
crushed black pepper
1 tbsp butter per potato
Instructions
Preheat oven to 400 degrees.
Wash potatoes and pat dry.
Rub each potato with a little drizzle of olive oil and season with salt.
Bake for 1 hour or until tender. Wrap with foil and leave in oven until ready to use.
Bake frozen tenders according to package directions. If using leftover fried chicken, crisp in a 400 degree oven for about 7-10 minutes. Chop into pieces once slightly cool.
Make gravy: In a saucepan, melt butter over medium heat. Add in flour and whisk for about a minute. Slowly pour in milk while whisking out any lumps. Let milk come up to a slow boil whisking occasionally to prevent it from sticking or burning. It will thicken after about 5-6 minutes. Season with salt and pepper.
Assemble potato: Remove potato from foil. Cut down center of potato both directions allowing it to open up completely. Using a fork, mix in a tbsp of butter and season with a little salt. Pour on a little gravy. Add chopped chicken. Pour on more gravy. Top with more fresh pepper and serve.
Other recipes you might like:
Cajun Boiled Shrimp Stuffed Potato