Farmer's Pork Chops -A perfect Sunday dinner – The whole meal bakes up in a casserole dish starting with layers of potatoes and onions, while the pork chops cook on top.  So good!
After layering your potatoes and onions, a wonderful white gravy is poured on top.  The pork chops get cooked in a skillet just until browned and then placed on top to finish baking over the potatoes.  The juices from the pork chops drip down over the potatoes and gravy while cooking.  Delicious!
This comforting meal comes from Paula Deen's first cookbook, The Lady and Sons.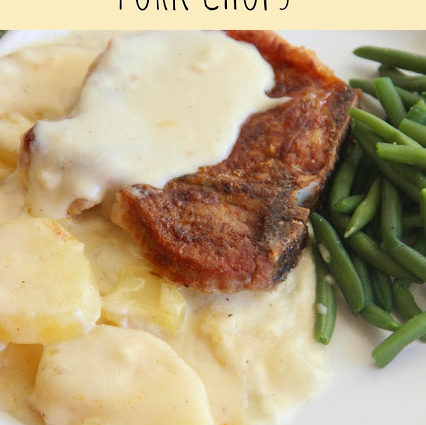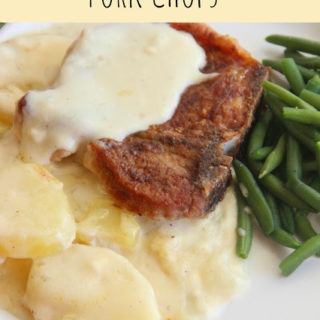 Farmer's Pork Chops
Ingredients
6 medium potatoes, peeled and sliced 1/4 thick
1/2 medium onion, sliced thinly into half rings
Salt and pepper
1 cup flour
seasoned salt or creole seasoning
5 center cut pork chops, 1/2 inch thick
2 tbsp vegetable oil
White Sauce:
1 stick butter
1/2 cup flour
1 to 2 tsp salt
1/2 to 3/4 tsp pepper
4 cups milk
Instructions
Preheat oven to 350 degrees. In a large casserole dish, layer half of the potatoes and half of the onion. Season with salt and pepper. Repeat with other half of potatoes and onions and salt and pepper.
Prepare the white sauce by melting the butter in a large sauce pan. Turn off heat. Stir in flour. Add salt and pepper.
Over medium heat, add milk, 1 cup at a time. Bring to a boil and stir frequently. Reduce heat and simmer 1 to 2 minutes. Sauce should thicken. Then let set a minute.
Pour sauce over potatoes and bake for 15 minutes, uncovered.
While potatoes are cooking. Season pork chops with seasoned salt. Dredge pork chops in a little flour. Lightly brown in vegetable oil. Do not cook them completely.
Remove potatoes from oven and place pork chops on top of potatoes as they are removed from the pan. Arrange pork chops until they all fit.
Bake at 350 degrees for 45 minutes, uncovered. The sauce will come out bubbly and so good after baking under the pork chops! Serve with a vegetable side. Enjoy!!
Notes
Adapted from The Lady & Sons cookbook
Connect with Jaren: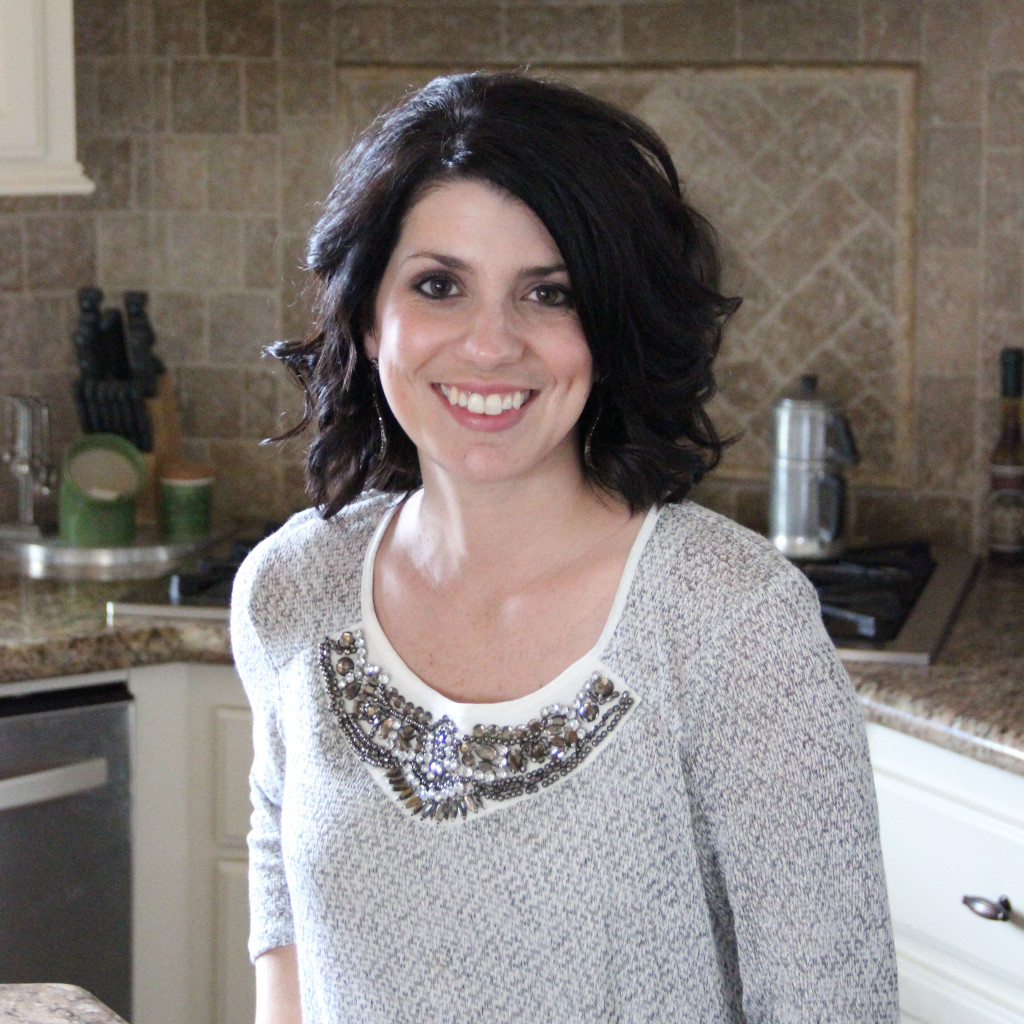 Blog | Facebook | Pinterest | Instagram | Bloglovin | Twitter