Easy Vegetable Beef Soup – A hearty comforting classic meal with ground beef that is easy to prepare.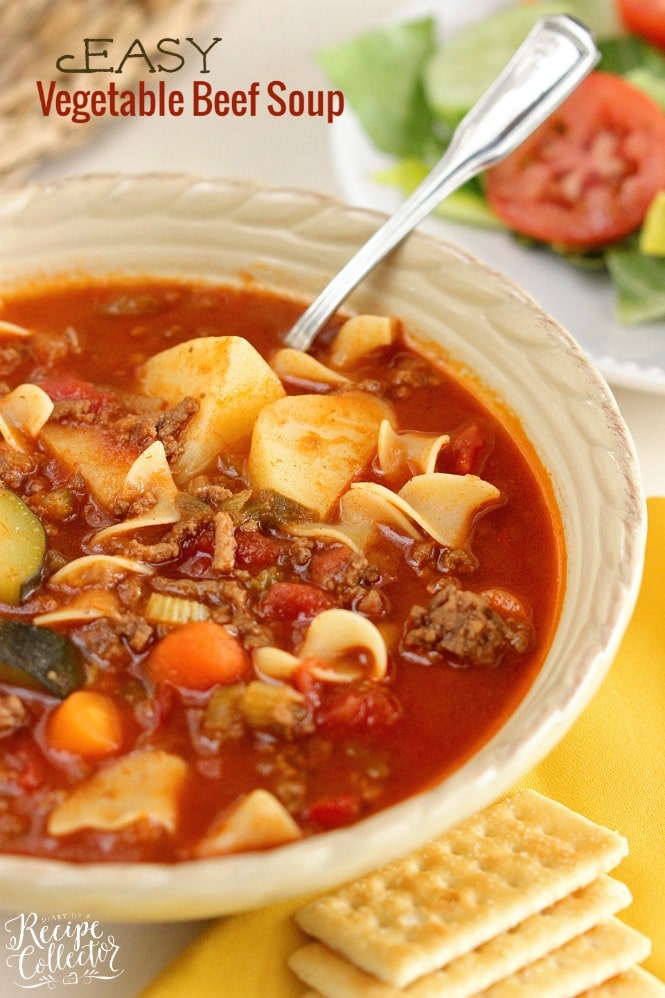 So I am officially one month into my new job.  It feels like longer than that.  To be honest, this whole month feels like a blur that I have lost track of time.  Let's just say, I was pretty much in survival mode through February.  But I am happy to say, our family is adjusting to this big change.  I can now drop off my youngest at daycare without him screaming.  He happily goes to his teachers.  And that, my friends, is HUGE.  It makes all the difference in the world to me.  It feels good to know he is adjusting to his new routine, which pretty much rocked his little world of staying at home with mommy everyday.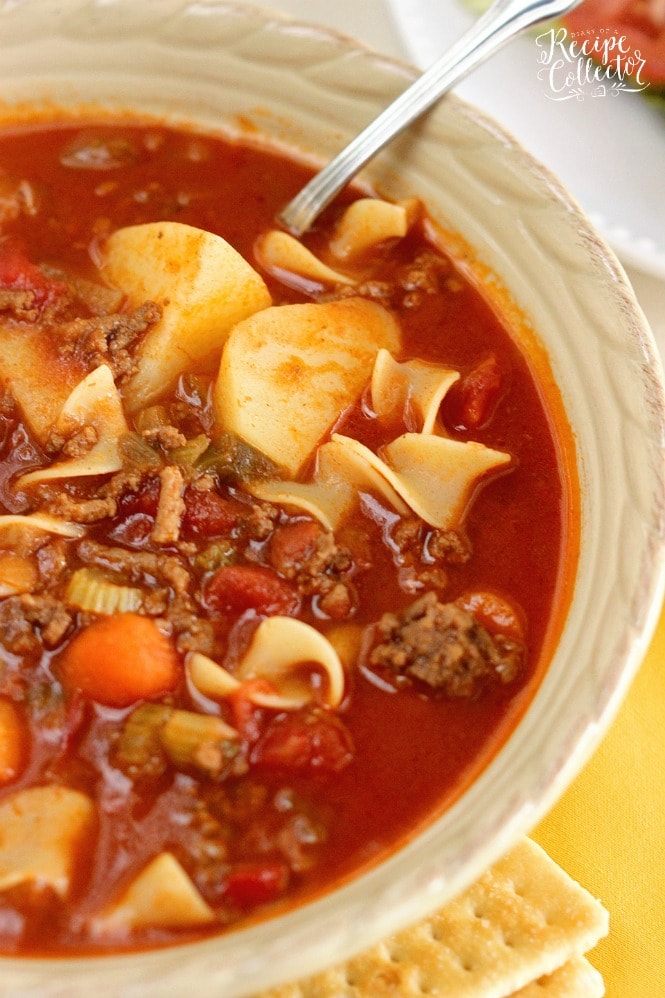 I watch him on the camera periodically throughout the day too.  Oh how I love technology!  It helps me so much to see him playing, eating his lunch like a big boy, and even napping.  I know he is safe and getting the interaction with other children that he really needed.
You know what else is so great about sending him to daycare now?  He is talking like crazy!  I'm amazed at how much he is saying all of the sudden.  And that consistent routine just makes him a happier kid overall.
It took one month.  But we made it!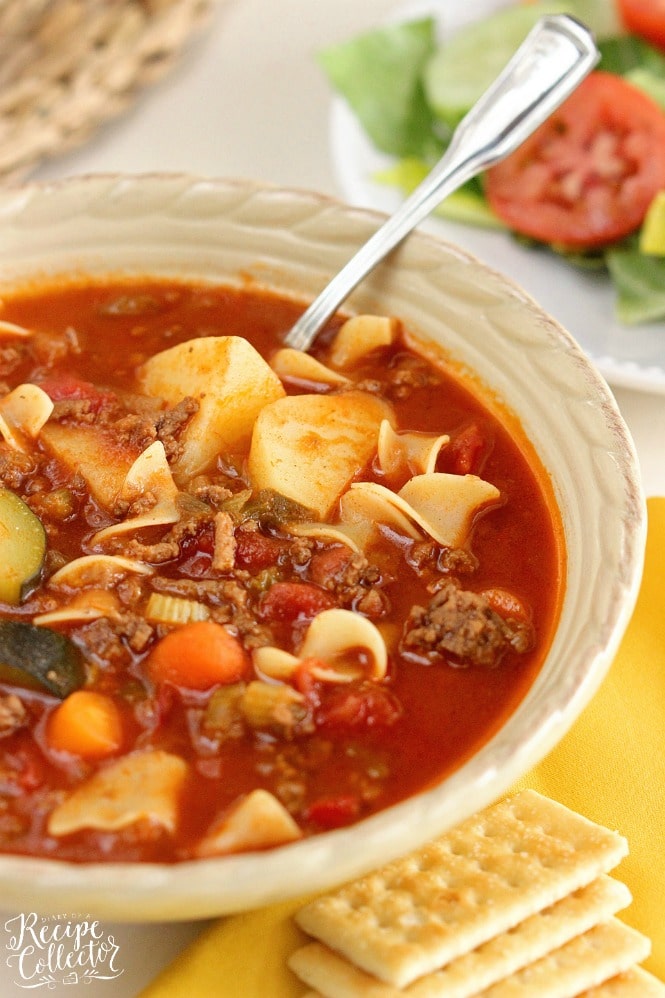 So throughout this month, I've told you guys, I have struggled in the cooking department.  I'm just not that motivated to cook lately with so much on my mind.  So this past weekend, I went back to a classic recipe I've made forever.  I realized I had never shared it with you and thought this Easy Vegetable Beef Soup deserved it's own day in the spotlight.
I personally prefer ground beef to stew meat.  Sometimes I'll make meatballs, but most of the time, I'm lazy and just brown my ground beef before my veggies.  It makes for a nice, hearty soup perfect for using crackers as your utensils, which, by the way, is one of my favorite things to do!
Now pardon the picture without peas…because I'm a goof.  I was in a hurry to snap these photos before I ran out of sunlight, so no peas were added to this version.  But I always add a handful of frozen peas.  You can even add some frozen corn and green beans.  It's completely up to you!  It will still turn out perfect!  Hope you enjoy!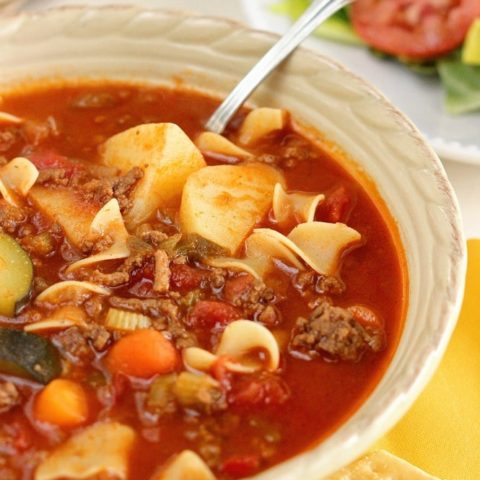 Easy Vegetable Beef Soup
Ingredients
1 tbsp olive oil
2 1/4 lb ground round
2 tsp creole seasoning, divided
1 chopped onion*
1 green bell pepper, diced*
2 stalks celery, chopped*
2 cloves garlic chopped (or use 1 tsp pre-minced)
2 cups chopped carrots
1 medium potato, peeled & chopped
1 15 oz. can tomato sauce
1 8 oz can tomato sauce
1 14.5 oz can diced tomatoes
1 48 oz container chicken broth
2 cups No Yolks noodles
*For an easy prep, use 1 1/2 cups frozen season blend veggies in place of the onion, bell pepper and celery
Instructions
In a soup pot, add olive oil and heat over medium high heat. Add ground round as oil heats and season with 1 1/2 tsp creole seasoning.
Brown for about 5 to 7 minutes and add onion, bell pepper, celery, and garlic. Saute for about 10 more minutes.
Add carrots and potatoes and stir to combine.
Add diced tomatoes, tomato sauce, and chicken broth and remaining creole seasoning. Stir.
Bring to a boil and then reduce heat to a simmer. Simmer for 45 minutes.
Add pasta and peas and cook until pasta is finished cooking. Taste to season.
*You can also add other frozen veggies you have like corn and green beans.
Recommended Products
As an Amazon Associate and member of other affiliate programs, I earn from qualifying purchases. This helps us keep our blog running efficiently and allows us to create more recipes for you.
 Looking for other soup ideas?
Mini Meatball & Ravioli Soup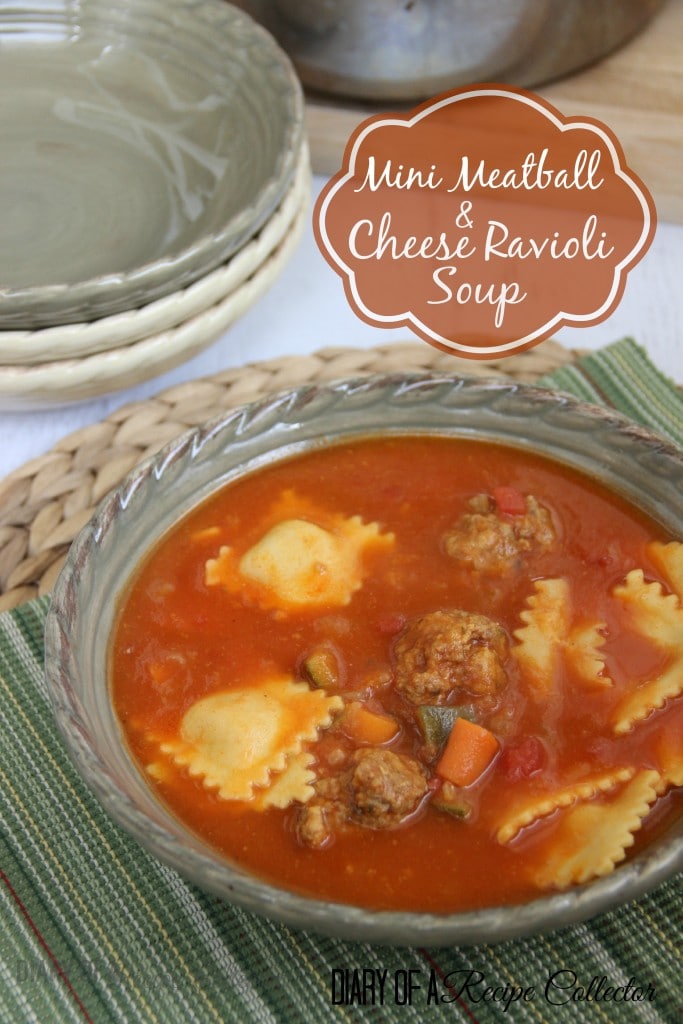 Shrimp & Corn Soup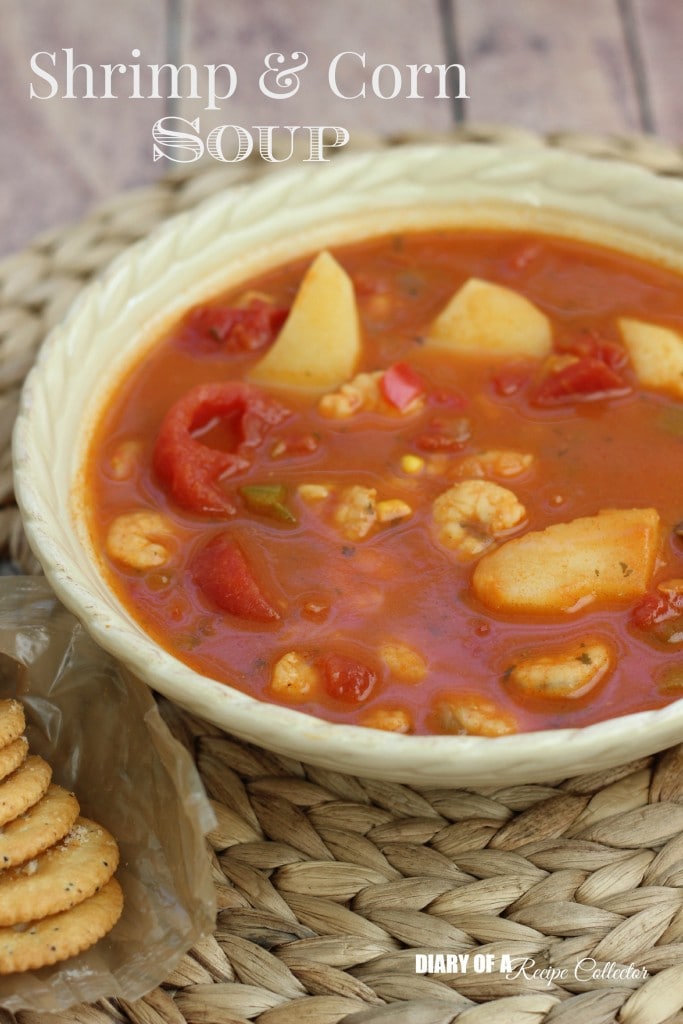 Creamy Shrimp & Corn Soup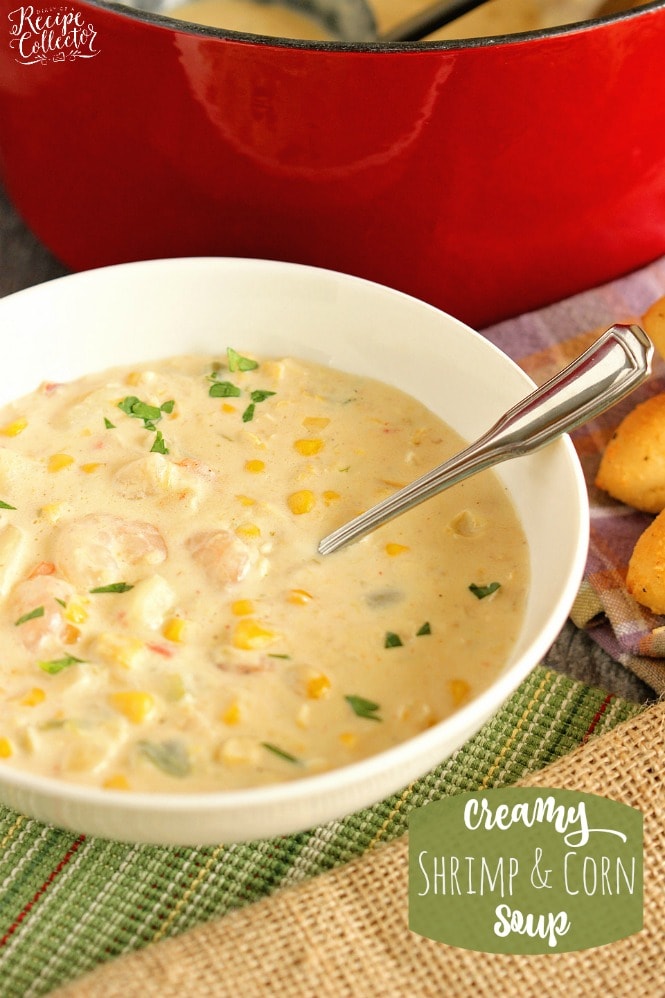 Cheesy Southwest Chicken Soup