Crescent Apple Cheesecake -Refrigerated crescent rolls serve as a crust and are filled with cheesecake and apples, baked until golden, and sprinkled with cinnamon and sugar.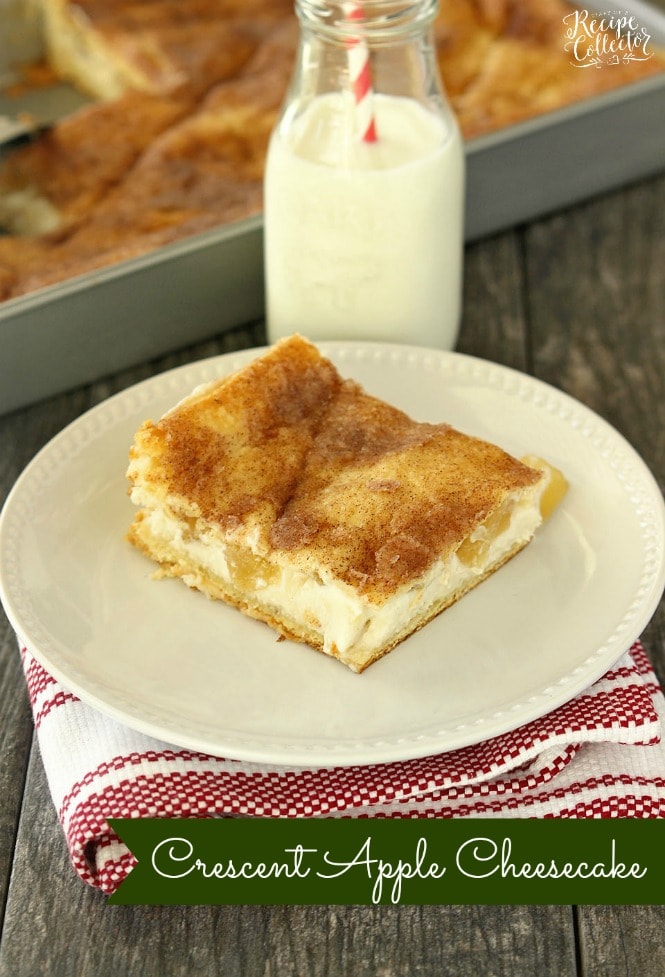 So my little man (#4) has recently gone from sweet little one year old to our sweet little monster…
Seriously, it is just like a little switch turned on last week, and he is suddenly into EVERYTHING like no child I've ever had before. Ask my mother. You cannot turn your back on this child. For my other 3 kiddos, this stage didn't start until about 18 months. Well, he is about 2 months ahead and way more destructive and dangerous. His latest hobbies are climbing onto every chair, table, and stool in the house. He also loves to get in the dryer and the dishwasher. And last but certainly not least, he throws everything. And where does he throw it? Well, he particularly likes to aim for the counter tops with all the full drinks. He also loves bathtubs and toilets too!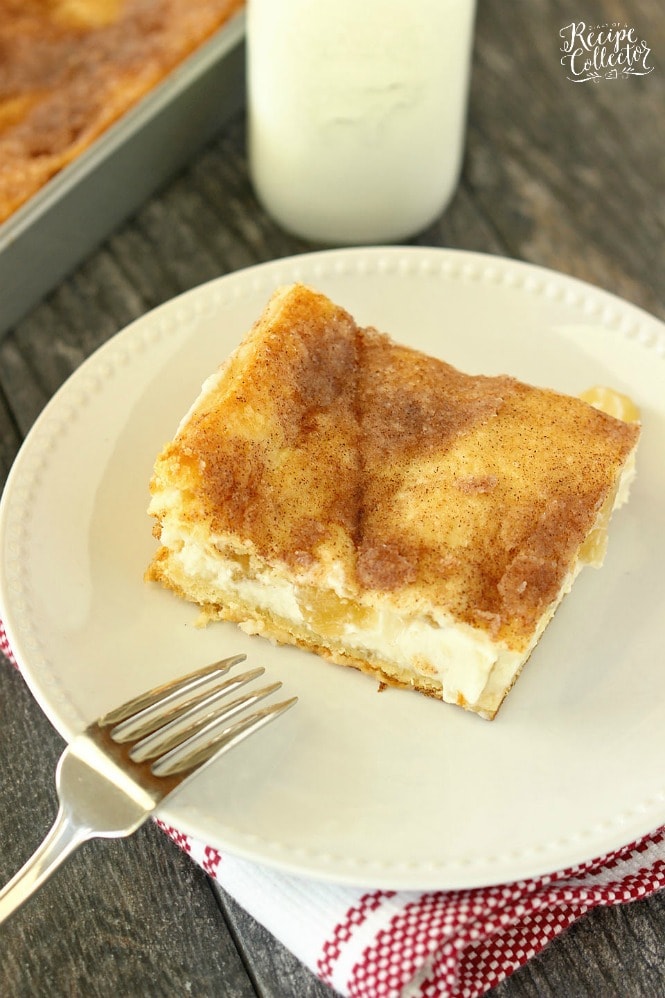 I mean, for real, y'all…I've not had a child quite like this one. I do remember the others going from that sweet, innocent 1 year old stage to the terrible twos (some more than others). But somehow, I think the best was saved for last. He is going to give us a run for our money. Now to be fair, though, he's still my sweet baby boy. All he has to do is look at me with those big blue eyes and that perfect grin, and I melt…
But I really need to get on Pinterest right now and start searching for ways to engage this little guy other than trying to be a stunt man.
It's funny how all children are so different. I must say this little guy is "all boy" without a doubt. His favorite word that he says over and over is "ball," and he could literally throw one for hours. He's so different from my 7 year old when he was that age. Seeing how they are all so unique is actually one of my favorite parts of being a mom. And I know as quickly as this stage began, it will end. Kids are funny like that. Here's to hoping this stage ends soon!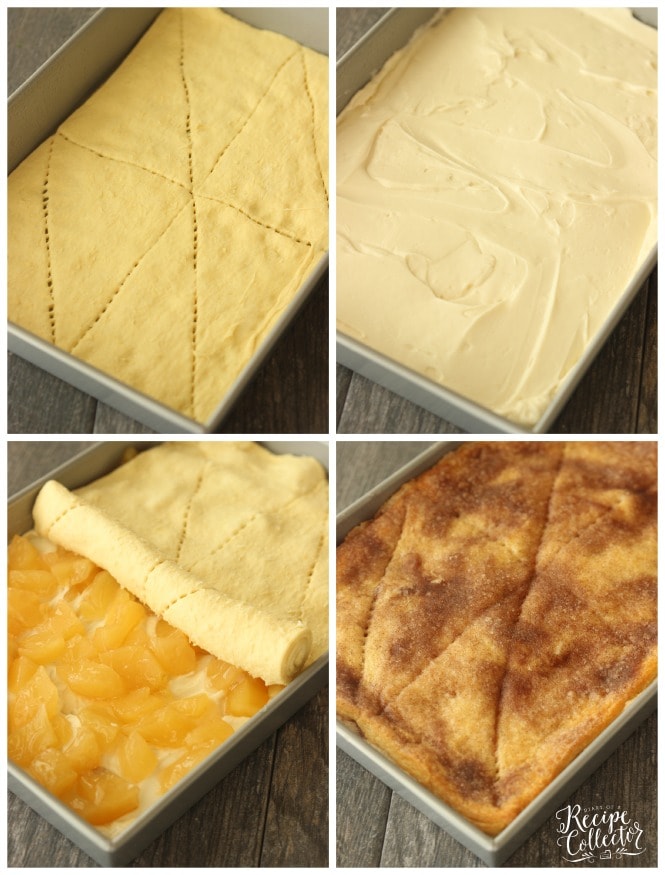 So while I'm dodging objects thrown my way, I could enjoy some more of this Crescent Apple Cheesecake. I could eat this dessert for breakfast, lunch, and dinner! It is so EASY and so DELICIOUS!
The refrigerated crescent rolls serve as the top and bottom crust to this awesome cheesecake filling. This filling is like melt in your mouth heavenly good! It's definitely a must make dessert!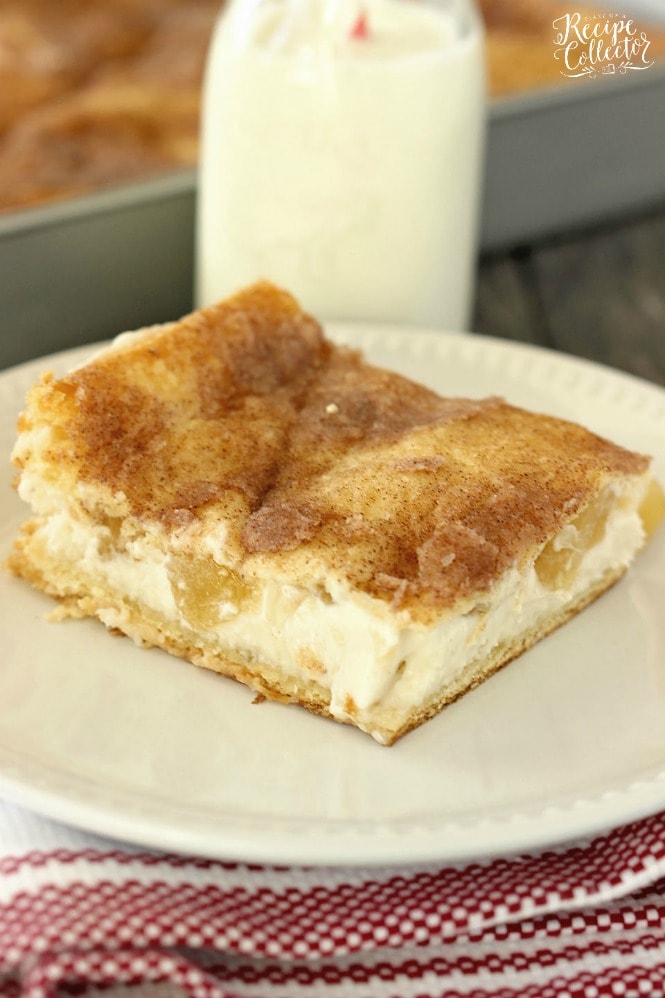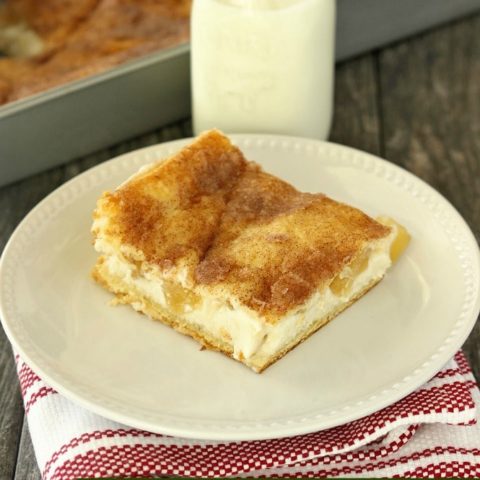 Crescent Apple Cheesecake
Ingredients
2 cans crescent rolls
3 (8 oz.) blocks of cream cheese
2 cups of sugar, divided
1 1/2 tsp vanilla
1 can apple pie filling
1 stick butter, melted
1 tsp cinnamon
Instructions
Preheat oven to 350 degrees.
In a mixing bowl, beat cream cheese with1 1/2 cups sugar. Add vanilla and continue beating until smooth.
Spray a 9 x 13 with cooking spray.
Carefully unroll crescent roll dough. Lay into the bottom of pan. Starting in the center and working outward, press to seal seams and spread dough to edges.
Pour filling onto crescent roll dough and spread to edges.
Pour apple pie filling onto a plate and slice apples into chunks. Spread apples evenly over cheesecake filling.
Carefully unroll second can of crescent rolls and place on top of filling/apples. Press to seal seems the best you can and gently stretch dough to edges.
Pour melted butter onto top of dough. Spread all over the dough.
Mix cinnamon and 1/2 cup of sugar together. Sprinkle all over the top of the butter.
Bake for 27-30 minutes or until golden brown.
Let cool and refrigerate. Slice when chilled.
Serve chilled.
Recommended Products
As an Amazon Associate and member of other affiliate programs, I earn from qualifying purchases. This helps us keep our blog running efficiently and allows us to create more recipes for you.
Other recipes you may like:
Mini Cherry Cheesecake Trifles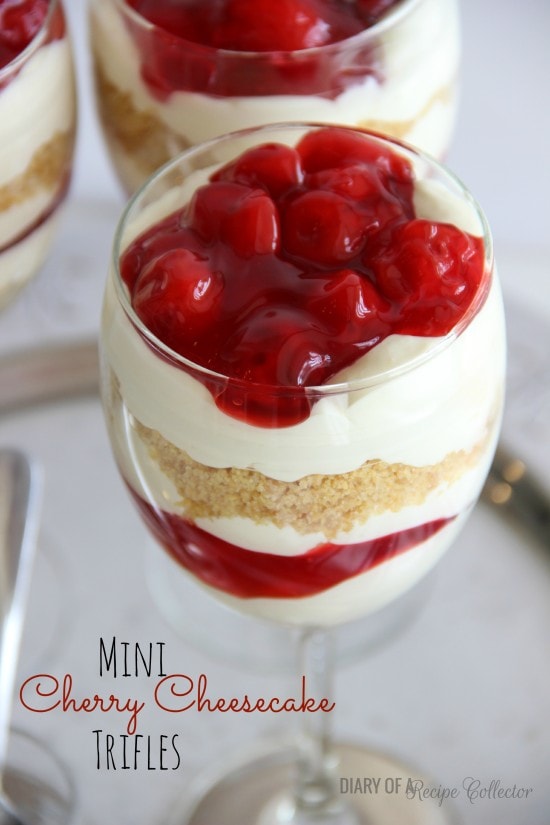 You can find more DESSERTS RECIPES HERE.
You can find ALL RECIPES HERE.
For more ideas, follow me on FACEBOOK, PINTEREST, INSTAGRAM, TWITTER, AND PERISCOPE.
Get FREE recipes delivered to you by email: SIGN UP HERE!