Easy Creamy Tomato Basil Soup – A quick and easy recipe for such a comforting classic soup.  It goes perfect with a sandwich for lunch or dinner.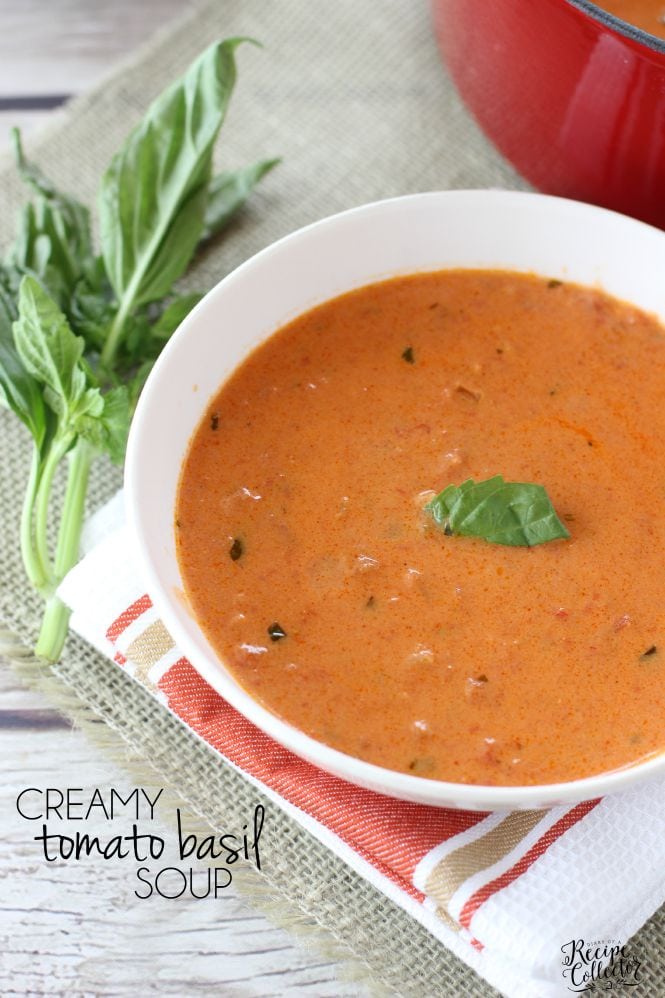 It's beginning to feel a lot like Fall down here!  Finally!  Now we still have quite a ways to go, but we had our first little cool spell over the weekend.  After a few very dreary days, we've had cloudless sunny skies….in other words…absolutely beautiful weather down here in Louisiana.
I love the change in seasons so much!  We got out the Fall decorations, and I could hear the sounds of football in the background.  Totally comforting to me!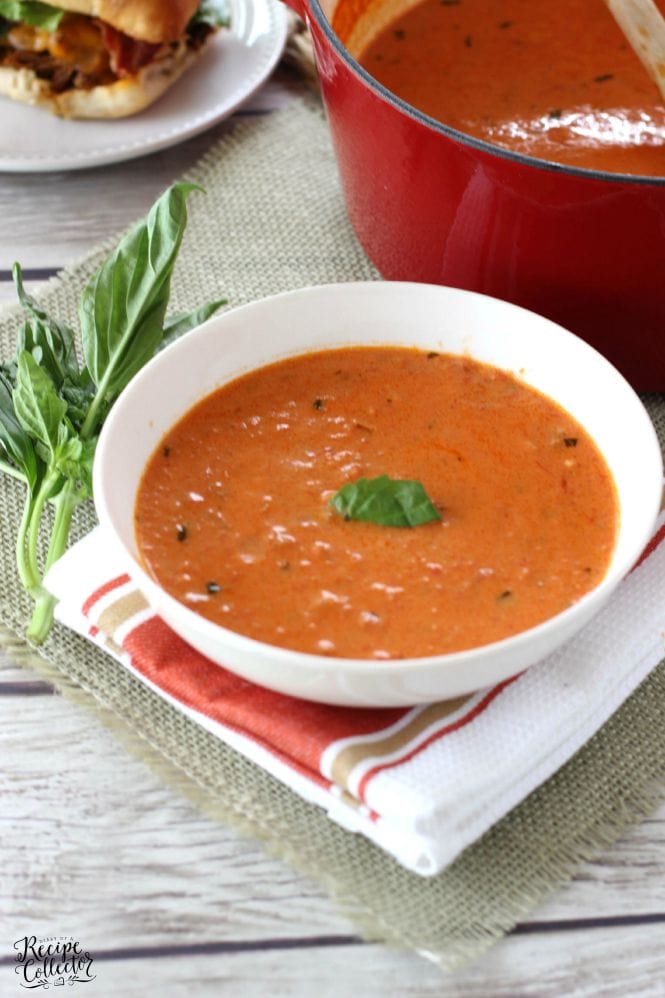 .
Now I can tell these Fall decorations may not make it through the season.  Why?  Well, my 3 year old just wants to play with all the scarecrows.  She takes them out of their pot plants and positions them on the front porch, and she sets up this whole imaginary play scenario.  It's just precious!
Then, my 1 year old thinks the plastic pumpkins are balls.  And to him, all balls must me thrown toward the street.  So yesterday, I tried a little reverse psychology with them.  I let them toss and roll the pumpkins in the street!  Not to worry…I was right there and we have very little day traffic in our neighborhood.  My hope was that this new activity would somehow lose its excitement if I let them do it.  I'm not sure it worked…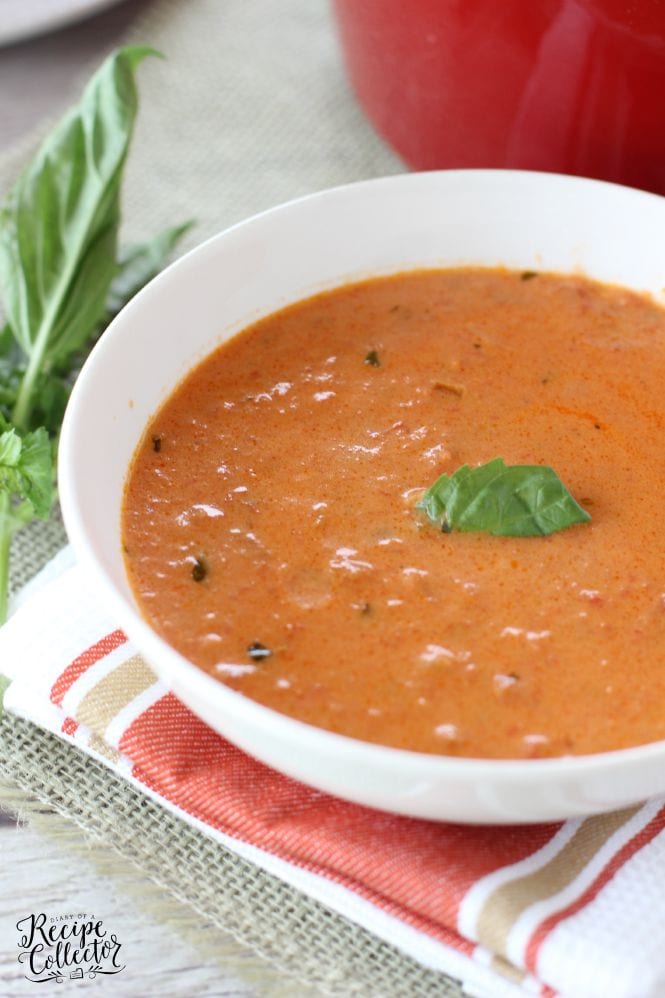 So we shall see if the decor makes it until Christmas!
In the meantime, we will be enjoying yummy Fall weather foods.  I love SOUP!  I really love a soup and a sandwich.  I made this soup to go with these Slow Cooker Balsamic Chicken Sandwiches.  It was totally inspired by a trip to La Madeline of course.  I love that place!  We don't have one around here, so I had to make my own.
This soup is super easy to make.  It's perfect for a Fall weeknight or a Sunday afternoon watching football!
I heart Fall!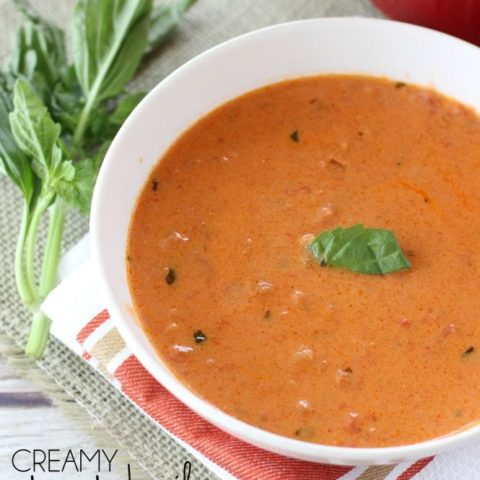 Tomato Basil Soup
Ingredients
1 small onion, chopped
2 cloves garlic, chopped
1 tbsp olive oil
2 tbsp butter
1 tsp creole seasoning or seasoned salt
1 28 oz. crushed tomatoes
1 14.5 oz can diced tomatoes
1 14.5 oz. can chicken broth
1 cup heavy cream
12 to 15 basil leaves, chopped
5 tsp sugar
Instructions
In a large pot, heat oil and butter over medium high heat.
Add onion and garlic. Season with creole seasoning.
Saute for 7 to 8 minutes.
Add chicken broth, crushed tomatoes, and diced tomatoes. Simmer over medium high heat for about 15 minutes.
Add sugar and stir.
Reduce heat to low and add heavy cream and basil and stir until combined. Cook over low heat for about 5 minutes. Taste to season and serve.
Recommended Products
As an Amazon Associate and member of other affiliate programs, I earn from qualifying purchases. This helps us keep our blog running efficiently and allows us to create more recipes for you.
 Looking for some other comfort foods for this Fall?
Slow Cooker Balsamic Chicken Sandwiches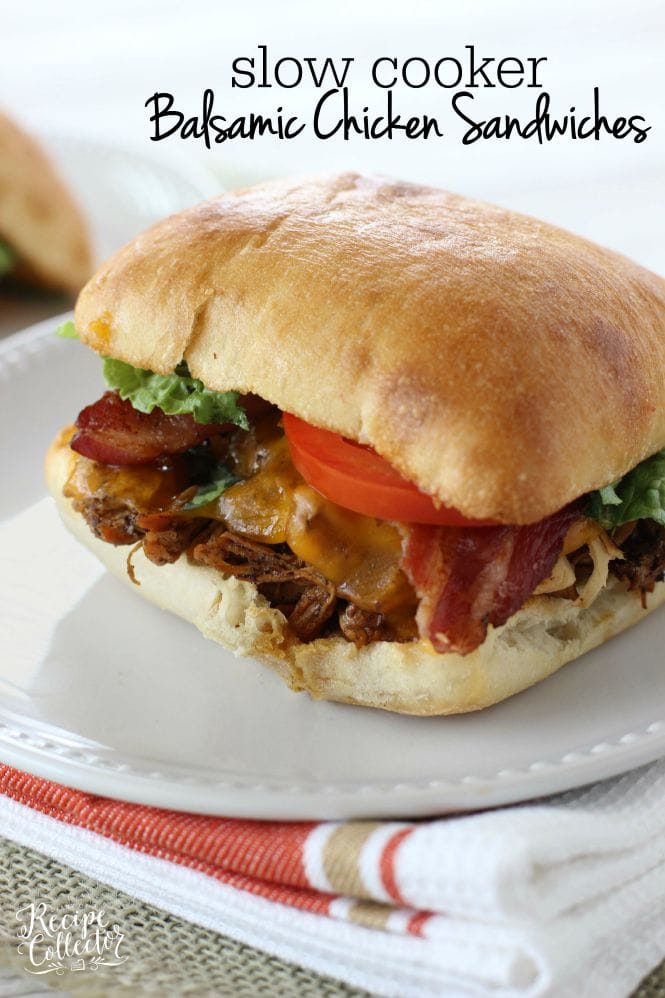 Cheesy Enchilada Soup