Cornbread Salad – A great make-ahead salad  made with fresh cornbread and a homemade french dressing.
As soon as I saw this recipe in a Paula Deen Magazine, I knew I wanted to make it.  It is a Trisha Yearwood recipe, and I've liked some of the things she has made.  Well as it often happens, we had a family get together at my sisters and she had made it so I got to try it out, and we"ve requested it several times since then.
My sister and I have almost the exact same taste in food and cookbooks.  We get excited about recipes together.  Now we get excited about Pinterest together too!
It's always exciting to plan out gatherings together and who is making what dish.  Often times we will have way too many desserts because we both love to bake.  But no one seems to mind.  It just means we get to take some home with us!
This recipe makes a lot of dressing so you'll even have some leftover for salads later .  Take some to work and share with others too!  Homemade dressings are so good!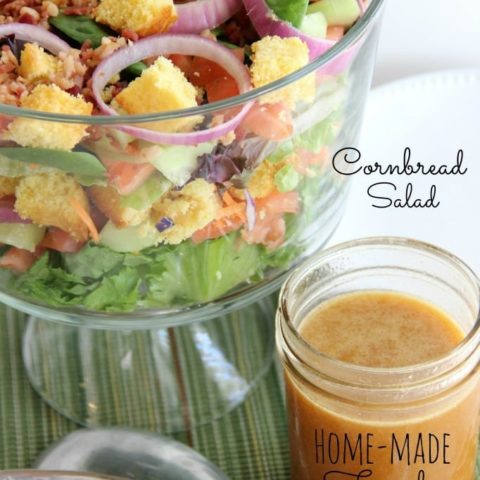 Cornbread Salad
Ingredients
1 head of green leaf lettuce (You can use romaine too)
1/2 bag baby spinach
3 roma tomatoes, chopped
1 cucumber, chopped
1/2 red onion, sliced
1 recipe of baked corn bread ( I bake a box of Jiffy Cornbread)
1 package real bacon pieces
Dressing:
1 cup sugar
1/2 cup apple cider vinegar
1/2 cup water
1 tbsp paprika
1 tbsp grated onion
1 tbsp yellow mustard
1 tsp salt
1 cup vegetable oil
Instructions
Cut cornbread into cubes.
Layer salad ingredients in a big bowl: lettuce, spinach, tomatoes, cucumber, cubed cornbread, bacon pieces, and onions.
Cover and chill until ready to serve.
Dressing:
In a blender, blend all ingredients except oil until combined. With blender on slowly pour in oil and continue to blend until well combined. Pour in a jar and seal or cover and refrigerate until ready to serve. Right before serving, shake well and pour desired amount over salad.
Notes
Adapted from Cooking with Paula Deen Magazine
Recommended Products
As an Amazon Associate and member of other affiliate programs, I earn from qualifying purchases. This helps us keep our blog running efficiently and allows us to create more recipes for you.
Check out these other salad recipes: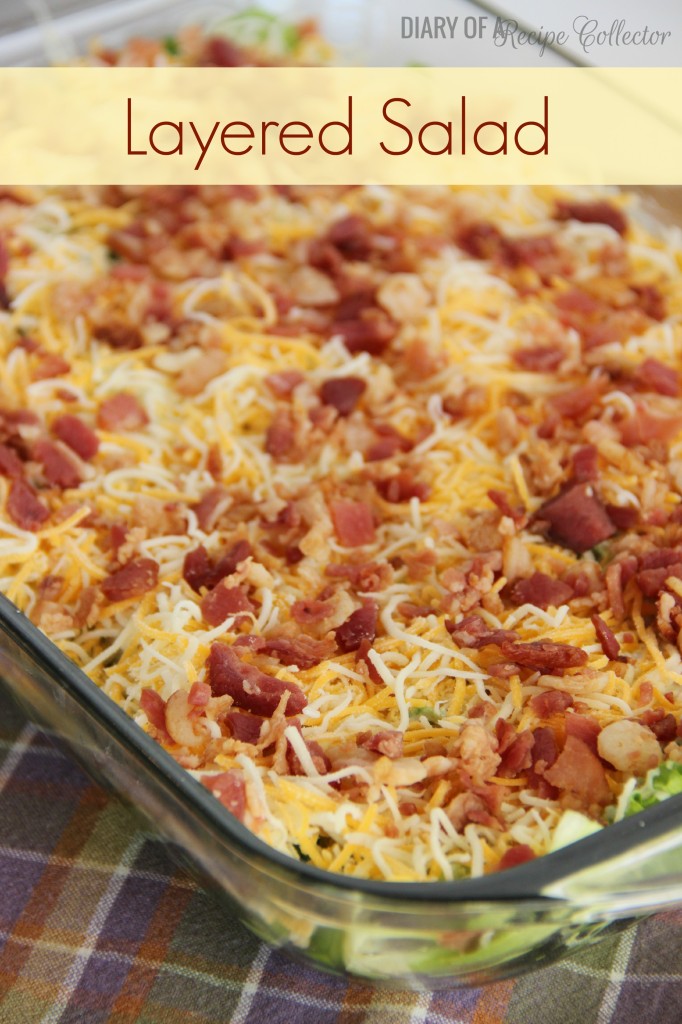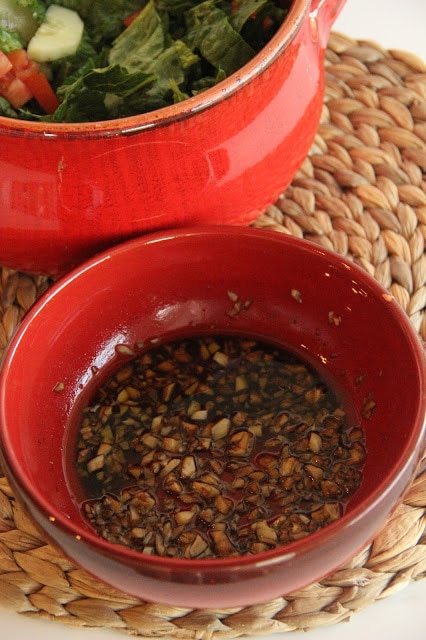 Roasted Garlic and Shallot Vinaigrette