Layered Salad is an awesome make-ahead salad great for potlucks or family gatherings.

I've made this salad twice in the last week.  It is major crowd-pleaser.  You may or may not be familiar with this recipe.  It is an oldie but a goodie, so I wanted to make sure I shared it.  I first had this at Thanksgiving for my husband's family back when we were dating.  My husband's aunt made it, and I immediately wanted the recipe.
Every time I make this, everyone always wants the recipe.  So now I share it with you!
The possibilities of veggies are up to you.  Some people add eggs, red onions, tomatoes, etc.  I keep mine simple with only green veggies.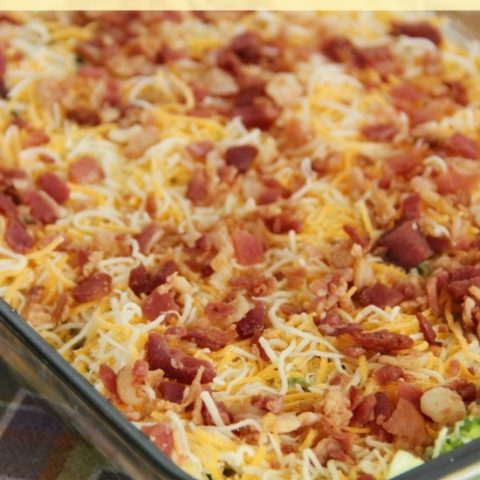 Layered Salad
Ingredients
1 head iceberg lettuce, chopped
1 cucumber, diced
1 green bell pepper, diced
1-2 stalks celery, diced
2 green onions, chopped
3/4 cup frozen peas
1/2 packet ranch dressing mix
1 1/2 cups mayo (I use Hellman's)
1 tsp sugar
Oscar Meyer "Real Bacon Bits"
1 1/2 cups shredded cheddar or colby jack
Instructions
Mix up ranch dressing mix, mayo, and sugar. Set aside.
Layer all ingredients: lettuce, cucumber, green bell pepper, celery, and green onions.
Top with dollops of dressing and spread it over veggies. Sprinkle with cheese and bacon bits.
Refrigerate at least 3 hours to overnight.
Notes
I serve mine in a 13 x 9 casserole dish. You can get a little fancy with a trifle dish if you'd like. I just find it easier to serve in 13 x 9 dish.
Recommended Products
As an Amazon Associate and member of other affiliate programs, I earn from qualifying purchases. This helps us keep our blog running efficiently and allows us to create more recipes for you.
Other sides you might love:
Cornbread Salad with Homemade French Dressing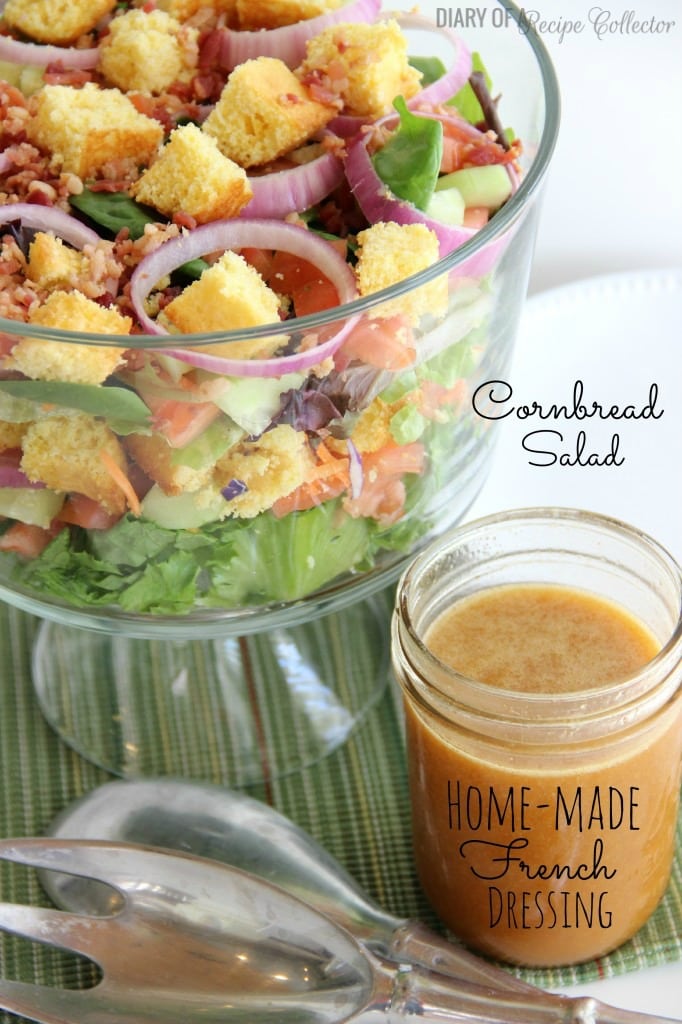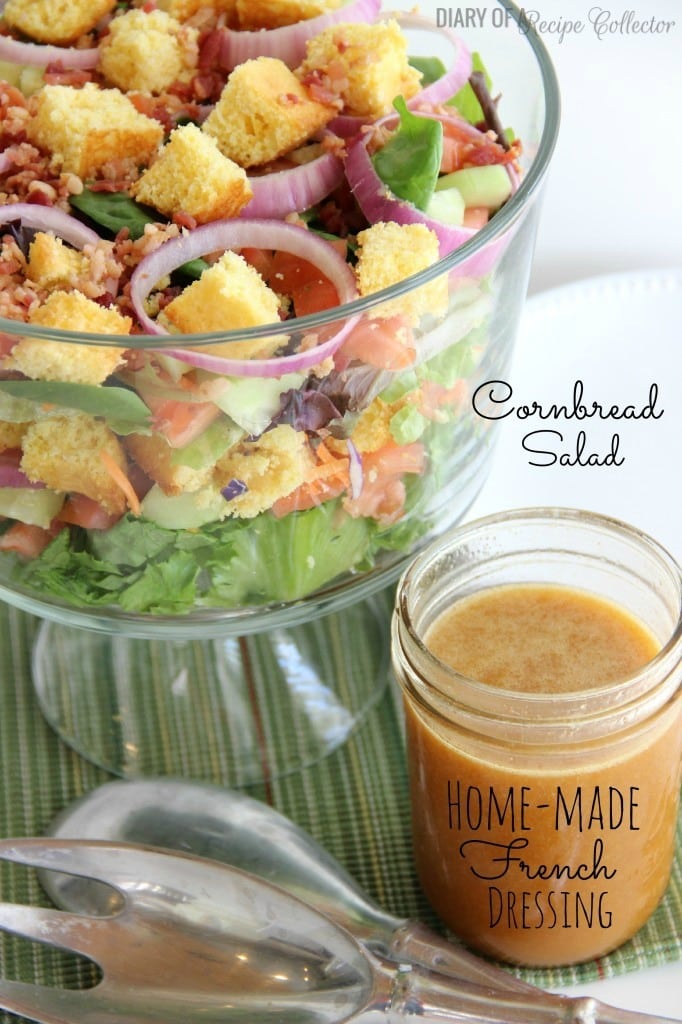 Frito Corn Salad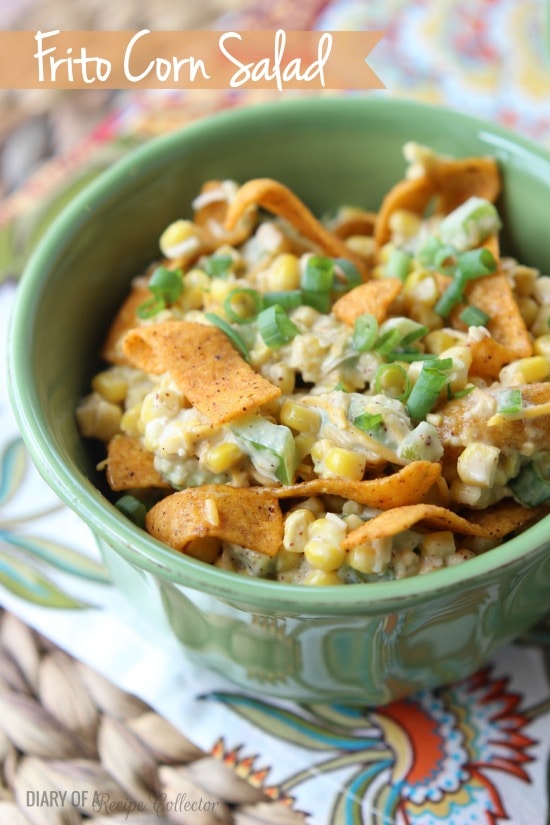 You can find more SIDE DISH RECIPES HERE.
You can find ALL RECIPES HERE.
For more ideas, follow me on FACEBOOK, PINTEREST, INSTAGRAM, TWITTER, AND PERISCOPE.
Get FREE recipes delivered to you by email: SIGN UP HERE!
So I mentioned I served this dish, twice in the last week.  I made it for a very special family gathering.  We had a tenderloin, twice baked potatoes, garlic bread, and this layered salad.  Everyone gathered at our house to find out what baby #4 will be!!  It was one of the most exciting days ever.   And the result was…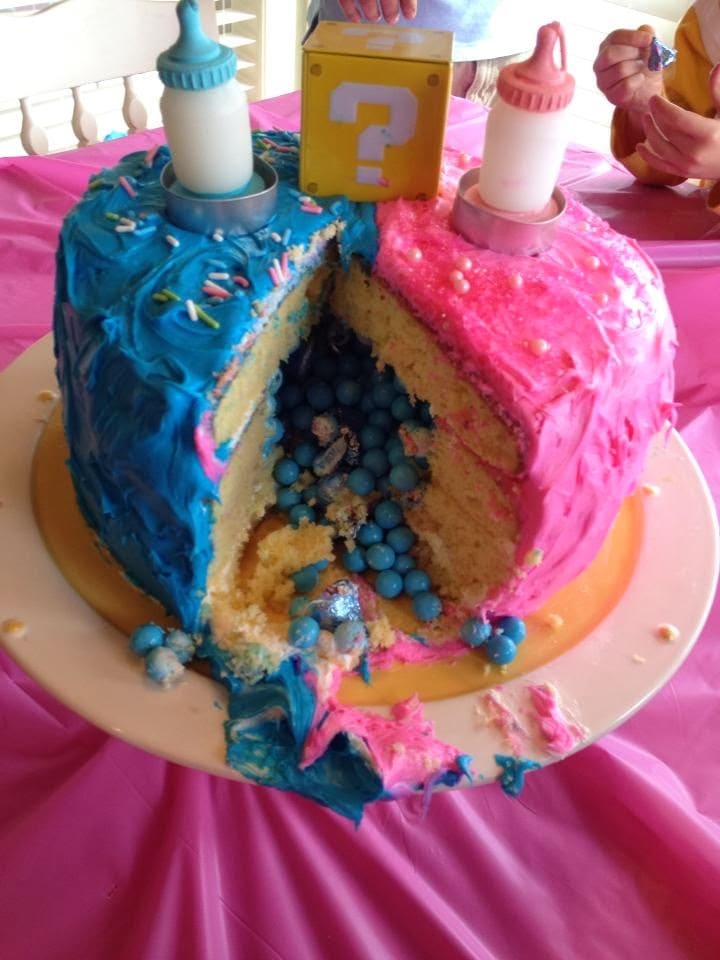 It's a BOY!!!
 My sister did such a fantastic job making a gender reveal cake!  We are so excited and feel SO BLESSED!  We already have two girls and one boy, so this was just so great!!  If you missed my last post, I went into detail about life lately.
I must say that this was one of the most fun and exciting ways to find out what we were having.  We found out the very traditional way with an ultrasound for our first two kiddos.  For our third, we decided not to find out (which was an experience of a lifetime), and this time we thought we'd have a little fun!  Now for a name…