Chocolate Oreo Ice Cream Pie – An easy homemade chocolate Oreo ice cream recipe turned into a yummy easy treat!
Folks, this recipe for Chocolate Oreo Ice Cream Pie could not get any easier. The hardest part is waiting for it to finish freezing so you can eat it.

As I've mentioned, we have rediscovered our ice cream machine this summer. It was a wedding present, so it will be 18 years old this weekend! Perhaps we will take it out and make some more of this pie to celebrate!

This ice cream recipe happens to be the favorite of 2 out of 4 kiddos. It is tied with this Homemade Vanilla Ice Cream I posted the other day. It's basically the same recipe, but we add Oreos at the beginning and they give the ice cream that glorious Oreo flavor all mixed in. Then we add in more at the end, so you still get the great chunks of cookie!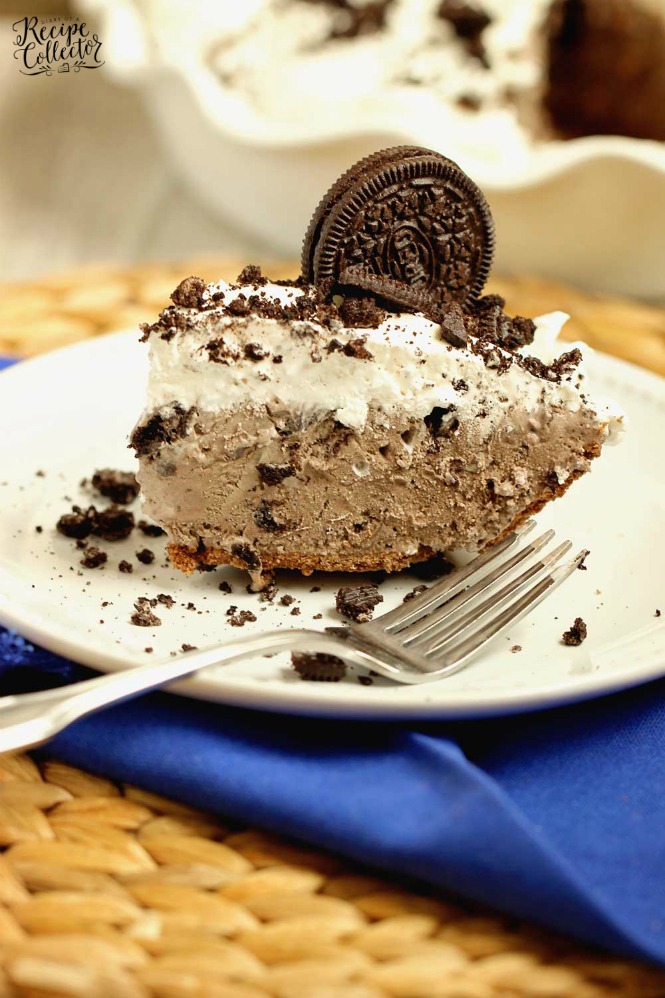 How to Make Chocolate Oreo Ice Cream Pie:
Stir together cream, milk, sugar, salt, and vanilla. Add in crushed oreos.
Pour into ice cream machine and allow it to set up and begin to freeze.
Pour into pre-made cookie pie shell. (I would use either an Oreo one or a Chocolate cookie one.) You can also make your own Oreo crust. I like to set the whole premade shell (pan too) into a deep dish pie plate.
Top with whipped topping and crushed cookie crumbs. So EASY!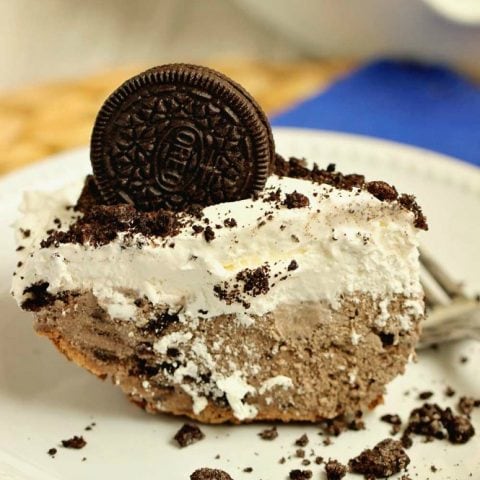 Chocolate Oreo Ice Cream Pie
Chocolate Oreo Ice Cream Pie - An easy homemade chocolate oreo ice cream recipe turned into an easy yummy treat!
Ingredients
2 cups heavy cream
1 cup 2% milk
3/4 cup sugar
1/8 tsp kosher salt
1 tbsp vanilla
1 premade oreo or chocolate pie shell
25 oreos, crushed
6 oz cool whip
Oreos for garnish
Instructions
In a bowl, mix heavy cream, milk, sugar, salt, and vanilla.
Stir in half the crushed oreos.
Pour this mixture into the bowl of ice cream machine. Allow ice cream to churn for 30 to 40 minutes.
Spread one large spoonful of ice cream into the bottom of the premade pie shell. Sprinkle in some of the reserved crushed oreos. Add another layer of ice cream and sprinkle more crushed oreos. Repeat another layer. (I like to place my pie shell into a deeper more decorative pie plate which allows me to pile on the ice cream. If you are going to use only the pie shell, you will have extra ice cream you can freeze. If you are only using the pie shell, be careful not to overfill.
Top with a layer of cool whip. Sprinkle a few more crushed oreos on the top.
Freeze for 4 hours or overnight. Slice and top with a whole oreo for extra decoration.
Recommended Products
As an Amazon Associate and member of other affiliate programs, I earn from qualifying purchases. This helps us keep our blog running efficiently and allows us to create more recipes for you.
Other Ice Cream Desserts:
You can find more DESSERT RECIPES HERE.
You can find ALL RECIPES HERE.
For more ideas, follow me on FACEBOOK, PINTEREST, INSTAGRAM, AND TWITTER.
Get FREE recipes delivered to you by email: SIGN UP HERE!