Chicken Caesar Wrap – A quick and easy lunch or dinner recipe filled with grilled chicken, chopped romaine, grape tomatoes, Parmesan cheese, and caesar dressing. They are great to make ahead for your week too!
This Chicken Caesar Wrap is a new hit in my house. It's an answer to summer lunch hum-drums for me. I can only eat so many turkey sandwiches. I made a little batch of it Saturday, and I became super excited because I have a new favorite to relieve my lunch time boredom. It's even going to be a great lunch idea when I go back to work in the fall! I can make a batch on the weekend, take it to work, and assemble it when it's time for lunch.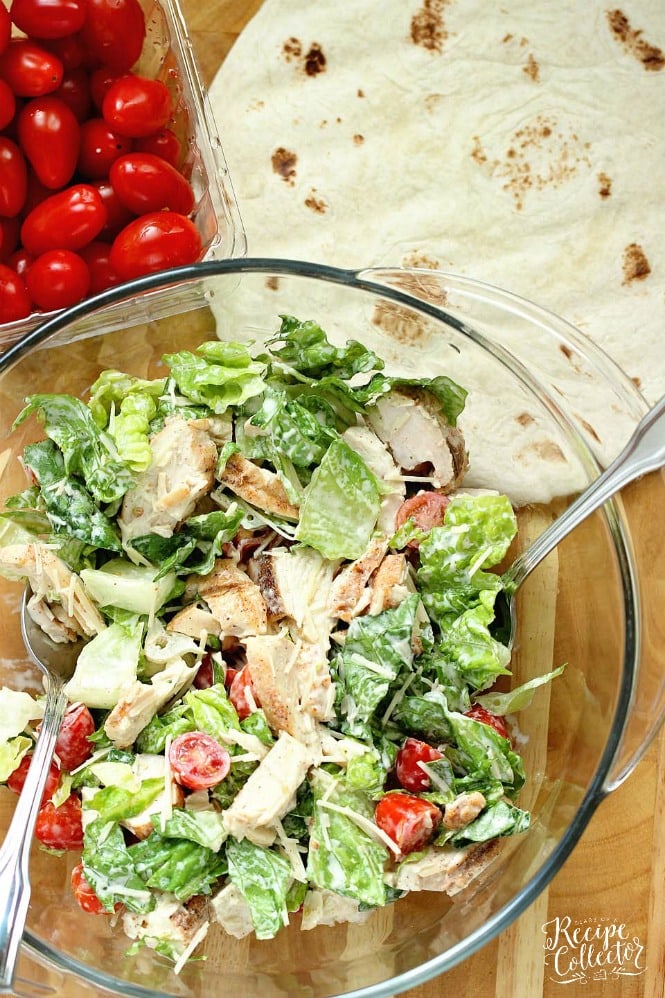 Chicken Caesar Wraps can be made light and healthy by using a whole wheat wrap and a low-calorie caesar dressing too. My hubby is not much of a tortilla guy, so he just ate it like a salad, which is a perfect figure-friendly idea too.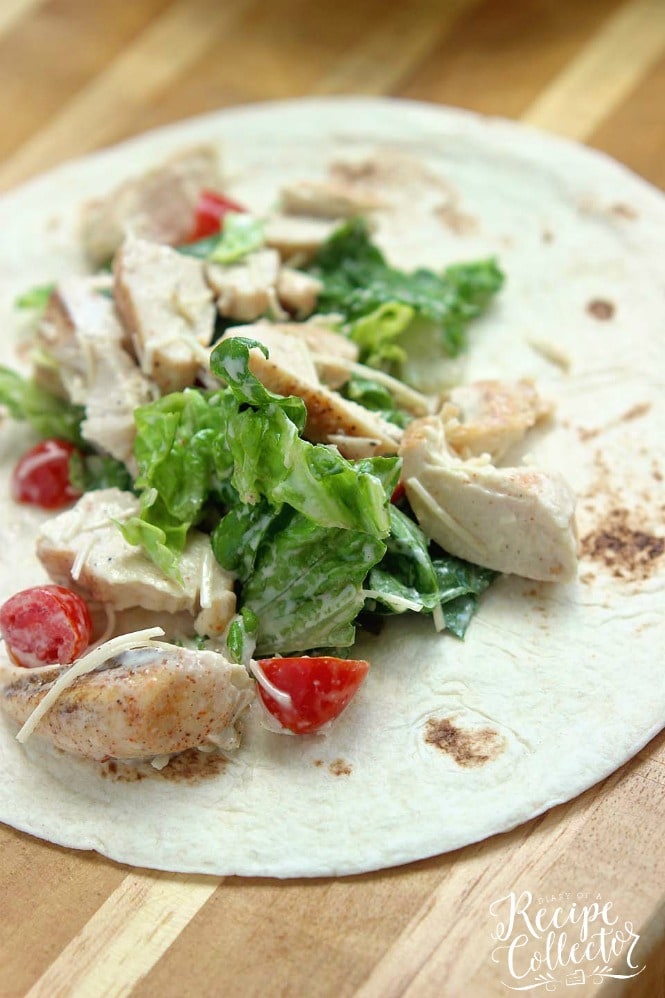 And this recipe is just a start of all the ideas floating in my head this summer. It's funny how when I relax from all the teaching hustle and bustle, I can have fun in the kitchen. I love summer!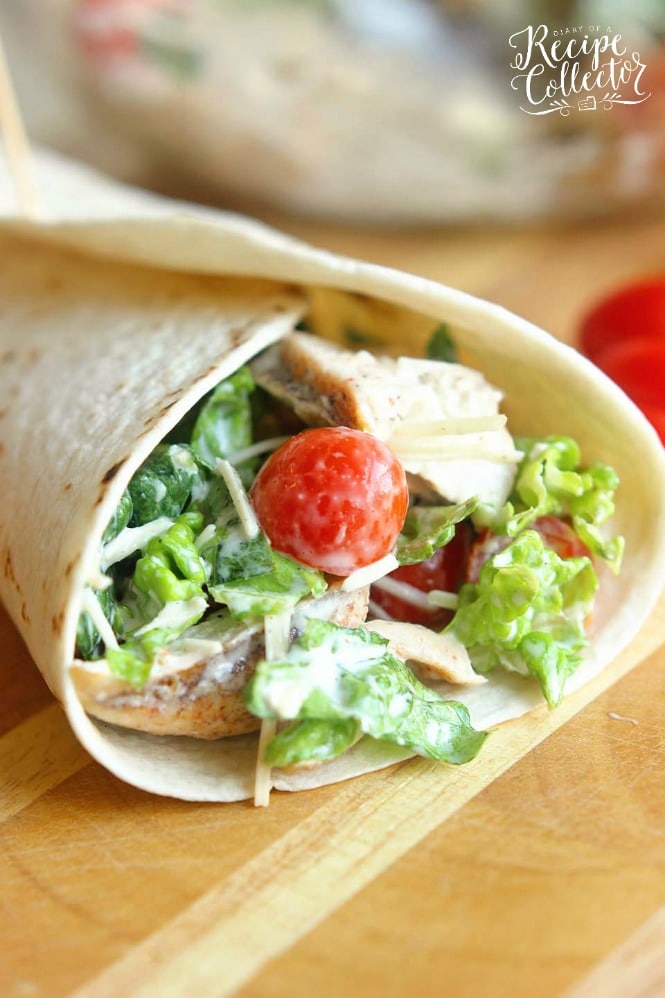 This week I'm also going to bring you an update on an oldie but an oh so goodie, and I'm going to give a little recap of our Disney Cruise!! See y'all soon!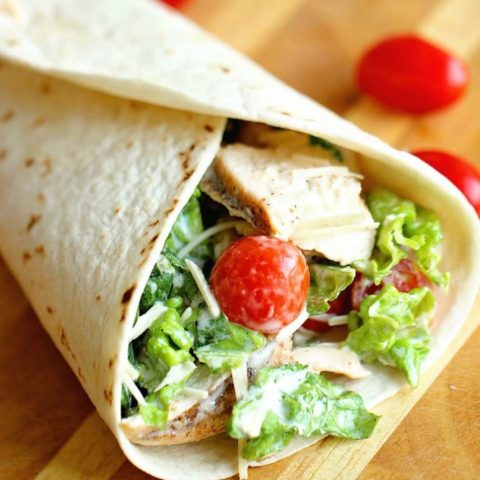 Chicken Caesar Wrap
Ingredients
2 chicken breasts
1 tsp creole seasoning
salt and pepper
1 1/2 cups chopped romaine
3/4 cup sliced grape tomatoes
1/2 cup shredded Parmesan
1 heaping tablespoon good quality Caesar dressing*
2 soft taco size tortillas
Instructions
Season chicken breasts and grill over medium-high heat until cooked through completely, about 8 minutes per side. Remove from heat and let rest for about 10 minutes before chopping for salad.
In a large bowl, mix chopped chicken, chopped romaine, sliced grape tomatoes, Parmesan, and caesar dressing. Season with a pinch of kosher salt and some fresh ground pepper to taste.
Assemble a pile of mixture on each wrap. Roll up and secure with a toothpick and serve.
Notes
*I use Marie's Caesar dressing found in produce refrigerator section of my grocery store.
**This can be made ahead for lunches. Assemble when ready to eat.
And if you are looking for more wrap ideas, be sure to check these out!
Hot-Pressed Santa Fe Wraps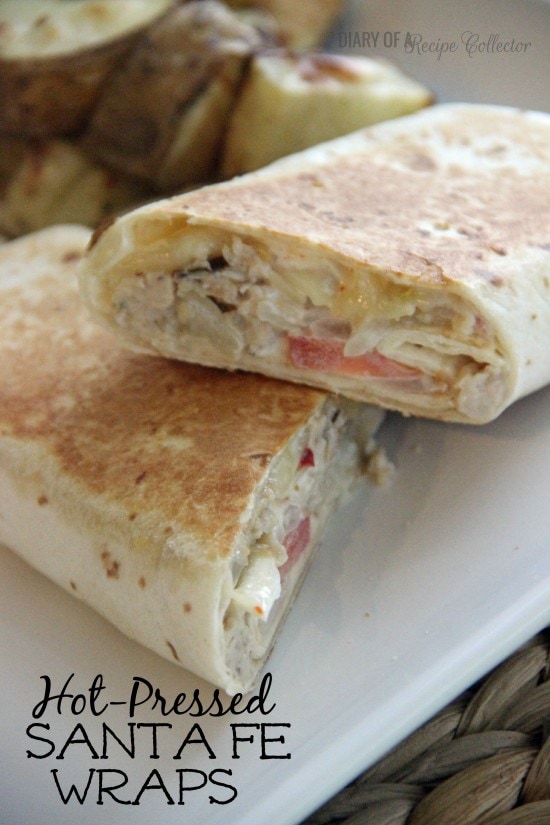 Hot-Pressed Chicken Caprese Wraps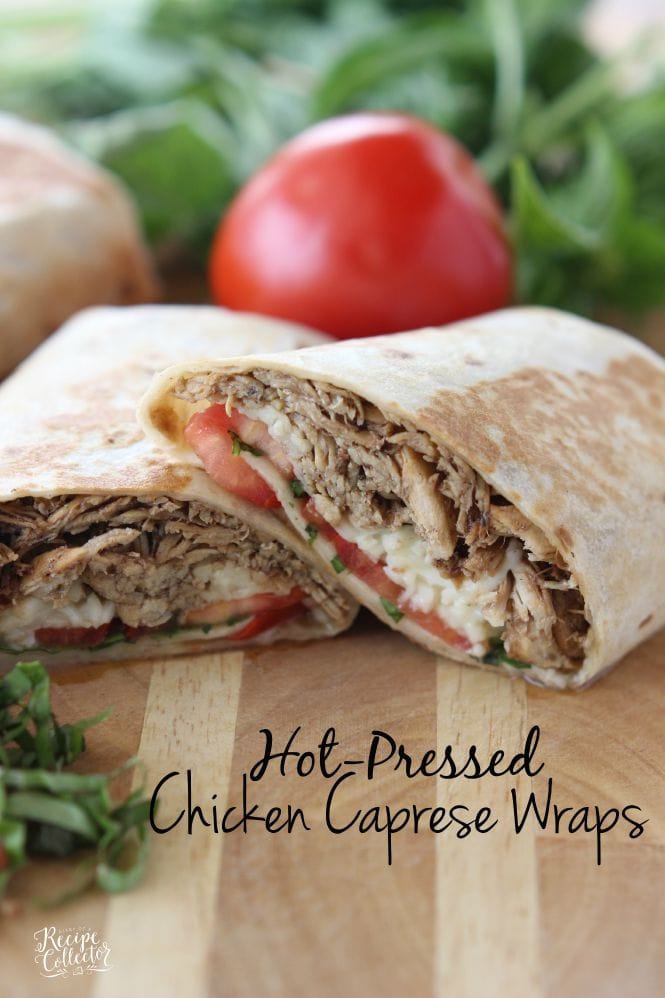 You can find more MAIN DISH RECIPES HERE.
You can find ALL RECIPES HERE.
For more ideas, follow me on FACEBOOK, PINTEREST, INSTAGRAM, TWITTER, AND PERISCOPE.
Get FREE recipes delivered to you by email: SIGN UP HERE!