Cheesy Enchilada Soup – A delicious and hearty soup filled with ground beef, enchilada sauce, beans, tomatoes, and corn. It's a quick and easy one-pot supper too!
I love this time of year because it means I get to cook comfort food! This Cheesy Enchilada Soup is just that…Comfort! What makes it unique is that it is made with enchilada sauce. It is also easy to whip up on a week night, which makes it that much more appealing! This recipe makes a BUNCH!! When I make it, I often freeze the leftovers for another busy night too.
In my opinion, this is the perfect fall/winter meal!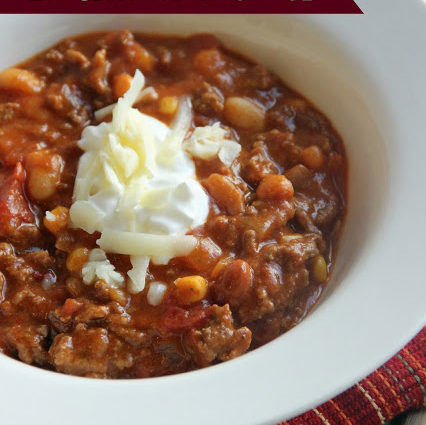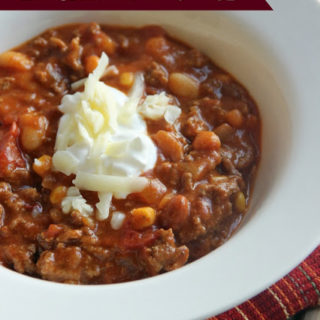 Cheesy Enchilada Soup
Ingredients
2 lbs. ground chuck
1 onion, diced
2 (15 oz.) cans tomato sauce
2 (10 oz.) enchilada sauce
1 (16 oz.) can chili beans, drained
1 (15.5 oz.) can Great Northern beans, drained
1 (15.25 oz.) can corn, drained
1 (14.5 oz.) can diced fire-roasted tomatoes
1 tbsp cumin
salt and pepper
2 cups Monterey Jack cheese OR Pepperjack or a mixture of both*
sour cream and to garnish
Fritos (optional)
Instructions
In a LARGE pot, brown ground chuck and onions. Season with salt and pepper. Drain off grease.
Add canned ingredients and cumin. Stir and bring to a boil over medium-high heat. Reduce heat and simmer for 25 minutes. Add cheese reserving a little for garnish. Garnish with sour cream and Fritos, if desired.
* I used mostly Monterey Jack cheese since I didn't want it too spicy.
Notes
Adapted from Cooking with Paula Deen
And if you are looking for a great cornbread side dish…
Try these awesome
Vidalia Onion Cornbread Muffins