Best Ever Brussels – Take your brussels sprouts to the next level with soy sauce, balsamic capers, butter, and spices. These just may make you a serious brussels fan!
I admit that I've only been a brussels sprouts fan for a few years. It took me forever to decide to try them. I guess I just imagined they would taste like another steamed vegetable. Little did I know how amazing you can make them! I've grown to love them roasted with olive oil, salt, and pepper, but these right here are the Best Ever Brussels!

The idea for these came from a little date my husband and I had recently. I tried to recreate them at home for us, and I am happy to say they are pretty darn good too! The flavor from the soy sauce and sweet hoisin mixed with the salty balsamic capers is amazing!!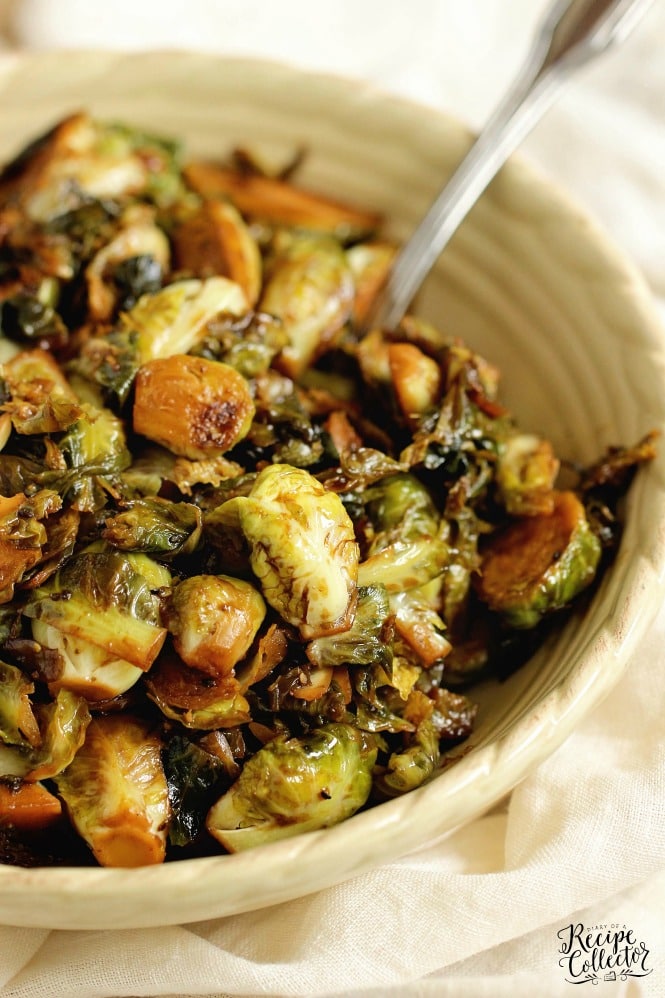 Tips for Making the Best Ever Brussels:
We like to use Tamari soy sauce in this dish because it has a deeper, richer flavor than regular. You can use regular soy sauce too if that is what you have on hand.
We used balsamic capers, but a different kind would also be fine to use.
This dish goes great with a grilled steak!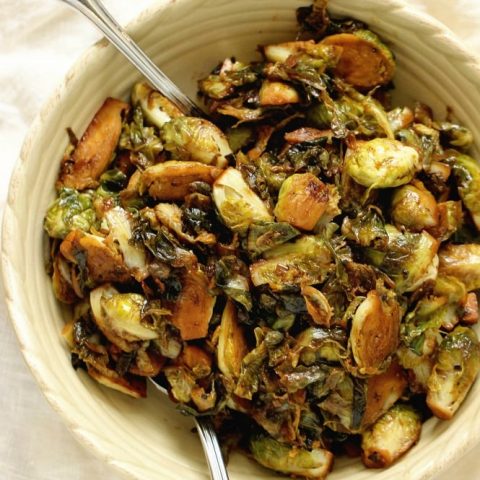 Best Ever Brussels
Ingredients
1 tbsp olive oil, plus extra to drizzle
1 1/2 tbsp butter, divided
4 to 5 cups chopped brussels sprouts
1/2 cup chopped green onions
1 tsp kosher salt
1/4 tsp black pepper
1/2 tsp garlic powder
1 tbsp Tamari soy sauce
2 tbsp balsamic capers (with juice)
2 tbsp hoisin sauce
1/4 cup water
Instructions
Over medium heat, melt 1 tbsp butter and olive oil in a saute pan.
Add brussels sprouts and saute for about 5-8 minutes or until they start to brown a little. Add salt and pepper and garlic powder while brussels cook.
Add green onions and continue to cook for about 5 to 8 more minutes. Add water to deglaze the pan a little.
Add soy sauce, capers, and hoisin sauce. Stir and cook for a few more minutes.
Finish off the dish with 1/2 tbsp butter and a drizzle of olive oil. Taste to season and serve.
Notes
Substitute Tamari soy sauce with a regular soy sauce, if needed.
Recommended Products
As an Amazon Associate and member of other affiliate programs, I earn from qualifying purchases. This helps us keep our blog running efficiently and allows us to create more recipes for you.
Be sure to check out these side dish recipes too!