Taco Cornbread – Change up your taco night using cornbread for a delicious new twist!
Get FREE recipes delivered to you by email: SIGN UP HERE!
So I'm posting today with new and improved ears and hearing.  Yes, you read that right…
For the past few weeks, I've been having a little trouble hearing out of my right ear.  I figured it was all this swimming we've been doing.  After about 3 weeks of getting annoyed because I couldn't hear the kids while I was driving (I know…I know…that should be a bonus right? 🙂 ), I went to the doctor.  Well, that is when I got some very unexpected news…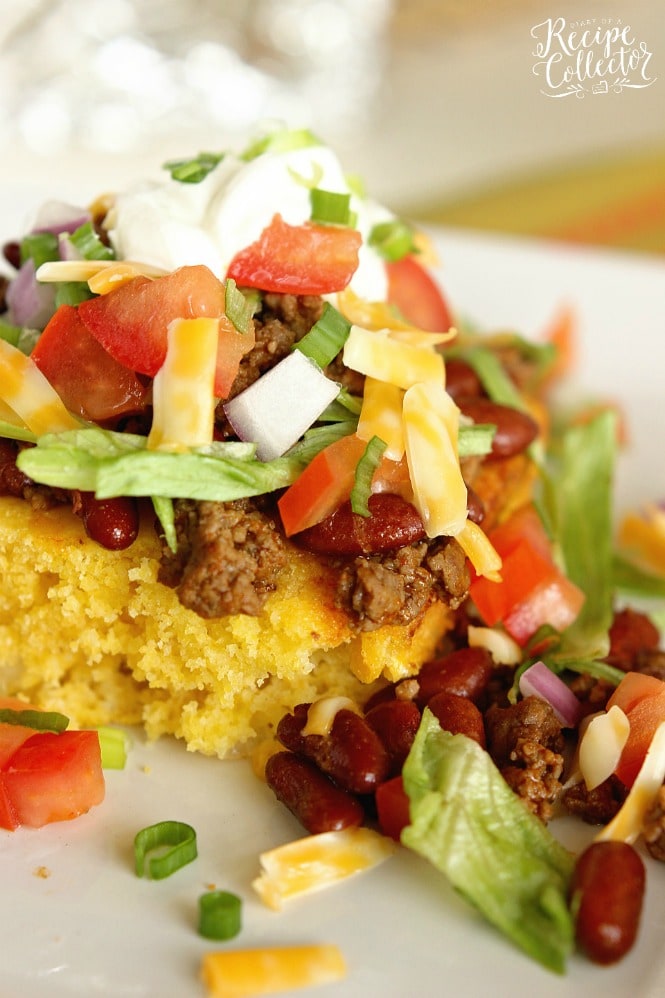 My right ear (the one I couldn't hear out of very well) was fine, but I had a perforated ear drum in my left ear.
"What was that?"  "Come again?"  "Huh?"  "How in the world?"
Yep.  Those were pretty much my reactions to this news.  I have no idea how this happened.  I'm not sure if it was from all the recent traveling in the mountains and airplanes or what, but I was baffled…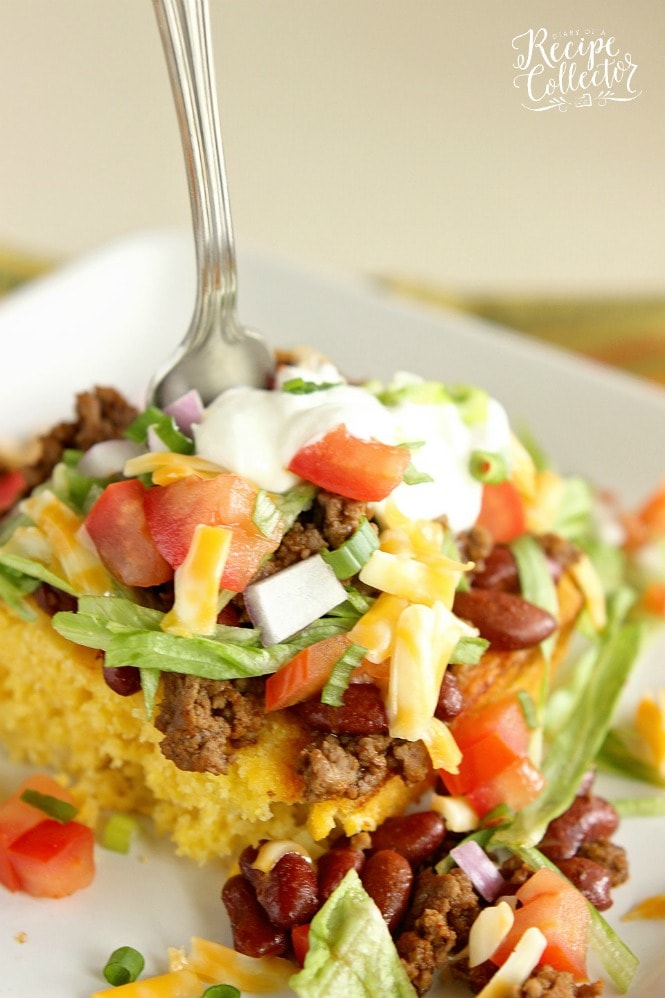 So I was hoping for a pretty easy fix in office, but to my not so sweet surprise, this had to be done in day surgery yesterday.  So here I sit hundreds of dollars later with a new and improved ear drum that I didn't know I had a problem.  But apparently it had been there for a little while and my hearing was worse than I thought.
I am thankful to my sweet doctor, whom I worked for in college, and I just adore his family.  So I guess I'll be hearing more from my kids while driving…I'm not sure that's a good thing.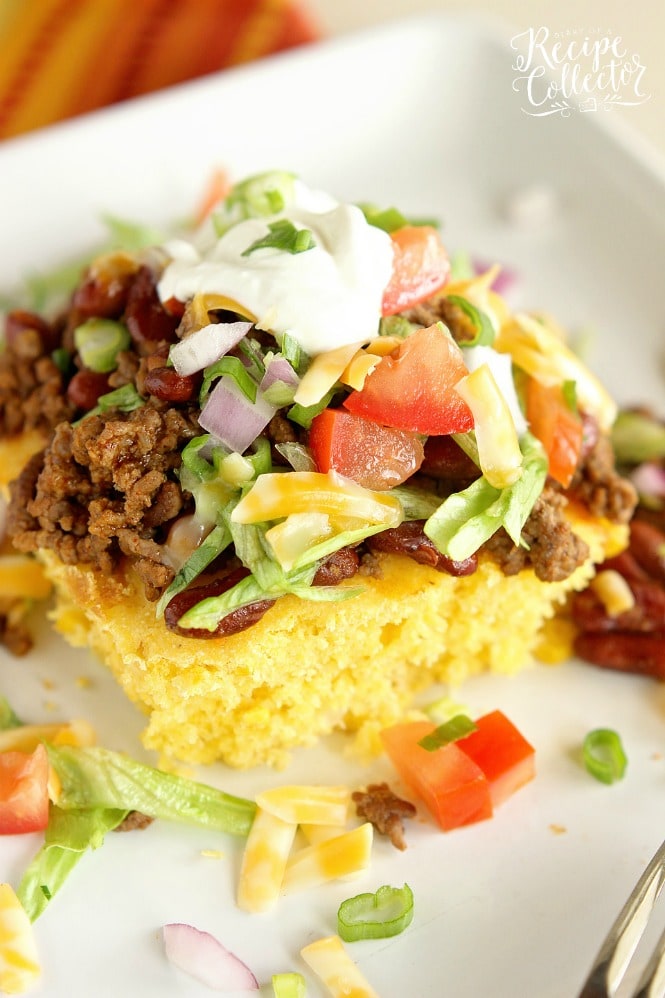 But this Taco Cornbread is a really good thing!  Yes, Taco Cornbread!  And I'm happy to say, it was a hit in my house.  We love taco night, and this was a quick way to change it up.  You can certainly use your favorite cornbread mix as well.  The cornbread bakes up pretty fast while you make all the toppings, and dinner is done in under 30 minutes.  That's pretty much perfection in my mind!  So I hope you'll try it on your next taco night!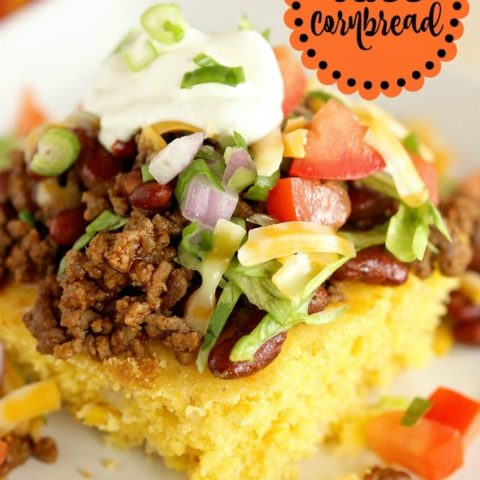 Taco Cornbread
Ingredients
Cornbread:
4 tbsp butter
1 1/2 cups self-rising cornmeal
1 tbsp sugar
1 egg
1 cup milk
1 8.5 oz can corn, drained
1/2 cup finely diced onion
Topping:
1 lb. ground beef
1 taco seasoning envelope
1 15 oz. can kidney beans, drained
1 large tomato, chopped
3/4 cup shredded lettuce
1/4 cup diced red onion
1/4 cup chopped green onions
1 cup shredded cheese
sour cream
Instructions
Preheat oven to 375. While oven is preheating, melt butter in 8 x 8 casserole dish in oven.
In a bowl, whisk cornmeal, sugar, egg, and milk until combined. Stir in corn and onions.
Once butter is melted, pour mixture into casserole dish and bake for 25 minutes.
Brown ground beef over medium-high heat. Add taco seasoning packet and required water and cook according to package directions. Stir in kidney beans.
Cut cornbread into squares. On each serving plate, top each cornbread square with taco meat, lettuce, tomatoes, onion, green onions, shredded cheese, and sour cream.
Recommended Products
As an Amazon Associate and member of other affiliate programs, I earn from qualifying purchases. This helps us keep our blog running efficiently and allows us to create more recipes for you.
 Other recipes you might like:
Easy Taco Salads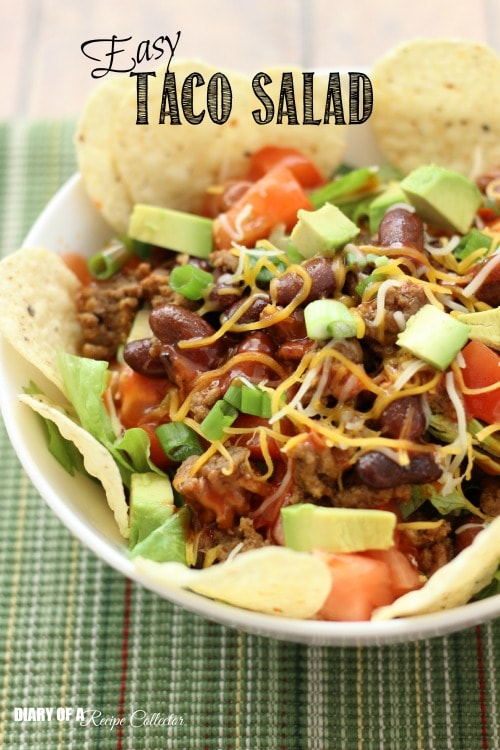 Taco Spaghetti Bake

Taco Calzones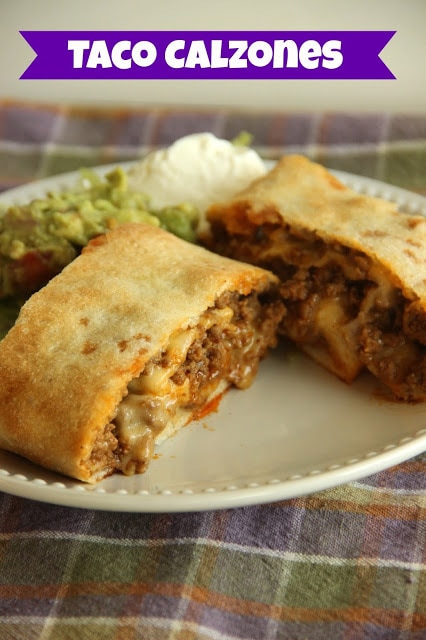 You can find more MAIN DISH RECIPES HERE.
You can find ALL RECIPES HERE.
For more ideas, follow me on FACEBOOK, PINTEREST, INSTAGRAM, TWITTER, AND PERISCOPE.
Get FREE recipes delivered to you by email: SIGN UP HERE!